Interview
School's Out: Tegan and Sara
Digging back into their teenage diaries and formative demos, and emerging with a new record alongside a deeply personal memoir, Tegan and Sara are continuing to write their own unique trajectories.
In their two decades as a band, it's fair to say that Tegan and Sara Quin have achieved quite a lot. Starting out in the late '90s in their home city of Calgary, Alberta, the identical twins got their first big break when, aged 18, they won a local competition called Garage Warz; within a year, they'd signed a deal with Neil Young's Vapor Records. Since then, the pair have released eight studio albums, played everywhere from Coachella to the Academy Awards, nabbed a Grammy nomination and morphed from cult indie artists to mainstream pop stars and LGBTQ+ icons. It's been one hell of a ride.
But the road hasn't always run as smoothly as their credentials might imply. On the cusp of their next releases - potentially their most revealing to date - Sara is candid, open and eloquent about her battle to come to terms with being a gay teen, which at one point she tenderly reveals, left her feeling "really paralysed" and with little confidence about the future. "I remember feeling like, 'Oh god, I'm a girl and I'm gay, there's just no way I can do music'," she explains.
It's the band's formative years that are addressed in new album 'Hey, I'm Just Like You', which came about as the sisters laid the groundwork for recently-released memoir High School. Like the new LP, the book tracks their teenage years - from struggling with their sexuality, through their first (secret) relationships with other girls, to experimenting with drugs, failing school grades, and their parents' divorce. With Tegan and Sara taking it in turns to tell each chapter (Tegan, today, is absent, called off on other press business), it's emotional and moving stuff - and a potential lifeline for any closeted queer kid who might see their future as hopeless.
When researching the book, Tegan set about the task of finding the pair's old recordings, made years ago on cassette. After months of searching, alongside what Sara describes as a "smattering of luck," they stumbled across dozens of songs they had penned between the ages of 15 and 17, ones which hadn't been heard for more than 20 years. Perhaps surprisingly, they found that the material wasn't naive, or immature or dated; sure, it was melodramatic in parts, with a dousing of defiant teenage angst, but it was also eloquent, insightful and poignant. "It felt more sophisticated than we had remembered it in our minds," explains Sara. "By sophisticated, I just mean that the songs were more song-like than I actually remembered them. My recollection was of more ambiguity around arrangements; I didn't necessarily remember lyrics being fully formed, and narratives being fully formed."
"I feel grief about how much I hated myself when I was a young adult because I know I learned that from the world around me."
— Sara Quin
Impressed by the recordings, the twins decided to rework the tracks and put them out hand-in-hand with the book as their ninth LP. Channelling their younger selves, the resultant record sees the band make a partial return to their rock roots, with hearty licks of '90s grunge nodding to their early influences of Nirvana, Hole and Green Day. The tracks were then pumped through the pop lens that catapulted them to mainstream success in 2012, following the release of 'Heartthrob', when slick banger 'Closer' broke them into the Billboard Hot 100 for the first time, bagging them support tour invites from megastars like Taylor Swift and Katy Perry.
Genre-wise there were no rules, says Sara. Instead, working with Australian producer Alex Hope, they focused on how to "honour" their 17-year-old selves. "The goal wasn't like, let's make a grunge, or a pop or an alternative record; we just kind of went with the flow." The process, too, was refreshing as it meant the band could play simple songs (these are, argues Sara, harder to write), formed from back when the band "were not self-conscious yet, and weren't trying too hard." Now as adults, she jokes, their songwriting is sometimes hampered by "the need to probably add something, or do this, or think about pensions."
The result is twelve tracks that seep with nostalgia, smashing the sounds of their youth into their current currency of electro-pop. In doing so, the album does indeed reflect those teenage years: a bit messed up, and with a looming shadow of uncertainty. But, at the same time, complex, profound and beautiful. In the album's electronic and spacey title song, the twins reminisce on days spent tripping on acid, when their infighting would give way to dreams of big, fizzy futures; conversely in 'I'll Be Back Someday', they're back to shredding as if they're Rancid.
Lyrically, it's a whistle-stop tour through young love, from those first sticky kisses to the all-consuming grief that can only stem from that first deep-dive into heartbreak. Take 'I Know I'm Not The Only One', an indie-pop cracker in which Sara comes to the painful realisation that she'll fall in love again - just not with the girl who broke her heart, or the bass-heavy 'We Don't Have Fun When We're Together Anymore' (the sentiment of which is plain for all to see).
In particular, Sara remembers writing 'Please Help Me'. It's a snapshot into her mind, mid-bender in the 11th grade, when she would use booze to cope with navigating an undiscussed open relationship with a secret girlfriend. Subject-wise, it's also a big nod to the band's 2016 hit synth-pop single 'Boyfriend', which was inspired by the musician's experience of dating a woman, who was also dating a man and keeping her a secret. "We were sleeping together and possessive of one another, and yet she was also sleeping with boys," recalls Sara. "I was totally depressed about it. I had crushes on other girls. I felt like I had this like uncontrollable monster living inside of me because I was so compulsively thinking about girls, desiring girls. I was fighting with my parents, my grades were shit. I'd got blackout drunk and fallen down and broken my arm, and I wrote this song because I really was afraid that I was going to amount to nothing."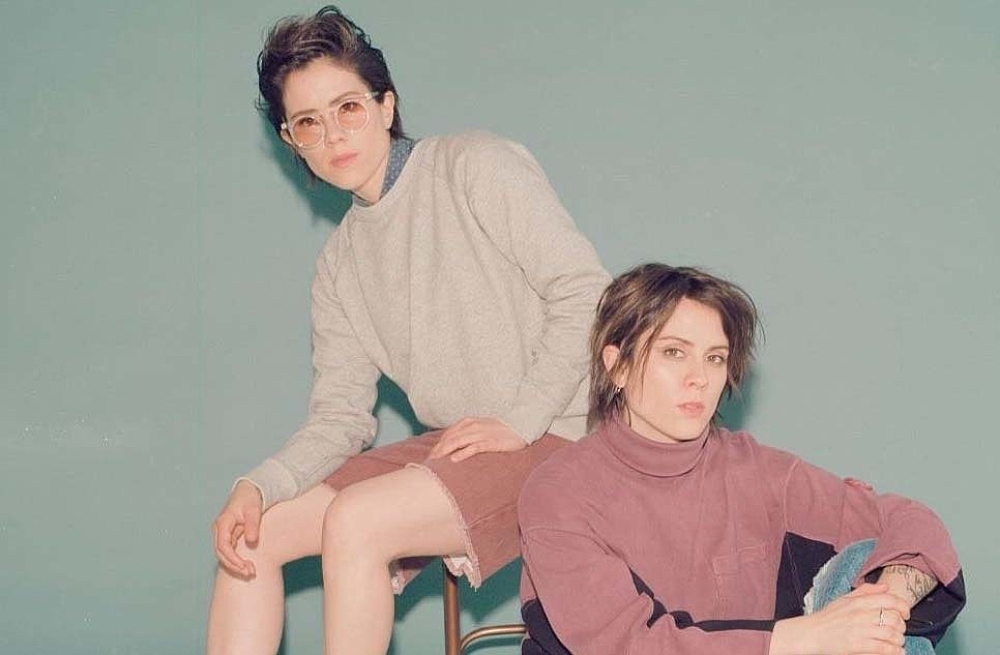 The entire LP is underpinned by Tegan and Sara's closeted queerness in high school and, as such, it holds out an invaluable hand to every LGBTQ+ kid feeling alone. 'Hey, I'm Just Like You' is crammed with internalised homophobia and early relationships shrouded in secrecy, existing in a more turbulent time before both sisters came out and shaved off all their hair to celebrate their first demo deal.
"Tegan and I can represent, or our music can be relatable to anyone, of course," she explains. "But, in those early years, it was those queer people in our audience who made me think, 'You know what, you need to stop hating on yourself. You need to deal with your homophobia; you need to deal with your self-loathing; you need to deal with your shit," she pauses, before adding with a laugh: "And you need to be better at being gay!" On top of the band's fans, she credits a woman she dated in her twenties for helping to give her "the confidence to care about my identity - to care about myself."
In many ways, both the LP and the book are a gift to the LGBTQ+ community where, particularly in lesbian culture, Tegan and Sara have achieved cult status. In 2014, they won the Outstanding Music Artist title at the GLAAD Media Awards, beating household names like Elton John and Lady Gaga. Among some younger queers, meanwhile, they're cherished as gold-gilded living statues, topped off with the ultimate mark of the crème de la crème for every celesbian: a guest appearance in cult television series The L Word. They've inspired a generation of gay girls, who craved seeing themselves represented in the media while, in 2016, the sisters founded the Tegan and Sara Foundation, which fights for health, economic justice, and representation for LGBTQ+ girls and women.
All this progress in mind, was it hard for the band to go back to their volatile teenage years and relive the traumas of their youth? "It was very challenging," nods Sara. "Like with most people, I think the early part of writing the memoir required a little bit of cognitive dissonance." Their high school ordeals took their toll, too. "I feel grief about how much I hated myself when I was a young adult because I know that I learned that from the world around me," she admits. In the end, says Sara, the band wanted to treat the material and their younger selves with the kindness that they didn't get back then from the music industry. The project is all about making young Tegan and Sara proud of who they are.
"Now, as women, we're 39, and we can sort of advocate for 17-year-old Tegan and Sara in a way that no-one ever advocated for us," she says. "These were girls who had already fallen in love, and had broken hearts and had complicated sexual and romantic relationships.
"They were kids who had already had really adult experiences, who had suffered traumas, who had suffered experiences that were worthy of valuable art – art that has substance - and now it feels like we can go back and say: 'Look at these kids, they're not idiots'."
'Hey, I'm Just Like You' is out now via Sire.
Read More