Baptism by Fire: Sleigh Bells
Attempting to make their fourth album in just five years, Sleigh Bells hit a wall, and then the brake pedal. With 'Jessica Rabbit' they return three years later, bolder, brasher, and re-energised.
Since they first emerged in a shower of screeching guitars and rill-rilling firecrackers six years ago, Sleigh Bells have always had a pop itch there to scratch. That's not to say that Derek Miller and Alexis Krauss have been waiting in the wings for their big 'Call Me Maybe' moment – their brains are hot-wired for too much weirdness, after all – but still, their boldest and best moments to date have thrived on a collision of wincingly sweet and snarlingly sour. From the juddering sawtooth beats propelling debut cut 'Kids' to the defiant follow-up 'Comeback Kid' – a slab of bubblegum pop being burst by glass shards – bold, brash, loud, colourful pop music lurks in Sleigh Bells veins just as much as dirty, scuzzy rock. In the past, it's been a balance they've grappled with no end, suspicious of self-confessed, gimmicky genre-hoppers. On 'Jessica Rabbit' however, they embrace it all.
"I like a lot of independent underground music but I also love a great pop song," says Alexis, just back home from touring the West Coast of the States, speaking on a crackly phone line from her Brooklyn apartment. "I think we were definitely a bit bolder in writing songs. I guess a good example would be 'I Just Can't Stand You Anymore,'" she says, referencing one of the album's finest stand-outs. "That song to me feels like a true pop rock song, in the vein of 80s bands like Roxette," she adds, before cackling loudly to herself.
Alexis may be amused by her flippant reference to some of Sweden's finest pop banger purveyors (along with Robyn and ABBA, obvs), but it's a telling one. Though 'Jessica Rabbit' doesn't quite approach the melodrama of 'It Must Have Been Love' (thank goodness) – there are still distinct hints of the over-the-top, along with killer choruses a-plenty. "There are very self-indulgent moments on this record," admits Alexis, "and I'm okay with that."
Though the guitar solos may squall with added swagger, and the bass-thuds may be bordering on rib-shattering at times, there's more than just showmanship to 'Jessica Rabbit'. Home to Alexis' most aggressive vocal performance to date, Derek's production is sparser, clearing room for a new desperation and drive in response. That hunger to succeed, Sleigh Bells readily admit, is very real, and it was very nearly fatal, too. The stakes were sky-high going into 'Jessica Rabbit', the risk of failure felt more keenly than ever before. Perhaps that explains the triumphant, finger-flipping results.
"I thought we would never get this fucking record out"
— Alexis Krauss
In early visual sneak-peeks – their video for 'It's Just Us Now' being one example – the same mantra flashes up again and again. The penalty of failure is death. It might sound dramatic ("and it is," concedes Alexis) but for Sleigh Bells, that's really the case.
"The thought of not being able to make the type of records I want to make, quality-wise, feels like death," says Derek. "I've been in a fairly epic battle with alcohol for about 15 or 16 years," he adds, "failing to stay sober feels a lot like death."
"When I do a bad job I can't just brush it off," he continues. "The fact that I have enough time on my hands to sit around and worry about this stuff means I'm not busy enough, right?" he asks, rhetorically. "Probably. I wake up, read about [the war-torn Syrian city] Aleppo, and feel that my concerns are petty and small, but by the end of the day they are still on the verge of killing me."
"There were times where I feel like [Derek] felt like the record wasn't going to come out for one reason or another," says Alexis, "just because there are obstacles and challenges. There's this idea that he might not succeed in getting this out there that was so debilitating. It almost fucking killed him, in a literal way. Not having this band… he would have died."
The obstacles that Alexis refers to are sizeable ones. After releasing their third record 'Bitter Rivals' on Mom + Pop three years ago ("a wonderful experience") Sleigh Bells found their contract up, and their band without a record label. They had next to no money in the coffers either. After trialling with another label, going on a journey that involved recording with pop whizz Mike Elizondo in Los Angeles, and ultimately leaving said label on due to creative differences, Sleigh Bells came back fighting yet again. With no conventional options left, they opted for a new approach, founding their own label Torn Clean. It proved a revelation. "Starting our own label and paying for everything ourselves means that we assume all of the risk," reasons Derek. "I like that idea. It's comforting. It's ours to win or lose. And by win," he clarifies, "I mean being able to do everything on our own terms and make a living."
"I thought we would never get this fucking record out," hoots Alexis, "but we've made it happen."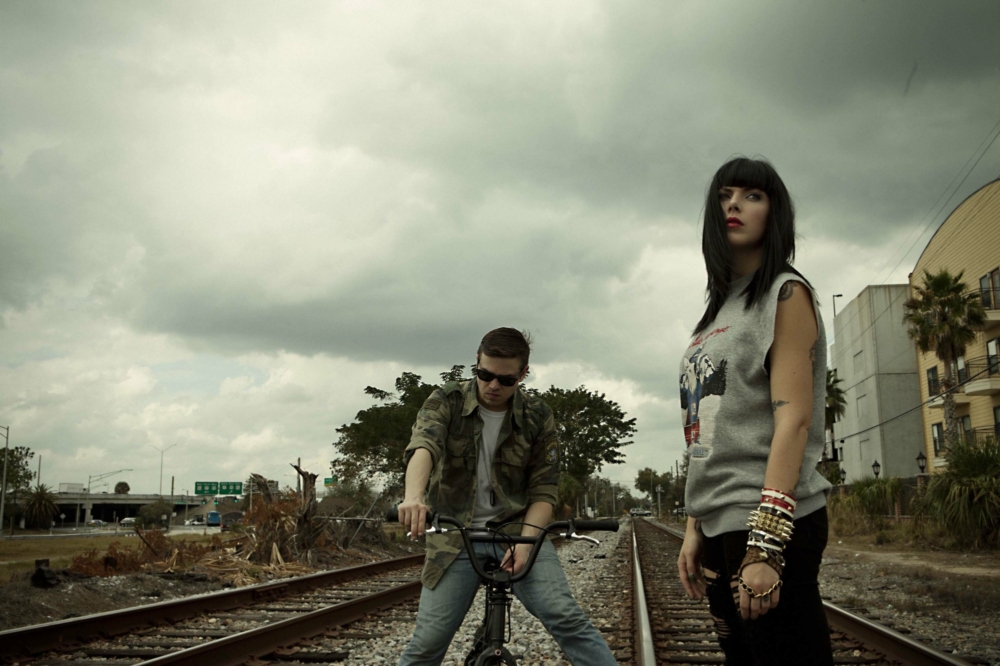 "The thought of not being able to make the type of records I want to make feels like death."
— Derek Miller
Up until their last record 'Bitter Rivals', Sleigh Bells were rock's own Rihanna, releasing albums like clockwork, with barely any time to catch their breath between. The run-up to 'Jessica Rabbit' saw them take – by their standards - an extended gap of three years, as perfectionism and practical difficulties got in the way. Despite the struggles Sleigh Bells faced getting to this point, though, they've emerged the other side stronger and louder than ever, and today, they're eager to emphasise the positivity hidden in their all-or nothing mantra. "Ultimately I think it's inspiring," says Derek. "Don't do a good job, do a great job." "I think people can also look at it as a motivational thing," agrees Alexis. "It doesn't have to be dark. We're only here for a finite period of time and we should be constantly motivated to do our best work."
In the past, Sleigh Bells didn't feel like they were bringing their A-game, and Alexis particularly felt constrained. "In the beginning the vocal was kind of like a layer, a part of the instrumental, more of a textural thing, and much less of an emotional, visceral presence," she says, looking right back to the band's 'Treats' debut. "On this record it's a lot more full on," she adds decisively, "and that feels right. I'm very proud of this album, I think it's more my vocal approach, so far as what comes naturally."
On 'Crucible' – a jarring, speed-meshing jumble of noise-guitars and defiant calls to arms – Alexis' gradual transformation from self-confessed "session singer" to bona-fide front woman is evident. "Hunt sheep in my sleep, I don't count them," she threatens with audible menace, as Derek's punchy, barbed-wire beats drive the point home. "I remember when he said those lyrics to me," she remembers, "there's always a line…. he does these really violent but colourful, heart-wrenching lyrics," she adds. "I wanted to make something that matched it, that brings out this desperation, and hunger, and drama; but also make it pop and saccharine. That's something we've always done well," she reckons, fairly accurately.
With 'Jessica Rabbit' finally finished, Sleigh Bells are still fighting; in Derek's case quite literally. Boxing is "something Derek is still doing, 2, 3 times a week." And as for Alexis, she's busy scaling new heights in her own way. "Now I'm rock climbing," she says nonchalantly, as if referring to a recent episode of Bake Off. "But," she jokes, "I think boxing is lyrically more interesting than rock climbing. That's now what I do when I have time off – I go climb walls outside, in beautiful places." With their fourth album reaching new peaks, and opening new doors in the process, it looks like Sleigh Bells have limitless summits to conquer yet.
Sleigh Bells' new album 'Jessica Rabbit' is out 11th November via Torn Clean / Lucky Number.

Taken from the October 2016 issue of DIY, out now. Subscribe below.

Get your copy of the latest issue
Read More