Facing forward: SLØTFACE
Dodging flying cartons of chocolate milkshake, and touring the world with their mums and four sweaty wigs in tow, Sløtface are also readying their debut album. Just a few plates to spin, then.
Over in London to play approximately four million live shows in the capital (well, four shows to be exact, but still enough to count as a city residency, right?) Norwegian rabble Sløtface are getting into the swing of living out of a suitcase by now. Their last night marked a sombre moment as the four-piece had to cast aside a set of incredibly sweaty wigs that didn't quite make it through Halloween festivities. "There's room for like, two t-shirts in a wig space," reasons pragmatic vocalist Haley Shea. Today, they're tucking into chips in a boozer, while guitarist Tor-Arne Vikingstad attempts to soldier through a nasty strain of mid-tour lurgy. Coughs and colds aside, though, Sløtface are in high spirits, with a finished debut up their sleeves, and the experience that comes with relentless touring powering them forward.
"I think we're better at cutting dead flesh and bits we don't need," says drummer Halvard Skeie Wiencke, "We cut them right away now." Bandmate Lasse Lokøy nods in agreement while sourcing the nearest ketchup bottle. "We're a bit more confident in ourselves," he chips in. "so we dare to do things. We take more risks."
Indeed, as of late, Sløtface have been straying beyond their gritty beginnings, and venturing into far punk-poppier climes. Moments like the snare-rolling 'Kill 'Em With Kindness' and 'Take Me Dancing' are clear step-ups, melding Haley's knack for lyrical anger and angst with something charged-up, potent, and rollicking.
"We dare to do things. We take more risks."
— Lasse Lokøy, Sløtface
"We're from the generation that grew up on American Pie," laughs Haley, "which is an interesting thing to grow up on, I guess. Just the whole vibe of the soundtracks has been a big inspiration for us. We talk about it a lot. I love High School rom-coms. We write a lot about that kind of world."
Make no mistake, though. Their bite still remains. Whether refusing to fear a walk home alone, or extending a middle finger in the direction of people who police others' appearances, Sløtface have an axe to grind, more than ever. "I'm just really inspired by feeling angry about things," says Haley. "I think that anger is obviously really powerful emotionally, and writing from an angry place. I'm not a very angry person in general, I'm pretty balanced, so to have that outlet on stage and in music is great, to have this place to go crazy and write about all the things that make me really, really mad."
Growing up slap-bang-wallop of the middle of Norway's straight-edge metal scene - "which is obviously underage open, being straight-edge," Haley points out - opened Sløtface's eyes to violent, hot, energy-packed rock, and the possibilities of blending it with cool, cold Scandi pop. "It was a lot more punk than anything else we had access to," she says of their first gig experiences. "It was in run-down buildings and they would be making vegan milkshakes at the door," she laughs. Lasse and Halvard played together in death metal bands around town as teenagers, too, and Haley would join them whenever she could. "I went straight from prom to play this metal show with you guys," laughs Haley, remembering. "You were, like, 15. There were all these dudes who got us a crate of beer, and no-one checked. Way more fun than prom," she smirks.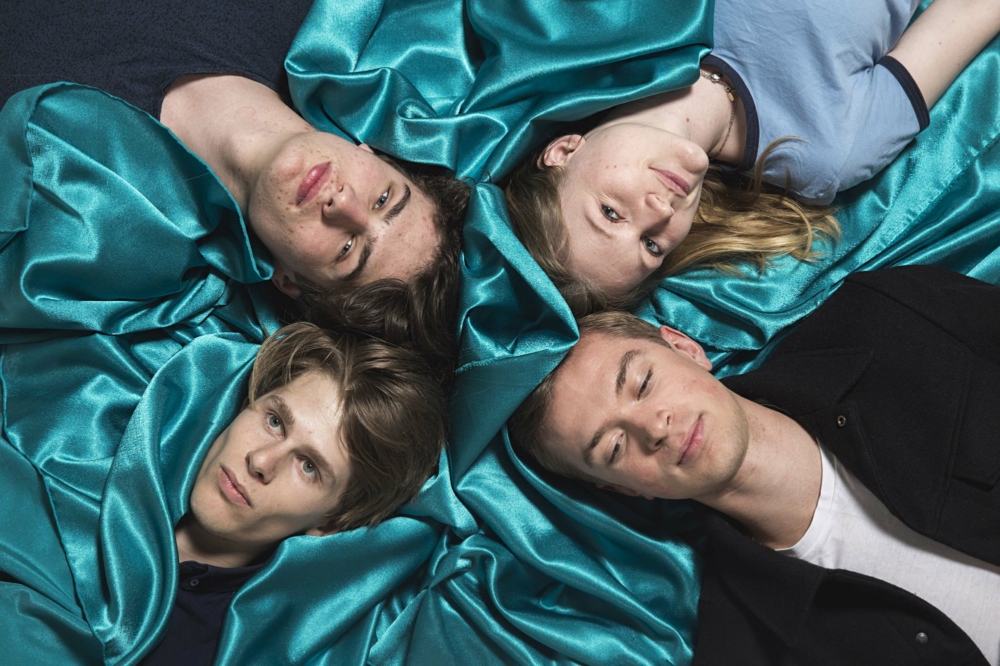 Shortly after polishing off a handful of European dates, the band are Norway-bound again to finish their debut, with a view to releasing it next Spring. Itching to get back out on stage with oodles of new material, they're also feeling fairly relaxed having faced the toughest audience out there. No, really - the band toured schools all around their home city of Stavanger, playing to, being honest, a mixed bag.
"We had tiny Norwegian girls stage-diving for the first time," Haley enthuses. "Always my favourite thing. We try to be really accommodating so it's a safe space to do that. That was cool." Not every gig went swimmingly, though, she admits. "We would also get days when the kids would stand 50 metres away and look at their phones the whole time and not clap between songs."
"They were trying to throw drinks at us," she marvels, recounting another encounter, "and then our sound technician gave them the look of death." A short debate about the precise kinds of hurled drinks that made it to the stage ensues. "It was chocolate milk," confirms Halvard. "I don't think we'll meet anyone in the audience who hates us as much as those kids," adds Lasse, ever one to find the silver lining. The way Sløtface are carrying on, their days of dodging milk cartons should be well behind them.
Read More