Releasing a debut that's playful, gritty and socially-conscious, Sløtface are one of Europe's best new bands. We meet them in Oslo as they ready 'Try Not To Freak Out' to be unleashed on the world.
Emerging bleary-eyed out of their rehearsal space on the banks of Oslo's Akerselva river, Sløtface look proud if exhausted. The four-piece have just spent two solid days running through their upcoming debut album in full, over and over again. Tonight, they play the record in its entirety for the first time at nearby grimy basement venue Revolver, and, taking in some much-needed Vitamin D outside at a nearby bar, it's making the whole thing seem real.
The album was recorded nearly a year ago, just around the corner at the city's Amper Tone studio, and it's been a bit of a struggle for the band to pick up where they left off with the record's deeper cuts. Returning from a year of almost solid touring to songs they last played what feels like a lifetime ago, vocalist Haley Shea soon admits she's more than a little worse for wear after trying to iron out the creases until midnight the evening before. "Now we're getting closer to it, I forget all the time we've waited," bassist Lasse Lokøy adds, before baseball cap-wearing guitarist Tor-Arne Vikingstad offers his own spin on the common saying: "Time flies when you're not bored!"
'Try Not To Freak Out' follows nearly four years of EPs, singles and blistering live shows from the Bergen-based quartet, and is a brilliantly-crafted ten tracks of punk-pop. From drinking too much and shouting at DJs to play Beyoncé, to decidedly more sombre evenings spinning Ryan Adams' 'Heartbreaker' over and over, the album savours every memory - every drop of youth that was poured into it - and its insatiable energy never runs dry.
A mammoth UK tour and a trip to Australia face the band before the end of 2017, but they're making time to celebrate the record's mid-September release, already planning the party to end all parties. "It's gonna be the Sløtface Gala!" Haley proudly exclaims, before rolling off plans to turn one of the band members' apartments into a luxury venue with red carpets as far as the eye can see. "I'm gonna be there on arrival with the champagne," Lasse chips in.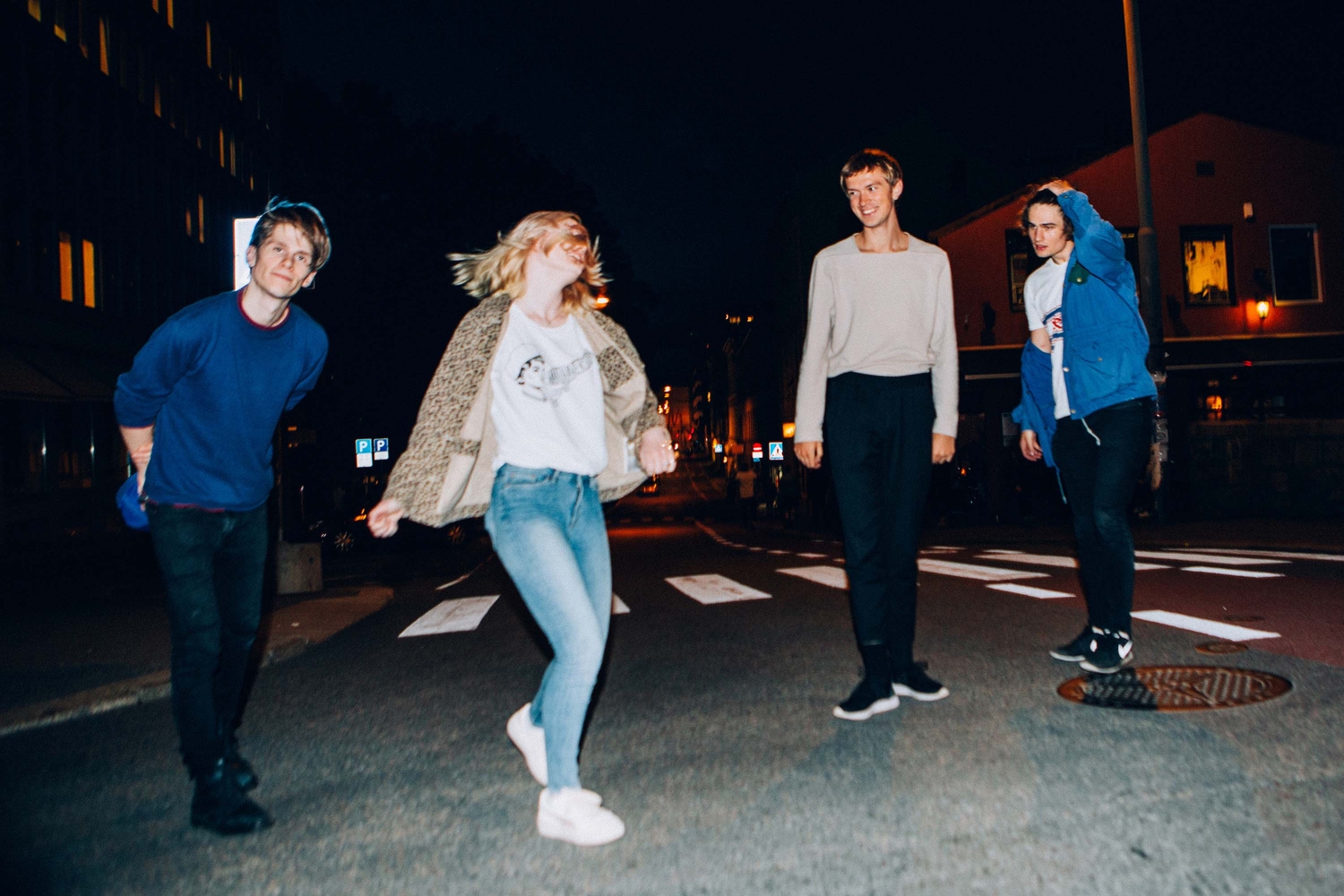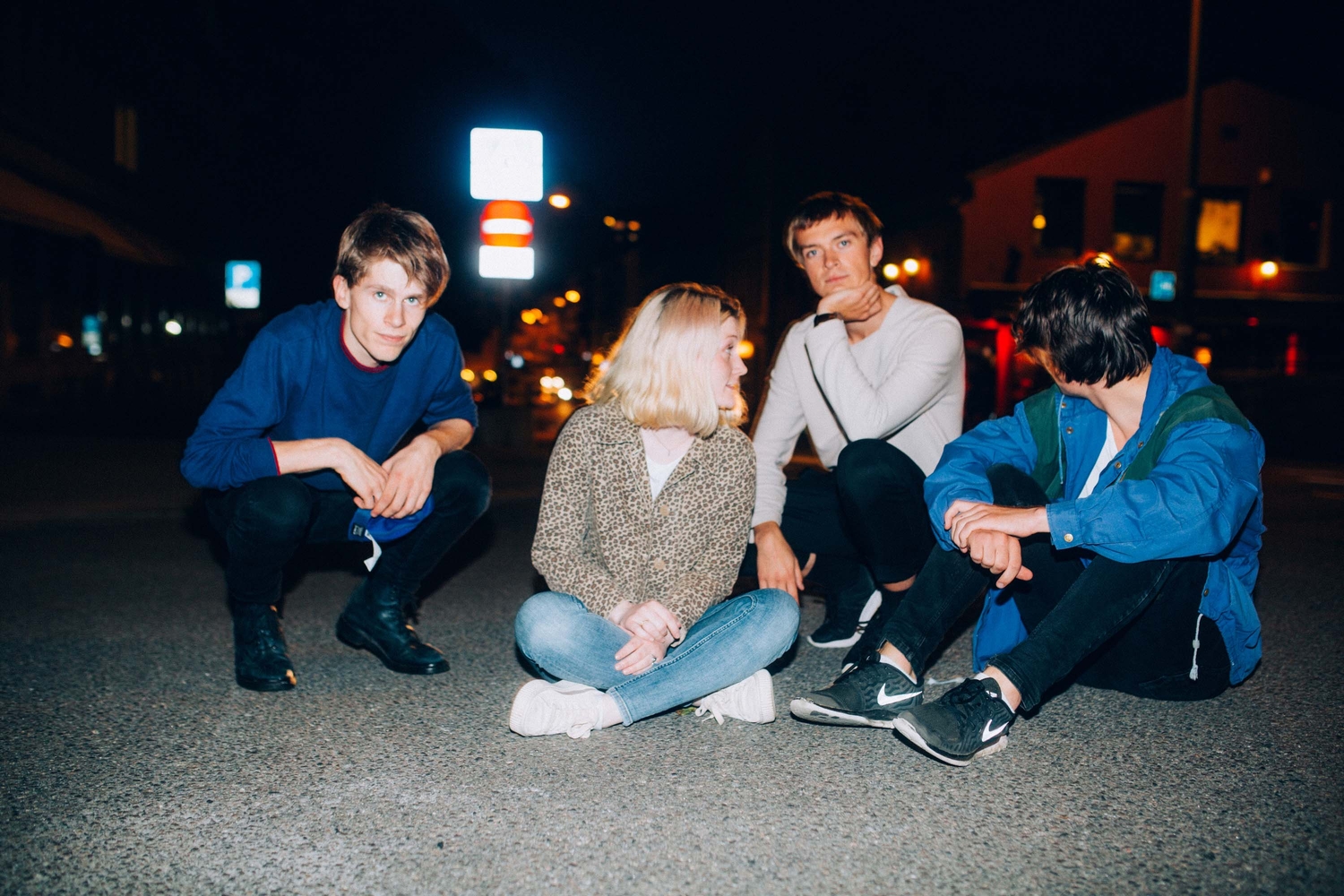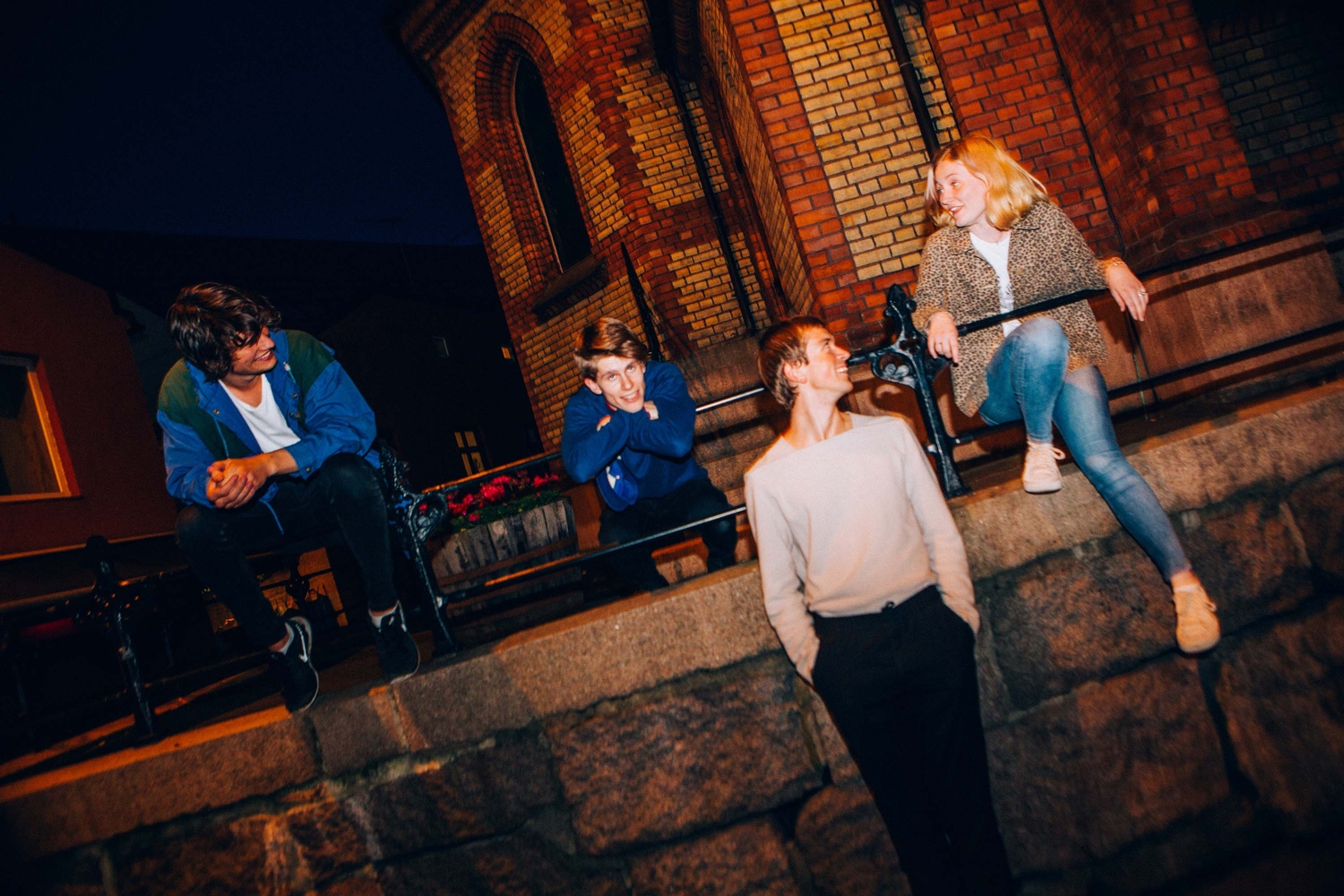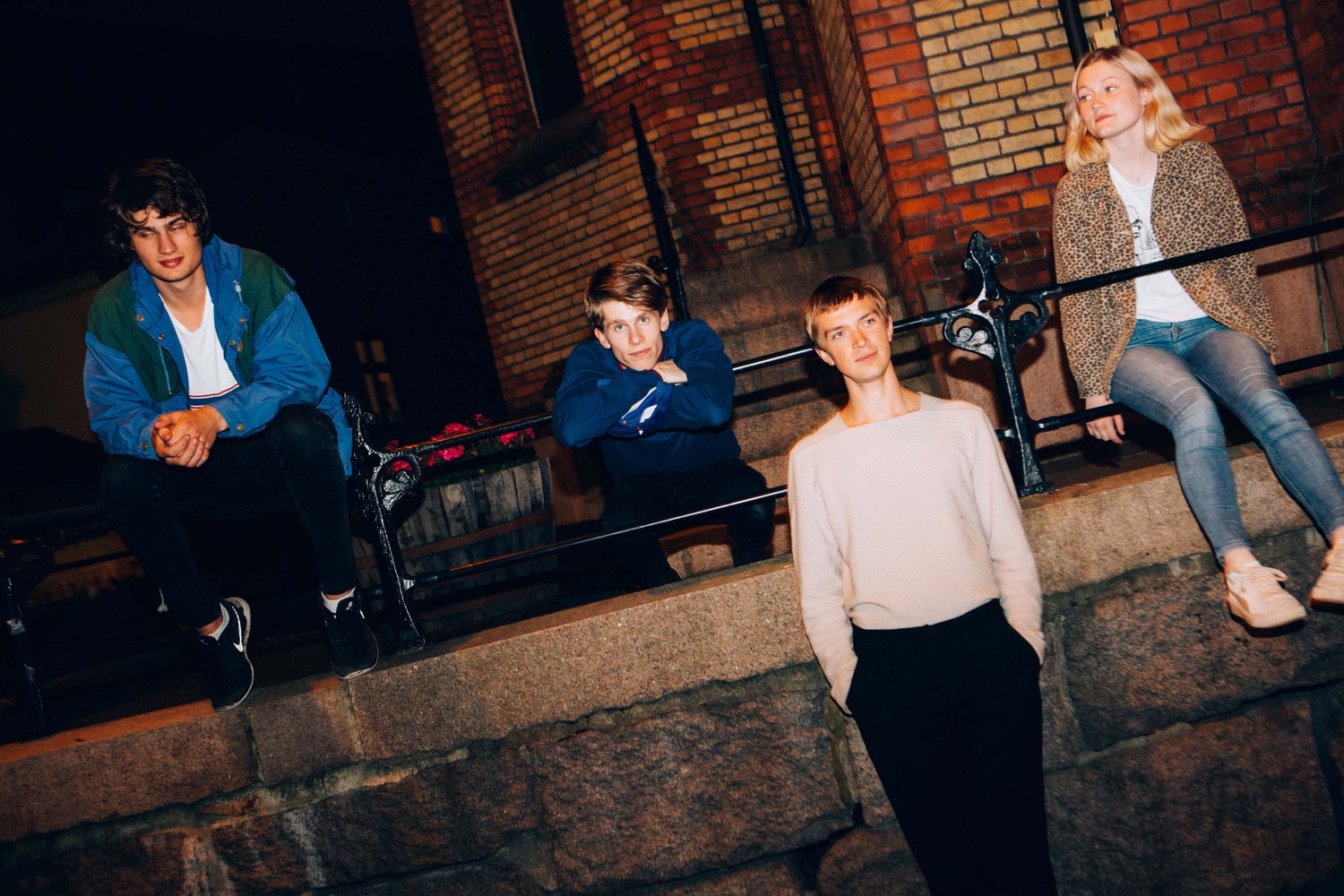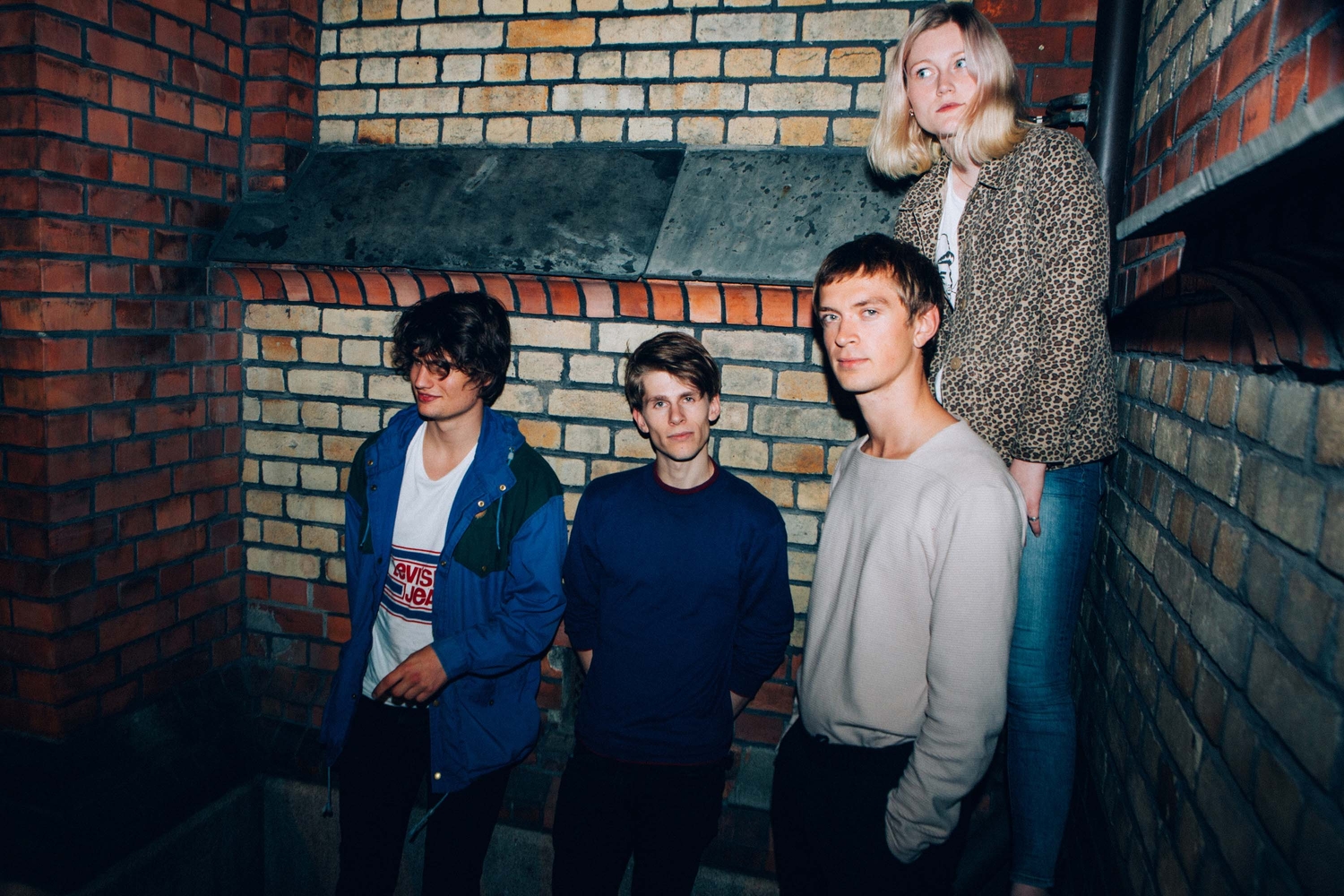 "The theme of the album is trying to keep your shit together even though you feel like you have no control."
— Haley Shea
Jetting off the next day to a German festival before starting to prepare for their upcoming headline gigs, Sløtface are becoming almost surgically attached to the road, and it's been a slow transition towards realising that the hobby these four friends began in their teens can now confidently be called a job. "It's been a while now, where we've had to sacrifice other things for the band," drummer Halvard Skeie Wiencke interjects, and despite the sense of reckless abandon that surrounds Sløtface a lot of the time, they're a band with their heads firmly screwed on.
"When we wrote the album, we went to the rehearsal space at 9, and left at 5, so had full days of writing, and just played shows at the weekend," Lasse adds, noting that the need for routine and stability is something they're coming to terms with. "We're learning to be a little bit better about taking care of ourselves," Haley begins, almost gesturing to the non-alcoholic ginger beer sat in front of her, "and choosing what the important things are. I think that's the toughest balance, when you're still learning that what was your hobby is now your job, is thinking how can I say yes to as much as possible, but without working 24 hours a day, every day for the whole year, because a lot of musicians end up in that place."
It's no secret that the band have been embraced by the UK, playing more gigs on these shores than in their homeland in 2017. Falling into a scene has been surprising but brilliant for the four-piece, even if they say their aim for 2018 is to add some memories of the UK that aren't "Gatwick > van > club > Travelodge > van > Travelodge".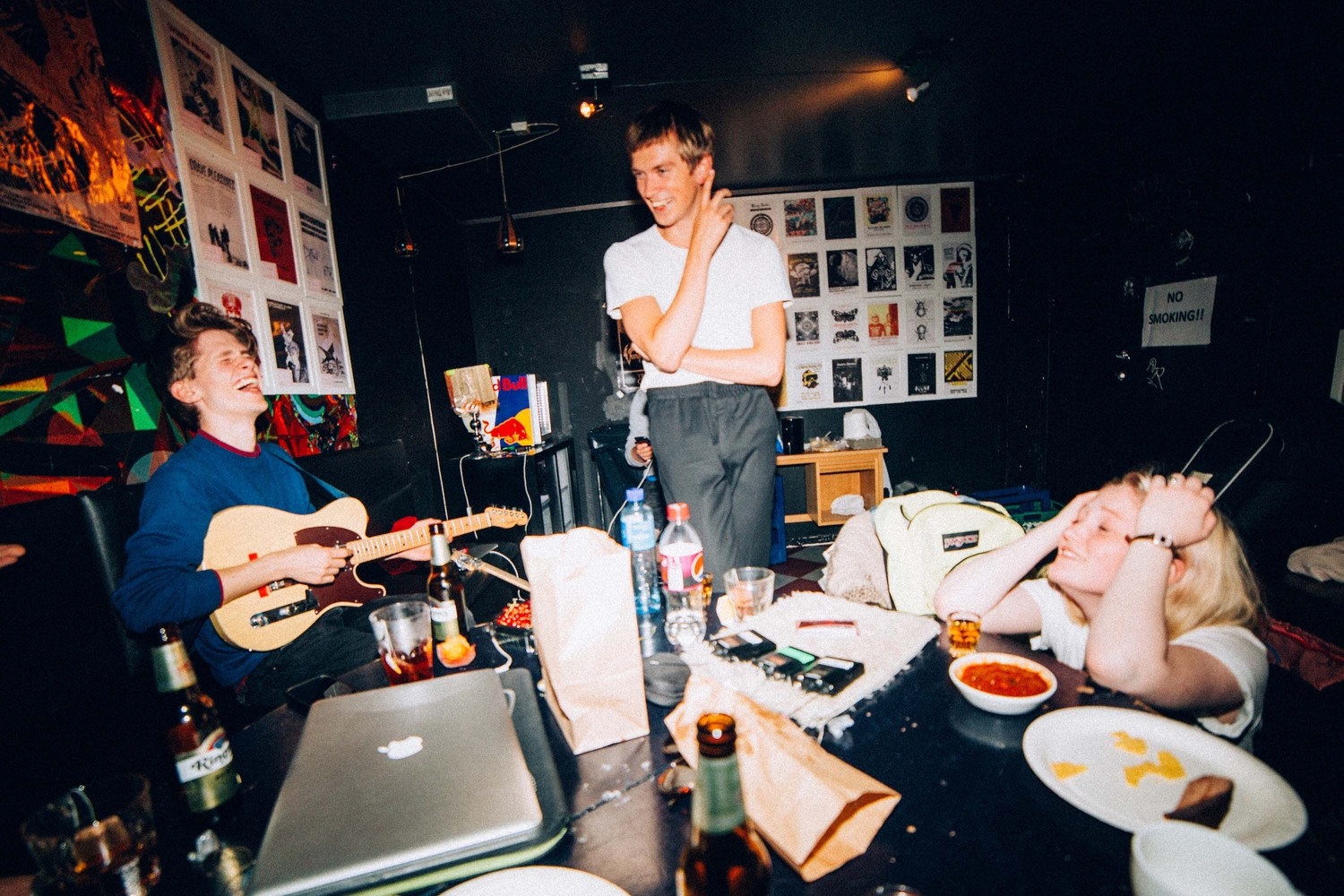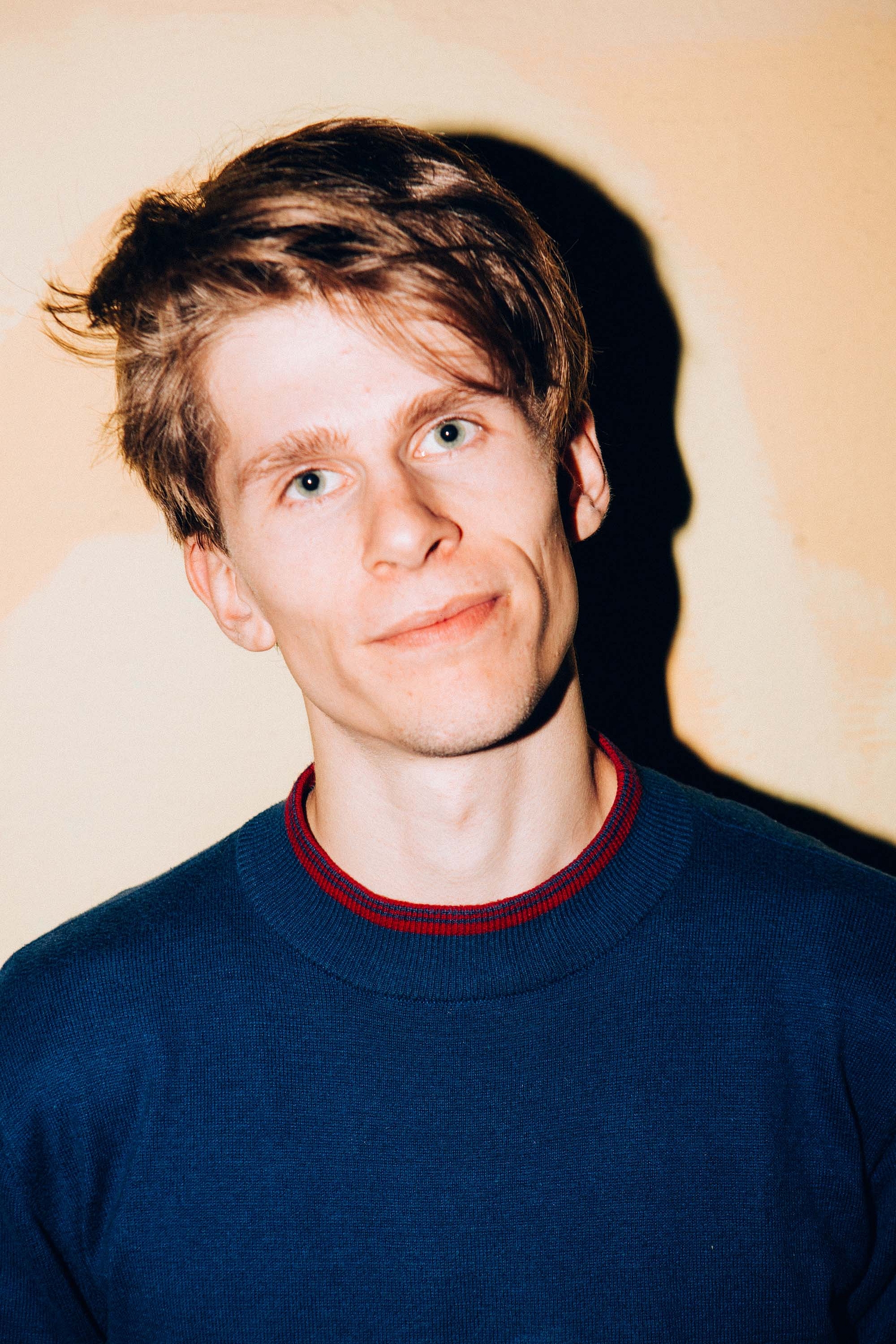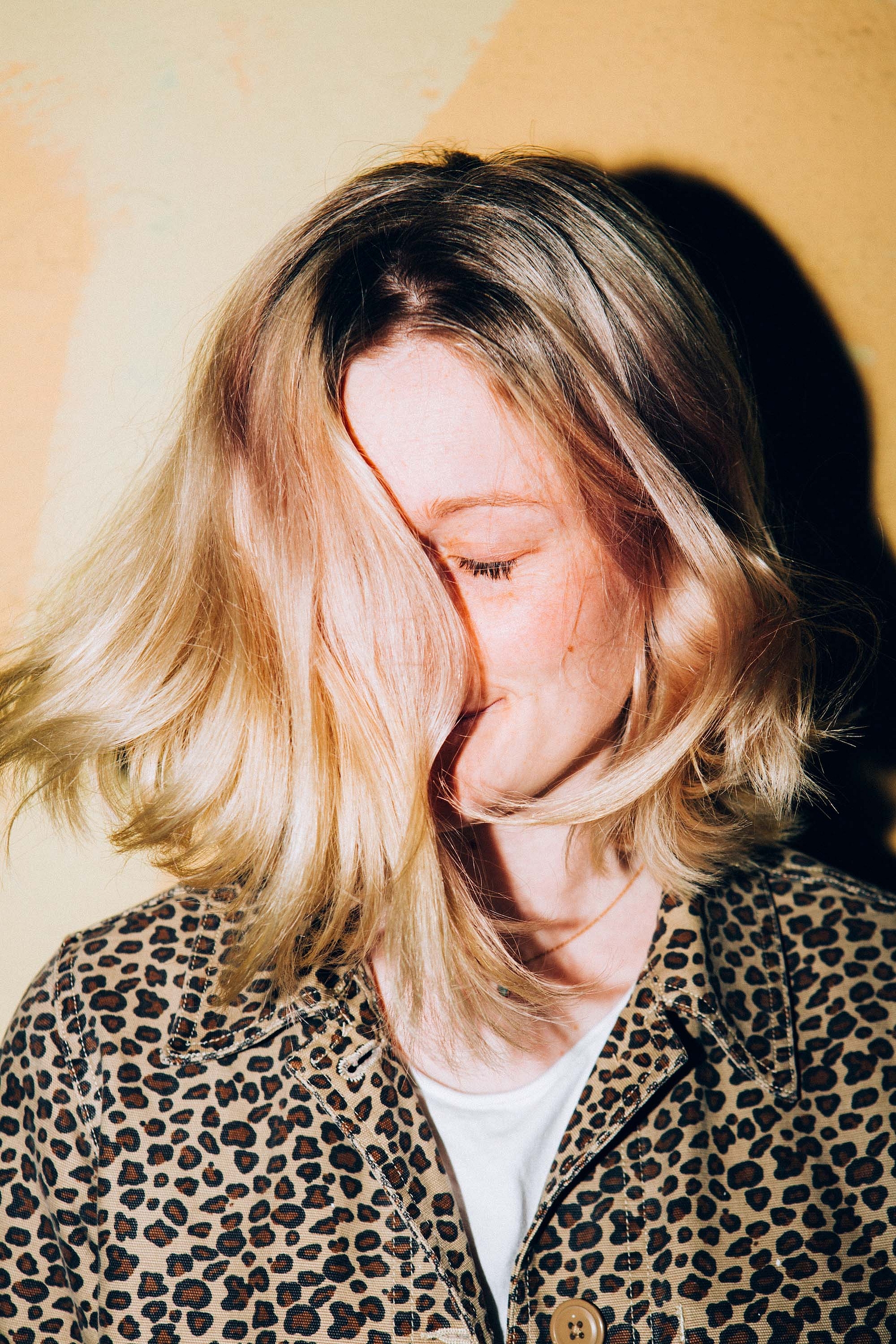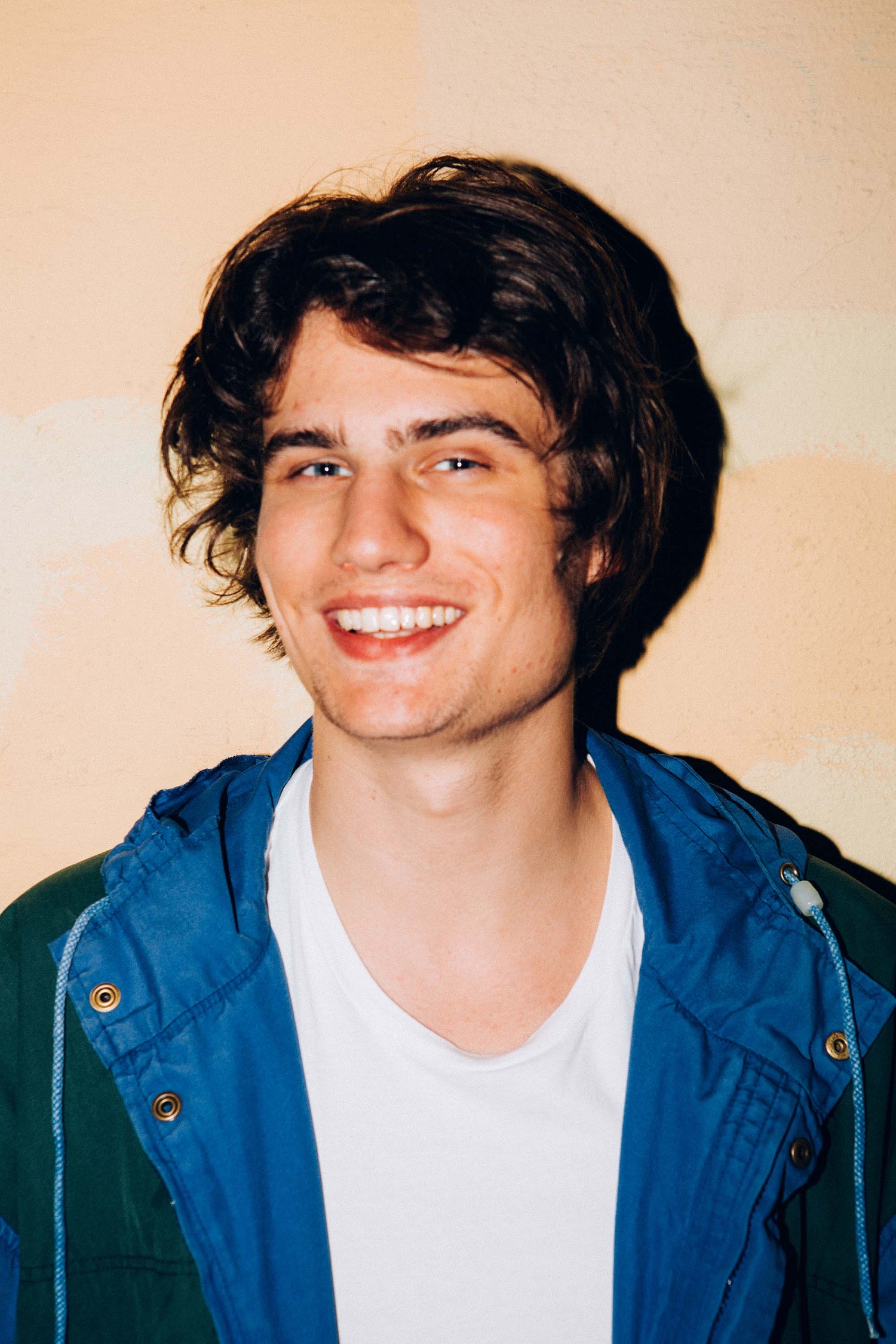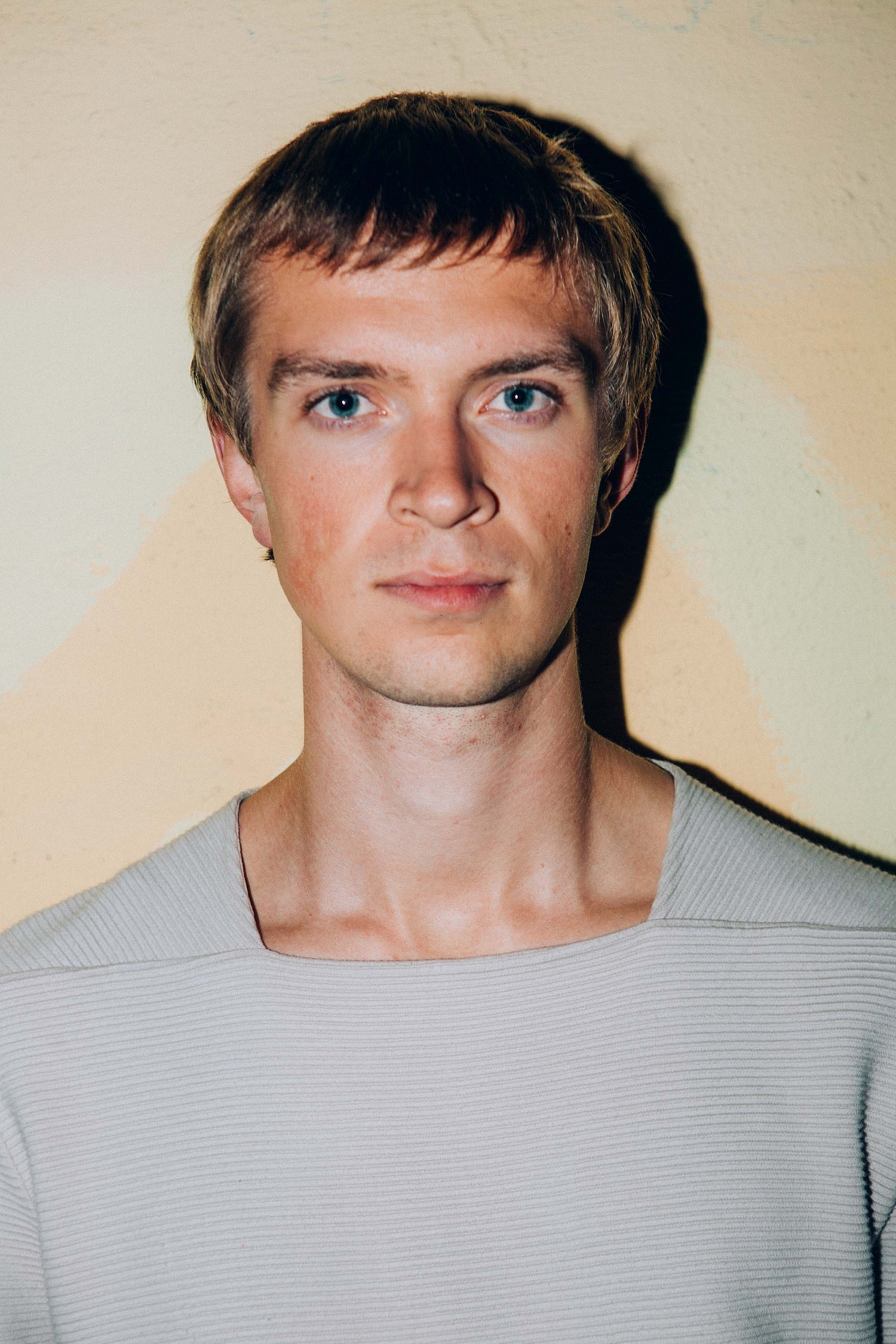 "People say that your debut album is 'make it or break it' - but I'm not worried."
— Tor-Arne Vikingstad
Taken under the wing of some of their childhood heroes (supporting both Los Campesinos! and The Cribs in the last six months) and playing to packed rooms, it's been somewhat of a dream come true for Sløtface, who grew up idolising UK indie exports. Tonight's show at Revolver is set to be significantly less grand, though, if their previous memories of the venue are anything to go off.
"The last time we played there, the ice machine on the floor above broke and the ceiling was leaking, so I was getting a steady stream of water onto my face and my drum kit," Halvard remembers, smirking. "I sweat quite a lot so I didn't really need any more."
As the show draws nearer, and the band run through parts of new songs they've had to re-sculpt after a year of leaving them alone, talk turns back to the album. "Doing an album was something we always had to do, but it was never a priority when we started out," Tor-Arne explains, and despite the frenetic punk songs at its core, nothing was rushed in the lead-up to 'Try Not To Freak Out'. "Just releasing EPs and playing gigs worked for a long time, and people came to the shows and had a good time. It wasn't like we needed an album in order to do this, but it felt really natural to try and use all the experience of what we've learned and seen over these past four years and put it into a product that's from one to ten, and travel with it."
"And when your songs are as short as ours, an EP might only be 12 minutes long, which isn't a whole lot of someone's attention," Haley takes over. "That's less than your walk to work or school, but if you have a full album, it's more of a commitment to sit down and listen to it and try to get a wider window into what people's brains look like."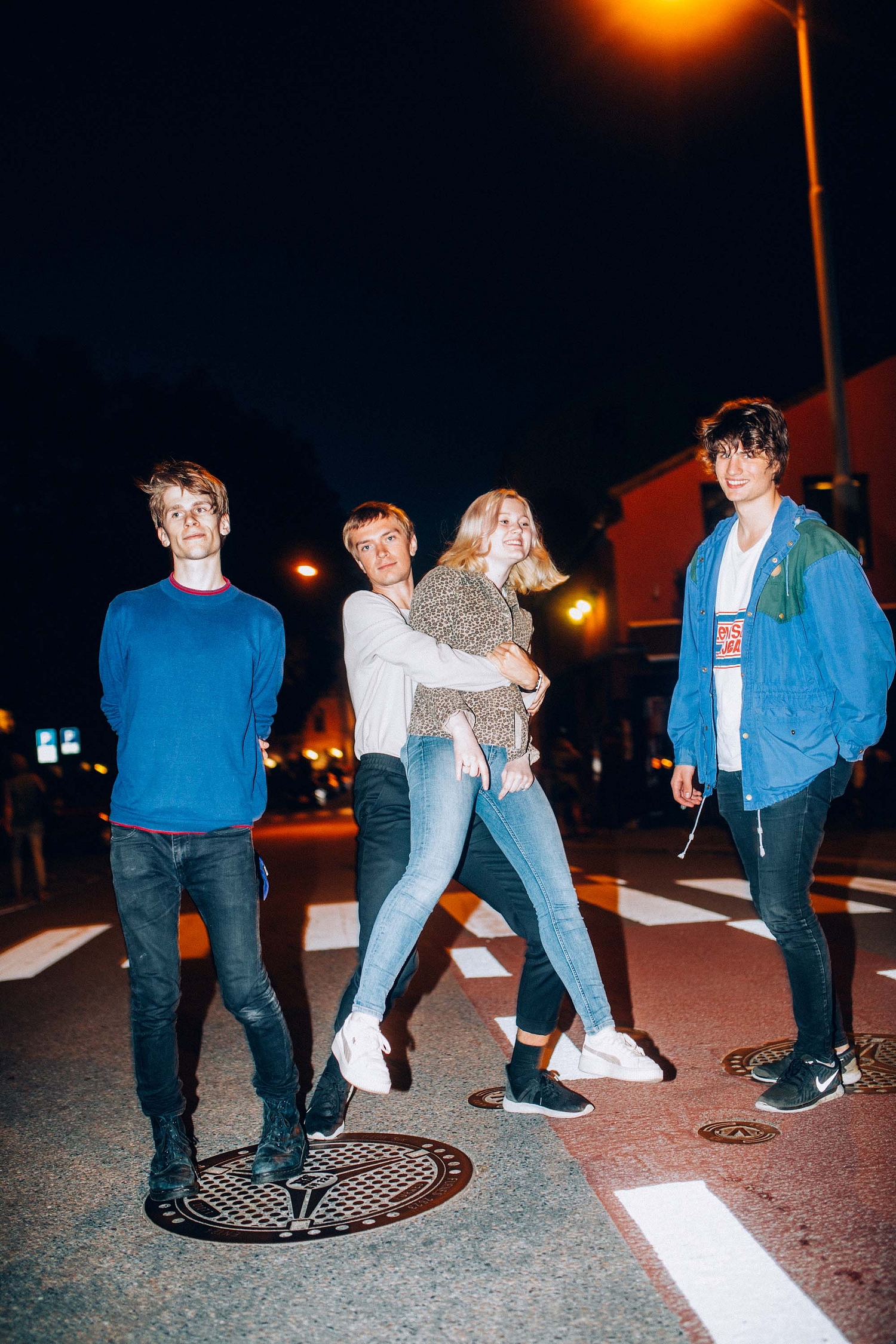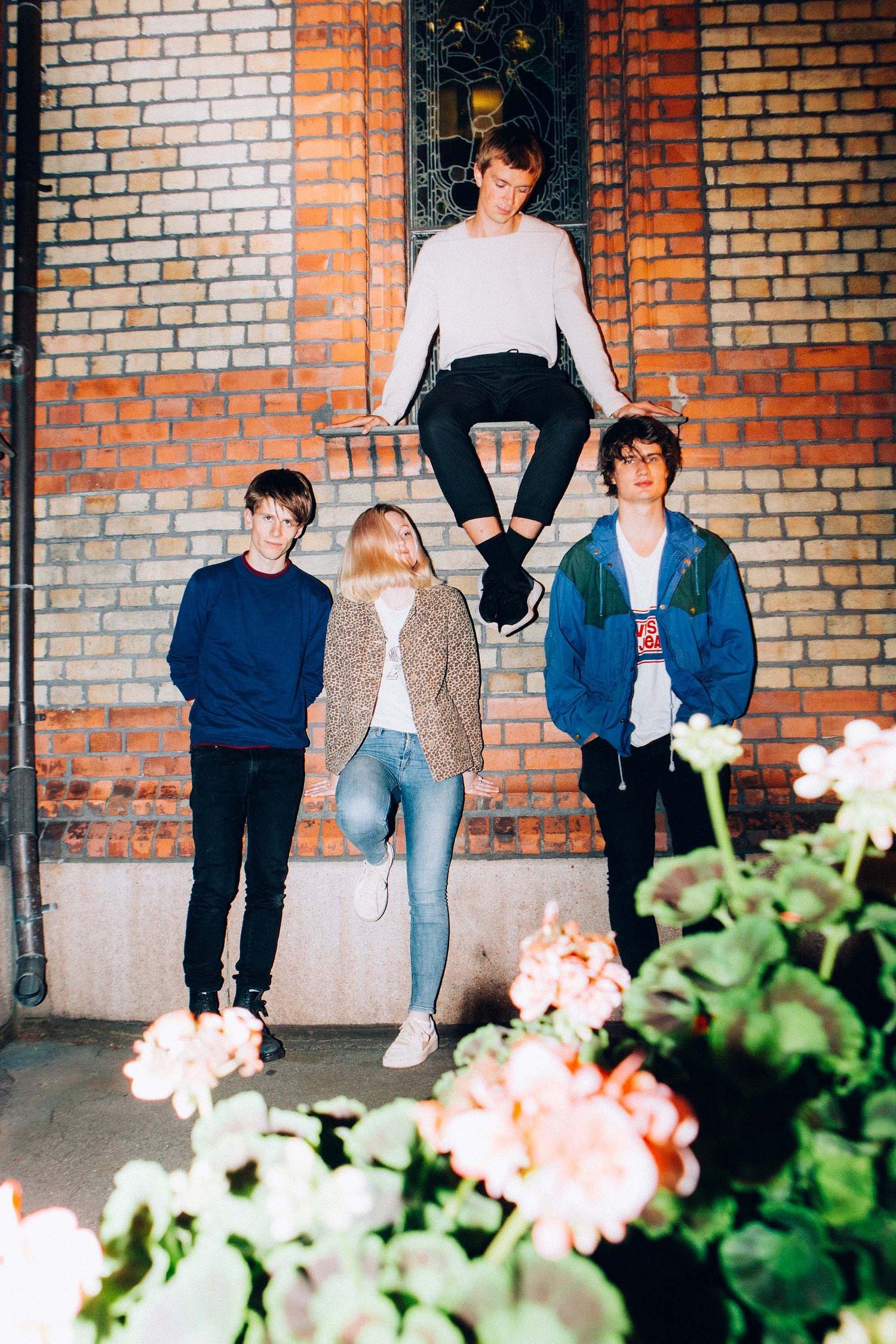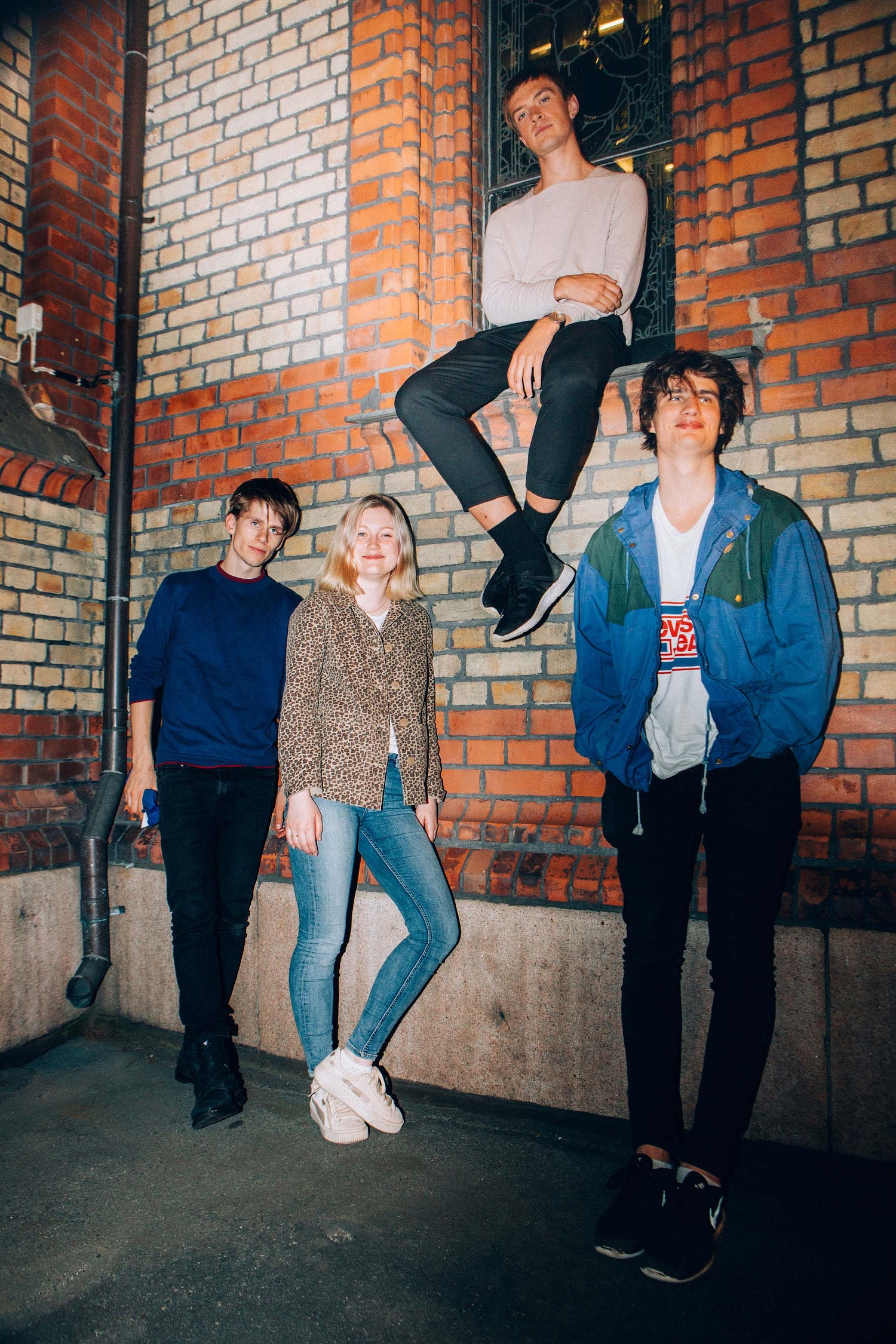 Their debut has shown Sløtface to be a lot more versatile than many may have first thought. It still packs in scrappy, punky hooks by the bucketload - 'Pitted' and 'Backyard Adventures' are unhinged, instantly appealing hits - but across its half an hour, 'Try Not To Freak Out' also shows the band to be vicious and anxious. 'Nancy Drew', an album highlight, profiles the feminist icon through Haley's growled vocals, taking down any boys' club in sight, while 'Try' bounces off the album's title, putting on a brave face.
"We were talking about this last week," Haley begins. "The theme of the album is trying to keep your shit together even though you feel like you have no control. A lot of that is trying to put on a face for other people, or trying to appear like everything is fine, so in that sense, that juxtaposition of really boppy, happy melodies over the sarcastic and sometimes really negative and anxious lyrics works really well, because that's what it feels like a lot of the time, when you're dealing with something but don't want everyone else to know about it and don't want to be a burden."
Despite the album largely dealing in hiding emotions, Haley and her bandmates are remarkably open, both when talking about their album and chatting among themselves. 'Try Not To Freak Out' is an album of two sides, balancing vicious, angry retorts and playful recollections of messy nights out. "That's just what it's like to be a person," Haley lays out. "Things go up and down; bad things happen and good things happen, and sometimes it's not always easy to see the other side when you're feeling a certain way."
At the midnight show at Revolver - a packed, sweaty forty-five minutes of which Tor-Arne, Haley and Lasse spend about half of it in the crowd itself - the diversity and moulding of states and styles across the record is abundantly clear. The set introduces the band's debut in a small room of close friends in their home country, before they prepare to hit the road for the foreseeable future.
A chaotic 'Backyard Adventures' closes the set, Tor-Arne signals the sound engineer to play 'Teenage Dirtbag' blisteringly loud, and the band jump into the front rows to be greeted by their friends' first impressions of their debut album. A night that points towards the future while also serving as a last moment of calm, there's a hell of a lot ahead of Sløtface in the next year and beyond. Chomping at the bit and still learning every day, they're going to give it all they've got.
Sløtface's debut album 'Try Not To Freak Out' is out now via Propeller Recordings.
Sløtface are one of the acts involved in the European Talent Exchange Programme. For more information on ETEP, and the artists and festivals involved, head to etep.nl.
Photos: Jonathan Vivaas Kise
Taken from the September 2017 issue of DIY. Read and subscribe below.
Read More
Popular right now
Featuring James Blake, Romy, Marika Hackman, yeule and more.