Neu Turning up the dial on Squid, the Brighton bunch making mind-melting post-punk to rattle your bones
Meet the five young men throwing convention out the window in favour of mad, eclectic, stupidly exciting new noise.
In August of last year, a track plonked into DIY's inbox. Called 'The Dial' and released as part of noted producer Dan Carey's Speedy Wunderground series (previous alumni of which have included the likes of Kate Tempest, TOY and, more recently, Black Midi), it was the debut single proper from a band called Squid who'd been quietly chugging around London and Brighton's toilet circuit for a short while, provoking a few whispers from those in the know that they might be onto something rather interesting.
So press play we duly did and, hold up… Coming in at just over five minutes of half-yelped, half-howled oblique vocals, repetitive krauty motifs and strange hypnotic propulsion, shot through with unpredictable moments of wild-eyed frenzy, it was the most intriguing thing we'd heard in ages – the marker of a still-fledgling band with some pretty gloriously weird ideas and the ability to translate them through a genuinely fresh lens. Though the band had previously put a couple of demos on Soundcloud,"['The Dial'] felt like a big, massive step," notes singing drummer Ollie Judge now. "Everything before that was more us finding our feet."
Today, we find the Brighton quintet – completed by vocalist and guitarist Louis Borlase, guitarist Anton Pearson, keyboardist Arthur Leadbetter and bassist Laurie Nankivell - in a Wetherspoons just down the road from London's fear-inducing US Visa office. It's a Monday morning (don't worry, they're on the coffees for now) and they've all just had their passports stamped, ready to go and instil exactly the same sense of excitement over at SXSW. They might only be a couple of years into life as a band, but the momentum behind Squid over the last six months speaks for itself; unusual and idiosyncratic, theirs is an infectious sonic viewpoint that's pricking up more ears by the day.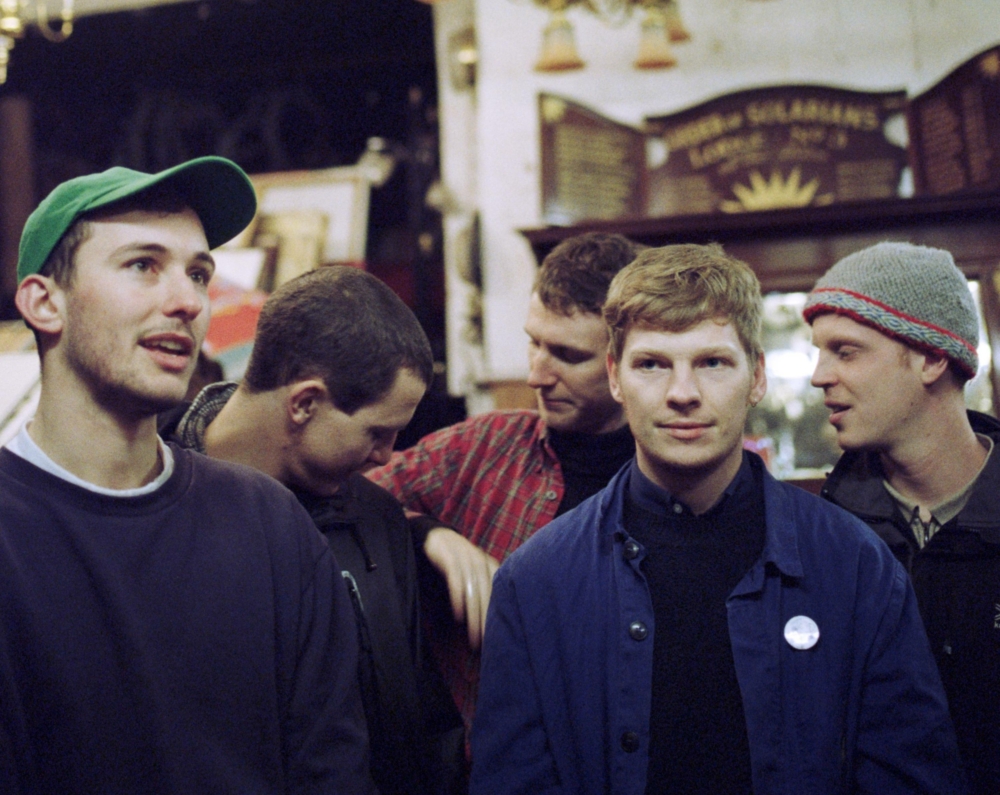 "The words are just another instrument."
— Ollie Judge
Even Squid's beginnings are typically upside down. Meeting at uni in Sussex, the band members had been vaguely making bedroom, laptop music when Anton noticed an ad for a "slightly weird place" looking for someone to start a young person's jazz night. "So we had to write loads of music to play this gig at the jazz bar," explains Ollie. "We booked the space first and then had to write a set," nods Anton. Soon bored of this traditional set up ("It was like, are we really just confined to always having to play the piano?! Fuck this," recalls Louis), the five pals started branching out to other venues and watched their output broaden in tandem. "There wasn't much cohesion, but it was something to do," shrugs Ollie.
Obvious cohesion, you sense, isn't really Squid's primary focus; ask what's on their collective record players, and they'll cite influences ranging from '80s English eccentrics XTC to German kraut favourites NEU! and minimalist composer Steve Reich. "Arthur's so obsessed with Steve Reich; he's got a new app called the clapping game," begins Louis. "I strongly, strongly recommend the Clapping Music app - available on iPhone and Android," informs Arthur, very seriously. "If you get the highest score on the hard level, then you get to perform Steve Reich's 'Clapping Music' with the London Symphony Orchestra." "He's been really annoying people on trains, but you're having fun – that's all that matters," grins Louis to his bandmate.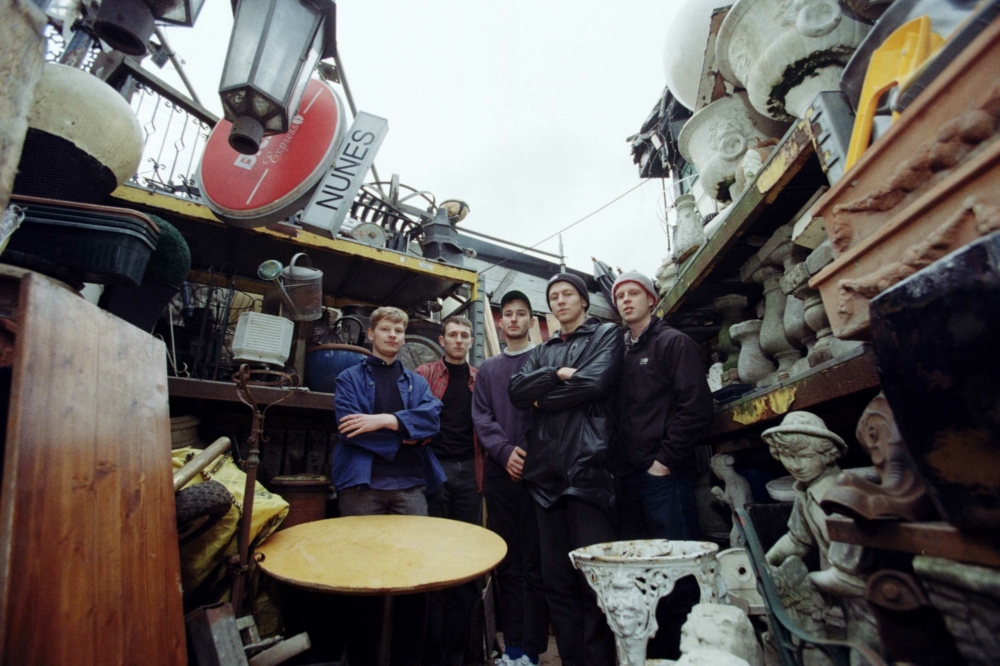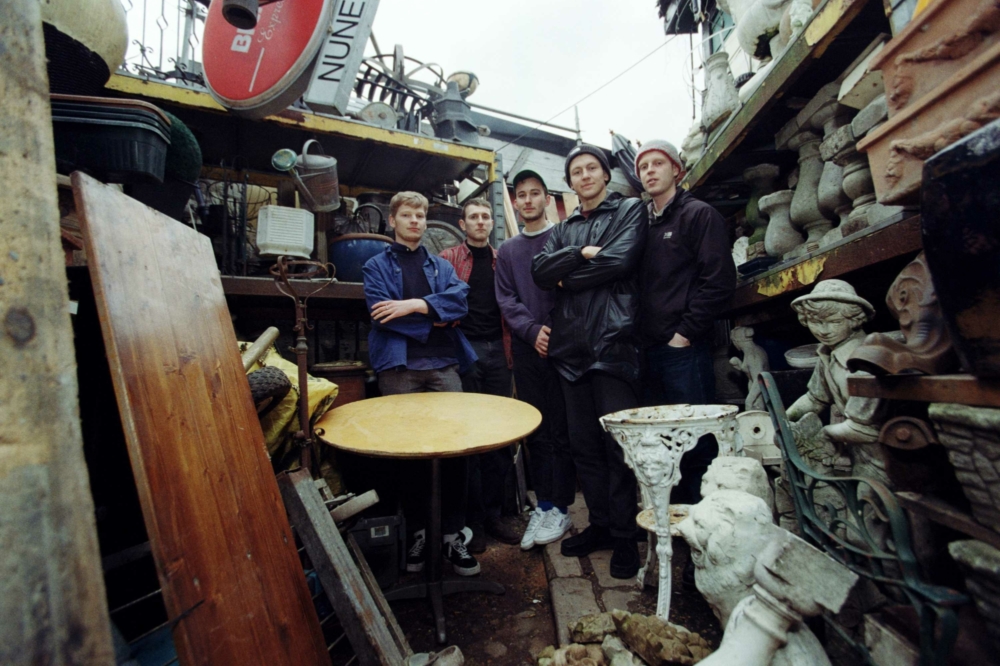 "We're only a year in properly and I don't think anyone can tell what it'll sound like in years to come."
— Arthur Leadbetter
Fun Fact
Ollie: "We won Steve Lamacq's Round Table and Alex Kapranos came up to say 'hi' after because he was on it that week."
Laurie: "I always used to think the band Franz Ferdinand was one man called Franz Ferdinand, and it even got to the point when I realised that the person who started World War One was called Franz Ferdinand and I thought they just had the same name by chance."
But though their interests may land on the more technical end of the muso spectrum, Squid's own output rings with a sense of playfulness, fun and more than a little unhinged mania. "Every song that we've written in the past year has been written in about three hours," explains Ollie. "They come from that slightly pressured way of writing and it gives them energy." Take just-released new single 'Houseplants' for example. Bursting out of the traps with an immediate, propulsive riff, it bobs along merrily before some discordant brass kicks in and then the whole thing temporarily collapses in a vortex as Ollie repeatedly wails the track's title. Picking up frenetic pace over its four minutes, it's a wild trip of paranoia shot through with a glint in its eye. "We just finished uni two years ago and now all of our friends are getting career jobs, so it's a bit of a comment on that," notes Ollie, "but I don't ever think out a whole story. The words are just another instrument. I've got a book with loads of phrases written down." "A phrase book, you might say?" jokes Laurie. "Dos cervezas por favor!" calls out Louis.
Next up, they're readying to record a full EP with Dan. They've got a tracklisting in mind (including live favourite 'The Cleaner'), but, as ever, these mad sonic scientists are leaving the specifics up for experimentation. "I really wanna record it on instruments that we don't really know how to play or haven't played before and see how that goes," enthuses Louis of the possibilities. "There's a synth that's quite famous within Speedy Wunderground called The Swarmatron and it looks like a mini billiards table and says nothing on it so you have no idea what's gonna happen," continues Laurie, eyes lighting up. "We're only a year in properly and I don't think anyone can tell what it'll sound like in years to come," nods Arthur. "We might put a big jungle ending on 'The Dial', you never know…" With this lot, we wouldn't ever really dare hazard a guess…
'Houseplants' is out now via Practise Music.
Read More