Superfood: "It means more to us than just being popular and cool for ten minutes"
Superfood capture the wild, weird imagination of every unorthodox daydreamer. Debut 'Don't Say That' aims to make the world a little stranger.
"Wanna believe, wanna get out here," runs the mantra of Superfood's debut 'Don't Say That'. It's a calling card for the itchy feet city-dwellers, the kids who want escape from mundanity. On this first work, the Birmingham four-piece extract oddities out of every situation imaginable. According to their script, flowers can talk, raisins are mysterious and lemons get bullied. "Forget what you know! Forget what you're told!" shouts frontman Dom Ganderton in the same track, 'You Can Believe'. This lot inhabit a strange alternate reality, and their first work is a means of getting casual daydreamers on board.
Arriving two years on from their debut gig - at which point they nose-dived into the public eye, snowballed into the conscience - 'Don't Say That' marks the first step of Britain's strangest new band. Ganderton, guitarist Ryan Malcolm, drummer Carl Griffin and bassist Emily Baker might not translate as much in everyday mannerisms, but take them on tour or hang out after-hours and out steps the real Superfood - a bunch of brilliant weirdos.
"When we were on the Wolf Alice tour, these guys kept telling us we had "stamina"… Oh god," remembers Ryan. "Going out and going to a bar up the road, getting really drunk and waking up in the van - you shouldn't do it every night," claims Dom, before glancing over to his bandmate. "Emily always drags us out though."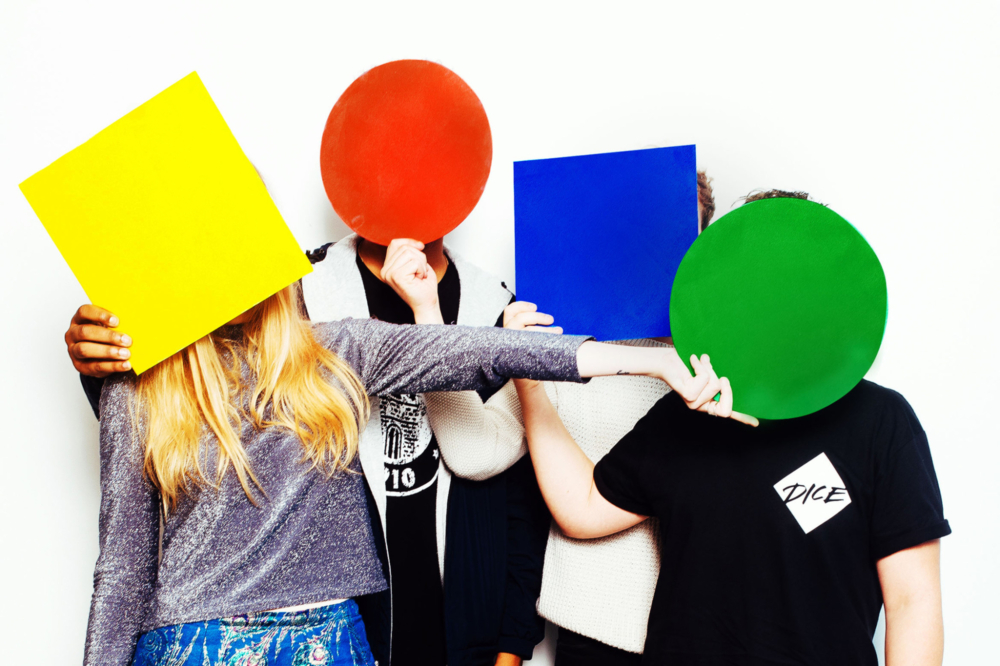 "Some people have way more press shots than they have songs."
— Ryan Malcolm
The songs on 'Don't Say That' link arms to form a sharp assault on the senses. Razor-like guitars burst into the frame. Hooks latch on in their masses like a bunch of octopus tentacles, sucking out the dull and injecting poisonous fun. The whole thing sounds so refined. Solos step in without a moment's hesitation, choruses arrive in spades. There isn't a single mis-step.
Apparently things were a little different in demo form. Superfood started as a bedroom project between Dom and Ryan ("We'd talked about it for years and we finally knocked our heads together and did it," remembers the latter) where scrappy beats clash heads with simple guitar hooks. A little alcohol helped, too. When asked how the early demos might sound to the naked ear, Dom replies with one damning word: "Magaluf!"
Emily beams thinking back to the scrappy first takes. "There was loads of "ooh ooh ooh" chants," she says, as if the band have the potential to pen Ibiza EDM-bangers in their troves. Dom's wild ideas don't stop there. "I'd love to do a new song like that where we invent a new language. Or just Pig Latin for the whole song," he ponders. 'Don't Say That''s full of plenty of curveballs. The 90s-nodding embrace of early tracks remains, but opener 'Lily For Your Pad To Rest On' sounds like Beck on Sesame Street, while 'Pallasades' pens a haunted house vibe. Make no mistake - the strange world of Superfood helps them stand out in a busy crowd.
When they emerged with ultra-sharp, clear as day songwriting, part of their inception was a reaction against scene-chasers from Birmingham. "There was just so many bands around at the time that were just writing music that was 'current'," remarks Dom. "My Bloody Valentine put out their last album and it was just putting a fucking reverb pedal on. We wanted to do the exact opposite. To actually test ourselves and write songs. Rather than going for a look and a sound."
Ryan echoes the sentiment. "Lots of people get in bands for the sake of telling people you're in a band, rather than actually getting into making and creating music. Some people have way more press shots than they have songs."
This debut alights the hype train from the first stop. Nothing's intentionally cool or box-ticking. In fact, Superfood are most often tagged with reimagining Britpop, a 90s staple that chin-stroking snobs don't tend to get on with. "When we got together to start this, it meant a bit more to us than just being popular and cool for ten minutes, I think. It's about developing as musicians, learning our craft properly," states Dom.
Prior to turning heads in their current form, all four members hung out and saw each other getting somewhere in different bands. Ryan was making songs with his brother and Swim Deep drummer Zachary Robinson, while Carl was on the brink of getting signed with another group, Tantrums. "We got quite far… Island Records paid for us to do an EP, and then after we recorded the EP we split." A inter-band relationship was the blame for that bust-up. One plus from the experience was Tantrums' own house, which became the friendship group's go-to drunken destination after a night out. "Tantrum Towers!" bursts Dom, remembering the place. "You'd go out on a night out, go to the Rainbow, then there'd be a party going on at Tantrum Towers. I remember going there after a New Year's Eve party, being a bit twisted, thinking the rooms were all massive. I was in the corner of a room shouting, 'This place… This place is massive!' Getting up, running round the rooms."
"The energy that we've got writing these last few years, we want to keep putting stuff out."
— Dom Ganderton
Tantrum Towers ended up being a source of regrettable booze-filled experiences for every Superfood member. Carl fell asleep on the stairs, while Emily freaked out at a "weird wooden room with gym equipment and mattresses" this one time. Clearly the source of 'Don't Say That''s oddities stems in part from batshit crazy nights out at this old haunt.
Rock and roll antics might've died down a touch since then, though Dom's quick to admit "we still fuck ourselves over a lot, to be fair." Most of that stems from an unspoken rule in everyday circles where if one band bumps into another out of coincidence, they're obliged to get wankered. "If you see another band out and about, it's like 'Alright, let's get really drunk and regret it in the morning,'" says Dom, part-sighing. They're best mates with Wolf Alice and Gengahr, although things didn't immediately spark off with the latter. "I poured a full drink over [bassist] Hugh Schulte's head that night, because he was just being a pain in the arse," Ryan laughs, thinking back to the first night of their tour together earlier this year. "He loved it…"
It's back to the road following 'Don't Say That''s release, although Superfood's heads are still firmly planted in the studio. They're hoping to bring a laptop back after gigs each night on forthcoming tours, with the intention of recording scrappy demos when the iron's still hot. "Whether we stick to it or not, I don't know," admits Dom, but talk keeps turning back to future material, as if it's first on the agenda. "Hopefully it's not long before we put more songs out after this. We never want a huge gap," he says. "The energy that we've got writing these last few years, we want to keep putting stuff out. You know when a band doesn't put anything out for a while? We just want things to keep going."
Momentum's on their side, and it's been with them from the beginning. Together, they call the past two years "bittersweet", where they've developed under a spotlight, releasing music from day one. "We haven't had those three or four years to learn each other or write loads of songs," says the frontman. "What you hear on record from us - that's us developing, that's what we've got. It seems honest.
"You're going to see different things happening," he sparks. "We always have so many different ideas. It's just honing it all in so we've got a really clear idea of where we wanna go. Or maybe we should do the exact opposite… " he ponders, clearly excited at the possibilities that lie ahead. With 'Don't Say That', Superfood haven't just made a great start - they've produced one of the debuts of the year, a record like no other to be coming out in 2014. What happens next is anyone's guess, but given the breakneck speed of both these first two years and their own songs, they're unlikely to waste any time.
Taken from the November issue of DIY, out now. Superfood's debut album 'Don't Say That' is out now via Infectious Music.
Read More