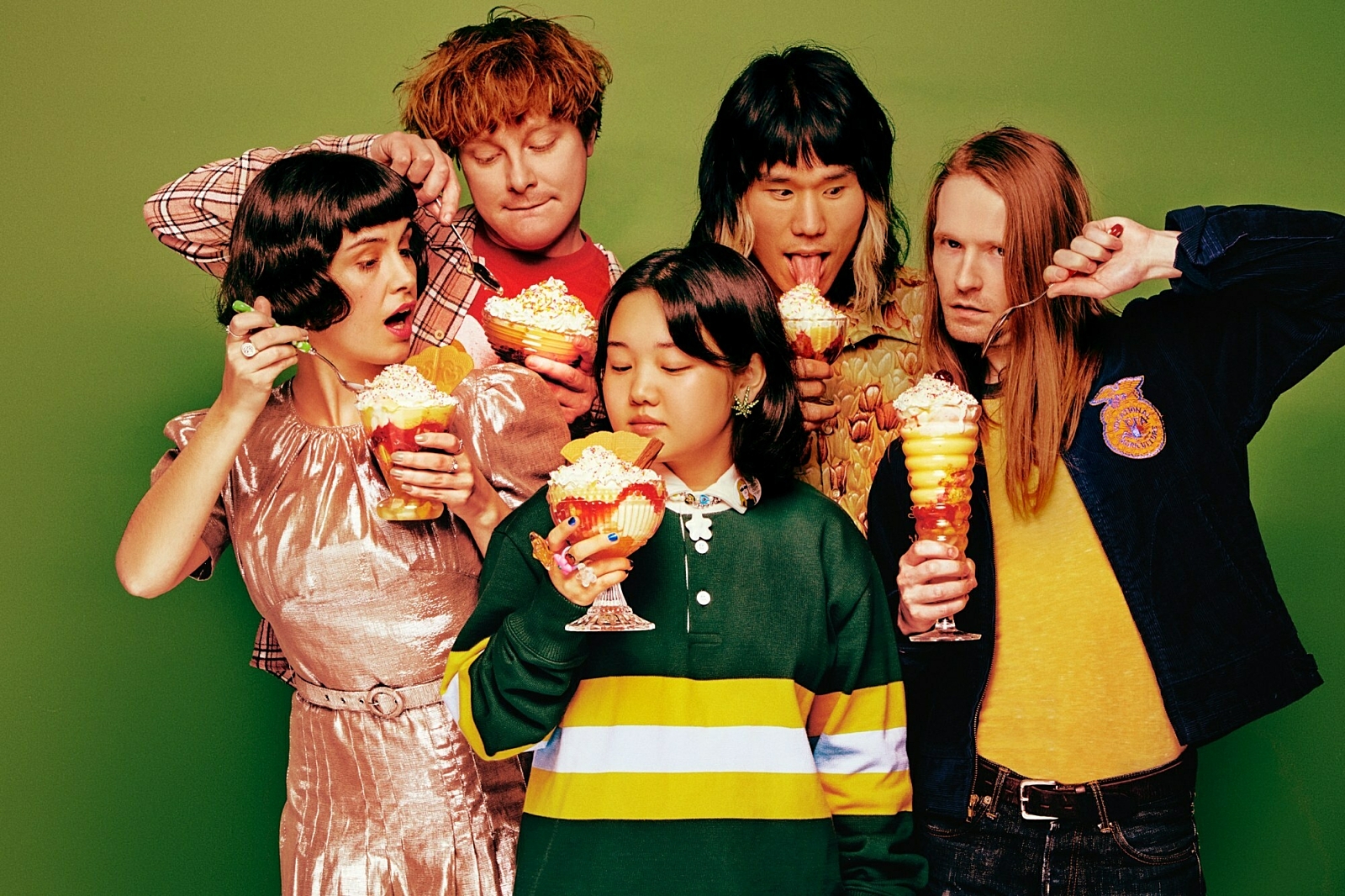 Photo: Jack Bridgland
Superorganism: "Our band is an exploration of the grey area"
We chat to Orono and Harry following the release of 'World Wide Pop'.
In 2017, Superorganism had never even met in real life, but still managed to become one of the world's buzziest bands. Singles 'Something for Your M.I.N.D.' and 'Everybody Wants to be Famous' were maximalist, fizzing concoctions that were impossible to ignore. Amid the maelstrom, the band finally convened IRL and toured the world with their 2018 debut album.
So when lockdown hit, few bands could have been better prepared. Recording remotely was their speciality, and although they did manage to squeeze in a few recording sessions together beforehand, much of second album, 'World Wide Pop' was also recorded separately. This time, though, the band were much closer friends and their tighter bonds have produced an album that, although still a playground bonanza of fun, also manages to pack in an earnest emotional punch.
We spoke to vocalist Orono and guitarist/producer Harry about the difference being in the room together ended up making to the album, their all-star list of collaborators and the difficulty of remaining optimistic in a scary world.
"I wanted to do something that was very honest and I wouldn't get sick of playing every single night."
— Orono
Is it true that the first time Superorganism were ever in a studio together at the same time was during the making of World Wide Pop, your second album?
Harry: Yes! A lot of it was still done separately, but our first album was done entirely remotely, so it was different this time. But we had to stop early on because of the pandemic anyway. Our first album was pretty much made in lockdown conditions, and that was before the pandemic!
Did being together physically make a difference?
Orono: Definitely for some of the songs. 'Oh Come On', for instance, captures the magic of being in the room. I was super bummed out after being forced out of the Airbnb we were renting in Chicago and I was super depressed and watching RuPaul's Drag Race all day, eating Chipotle, and some of the other guys were jamming in Carter Lang's studio [producer for SZA, Doja Cat, Rihanna and many others] and they kept saying, 'Come on, dude, you've got to get out of your room, you have literally not left your room in 24 hours'. I really didn't want to, but we got there and we worked on that song, thank goodness.
Harry: That song just wouldn't exist had that not happened on that day. In a lot of ways, simply being together and listening to music together on the tour bus and even when we were living together, it did make a difference. For the first record, we hadn't really hung out that much. We knew we were all fans of Pavement and Weezer, but we didn't really know our common cultural touchstones beyond that. So, it's not so much that it's a conscious influence on the songs, it's just spending loads of time together, you start to understand each other more.
Speaking of Pavement, you've made a record where Stephen Malkmus and CHAI seem equally at home, that's quite a unique achievement.
Harry: Yeah, to me, it's even weirder that Stephen Malkmus and Gen Hoshino are on the same song. Gen is a Japanese superstar, whereas Stephen is this indie hero. In a lot of ways, they're worlds apart in terms of who they are and their outlook, and yet on that song, they just both gel so well. That's what we're trying to do, we create this space and these people that we love can be brought into it.
There's more earnestness on this album than the first one and an emotional depth. Is that something you were consciously aiming for?
Orono: Yeah, I think so. I was listening to a lot of Kacey Musgraves. I just love it when a pop song is able to be super honest about a really specific thing and it's relatable to so many people, but without being super corny. Also, I was just feeling very emotional. We weren't even a band really for the first one, we didn't know that we would be living together or making an album. So, knowing that we would tour this album, I wanted to do something that was very honest and I wouldn't get sick of playing every single night. Not that I got sick of playing the first album, but I just wanted to be honest, so that I don't make myself go crazy.
Do you consider yourselves an optimistic band? A lot of us feel like there's too much happening in the world to ever relax, and your music reflects that in a way, but somehow turns it into a positive.
Harry: I think we are. It's a balance of a few different outlooks, but overall we've not got any reason within our group not to be optimistic. I like to think that everything is going to be ok. You've got no choice in being born and a lot of time you can get despondent, but art fills that void a bit and it gives me a reason and makes me appreciate the world outside. We strive to create that environment in the music we create.
Orono: That's true, but we're not a positivity band. I hate the phrase 'good vibes only', it's so aggressive. I've been trying to get away from what my therapist says are the dualities of life. We talk about what is good or bad or positive or negative, but most things are usually in the grey area. I think our band is an exploration of the grey area, especially with this album. We're trying to explore all shades of grey that there are.
At the end of 'Black Hole Baby', you have a montage of famous radio hosts introducing songs from your first album. How do you reflect now on how crazily fast your rise was back in 2017?
Harry: It was crazy, it all happened so quickly.
Orono: I'm looking at Wet Leg, who are a label mate now and they are the new hype band. It's like, I remember being the hotshot a couple of years ago. It's weird because I know what that feels like, but it also feels like a crazy trip that I went on. It just kind of happened to me and I was there. It's truly bizarre what happened. I'm so relieved that it did happen.
Harry: To have two years where you're thrust into a completely new world and then to immediately follow that with two years of global lockdown – it's like, when is life ever going to be normal again?!

'World Wide Pop' is out now via Domino.
Read More