Big Big Love: The Big Moon
Taking third album 'Here Is Everything' out on the road, we join The Big Moon for a rollercoaster of new motherhood, missing gear and much more besides.
Taking in the sights of the quaintly-named Sunset Park, just around the corner from Birmingham's O2 Academy, The Big Moon are in unusually subdued spirits. Guitarist Soph Nathan has spent much of the past 24 hours pointing a hair dryer at her sore back, and Celia Archer is lying face-down on a metal bench - "We're in mourning," lead singer Jules Jackson explains, glumly. The cause is a very long story involving a broken-down tour van in Spain, airline baggage restrictions and international freight gone horribly wrong; to skip straight to the ending, half of the band's live gear has essentially disappeared into thin air.
Though fans and friends have quickly rallied around, lending everything from guitar pedals to stray flutes for earlier dates in Sheffield and Brighton, it's clear that feeling so suddenly unprepared has knocked the band for six. Months of painstaking rehearsals now feel slightly "undone," according to Soph, while drummer Fern Ford admits she's been struggling with her planned live set-up - a mish-mash of complicated sample triggers - with so many missing parts.
Much of The Big Moon's disappointment ties directly into their fierce levels of ambition for this month's third record 'Here Is Everything', as well the way they think they're sometimes perceived as a band. While the quartet's brilliantly wide-eyed debut 'Love in the 4th Dimension' enjoyed its fair share of raucous live outings, the touring journey of its intricate, more introspective follow-up 'Walking Like We Do' was effectively cut off by the pandemic; the record missed out on a jubilant summer of festival slots, and a proper chance for the band to show just how much they'd grown as performers between records. It leaves them in a strange predicament now.
"A lot of the time the way we're spoken about, or what people think of us, is like, 'Awww, The Big Moon!'" reckons Celia. "We really wanted to be like, 'BAM! BAM! BAM!' on this [tour], but we're still having to be like, 'LOL'," she offers, with a despairing comedy shrug. "We were slick as fuck," says Jules, "and it's frustrating to end up winging it."
Still, very little of this anxiety manages to elbow its way onto the stage. Later on, Fern's usual trumpet solo in the middle of 'It's Easy Then' becomes a brilliantly comic moment instead as the drummer stands up and does absolutely nothing while lit by a starkly theatrical spotlight. For 'Barcelona''s lilting woodwind intro, Celia and Jules perform spot-on vocal impersonations of flutes, to huge cheers.
Pre-show, meanwhile, the band soon brighten up after collecting their thoughts on the whole debacle. "Anybody else feel like this is well-needed therapy?" Jules laughs. Soon enough, they're back to joking about the sheer ridiculousness of the last week, which has involved a lot of frantic asking-around, and a desperate nationwide hunt for a particular guitar pedal called a Big Muff.
"Everything we do is just… hope," ponders Celia, taking a moment to get philosophical. "We hope our gear gets here in time, we hope this show goes ahead. We found out our lighting guy always brings a bath bomb with him on tour because he doesn't have a bath at home, and he thinks that maybe one hotel that he goes to will, and then he can have a nice bath with his bath bomb. That is hope! It's the epitome of pure hope!"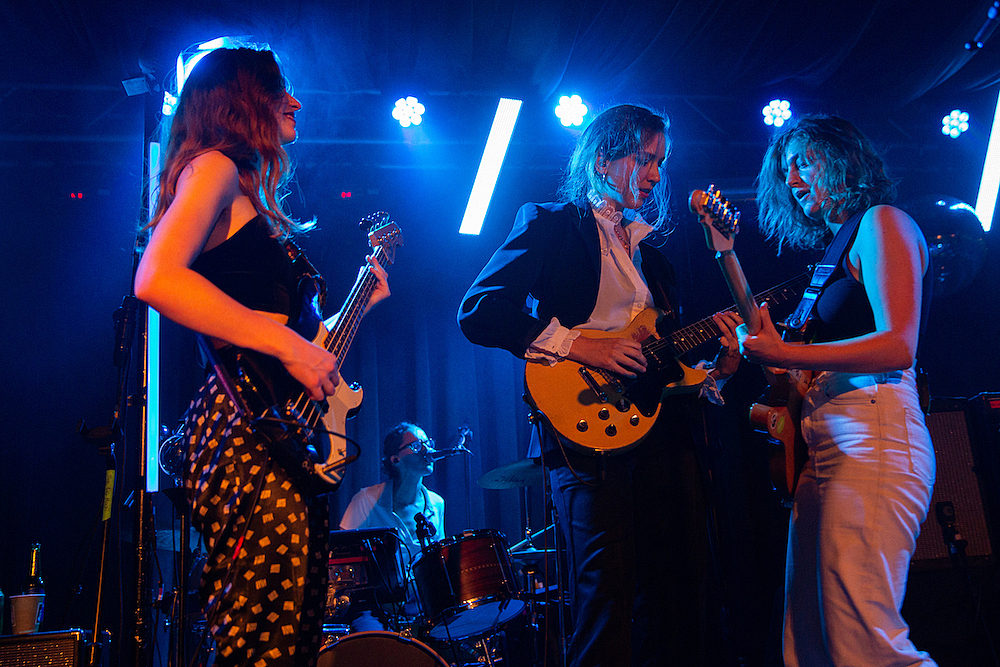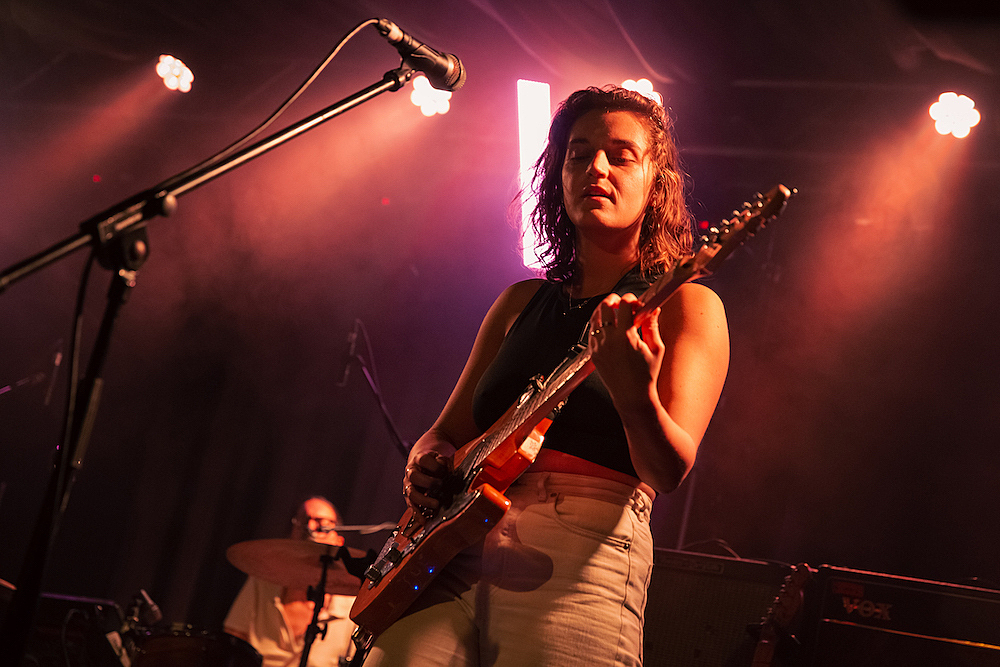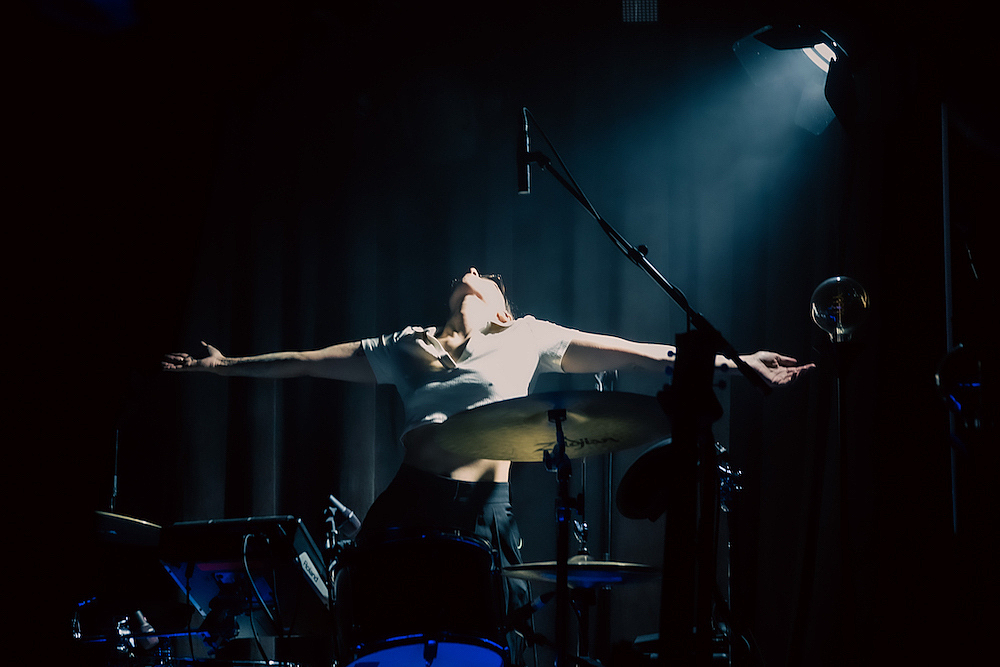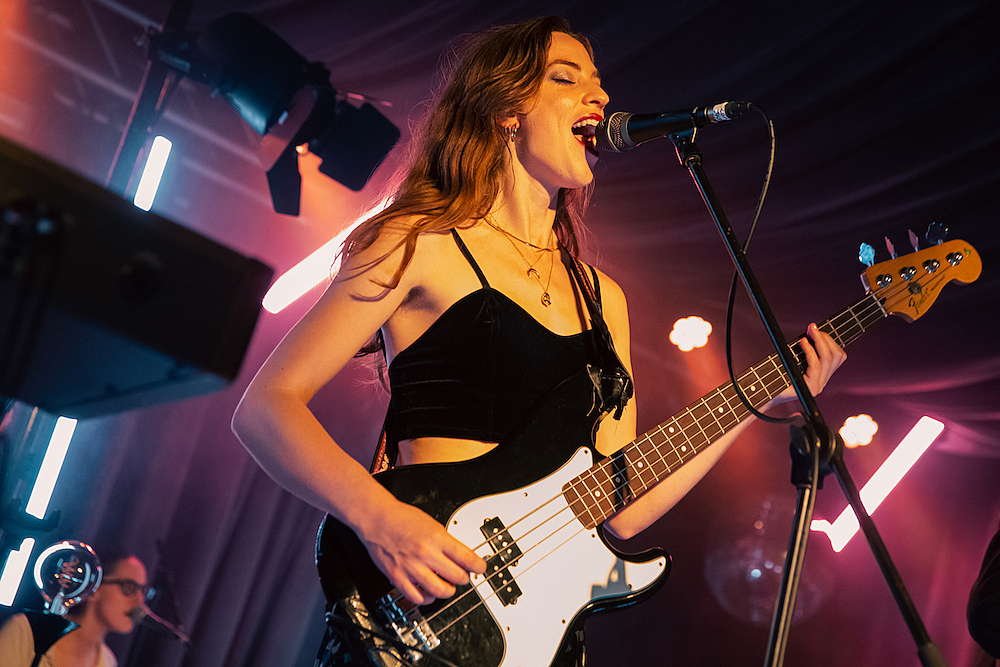 "These are love songs, but they're also songs about starting to feel like myself again."
— Jules Jackson
Hope is also something that runs through The Big Moon's music in spades. On their debut, 'Formidable' was a tight-knit celebration of the magical bond that first brought the band together, while second album standout 'Your Light' dug out a glimmer of promise in a fucked-up, dark world that "never needed gravity to drag you down". Hope is also what propelled The Big Moon to keep on pushing after their first attempt to record Album Three essentially fell to pieces; though the band mixed and mastered an entire record in early 2021, the music just felt weightless, and wasn't working.
After those initial attempts to record in a couple of weeks with a producer fell apart, the band took a big step back - Jules was focused on becoming a mother for the first time, and the rest of the quartet split off to do other jobs during the pandemic. "We were separated into these different planets for a while," Jules says, "and were apart for so long. We had a bad experience in the studio first, and then I had the baby and it became even more shredded. We were all like, 'Oh my god, what's gonna happen?' To come back together and recommit," she adds, wistfully, "it's like renewing our vows."
"When we all met each other, it was kind of like magic," Celia continues. "We're all friends of friends - we didn't grow up together or anything like that - and it felt like, 'I've only just met these people and I really love them! And it worked! The band was taking off, we got a record deal… Amazing. This time though, it felt like… 'Oh, I really want this. This is something special that we have, and it's worth working out and fighting for'."
And though Jules' songwriting has become thornier and more complicated over time, 'Here Is Everything' ultimately comes from a similar place where hope eventually prevails, no matter how messy or intangible life can seem. Even as she processes her fears about parenthood on the record, the joys of seeing that first positive on a pregnancy test ('2 Lines') and meeting a new tiny person for the very first time ('Wide Eyes') trump every moment of uncertainty.
"For about half the album, all the songs are quite questioning, like: 'What kind of parent am I going to be? Why am I bringing a child into this world? During a pandemic?! Like, what the hell am I doing?!'" Jules says. "Then the songs I wrote post-birth are these massive, exhausted, hormonal love songs! There is a massive release from that, and a big joy in that. These are love songs, but they're also songs about starting to feel like myself again."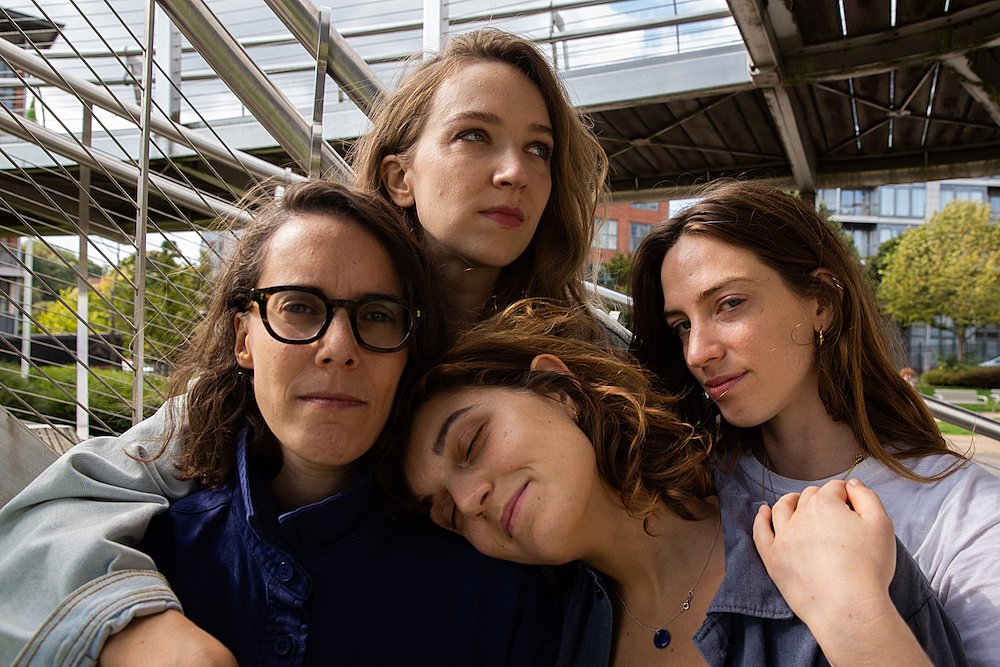 "To come back together and recommit [as a band], it's like renewing our vows."
— Jules Jackson
In several songs on the record - especially 'High and Low' and 'This Love' - Jules' vocal is exposed and ragged; you can hear the torn edges of her voice. Sticking with these raw recordings, taken from the earliest demos she recorded at home, feels most "honest", she explains. "I recorded 'Satellites' when I had the worst morning sickness and felt like I was going to die. I feel like you can hear it in my voice; it's a very unsure song." On that track in particular, she rages at the carefree existence of her former childless self while hunched over the loo in a state of severe nausea.
Capturing these kinds of unglamourous moments and talking openly about the stigmas pressed upon new mothers felt important to Jules, who continually found herself seeking out other people's stories when she was struggling. As well as pouring her experiences into the record itself, the musician recently wrote a candid newsletter expanding upon her difficulties as a new mum and the intense shame she felt at not being able to breastfeed. "I felt like a giant failure," she wrote. "I remember feeling very disengaged from reality. Eventually I gave up, I formula fed, and I learned by myself that it was all bollocks and I didnt need to feel bad."
"When I couldn't breastfeed, or while I was pregnant, I just devoured other people's stories of how they felt," Jules says today. "I was on Mumsnet every night trying to work out how to use my nipples properly; I read every single thing about breastfeeding that was on the internet, and it feels important to me to add my story to that pile. I think it helps. We've had so many nice messages from people saying, 'I'm going through this right now'.
"While you're pregnant, you're treated like royalty. You go to hospital every couple of weeks and everyone's like, 'Oh, have a seat!' You get all these injections, and everyone's constantly looking out for you," she adds. "After you give birth, you get this one visit from a health visitor who comes around and sort of asks in this embarrassed way… 'Are you OK?'"
Juggling parenthood with touring hasn't always been easy, but returning back to live shows last summer after the uncertainty of the pandemic "felt really good," Jules says. She explains that the main challenge comes in the shape of logistical planning, coupled with the fact there are few blueprints out there for parents in bands in terms of what to expect; men, notably, rarely get asked about how they find things. For Jules, the backing of her bandmates has helped no end. "It felt really good to bring baby backstage last festival season. You guys were all god-mothering, and I felt really supported. It was amazing."
All three of Jules' bandmates are god-mums to Mini Moon. "She'd been trying to ask us for days," Soph laughs. As the band's singer grew more and more nervous about her announcement, the rest of the group's worries mounted; "We were like, is she going to leave the band?" Celia recalls in horror. Jules eventually popped the question at a big round table in Halifax. "It was like the meeting of the five families [from The Godfather]," Celia chuckles.
In a ceremonial passing of the baton, Pho - the band's unofficial mascot, a toy puffer fish originally purchased at a service station - now belongs to Jules' kid. "In the early days of Baby Moon, Pho met baby," says Celia. "He has fulfilled his destiny as a soft toy and has become a child's toy," Jules says. "It's sausagey and dirty. Like everything in my life, it's a bit squished, a bit stained and bobbly."
"Urgh, I'd love some pho," declares Soph, wrapping things up. "There's a place in the shopping centre!"

'Here Is Everything' is out now via Fiction.
Read More