Class of 2023: The Dinner Party
Without a note of music released, this quintet have already supported The Rolling Stones and become London's buzziest word-of-mouth new band. Are they THAT exciting? Well, actually, yes…
To put it into a parlance that seems fitting, summer 2022 for The Dinner Party was like skipping starters and going straight to mains. Having released not a jot of music, and with only a handful of increasingly buzzy live shows under their belt, the London-based quintet found their name plastered across London tube posters nestled under a very famous band indeed: The Rolling Stones.
"It's the biggest stage I've ever seen; we were just running up and down the ramps," laughs bassist Georgia of their turn supporting the bonafide legends at Hyde Park. "But in a few months we'd gone from playing Brixton Windmill to Shepherd's Bush Empire supporting BENEE," picks up guitarist Lizzie, "so obviously the Stones show was a ridiculous gig, but it wasn't our first stupid 'How did we get here?' moment…"
So, how did they get here? "We tell different journalists different stories," pipes up vocalist Abigaille, with a keen sense of myth-making already in place. And while, for today's summit, the band have ditched their decadent IRL dinner party line for something a little more truthful (meeting over pizza and cider during a squashed Freshers' Week gathering), that's about the only slice of everyday mundanity you're likely to find from the five-piece.
Instead, The Dinner Party embrace an aesthetic of maximalism, grandeur and excess. The reason they've already caught the eye of rock'n'roll's finest? Because they already look and sound like they should join them. "Most nights, we'd be at gigs seeing four men playing guitars and shouting about politics. Where's the fun?" questions Abigaille. "We wanted the band to be fun and joyful and euphoric, and we want to try really hard. We don't want it to look effortless or like we don't give a fuck, because we give so much of a fuck."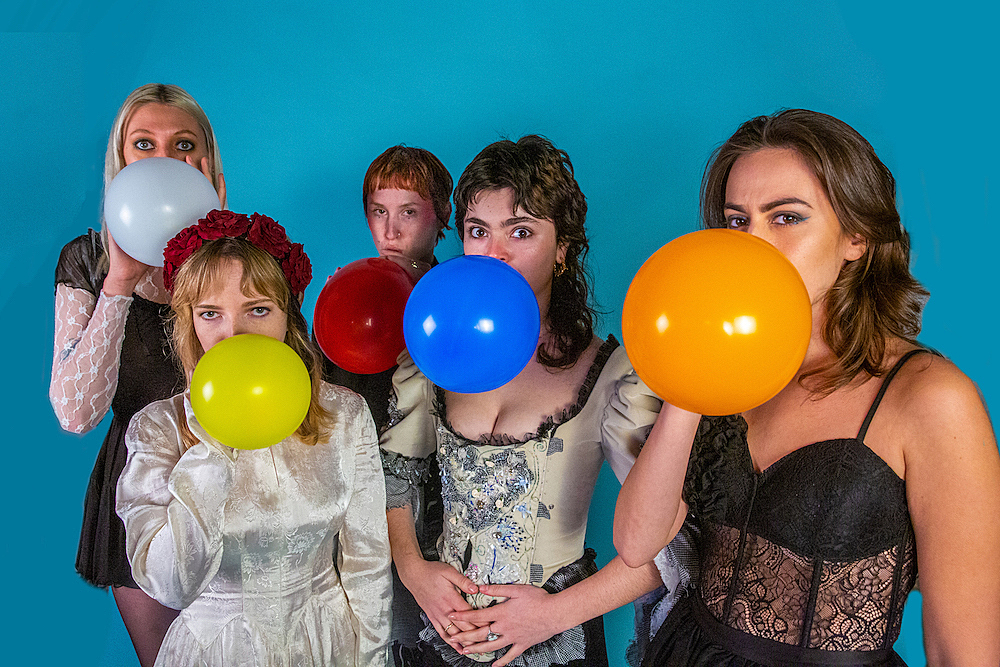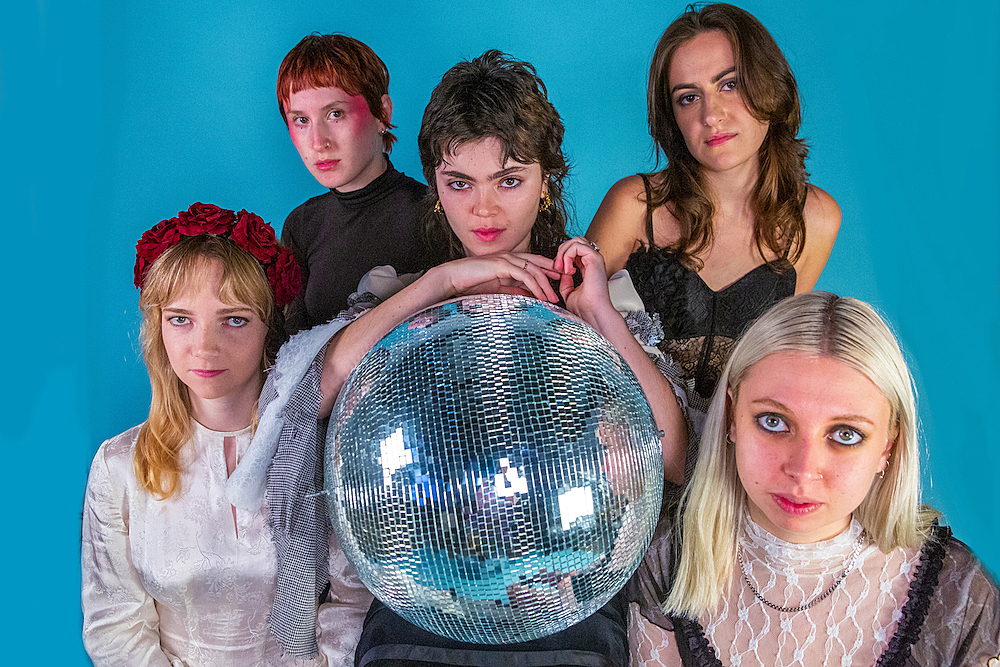 "We don't want it to look effortless or like we don't give a fuck, because we give so much of a fuck."
— Abigaille
It's an attitude written over every increasingly buzzy step the band have taken so far, and one that's literally written across a series of moodboards excitedly put together during The Dinner Party's early ideas sessions. Nodding to David Bowie and Queen, aestheticism and gothic literature ("We made it as pretentious as possible. Our music's for the scholars," deadpans Abigaille), for each gig they'd conjure up a theme replete with optimum opportunities to play dress up. "The first one was 'Princess Di in an advert for American Apparel'. Then we had 'David Bowie Alice in Wonderland' and 'Italian Renaissance Vampire'," the vocalist informs.
Musically, too, the band's ideas pull from disparate sources, uniting them with a sense of high melodrama and glorious theatricality. Take a peek at one of their live sets on YouTube, and there's a confidence and adventurous spirit that belies their infancy as a unit. With two of their number (guitarist Emily and keyboard player Aurora) trained classically at the Guildhall School of Music, the bombastic rock opera of 'Portrait of a Dead Girl' or 'Burn Alive' with its sweeping Kate Bush nods come bursting with widescreen scale and ambition: a world away from the speak-sing post-punk dominating the London guitar scene of late.
"We have a 12 bar blues weird trumpet song, and a really Nine Inch Nails industrial song, and a Queen euphoric moment - experimenting [is what's at the centre]. I think it makes sense to have a terrifying industrial track next to a sweeping operatic score," Abigaille shrugs. "It's the soundtrack to a really intense film," Georgia nods.
Having spent the first two years of their formation in lockdown, Lizzie recalls that, by the time they were able to play a show, they were "probably overprepared". But it's this meticulous thought and care that's causing The Dinner Party to set so many tongues wagging. For all the annoyance of the pandemic-centred delay, the band also understand the importance of creating a little mystique - hence their decision to press pause on putting out a single until the new year. "I like the old school idea of, 'If you want to see this band, you have to see the show'," says Georgia, while Abigaille confidently summarises: "We didn't just want to put out music and wait for people to come and find it; we wanted there to be some rabid interest before we dropped anything."
And with the quintet currently in the studio, prepping an album that they hope will land before 2023 is out, the buzz around the band is escalating by the day. Last month, they headlined London's MOTH Club for DIY and The Great Escape's First Fifty showcase, packing out the venue despite no one really knowing what they were going to see. "The other two bands playing had descriptions on the [event] page like 'indie pop'. And ours was just 'music'," Abigaille laughs. "Our genre is just… music."
She might be joking, but maybe the best way to introduce yourself to The Dinner Party is to remove any stylistic constraints or preconceptions. Throw away the menu, toss out the stuffy ingredients list and get ready to feast.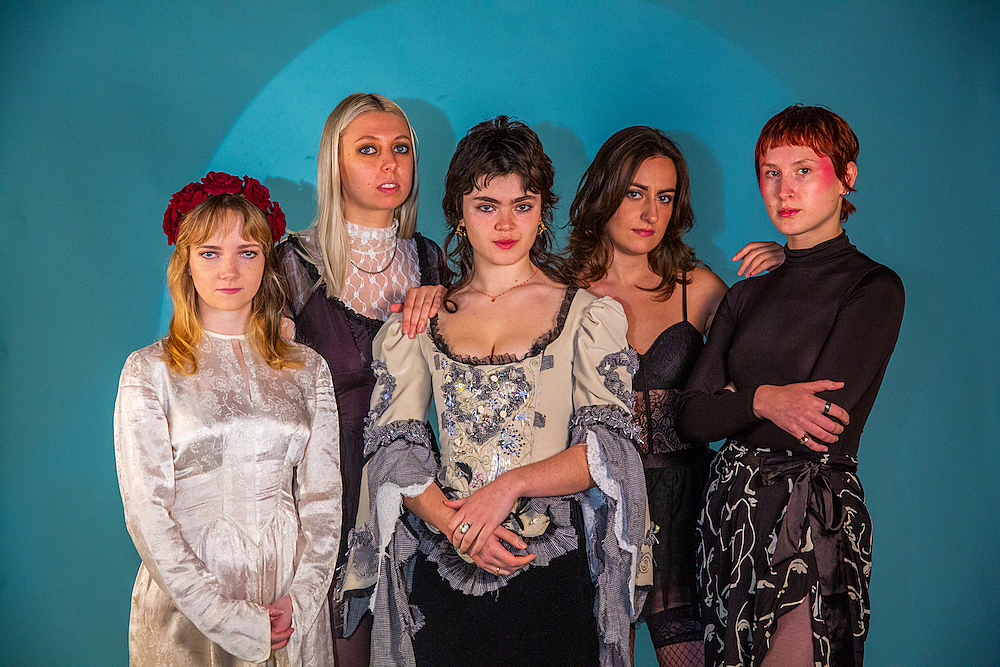 Read More