Squid have spent 2019 staking a firm claim as the UK's most exciting new band. We join them in London to find out exactly what all the fuss is about…
Cometh the end of another festival season, cometh the crowning of that year's newest Chosen Ones. Remember Palma Violets? Fat White Family? Wolf Alice?! They all crash-landed as their given annum's buzziest, most hyperbolically-exciting breakthrough stars. And, for 2019, the band on everyone's lips is a whole different kettle of fish.
Today, at Hackney's Visions Festival, Squid are topping off a summer that's seen them ignite and conquer every space they've found themselves in. Indeed, even at this most tastemaker-attracting of events, they're the only band to have a queue stretching out the door. In the dark basement of Hangar, angular guitar riffs and motorik beats meet jazzy post-rock in a performance that unites both the crate-diggers and the party-starters. They're a muso's band for the mainstream.
Having previously run club nights in jazz bars and performed in funk and soul covers groups in Brighton, it's no surprise that the band have keen, eclectic tastes. "My dad was a diehard [Grateful] Dead head," begins singer-guitarist Louis Borlase. "I grew up listening to Frank Zappa and Captain Beefheart". Fellow vocalist and drummer Ollie Judge chimes in: "My uncle took me to see all these jazz, funk and Brazilian bands. I was like, 'Fuck, I don't want to play the cello - I want to be the rhythm section!'."
Their childhood exposure to some of music's more esoteric favourites has clearly rubbed off on Squid's own music. This is, after all, a band who make lyrical references to XTC in their songs, and recorded a cover of Steve Reich's avant-garde 'Clapping Music' in their spare time. Their newly-released second EP 'Town Centre', meanwhile, is a mixture of atmospheric instrumentals and rollercoaster pop jams, channelling everyone from Talking Heads to Godspeed You! Black Emperor. For this impressively broad and vibrant sound they blame producer Dan Carey. "He's like our [Radiohead producer] Nigel Godrich," says Ollie. "He's very insistent on capturing the energy and the moment, and then just moving on to the next bit."
"There's no difference between playing live and recording in a studio," Louis picks up. "Even when you rehearse, you're performing to each other. When we play live, I can't tell whether we're playing to a crowd, or to ourselves."
However, though they might think insularly, Ollie, Louis, guitarist Anton Pearson, keyboardist Arthur Leadbetter and bassist Laurie Nankivell give off a wild, untameable energy that's felt by everyone in the room. Down in the basement, there's barely a moment where a member of the band isn't brandishing a shaker, cowbell or detached body of the drum kit. So broad are the dynamics that even the most subdued tracks have the audience jumping about in anticipation for the next rocket to launch.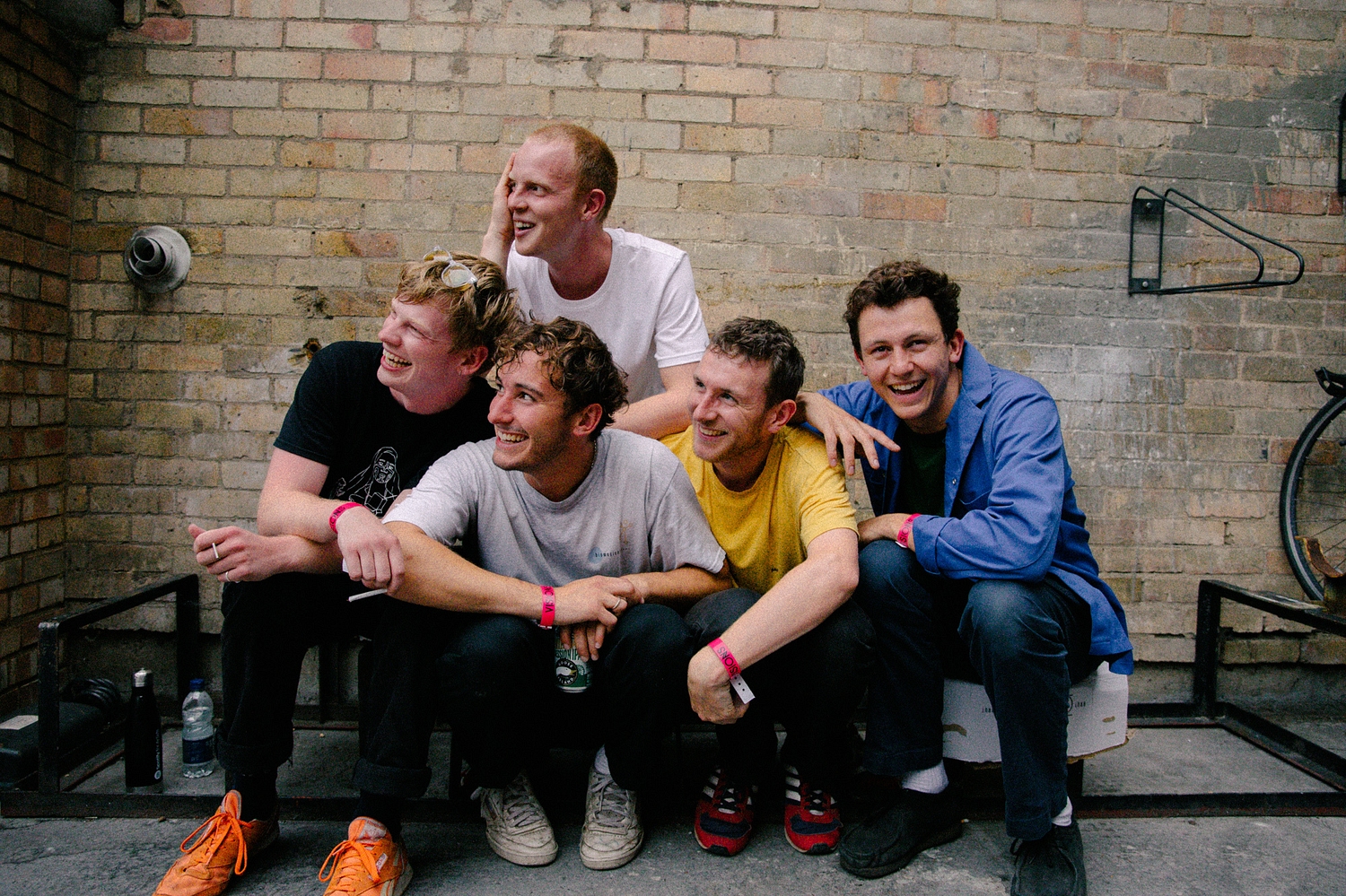 "A review said, 'Why have one good idea when you can have eight?' And I think that's spot on."
— Arthur Leadbetter
It's been the same up and down the country throughout the past year. The band recently completed a tour supporting shock-rockers Viagra Boys - an experience they describe, tactfully, as "educational". At The Great Escape, crowds were queuing for them all the way along the seafront. At a series of Glastonbury shows, meanwhile, they even drew fans in home-made Squid costumes.
Their unconventional nature is their most appealing asset. There's no established frontman, no three-minute pop songs, and yet somehow they made the BBC6 A-List with a track about houseplants. No matter how they decide to present it, the band's talent is plain to see. "I saw a review of [seven-minute juggernaut] 'The Cleaner' that said 'Why have just one good idea when you can have eight?'," says Arthur. "And I think that's spot on."
Beneath the sonic exploration, there's also a fantasy element to the band's storytelling that gives it a colourful charm; half the songs on 'Town Centre' are based on Ollie's encounters with various members of the public while working at Fopp in Covent Garden. 'The Cleaner', he explains, was built around daydreams of what the store's own mop-wielder got up to after closing time. 'Match Bet', meanwhile, is about an interaction with an eccentric Sonic Youth fan who insisted that Ollie deliver a betting slip to the Queen.
Yet, despite being one of the most talked-about acts across this year's most exciting UK festivals, the quintet are still endearingly modest about their successes. Their greatest ambition was originally just to be able to play a gig overseas (that one's been ticked off). Even now, as they prepare to uproot to a barn in Norfolk to write and rehearse more music, their sights are on a dream-come-true gig in Salisbury. "Me and Louis have been going to End Of The Road festival with our families since we were about 11 or 12 years old," he grins. "We've been saying 'next year' [we'll play it] ever since we were teenagers, and we're finally doing it this year."
"We don't know why any of this has happened, I guess we're just lucky..." shrugs Louis.
They leave the stage with Hangar's crowd still chanting for "one more song" and, like with every show of theirs, really it's the rest of us that are in luck. While there are still genres to be bent and venues to be vanquished, Squid will be chomping at the bit to take on the challenge. "We don't want to sit still," Louis concludes. "We just want to keep it moving."
'Town Centre' is out now via Speedy Wunderground.
Read More
Featuring King Gizzard & The Lizard Wizard, IDLES, Tkay Maidza, Sleater-Kinney and more.