Redemption Song: The Murder Capital
Pulling themselves forcefully out of the mires of grief that defined their debut, on 'Gigi's Recovery' The Murder Capital are banding together, linking arms and looking towards the light.
It's been four years since The Murder Capital released 'When I Have Fears' into a considerably different musical landscape to the one that we know today. Immediately making a notable impression on airwaves and festival bills alike, it was a debut that pushed the quintet to the precipice of the conversation around alternative music in a year which also saw both IDLES and Dublin compatriots Fontaines DC announcing themselves in a big way; ushering in an era of post-punk dominance.
Superficial familiarities aside, however, 'When I Have Fears' was a very different offering to IDLES' politically-charged 'Joy As An Act Of Resistance' or the anachronistic lyricism of Fontaines' 'Dogrel'. Written while several band members were in the grips of grief, 'When I Have Fears' was a spacious yet personal album that married the frustrated urgency of punk with a more serene, shoegaze-esque willingness to let the songs breathe, swelling and shrinking as naturally as the tide. This combination of opposing deliveries made for one of the most aggressive releases of 2019 that simultaneously remained one of the year's most vulnerable.
Parking their emotions in a place of grief and anger for a sustained period of time - simmering below the surface to be unpacked on stage on a nightly basis - was soon to take its toll, however. "My relationship with that campaign became very strained," vocalist James McGovern says of that period. "I would try to enter into the emotion as intensely as I could every night, even catching myself feigning emotion and then being awash with guilt having done that." Bassist Gabriel Paschal Blake recalls his own fatigue. "The dissociation was probably the toughest part. I remember ringing my best friend before heading to America and saying, 'I really don't know if I can play these songs anymore'."
Unbeknownst to them at the time, that US tour was doomed to be pulled after its opening two sell-out performances, the pandemic subsequently granting the outfit some much-needed respite and an opportunity to ground themselves. "It was the first time in ages that we realised we were individual human beings," recalls Gabriel. "Being in the band was so all-encompassing." Time passed, and the five band members kept their distance as the fate of The Murder Capital remained undiscussed. Was the arrival of album two always taken as read? Nobody answers for a moment, until guitarist Cathal Roper steps up to the plate: "It was definitely an 'if', rather than a 'when'. I thought we were going to break up for a little bit." "I never thought that," James responds, "but perhaps that's because I put the blinders on through the uncertainty."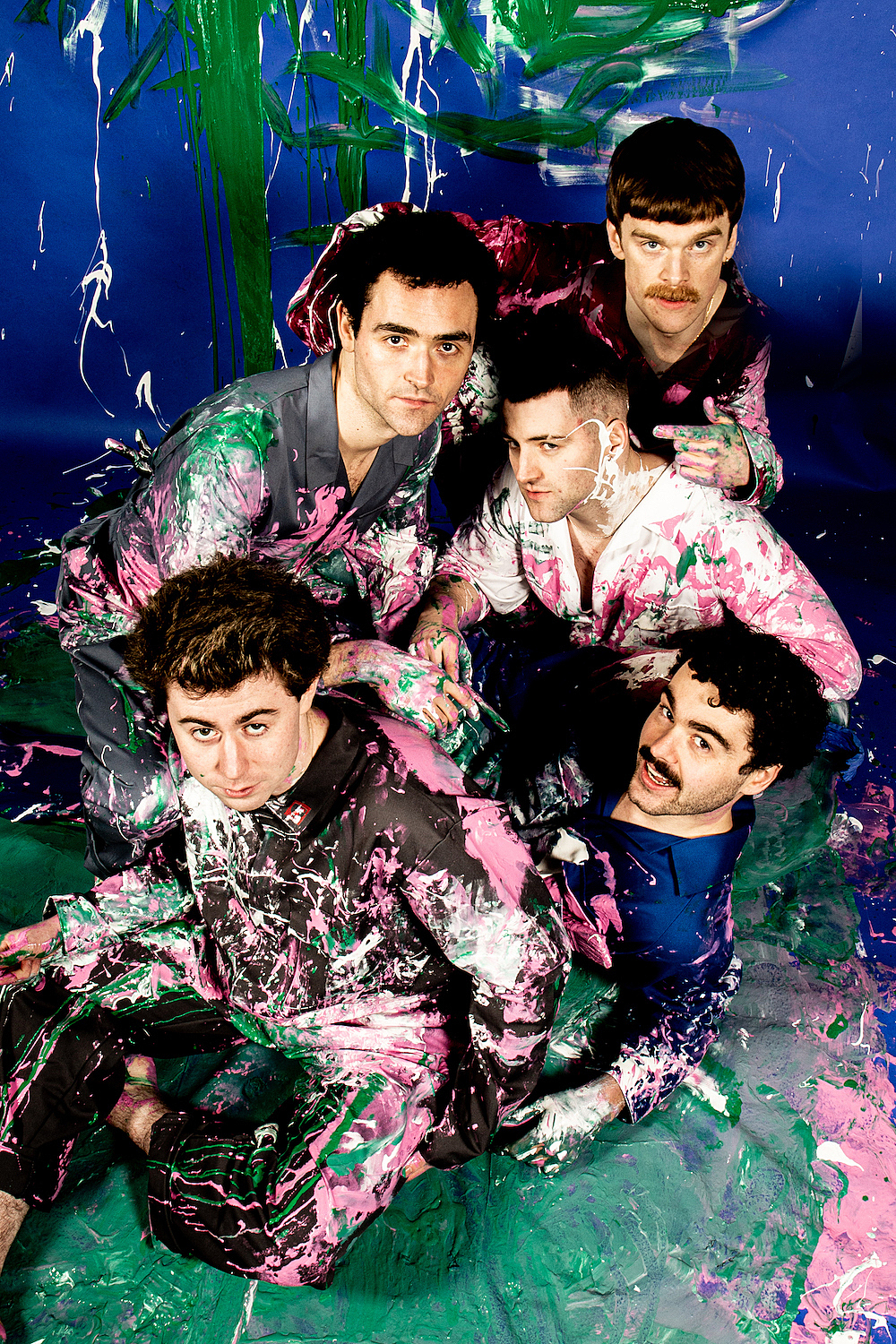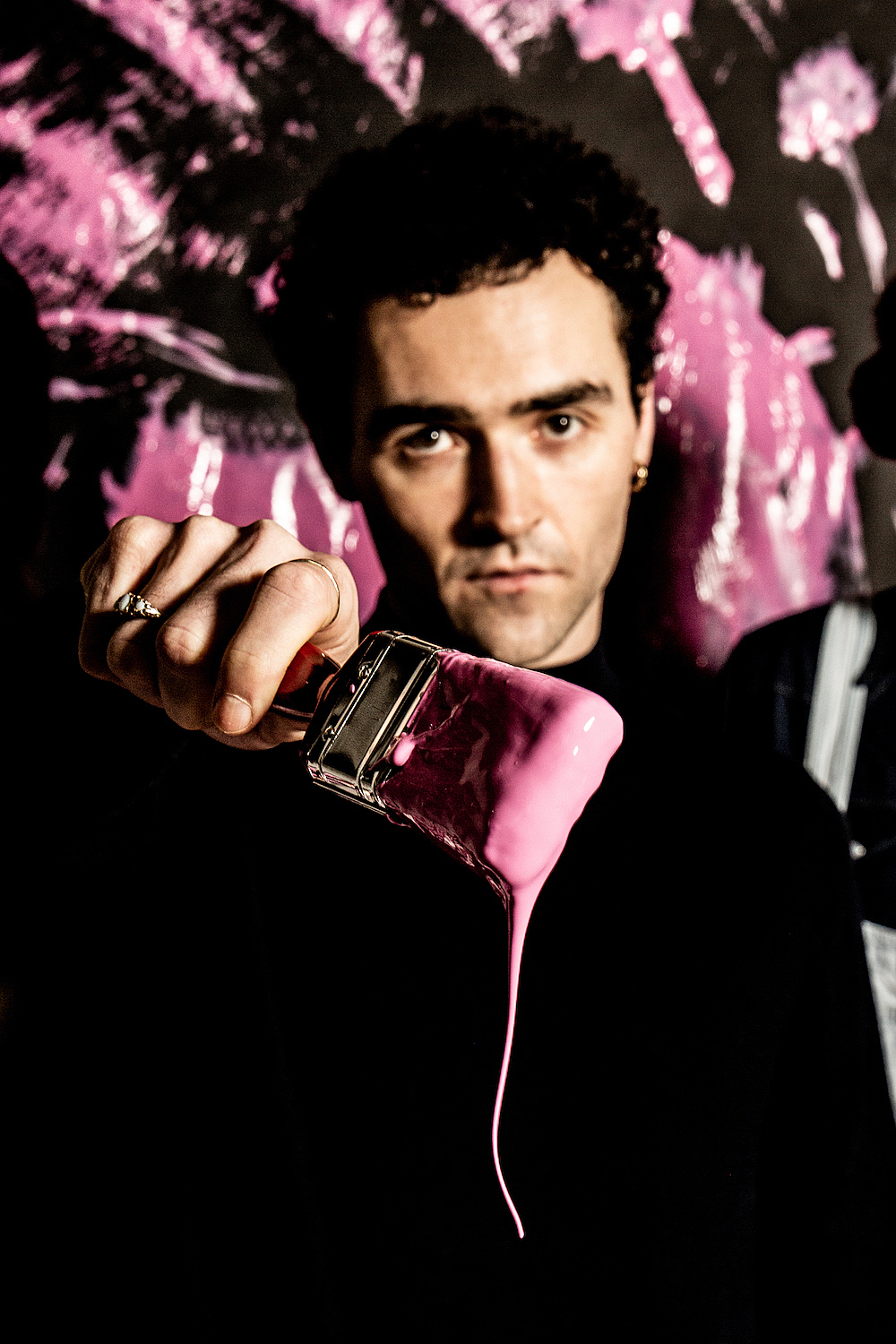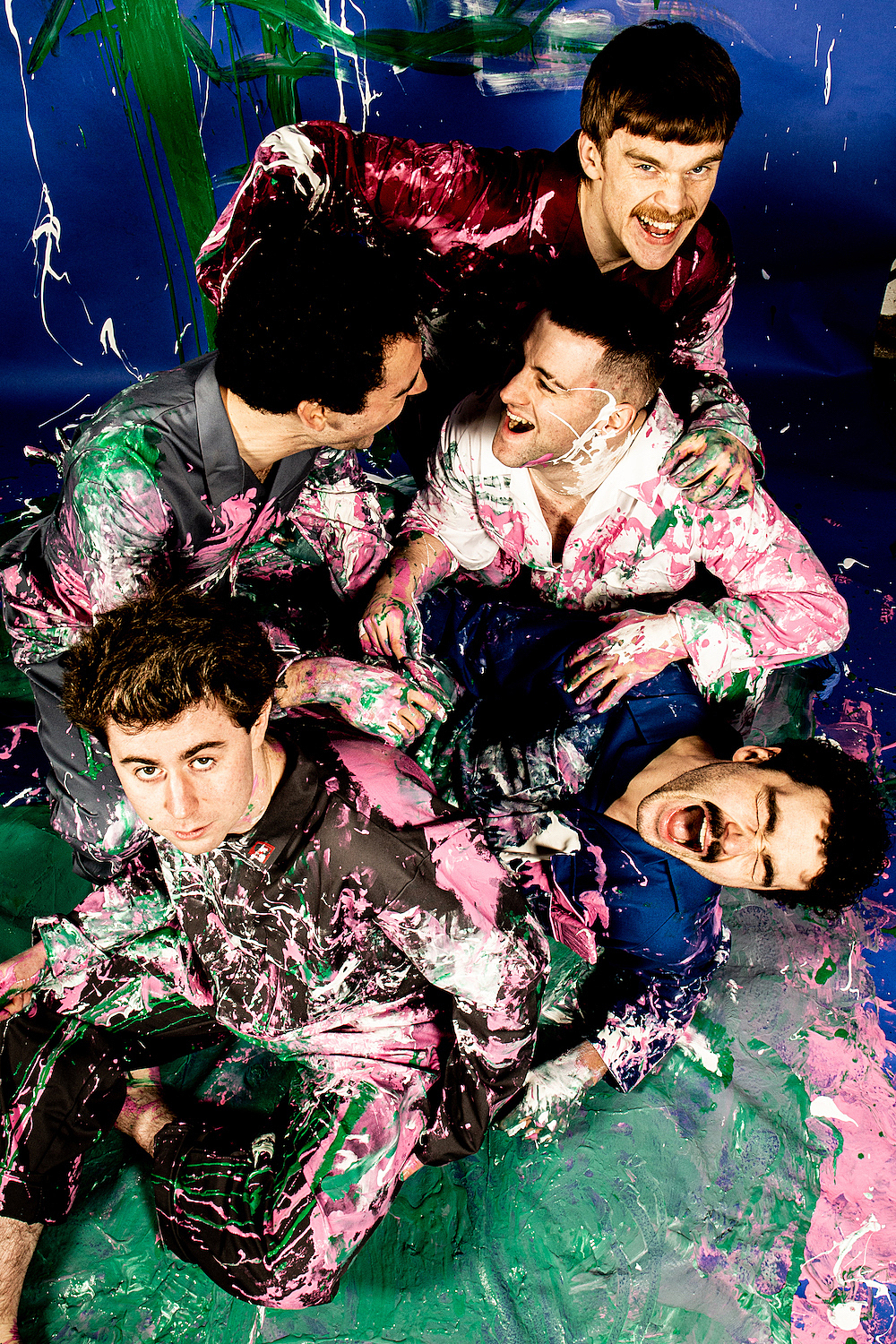 "This album is about possibility. We're not bound by the past, we're able to look to the future and wonder what is possible."
— James McGovern
Today's meeting has several of these intersections, where they converse with each other through their responses, lending an ear to the other's points, communicating via their own seminar-slash-therapy cosplay. Even after a hefty photoshoot which leaves the troupe covered in paint, answers feel considered, yet with a willingness to be present in the conversation.
When LP2 began to feel like more of a tangible prospect, they recall searching for a base to write together again: a physical place where they could regroup. As luck would have it, a cousin of James' dad had a remote house in Wexford, sat vacant on Ireland's south-eastern tip. Channelling their inner Withnail and I, The Murder Capital set up shop in the countryside dwelling for a six-week writing retreat - and left nine months later. Gabriel was living in the north-west of the island at the time, in Donegal, a five-hour drive from Wexford. "We picked James up on the way," he remembers. "And I remember his dad saying, 'Yous are far too focused on having a record written at the end of all of this'," thickening his already-strong Irish accent slightly to relay McGovern Sr's words of wisdom. "'Your real success will be if you're still a band; making another album isn't the main priority'. Once that clicked," Gabriel continues, "we realised that rebuilding a sturdy relationship and surviving as a band was the first focus."
Redrafting their outlook on self-care and communication, 'We are the work' became something of a mantra, with each member in agreement that existing together and making music in a depressive or combative state was going to yield nothing of value. That's not to say that this philosophical approach and newfound patience came freely to a group who released their debut album just nine months after forming as a band. "We had to learn to take things easier on ourselves," says Gabriel. "And stop punishing ourselves when things were going nowhere." "Which was hard," James takes the reins. "Because that's what the band was built upon."
This revived zest for the cause permeates throughout every inch of new album 'Gigi's Recovery'. On it, The Murder Capital crack the shutters to allow light to creep into the room and shed colour onto their monochromatic punk. There's more buoyancy in James' songwriting, with indie idiosyncrasies and a greater emphasis on movement incorporated into the mix. The cold snarls from their debut are still there to be found, but now they come balanced with a more melodic delivery that nonetheless retains its punch. The band insist that, from the seeds of its conception, 'Gigi's Recovery' was a mission to achieve a feeling, a vibe.
The sound of the album itself was to be the vehicle that fuelled proceedings as opposed to the emotional, lyrical lead of their first. "I didn't know what to write about in the beginning, I was detached from my writing in a sense," James recalls. "Grief is a very rewarding place to write from because of how much emotion there is to find. [Whereas] coming into this record, we started out with just the instrumentation and sounds that the lads had brought in." This desire – or necessity – for the five members to draw a line in the sand and move on from their old writing habits soon begat an aphorism of its own: 'The evolution will not be compromised'. And, soon enough, the purpose of their new project began to reveal itself.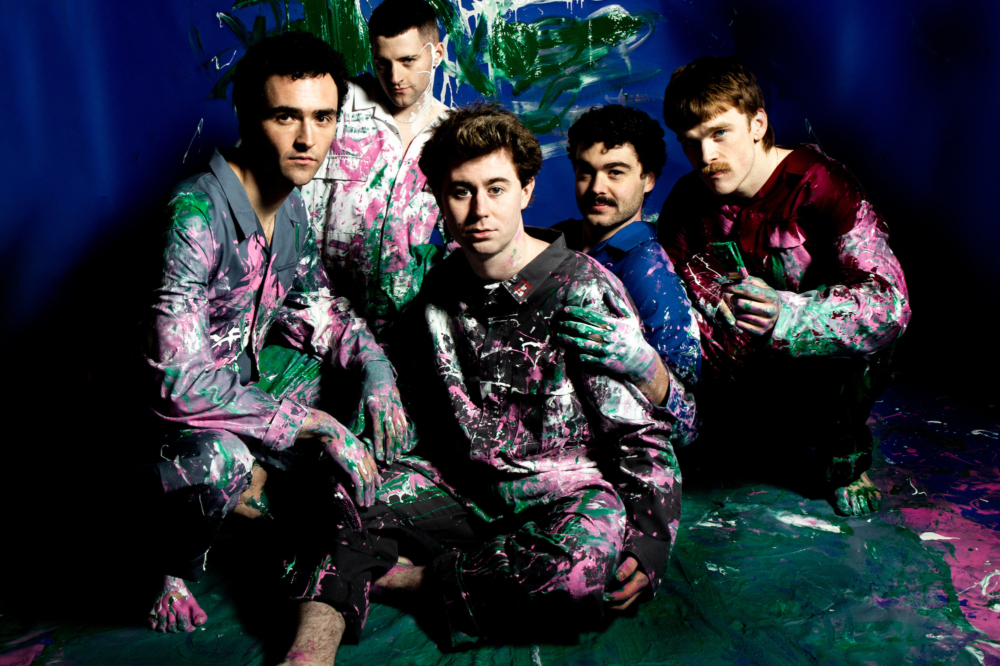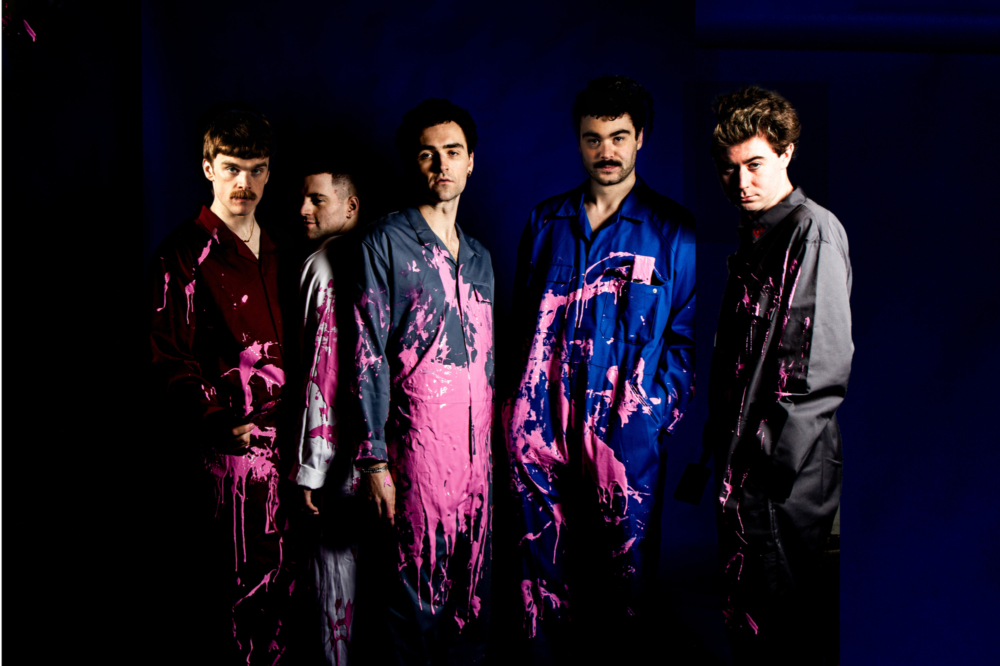 "We spent so much time in the dark together on the first campaign. Coming out of that, you start to find the light."
— James McGovern
Integral to the development of 'Gigi's Recovery' were a sixth pair of hands that the band added to the mix in the form of American producer John Congleton, who, on paper, would appear to be the dream appointment for a band straddling the worlds of dark and light. A mercurial force equally adept at creating warm, sweeping soundscapes as spearheading concise, assertive climaxes, he's left his fingerprints on releases by post-rock luminaries such as Explosions In The Sky and This Will Destroy You, as well as records by St Vincent, Sharon Van Etten and Alvvays.
"We each had different reasons for wanting to work with John," says Cathal. "But I think overall it was the variety of stuff that he's created; it's such a wide spectrum." James interjects: "Angel Olsen's album 'All Mirrors' was definitely what sold it for me. The production was perfect; this crazy, almost James Bond string section." Impressive CV aside, the three bandmates around the table are in agreement that the producer's most valuable contribution was the pragmatic, clinical presence that he brought to a room full of lofty romantics. "John was no romance," Cathal continues. "He was like, 'OK, a couple takes. Good. Next.'"
The fears which plagued their debut haven't disappeared entirely but, second time around, they're there to be acknowledged and pondered rather than become an all-encompassing force. 'Existence' and 'Exist' - the tracks which respectively open and close 'Gigi's Recovery' - are undeniably cut from the same shadowy cloth as their predecessor. The word switches like a hinge from a noun to verb, playing out like a philosophical meltdown in real-time, as James sings "Existence fading. Existence. Exist."
For all of the swing and momentum within its delivery, however, The Murder Capital's newest is fundamentally a record about the yin and yang of moving beyond a dark period, of figuring out who you are as you look into the abyss of adulthood. Major and minor chords tessellate within one another; sometimes harmoniously, sometimes with a hint of discordant violence as the joys of romance and building meaningful relationships battle with the unanswered questions that we try our best to quell, those pieces of the puzzle that we assumed would assimilate with age. Those itches that you just can't scratch.
"I'm getting sick of seeing the word 'optimistic' to describe this album, because I don't think it is necessarily an optimistic record," James says assertively. "But we spent so much time in the dark together on the first campaign. Coming out of that, you start to find the light." And the ongoing battle between existence and existing? Is that documenting the band's journey out of an existential crisis, or the words of a band making peace with that inner dread? James considers his response. "I think it's about making peace with it: peace within oneself comes from realising which things are out of your control and letting go of that." He continues: "This album is about possibility. We're not bound by the past that immediate grief binds you to, we're able to look to the future and wonder what is possible."
Optimism may not be their buzzword of choice, but once you scratch beyond the abrasive surface of 'Gigi's Recovery', there is a world of comfort to be found within its midst. Those tentative first steps out of the darkness and into the light are fraught with apprehension, but The Murder Capital are learning to love their past whilst looking to the future. "There was a lot of turning our backs against our first album in order for us to move forward and evolve," James concludes. "But once we finished recording this album, there was a whole different appreciation for 'When I Have Fears'. 'Gigi's Recovery' opens with a crisis and need for control, which is where the last album left off; for this record to begin there and progress to a place of peace feels like a hopeful reflection of a real, human timeline."

'Gigi's Recovery' is out now via Human Season.
Read More