For new, Joy Division-referencing album 'Atrocity Exhibition', Danny Brown pulled things right back, finding solace in uncharacteristic peace and quiet.
Reputations rarely come as raucous as Danny Brown's. A supposed party animal with an insatiable appetite, he's been defined by his excess and wrong-side-of-the-law run-ins from day one. It's not a strictly accurate billing, though. He's spent much of the time since releasing 2013 album 'Old' at home in suburban Detroit. "When I'm at home, I'm chillin'!" he says, bookending the statement with that unmistakable hyena's cackle.
"I've been doing this for a long time," he goes on. "Anything you do for a great amount of time, you get used to it. I know how to live, I guess – I know how to pace myself a little better than probably what I did in the past."
With a house in the upper echelons of Detroit and a daughter now well into her teenage years, it's probably for the best. That's not to say his domestic downtime pulled the plug on his creativity – if anything, it fostered more.
"That's how I was able to work on music - being able to chill. Living in Michigan, we have winters," Danny stresses, almost shivering as he says it. "We have a lot of snow – a lot of time, you can't even go outside, so I like that. So I guess that's what's happened, you know? I'm in the house alone; like a caged animal once I'm let out. I've been caged up for a nice little time…" he says with a smirk that finds his diamond encrusted grills catching the light.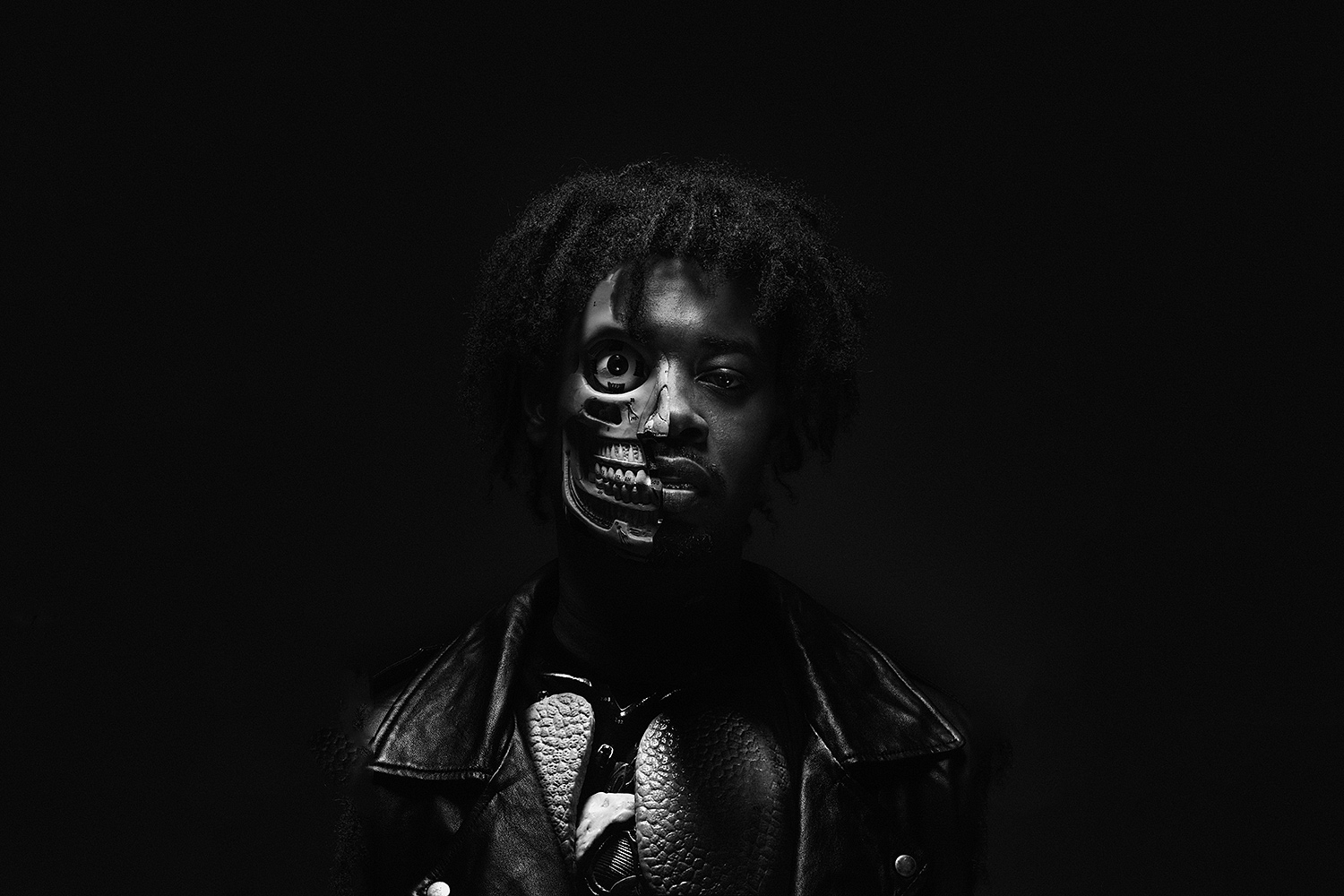 "Sometimes it's not bad to be an outsider."
— Danny Brown
Living in self-inflicted confinement allowed Danny to spew forth 'Atrocity Exhibition' – undoubtedly his most mind-bending release to date, it takes the ethos and storytelling of 2011's breakout 'XXX' and shunts it into sixth gear. Jarring and industrial, it's a sonic world away from the hip hop records of his contemporaries; the sonic manifestation of an outsider ethos that Danny has relished from day one.
"Sometimes it's not bad to be an outsider," Danny shrugs. "For me, being able to be on the outside, I guess that means you're doing something that not a lot of people are doing. I'm able to take that much time to be able to make an album because there's not really nobody in my lane that I have to compete with. So I can be able to take my time and be patient with my music."
Being allowed time to dissect things fed directly into 'Atrocity Exhibition''s most maddening moments. Picking up leftovers from sessions for 'XXX' initially deemed too complex, Danny ditched the all-or-nothing bravado, indulging a newfound, considered confidence instead. "A lot of these times you want to be creative, but you still want people to like your music too!" he smiles. "You can't just go that far out there! But now I'm confident enough to go that far out there. I guess at the end of the day, it's like progression. Pushing rap music as far as possible."
Citing Joy Division, Talking Heads and Björk as key influences on 'Atrocity Exhibition' – the record even taking its name from a song of the first – that desire to evolve rap meant looking outside the boundaries often imposed on the genre. "There's only so much rap music you can get influenced by if you make rap music," he shrugs. "Every genre should get influenced by other genres – I'm pretty sure a lot of bands get influenced by rap."
"That's the goal in life – taking your pain and turning it into a joy."
— Danny Brown
In spite of all the confidence Danny Brown exhibits today though, there's a darker heart to 'Atrocity Exhibition'. Referencing Joy Division was no off-hand name-check or attempt to gain 'indie points' – "that song I feel is just like a soundtrack to my life right now," he reveals.
Penned in the run up to Ian Curtis' suicide, 'Atrocity Exhibition''s bite back at what was expected of the frontman resonated with Danny, himself forced to combat expectations that border on parody every time he steps foot on stage.
"One thing about me, I know that whatever you want the world to be, it will be," he shrugs when asked how those expectations affect him. "I live in my own world, so whatever I want my world to be, it is. I'm fortunate enough to be able to live like that…" he trails off.
"Some people, if you've got 9-5s and stuff, everybody can't just be able to live like that," he says, snapping back into action. "But I live in my own world – my world is videogames and internet and rap music. I still live the same way I lived when I was thirteen years old!" comes the cackling conclusion to his moment of reflection. "So I don't let none of that get to me. Never grow up!" he giggles.
Indeed, it's his art that bears the brunt of Danny's dark side. Dig deep beneath the supposed party anthems that make up the latter half of 'Old', and you'll find a man battling his own depressed psyche at every opportunity. "There's a lot of times I keep a lot of stuff to myself," he admits. "So in some sense I look at the world like they're my therapist. A lot of shit that I probably wouldn't talk about with my friends, or somebody in a normal conversation with, I'll probably put it in my music and talk about it to the whole world.
"'Kush Coma' was about depression!" he stresses of the single that still soundtracks a thousand drug-packed parties. "If I wanna entertain you when making a sad song, I can do that. That's the goal in life – taking your pain and turning it into a joy. You putting a negative out that turns into a positive, and with that it comes back to you as a positive. That's the greatest way to live."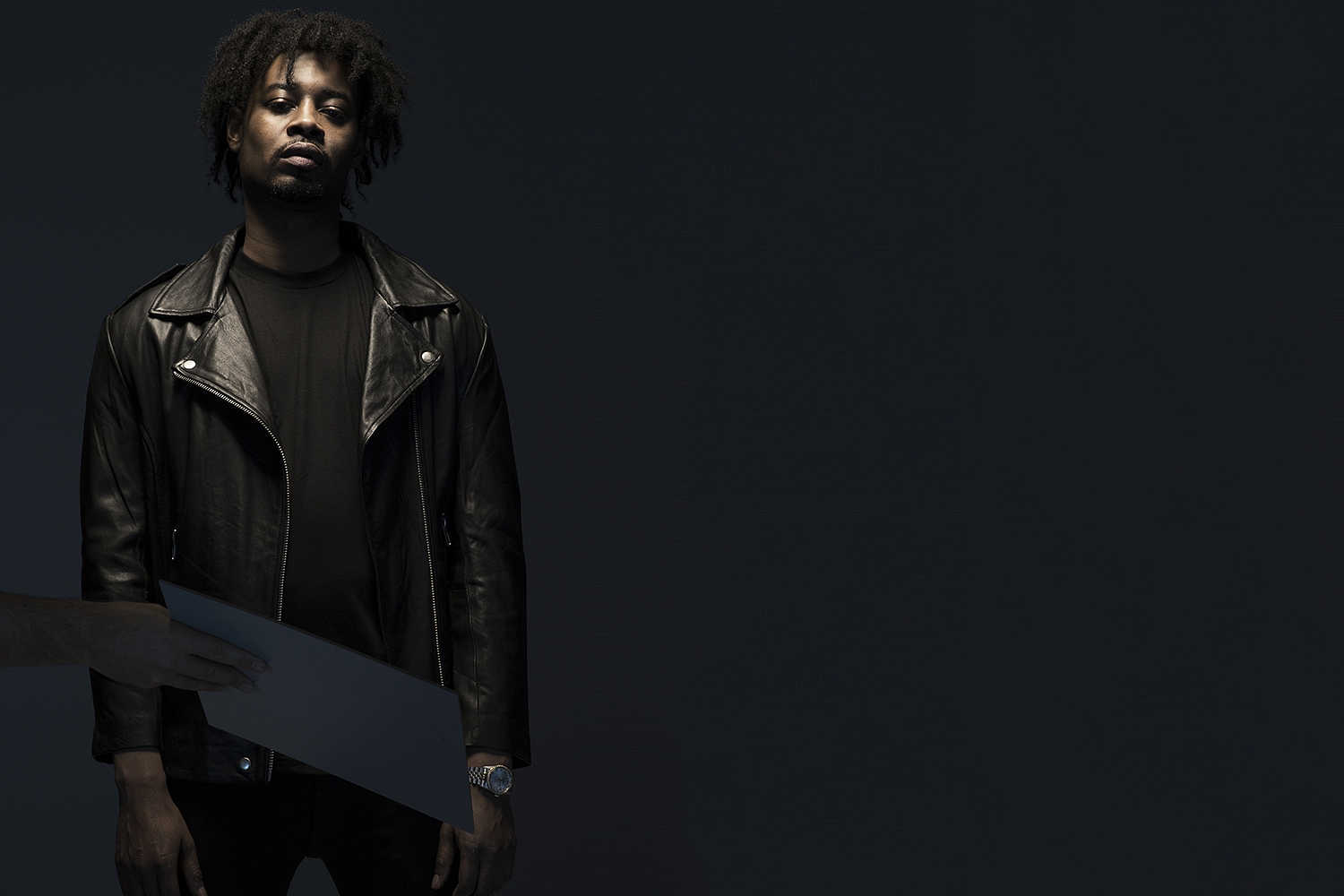 "I look at the world like they're my therapist."
— Danny Brown
'Atrocity Exhibition' is undoubtedly Danny Brown's masterstroke. Harnessing dark and light like never before, it's both a jarring musical odyssey and an eye-opening account of his real character – a takedown of those larger-than-life attributes he's been pinned with over the years. It's a record to relish; which is exactly Danny's plan.
"I'm on a break," he later admits, clearly mentally sidestepping that huge touring schedule he's lined up. "I don't like to write my brain out to exhaustion. I look at rap and it's just like any other thing, or any sport. It's like boxing, or like an MMA fighter – I fought. How many fights do they have a year? Like one, two? I might have one album a year, or whatever. I ain't fought for a minute, cause I'm a champ!" he splurts with laughter – "So now the champ is back up. I had this fight; we'll see when the next fight comes. I'm back in training!"
Danny Brown's new album 'Atrocity Exhibition' is out now via Warp.
Taken from the new, October 2016 issue of DIY, out now. Subscribe below.
Read More
Featuring James Blake, Romy, Marika Hackman, yeule and more.