Live Review
Billie Eilish, Shepherd's Bush Empire, London
5th March 2019
The ear-splitting screams speak for themselves.
It's hard to recall a time when West London's 2,000-capacity Shepherd's Bush Empire might have housed as much euphoric, crazed screaming as it bears witness to tonight, from the moment LA sensation Billie Eilish steps out until the final embers of her hour-long set come to a finish. Sure, the venue has held surprise shows from massive stars – Ed Sheeran, Kasabian and the like. But these people don't inspire the same kind of hyperventilating teenage devotion. And the kind of imminent megastars that CAN provoke such a reaction? Well they don't normally show up at this kind of mid-size gaff.
The hottest ticket in town, with three easily sold-out nights at the venue under her belt, Billie too could have upgraded several times by now without much thought. But it seems fitting that the blue-haired 17-year-old, clad in black sportswear and possessed with the kind of dead-eyed, no-fucks-given stare that could silence grown adults four times her age, would prefer a venue such as this – one more suited to leftfield indie stars on the rise than high priority major label pop acts with the world at their feet.
From the moment that the singer emerges to deafening roars from a giant metal spider that dominates the stage – also framing her brother and co-songwriter Finneas O'Connell, who switches between instruments at the back, contentedly playing second fiddle to his sister's all-consuming star power – you're made fully aware that Billie is a different kind of popstar to the one we're used to being spoon-fed. She looks different, her oversized, skater style completely un-sexualised; she's presents her music differently, the aesthetic of the stage coupled with gothic, blue-green lighting that's more Hacienda than Hannah Montana, and, most importantly, her music cribs from all directions. If the oft-repeated note that the Spotify generation is one unfettered by genre is true, then Eilish is the epitome of this, a new kind of star that can go from the ukulele sing-along of 'party favour' to the industrial throb of recent single 'bury a friend' without apology. It's not that one style represents the old, the other, the new – they're all sides of the singer that co-exist happily. Judging from the almighty singalong that greets every word to every song (for most of the set, you can barely hear Billie herself at all), everyone in attendance agrees.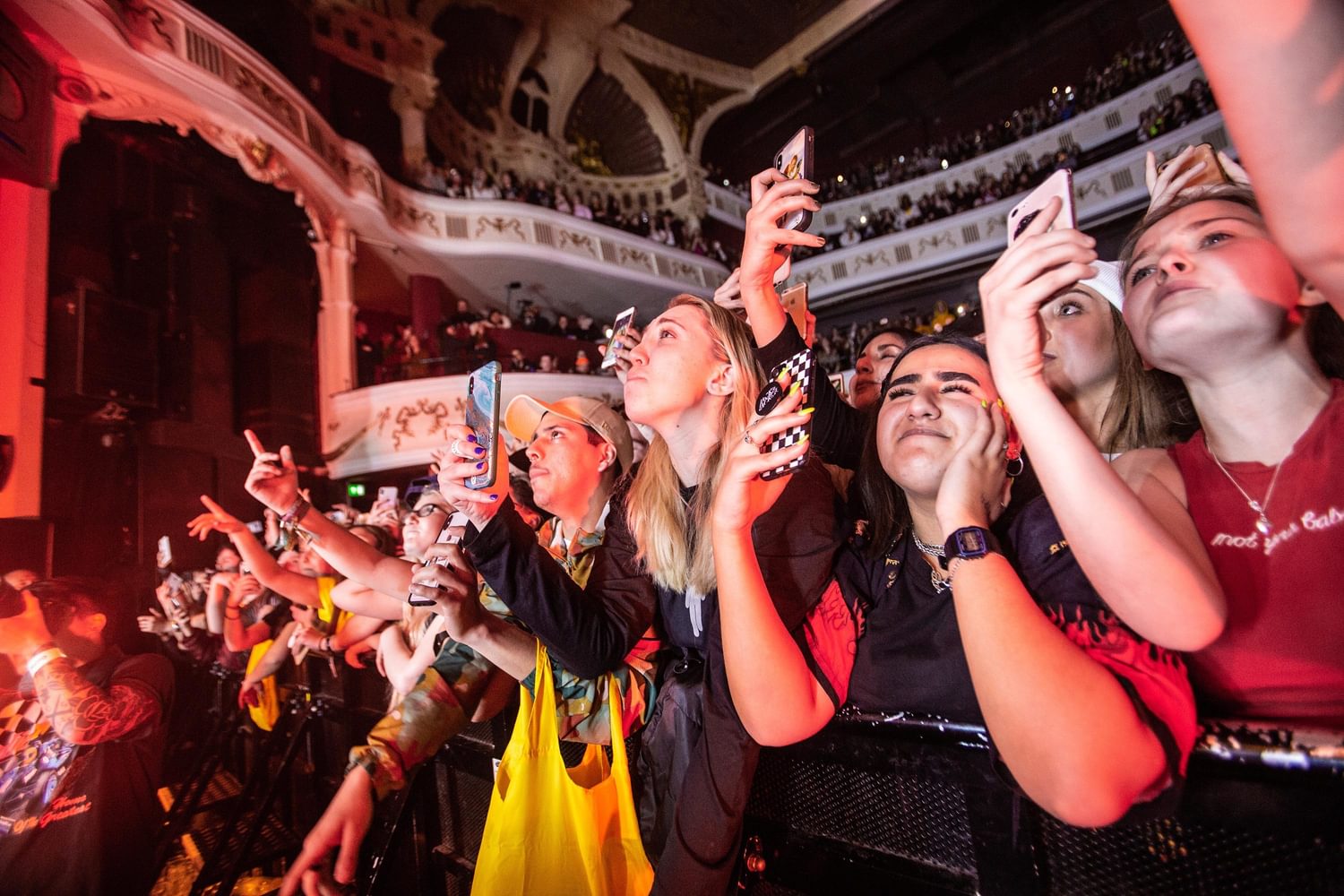 Bounding around the stage with a presence more akin to a high-energy MC than a trad pop singer, Eilish is completely, magnetically in control of every moment. She's got natural swagger that permeates her every move; even when she's temporarily behind the uke (neon yellow, of course, to counteract the innate twee factor), she's popping her shoulders and throwing all kinds of sass. When the grinding kiss-off of 'you should see me in a crown' comes in, meanwhile, she urges the throng of semi-excited/ semi-terrified looking kids in the stalls to have a go at a circle pit, thrashing around on the stage like she's leading a hardcore show. It's all such a melting pot, flitting between hip-hop and the purest of sugary pop, via hard-edged crunching moments and the clever, Lily Allen wink of recent single 'wish you were gay'. It feels completely, invigoratingly like the sound of now.
And if, on the ground floor, there are teens old enough to feasibly have a go at a pit, then on the balcony there are groups of real young'uns, squealing in excitement, chaperoned by their mums, giving every song just as much welly. And that's the real proof that Billie's on a guaranteed trip to the proper big time. Nine-year-olds don't give a shit about what's trendy; nine-year-olds (sadly) probably don't care that DIY are telling you that Billie Eilish is worth a punt; but they'll sure-as-hell give you proof that an artist has permeated through to the mainstream, in a big way. And frankly, if this is the future of mainstream pop, then hallelujah. We're gonna be just fine.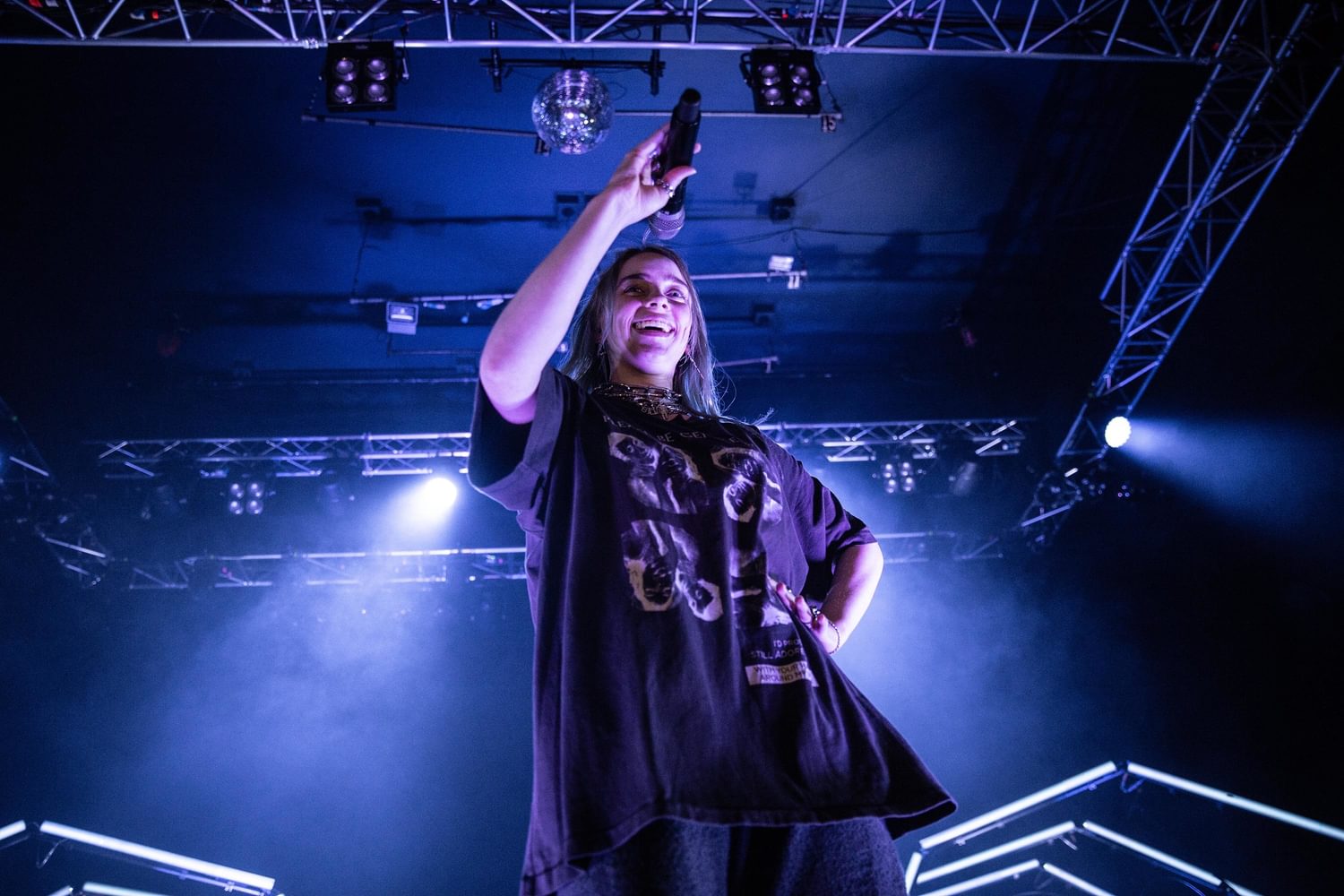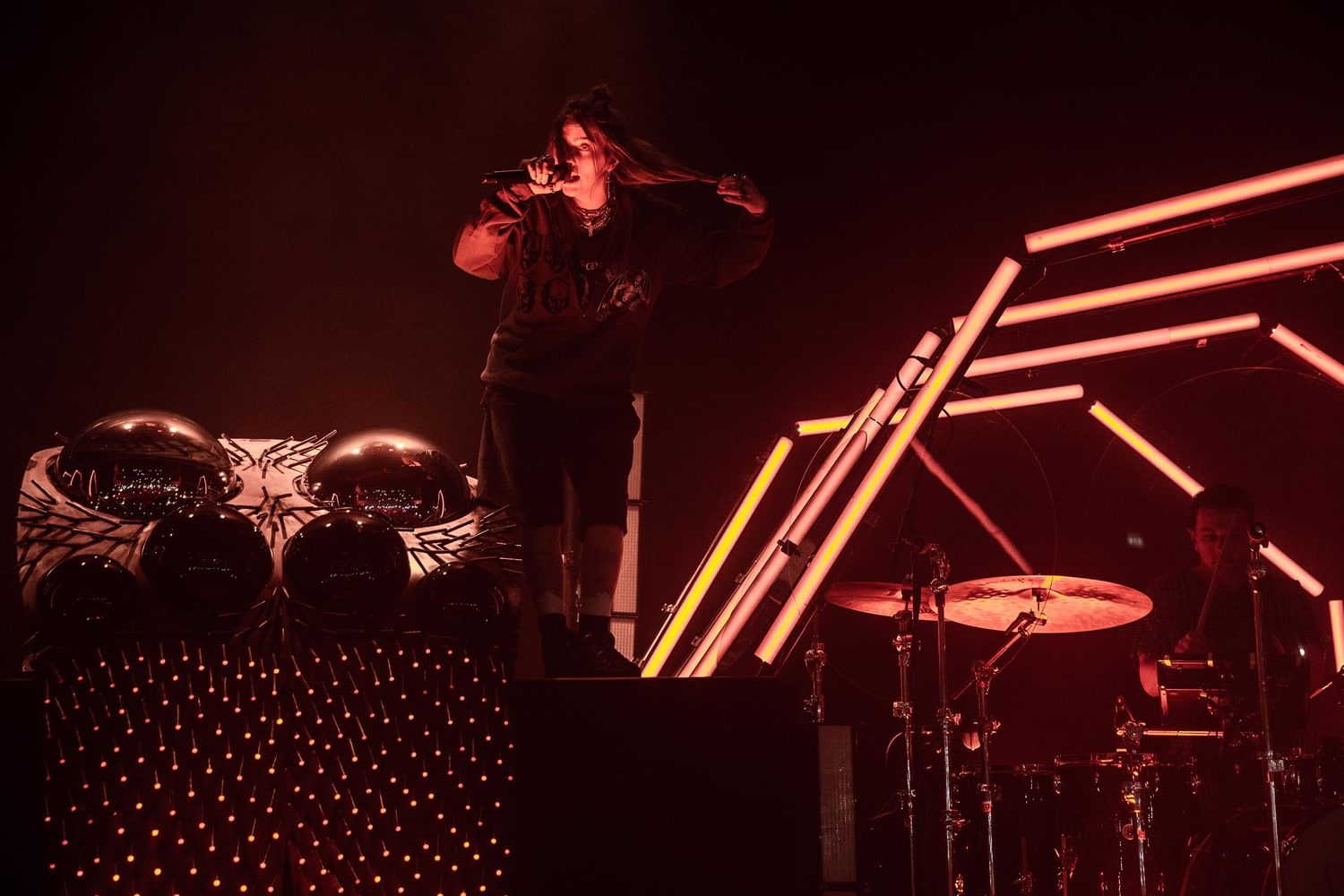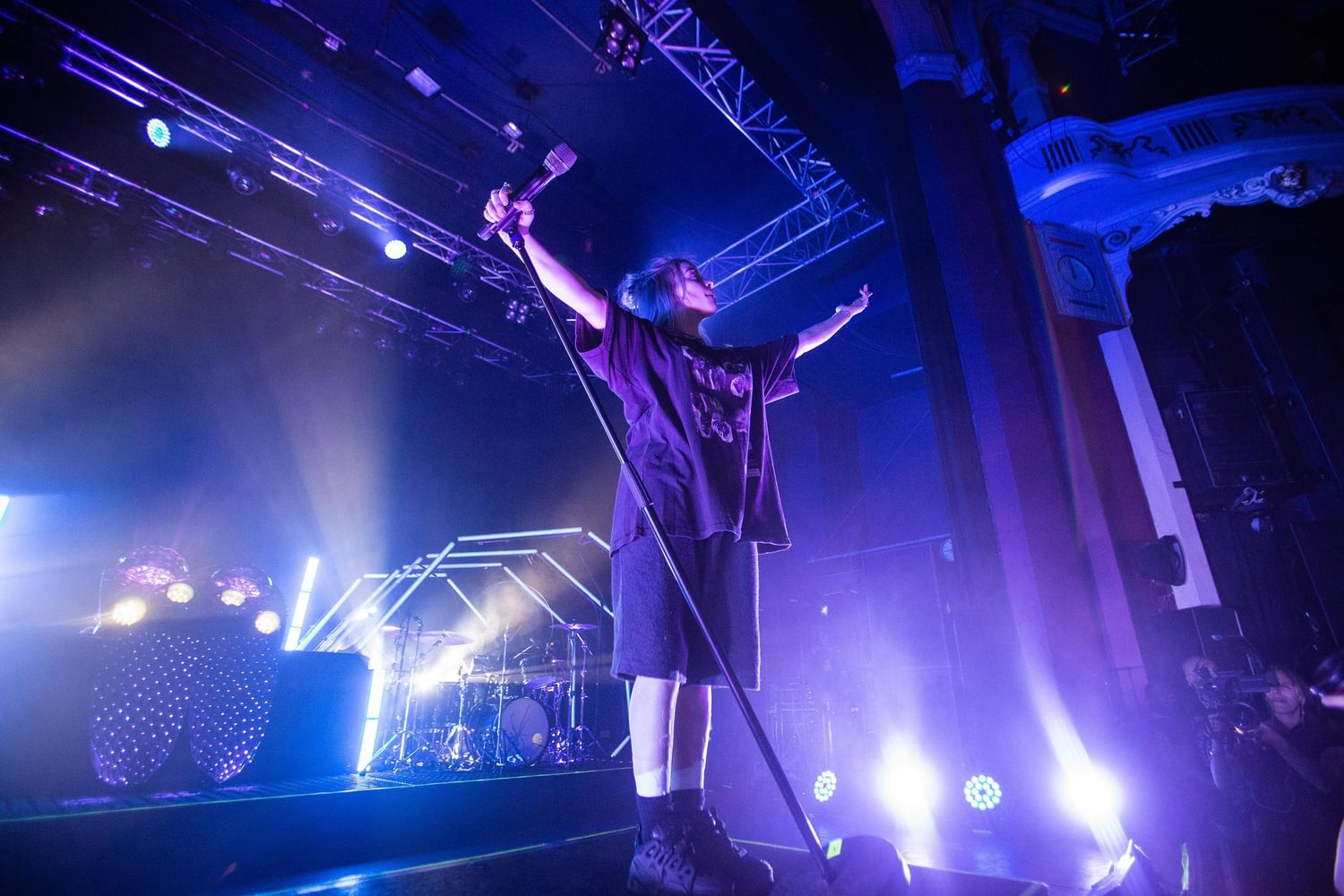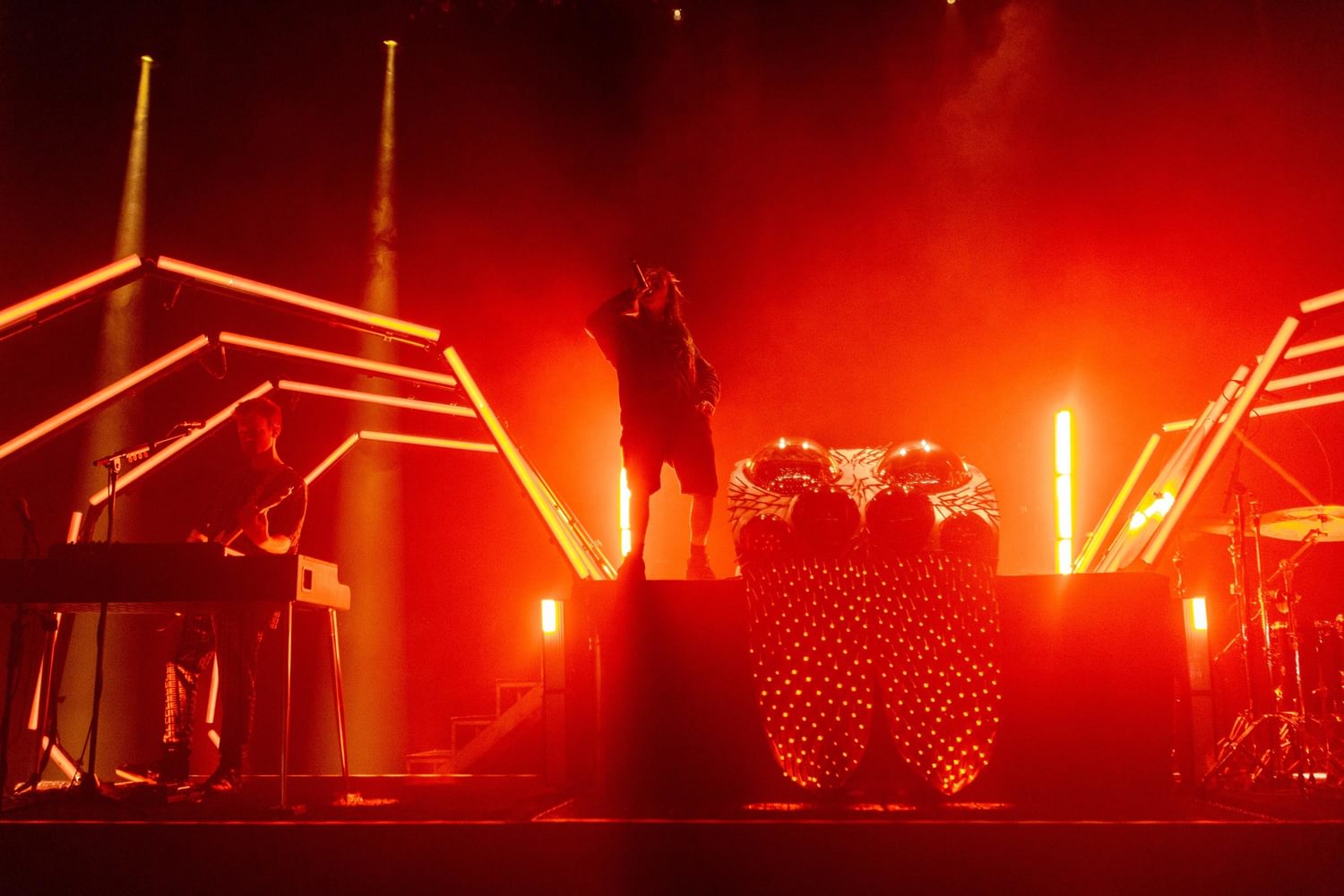 Read More
Featuring James Blake, Romy, Marika Hackman, yeule and more.