Live Review
Bon Iver, Hammersmith Apollo, London
5th March 2018
Phoebe Bridgers joined the band for the last of eight shows at the London venue.
At the very start of last year, Bon Iver cancelled a European tour set to begin less than a month later, and include four London dates. It wasn't until 9 months later that the shows were rescheduled, with an initial four-night run at Hammersmith Apollo gradually being extended to the point where Justin Vernon and band had eight (eight!) nights at the legendary venue in the diary.
Tonight marks the final of the eight shows, and the frontman is in an expectedly reflective mood. "We hit a bump in the road," he tells the crowd of the show cancellations, before closing the main set with his calling card, 'Skinny Love'. "We let a lot of people down." The answer, he continues, was to "come to one place we cared a lot about" for an extended period. If one thing's clear from the conclusion of the mammoth run at the Apollo tonight then, it's that - despite said bumps in the road for the band - they couldn't possibly care more.
It's evident from the moment he skips on stage with support act Phoebe Bridgers - who he goes on to repeatedly champion throughout his own set - for gorgeous, sky-reaching renditions of 'Motion Sickness' and 'Scott Street' from her debut album 'Stranger In The Alps', the closing pair in a gorgeous, affecting 45-minute slot.
An almost unexpected bundle of energy, it feels like no time passes at all before he's back on stage, beginning the set solo with a stunning, looped version of 'Woods', his trademark vocals stretched and spun in every direction.
It's followed by 'Towers', and the introduction of Vernon's full band, the core Bon Iver members, fleshed out with a five-piece brass section. The 'Bon Iver, Bon Iver' cut is sped up via skittish drums, and given a completely new lease of life. It's a sign of things to come for the rest of the show: every track is tweaked to a different extent, from unrecognisable makeovers to subtle but definite twists, but all retain every ounce of their magic.
'Calgary' is transformed into a rumbling, haunting folk song, with plucked acoustic guitar and harmonica flipping the track entirely. 'Creature Fear', meanwhile, folds out into a cacophonous ending.
Granted, it's the final show of eight, so it's to be expected, but the 10-piece band are impeccably tight tonight. Swells of urgent, loud instrumentation appear out of nowhere; songs slip in and out of their original iterations, with Vernon's voice often left to carry the band on its own. Predictably, it more than stands up to the test. Highlight '____45_____' sees Justin and his saxophonist intertwining beautifully on a song they wrote "accidentally", but one that couldn't be more purposeful, while drummers Matthew McCaughan and S. Carey complement each other perfectly: the former is an unrelenting powerhouse that could carry a metal band, while the latter tackles the quieter, more intricate parts.
Each Bon Iver album, from the decade-old 'For Emma, Forever Ago' to 2016's '22, A Million', has its own vivid personality and feel, but tonight's show proves that no matter which corner of their discography they pick from, the songs prove malleable and fluid, changing shape constantly. It makes for a thrilling, non-stop show, and an eight night run that reasserts Bon Iver as one of the most fascinating, ever-changing acts we have.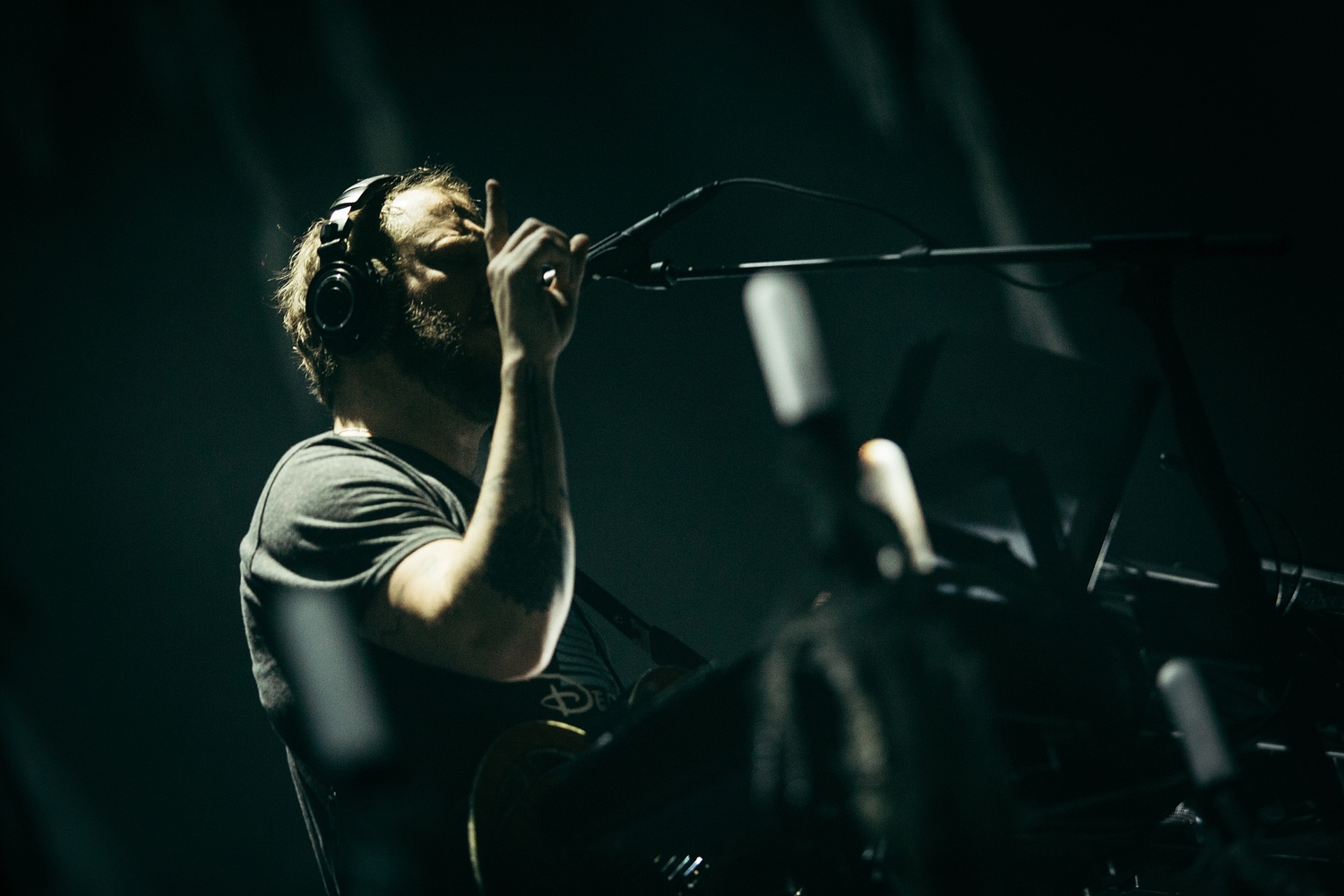 Photos: James Drew Turner
Read More