Live Review
Boy Azooga, Sports Team and more toast night two of DIY's Hello 2018
JW Ridley and Underwater Boys also joined our latest Old Blue Last knees-up.
It's a bitterly cold night in East London, and the second night of our Hello 2018 series is one that, suitably, deals largely in escapism. New Cannibal Hymns signings Underwater Boys open things up, with debut single 'Everyone You Know' a woozy, sun-kissed slice of Tame Impala-esque psych-pop. The rest of their early set takes in gigantic '80s synth-pop and develops a confident strut in huge closer 'Bubblegum'. It's a significant range of sounds the band are touching on at an early stage, and once they're distilled into something more identifiable, there's plenty of promise here.
JW Ridley, meanwhile, shows buckets of promise with sky-reaching, drive-time stabs at the do-or-die attitude of Springsteen. It's a sound that's slightly stifled by the sweaty upstairs room of a London boozer - Ridley is clearly already aiming for the grandest of halls. There's glimpses of the propulsive synth-pop of Future Islands on show here, and an ambition that can't be tamed.
Sports Team, meanwhile, are firmly rooted in reality. Penning songs about - in their own words - crisps and Ashton Kutcher amongst other things, they're an intoxicating live prospect, with frontman Alex Rice pinning confrontational stares on the front row one moment, then trying to compete with the swinging hips of Mick Jagger the next.
"I'll buy you a flip screen Motorola," the singer bellows while hanging from a lighting rig, not the grandest of romantic gestures, but one Rice sings as an untamed gesture of undying love.
When Cardiff newcomers Boy Azooga tear into the fast, frenetic 'Full House' a few minutes into their headline set, it couldn't be more apt: there's barely room to sip a pint, let alone swing a cat. The band's star quality is immediately evident, with debut single 'Face Behind A Cigarette' an undeniable highlight, an insatiably groovy first effort that's made them one of the buzziest bands in the country. Whether its follow-ups will match up, we're yet to see - certain tracks fall a little flat tonight - but their promise is undeniable.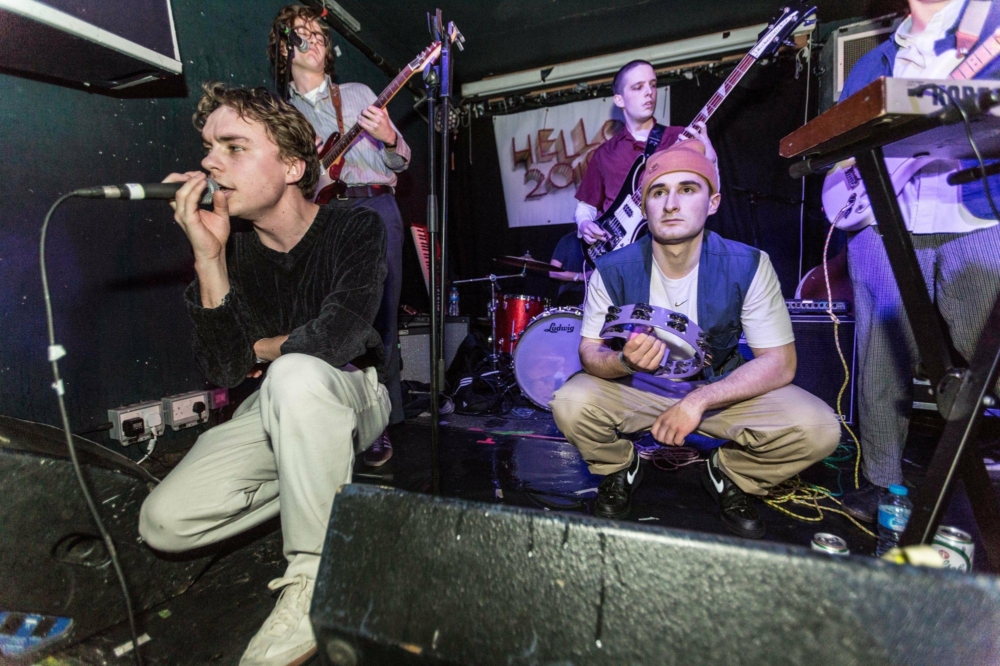 Photos: Emma Swann / DIY
Read More