Live Review
Pitchfork Paris 2014
30th October - 1st November 2014
Next year, though, we'd like French bands too s'il vous plaît.
An abandoned abattoir in Paris' 19th arrondissement isn't the most natural of environments to nose out a buzz band playing biting, post-ironic indie to a bunch of year-abroad hipsters and Parisian yuppies. But here they are: Montréal band Ought playing songs from sleeper hit 'More Than Any Other Day' in front of Americans quaffing vin blanc and Parisians thinking bof, pas terrible. Scowling their way through a pliant set that blends chugging stoner rock with fidgety punk rock, they're our new favourite Pavement fan-boys with a penchant for outlandish gyrating. Or at least, they were – when we see deadpan frontman Tim Beeler lugging a wheelie suitcase out of the nearby Mercure hotel the following morning, it kind of shatters the rock star image.
The War on Drugs play a confident, at times overblown set next, but Mogwai's brazen post-rock sound is better matched to the cavernous surround of the Parc de la Villette. Inch by inch, the walls feel like they're closing in. Mechanical, exhilarating and almost entirely bald, Mogwai sound like how being inside Big Ben probably sounds like to someone with hyperacusis: intense, claustrophobic, definitely painful. Classic 'Mr Beast' tracks 'Travel Is Dangerous' and 'We're No Here' pack a fiery, anthemic punch, while new one 'Heard About You Last Night' draws on their ghostly 'Les Revenants' mystique with its drowsy xylophone motif. Mogwai have such an extensive catalogue now that you always go away feeling cheated they haven't played the deeper 'Come On Die Young' cuts. Of course, you're actually being spoiled.
At this point, you might think the intensity couldn't really be ramped up any further, but Jon Hopkins somehow does just that. His kinetic, cerebral electro provides the perfect soundtrack to a transportive visual show that takes us on a surreal skateboard journey, through clubs and barren streets, and out into space. A bit like Alfonso Cuarón's Gravity, or a particularly engaging FlyLo show, it's all quite involving, emotionally. We're totally shaken up, and we've got even more poignant outpouring next courtesy of James Blake over on the Pink Stage. Melting hearts, frying brains and rattling our insides, this post-dubstep poster-boy charms the crowd with swaths of sub-bass, dubby drum-claps and that timeless velvety vocal. While 'Limit To Your Love' gets everyone's guts a-wobbling, the early, Kelis-sampling 'CMYK' is still the best thing he's ever done.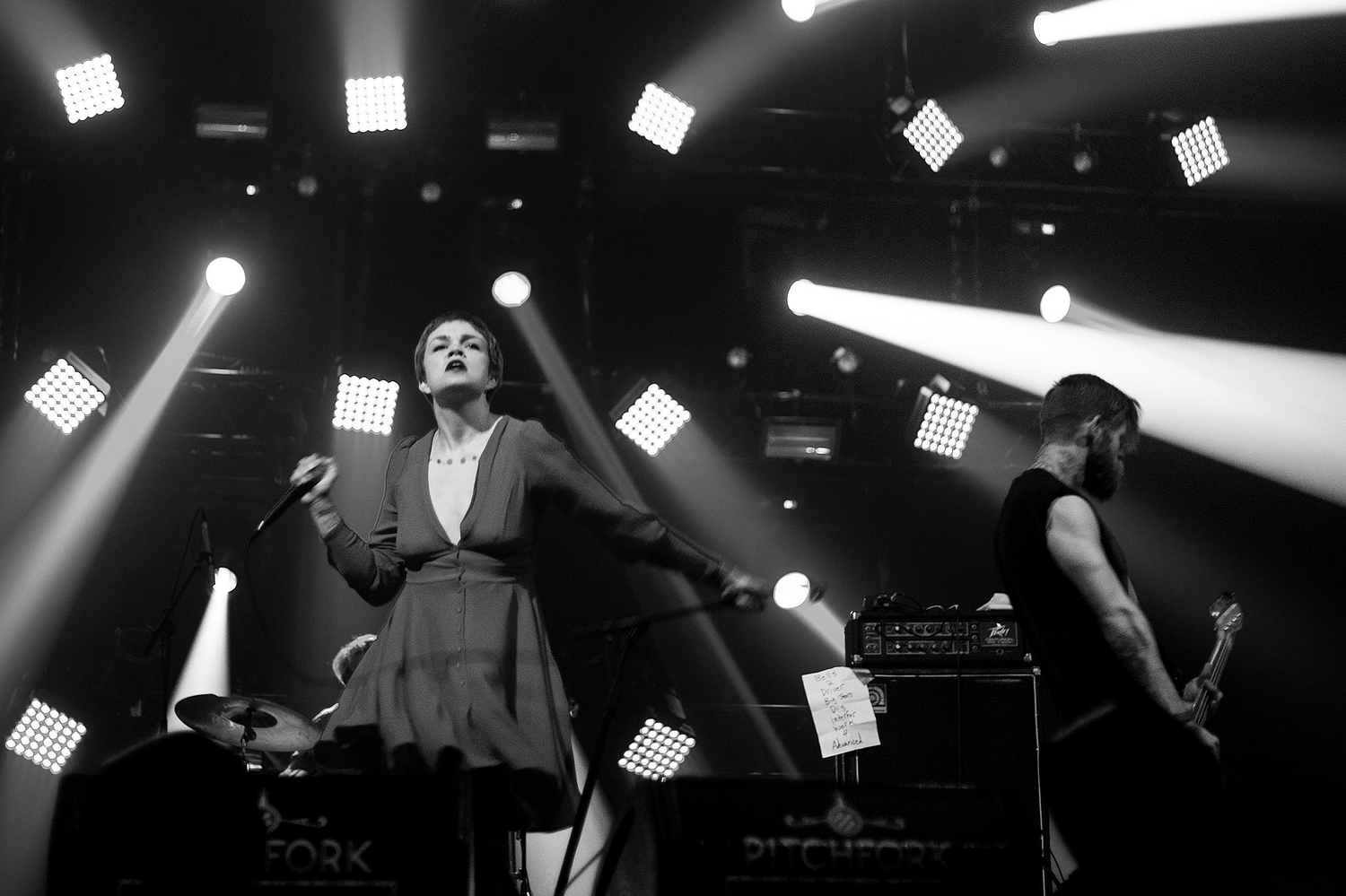 One of the perks of this festival is its efficiency. There's a stage at both ends of a single room, and when one act finishes on one stage, the next begins on the other. Basically, you can never miss a thing. So, unavoidable are Perfect Pussy, whose spunky, dramatic punk rock opens the Green Stage on Friday. Swamped in distortion and at times literally middle-finger-ing the crowd, lead singer Meredith Graves manages to order the chaos surrounding her and enthral the dinner-time crowd with her powerful snarl.
It seems appropriate that today's Halloween, and some bands go the extra mile. We're looking at you, Future Islands. Iconic ringleader Samuel T Herring bounds on stage and introduces himself as "Sampire", his face blanched, cackling gruffly and proceeding to nosh some fake blood sachets. His bassist is the "wicked witch of Will", touring drummer Michael is a nut-brown werewolf and keyboardist Gerrit just seems to be wearing a DJ. Throughout, Herring's world-famous cavorting is on full display, veering from aggro chest-pumps and air-grabs through lusty hip-thrusts and leg-kicks to comical testicle-clutches and head-pops. He essentially spends the whole set sweating off his face make-up. There's even a botched Jack Black-style stage-dive. Clearly, this is almost routine for him now, but Future Islands' music sounds anything but. Their bewildering strain of slo-mo disco and that unique soulful croon sounds timeless, life-affirming, and to be frank, they should probably be headlining. It's a shame, then, that the same can't be said for St. Vincent, whose aloof presence and robotic dances look cool on the telly, but paradoxically seem distant today in the flesh.
The standout set on Saturday is the first ever show from Tobias Jesso Jr, whose tales of heartbreak and despair variously recall Nick Drake, Elliott Smith and Mark Linkous. To get flown out here and shoved in a whopping great slaughterhouse for your debut performance must be scary, but Jesso Jr totally pulls it off. "Hi", he says modestly. "No big beat or anything. It's just me." And that's the magic: whether it's songs about lost friendships, misplaced words or high-school heartbreak, he's an utterly compelling story-teller. While 'Just A Dream''s refrain of "I can't explain my world to you" expresses his bemused, complex relationship with the world, 'Hollywood' tells of his toiling away at music for years, and failing. "I think I'm gonna die in Hollywood", it goes, shot through with melancholy. The sadness doesn't really let up – his songs are destined for the gloomier bits of indie romcoms (the best bits, that is) – and it's a real honour to see him perform.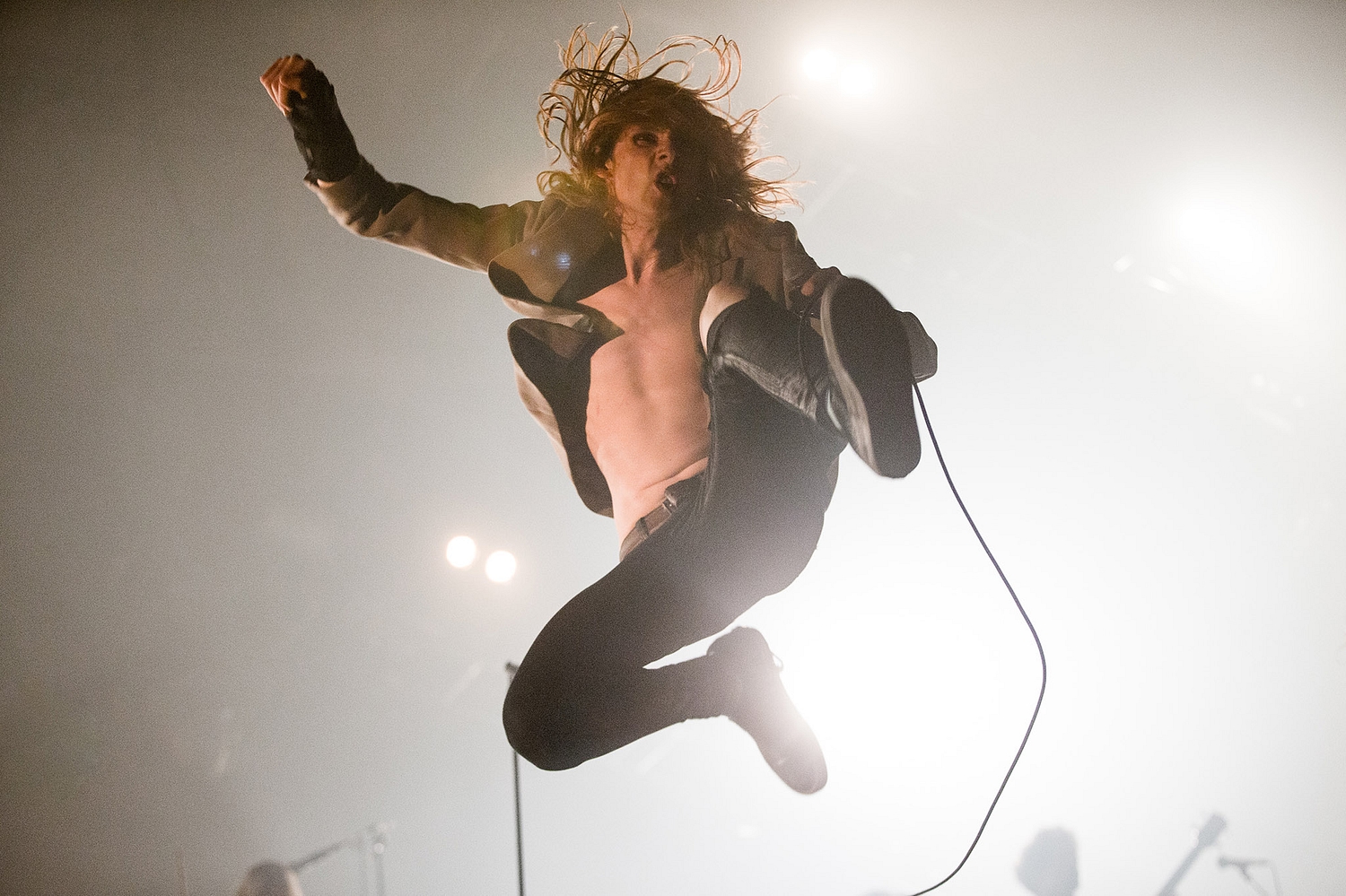 If tUnE-yArDs' colourful carnival wasn't bonkers enough, Foxygen are just taking the piss. Their retrograde sound is distinctly 60s, veering from shambolic garage punk to melodic soul balladry, and their live show is appropriately manic. Changing tone every thirty seconds, defying recent rumours of a feud between the two core members, the set is a trippy, inebriated fair-ground ride. There's strutting, there's screaming, there's relentless shimmying. Singer Sam France is an Iggy Pop from a far-flung planet.
Weirdly, another band with backing dancers are Jungle, whose icky-sweet grooves are lapped up by the French crowd. It's hard to tell where one song ends and the next begins, but an hour of funk grandiosity isn't really something to complain about. More sensual, on the other hand, are MOVEMENT, whose sassy antipodean R&B is all breathy, melt-in-your-mouth goodness with a gloomy night-time touch. Songs like 'Us' and 'Like Lust' are entrancing, the trio chucking in Prince-y guitar noodles, throbbing bass and towering falsettos as if confetti. It almost feels like they're spooning us via our ears, like one big, caressing, musical cuddle.
Later on, Dan Snaith's Caribou do the trick of saying a lot with very few words, and also somehow succeed at performing house music with live instruments. Shrouded in purple light and dry ice, the band hunch over their analogue synths and drum kits in an hour-long set that mingles live vocals and samples, live kit and pre-recorded beats, man and machine. Jessy Lanza comes on for 'Second Chance', providing a moment's rest, but it's the elongated, contorted epics 'Odessa' and 'Our Love' that really impress. As balloons pour down from the ceiling during the early-hours euphoria of 'Your Love Will Set You Free', everyone hugs starts hugging each other and it's all quite touching.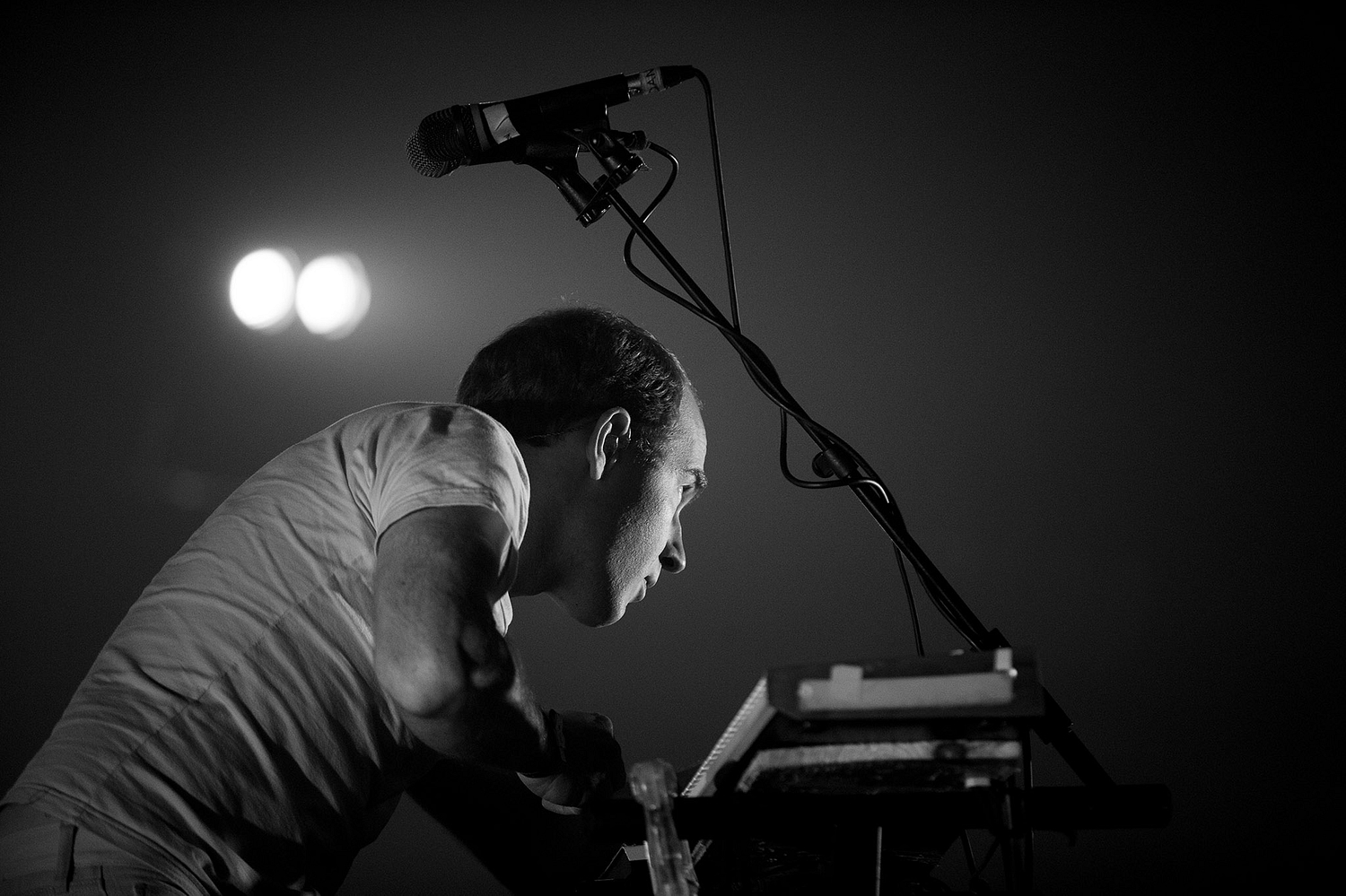 Time, then, for Four Tet to up the tempo even further on the other side of the room with some belting beats, scratches and found sounds. His is a climactic set that proves Pitchfork Paris is still at the top of their game, despite a noticeable corporate taint this year – for example, it was hard to miss the Smart car-sponsored tenpin bowling by the entrance. Next year, though, we'd like French bands too s'il vous plaît.
Read More
Featuring James Blake, Romy, Marika Hackman, yeule and more.