Live Review
The Last Dinner Party, Camden Assembly, London
25th April 2023
Fresh from the long-awaited release of their debut single, the quintet are confident and unphased.
Intense hype, as we all know, can be a fickle mistress, and there's no band on the receiving end of it right now more than London quintet The Last Dinner Party. Having built up a genuine word-of-mouth buzz based on a string of early live shows, in the past six months the machine around the band has become notably big, notably fast. They supported The Rolling Stones at Hyde Park without a note of released music; the record label clamour to sign them was reportedly a multi-way metaphorical fist fight. Last week, after months of increasing anticipation, they finally dropped debut single 'Nothing Matters' through major label Universal Music, the hubbub in indie circles akin to Rihanna's R9 finally coming through.
Which is all to say that, headlining their first London show since the release at a sold out Camden Assembly tonight, there's a lot of pressure on the group not to fuck it up. We've seen similar moments go south before; chances are Wolf Alice would like every memory of their early Lexington show - complete with broken instruments and an awkward and mortified Ellie Rowsell - banished to Room 101 for evermore. But whilst Rowsell took a few years to fully embrace her power as a frontwoman, tonight TLDP's Abigail Morris has no such issues.
Sporting a leotard emblazoned with 'When The Fuck Is The First Dinner Party?' (a cheeky nod, we assume, to that early 'Who The Fuck Are Arctic Monkeys?' EP), Morris is a magnetically confident mistress of ceremonies, bending and twirling dramatically between her four bandmates, spaced out evenly on the front line. Haters will undoubtedly point out that her between-song chat is as well-spoken and, let's cut to the chase, posh as a formal elocution lesson. But the difference here is that The Last Dinner Party aren't hiding their pedigree; theming the gig as 'A Night At the Opera', and with a vibe that's Baudelaire-meets-Bridgerton, everything about the band is based in excess, lavishness, theatre.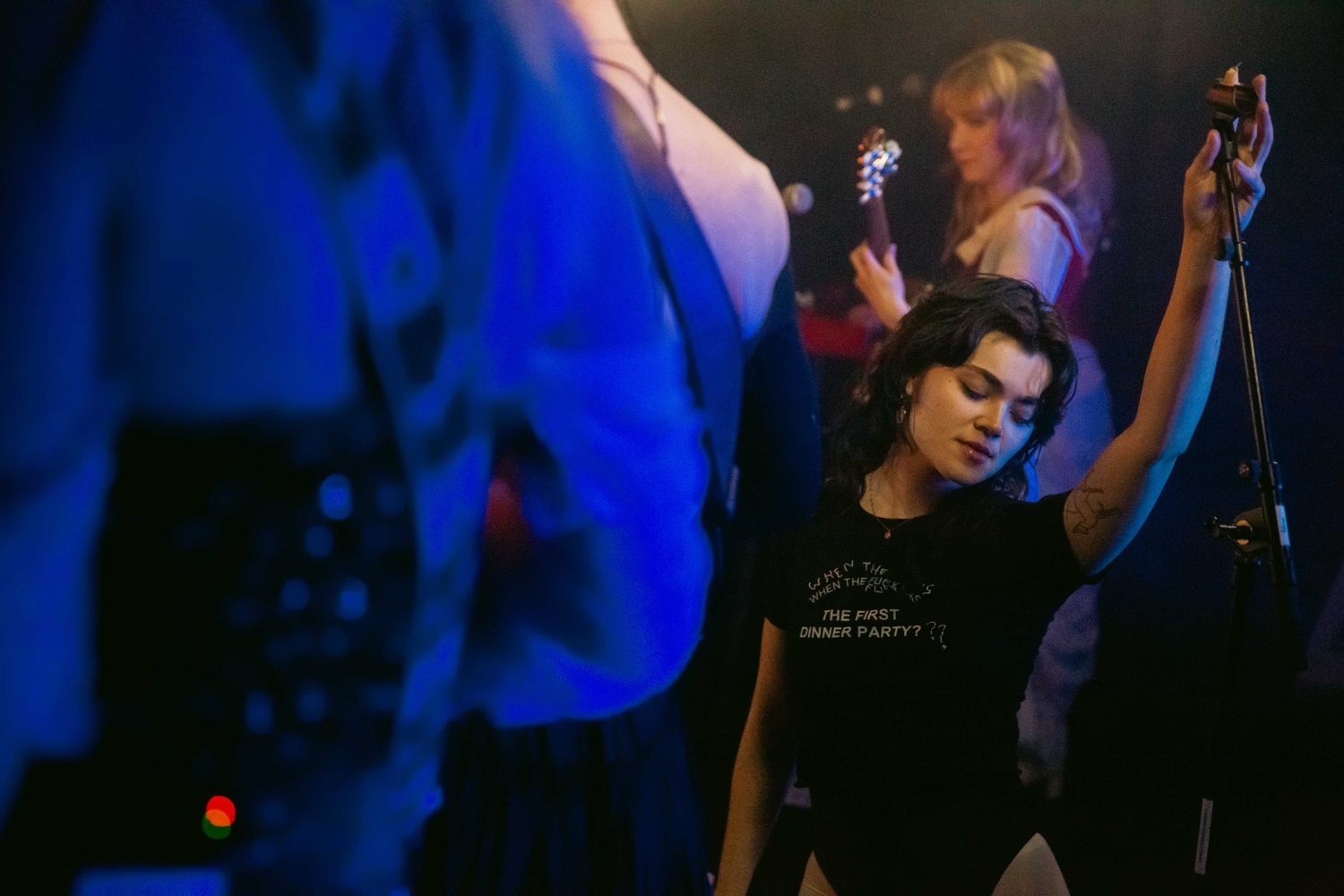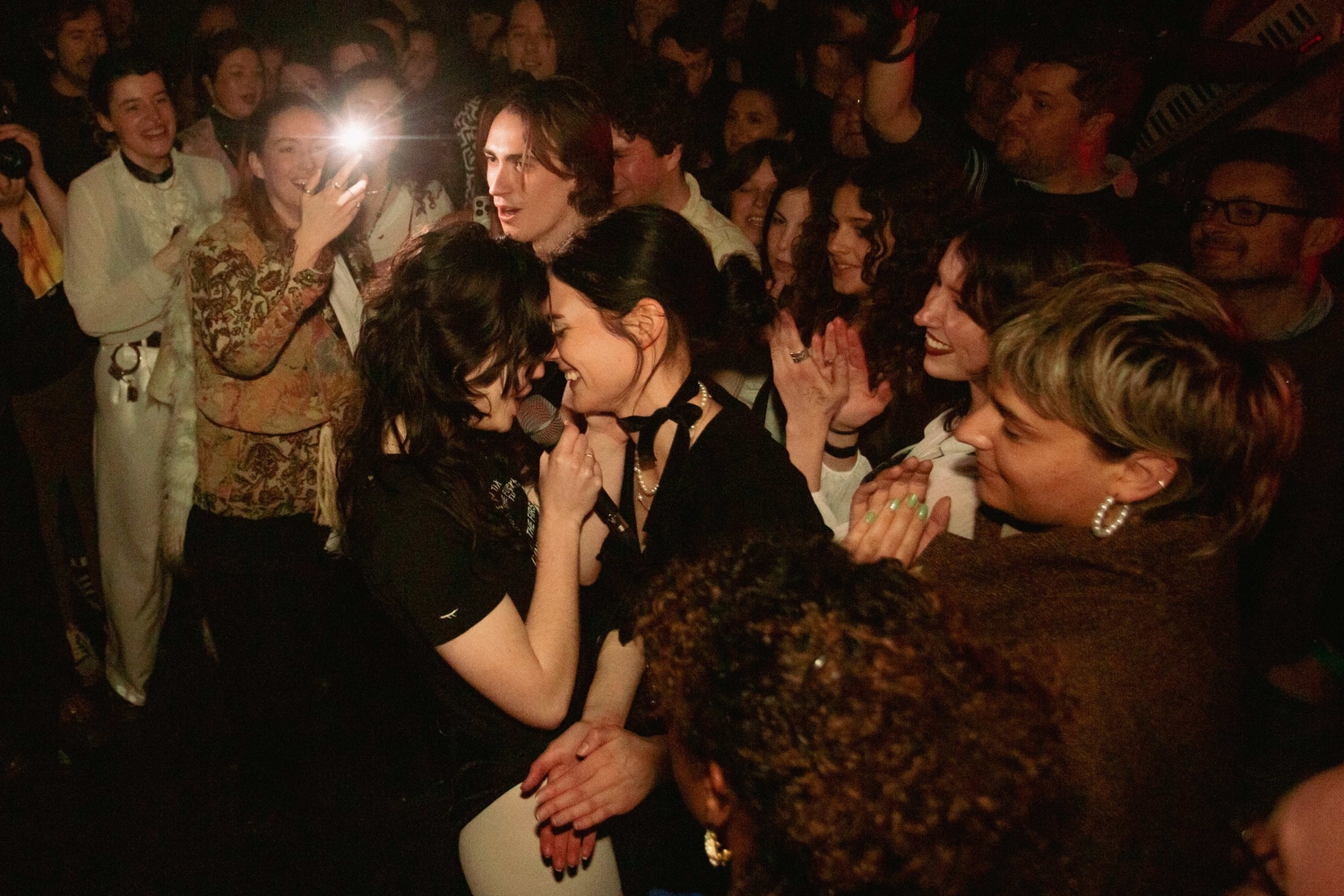 We've seen this sort of pomp and ceremony before with the likes of HMLTD and Walt Disco, but The Last Dinner Party's set suggests a commercial crossover potential where their predecessors perhaps struggled. Though the bare lights that greet opener 'Burn Alive' jar with the drama of the track (things are soon rectified and the rest of the set is buoyed by red and orange hues), it's obvious from the off that, underneath the highbrow reference points, there are good old-fashioned hooks and melodies. You can see why the band have already been championed by Florence + the Machine.
In the nine tracks they play tonight, there's an impressive amount of variety that shows there's substance to the style. 'Beautiful Boy' finds the band bathed in blue over tender harmonies that then explode into operatic drama; 'Gjuha' sees keyboard player Aurora Nishevci take the lead for a finger-picked song sung in Albanian; following track 'Simmer', by contrast is a glammy romp complete with unapologetic riffs and mosh pit potential.
Best of the lot is penultimate track 'My Lady of Mercy', which hops between syncopated Sparks-ian idiosyncrasies and a huge, heavy, gnarly rock opera of a chorus. It's a genuinely original tune that sounds like little else around. They end with debut single 'Nothing Matters', currently celebrating its "one week anniversary" since release. You wouldn't even get a paper gift for that length of relationship, and yet the front portion of the crowd are decked out in their finery, themed and throwing their arms around the band like longstanding loves.
The Last Dinner Party are still pleasingly ramshackle beneath the visible ambition. With expectation for them sky high, it's hard to know whether these songs can 'do a Wet Leg' or if the buzz will backfire. But tonight's set is undoubtedly oozing with potential: as long as they can keep their heads among the chaos, there's no reason why this evening shouldn't be the first big party of many.
Read More
Featuring James Blake, Romy, Marika Hackman, yeule and more.