Live Review
Yowl and Drahla lead the charge for a feral first night of Hello 2018
Crewel Intentions, Hotel Lux and Sistertalk opened up our new band knees-up
January is a confusing time. Your brain's all muddled from drinking loads of booze and then drinking zero booze. You're meant to be a whole new person, even though you feel largely the same but slightly more bloated, and you're cold and poor.
DIY's annual year-opening Hello gigs at the Old Blue Last, however, are here to make stepping into the brave new dawn that is 2018 that little bit easier. If the idea of picking out two matching socks feels a bit like effort right now, then at least your new band picks are laid out plain and simple.
Tonight – the first of four gigs, spread over consecutive Tuesdays in January – is a paean to all things dark and stormy. From jagged post-punk to howling nihilism, the evening's five-band bill is proof that there are indeed many shades of black.
Londoners Sistertalk begin proceedings with a set that shows ambition far loftier than their early stage time. With nary a song out in the world, the troupe – suited up like a bunch of dapper spivs and augmented tonight by backing singers and a saxophonist – are a deliciously confident proposition. Channelling the stabbing melodic shrieks of 'Strange House'-era Horrors, with a good line in ghoulish keyboards, their tracks are pointy things – melodramatic stories with a menacing undercurrent that jab and slice through the room without apology.
Hotel Lux, meanwhile, are a more straight-forward proposition but no less
angry. Indeed, there's a point on the almost uncomfortably raw 'Daddy Issues' where you wonder if someone should get Social Services involved. Fronted by singer Lewis Duffin – an imposing presence with a heavyset brow and all the subtlety and nuance of a pissed-off rottweiler, the band thunder through recent singles 'Envoi' and 'The Last Hangman' in one raging exhalation. It's a claustrophobic listen, and while there are Shame-recalling kicks to be found throughout, when they add more dimensions they'll truly start to come into their own.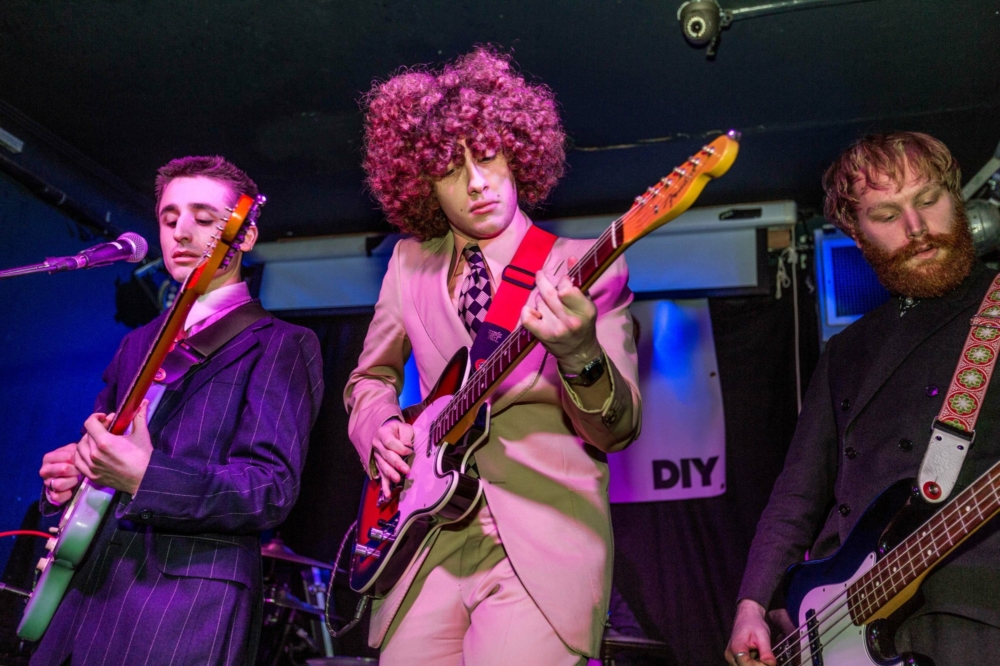 If Crewel Intentions arrive as a reasonably unknown entity – with minimal internet presence, no music and the smallest handful of gigs to their name, these are early moves for the quintet – then they leave firmly imprinted in the minds of every single punter gathered in the heaving space. The new project of Palma Violets star Chilli Jesson, you can tell the frontman isn't used to playing in venues this small: lurching into the crowd, hanging from the lighting rig and exuding a sheer force of energy that feels almost too big for the room, there's not a second of their set that the singer doesn't grab by the scruff of the neck. Musically, it's incredibly tight already too. The cowboy theatrics of their opener and its repeated talk of "the man in black" come on like Nick Cave in a western, while there are nods to The Pogues' purposefully shambolic shanties, Iggy Pop stage mannerisms and even a bit of Tom Petty when the set takes a slower turn. Gathering the crowd to him, Chilli commands the room like he's headlining Wembley; if he was always Palma Violets' resident focus-puller, then now he's embracing the spotlight with gusto.
By comparison, Leeds trio Drahla are almost static throughout, but their rhythmic repetitions and taught coils of post-punk provide all the intensity needed. Despite a brief technical hitch, they offer up stony-eyed precision throughout, bassist Luciel Brown and guitarist Rob Riggs trading speak-sing vocals on 'Fictional Decision' with a nonchalance that only offsets the ferocity of the sonic squalls behind them. It's also worth noting that drummer Mike Ainsley is an absolute skin-smashing machine.
At the end of 2017, Yowl singer Gabriel Byrde sliced his head while filming the video for single 'My Headache Likes To Speak'. Tonight, the unfortunate vocalist has fractured not one, but two (aka both) of his elbows. Wearing a cast on one arm and a sling on the other, it's enough to give the entire room sympathy pains, but you wouldn't know it from the way the singer hurls himself around the stage and into the crowd, attacking every moment of the band's headline set with an aggression likely to make any nearby doctors wince.
What's truly exciting about this lot, however, is that with every next step they're becoming more than just another angry South London band. Where many artists' breakthrough tracks become their albatross, the initial hit they never manage to surpass, the dirgey brood of early singles '…Headache' and 'Saturday Drag' are by no means the most interesting things on offer tonight. A newie with the working title of 'Drop D' is a wonkily melodic affair in the vein of Graham Coxon's ragged solo offerings, while the Country Teasers shanty of 'Travelling Murder Circus' is a rollocking beer-sodden knees up. They finish with the singer in the crowd, bassist Jake Manley atop their shoulders and a pair of moshing stage-invaders in their place.
He'll be needing a hefty dose of codeine in the morning, but tonight, not even a full on body cast could stop Yowl.

Get your copy of the latest issue
Read More