On Tour:
Palm trees, naked fans and sold out shows: Glass Animals' peanut butter tribe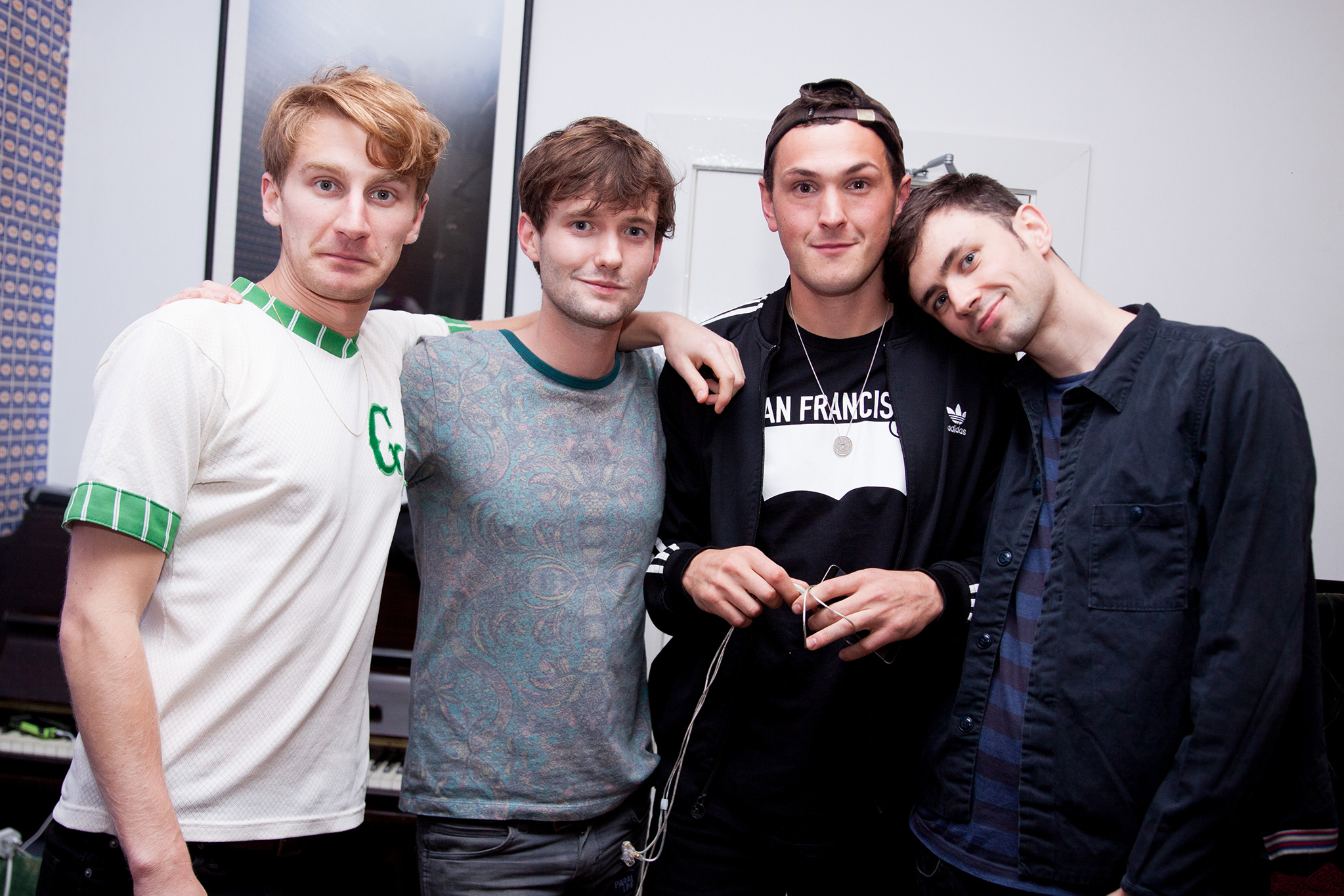 The world is coming round to Oxford band Glass Animals' tropical pop. DIY checks in on the road, just as the UK begins to turn its head.
Glass Animals' 2014 doesn't follow the traditional pattern. For the average hotly-tipped UK band, typically it's a case of building the hype, putting a debut out, making the most of the attention before repeating the process with a follow-up. When it comes to this Oxford four-piece, this country's lagging behind slightly. Back in January, when their reputation was built from whispers on these shores, over in Australia they were playing sold out gigs to hundreds. Just last month, the band's worldwide ascent hit North America, coupled with a slot on Late Night with Seth Meyers and more sell-outs - this time in the thousands. As they arrive back in their native land, the moment's finally come to take on old Blighty.
Following a "pretty fucking crazy" US run, full of "exotic happenings" according to frontman Dave Bayley, DIY finds a band gaining momentum by the second. Hints of their gradual conversion arrived during their Latitude set earlier this year, where a 30-degree-plus tent swayed and grinded in unison to the rainforest vibe of Glass Animals' debut record 'Zaba', which came out this June. Dave thinks back to that very show. "It totally caught us off guard," he remembers. This time it's a succession of packed-out venues with over-subscribed crowds. Bigger dates are already booked for 2015 - there's no sign of this run slowing down one jot.
En route to Brighton for an appearance at The Haunt, they've likely had a collective ten hours sleep between them in the past 24. The day before was their only time off for weeks - Bayley spent the hours "working", "focusing on other projects", while the others share a sleepless but excitable mood. The frontman claims drummer Joe Seaward is experiencing "anti-jetlag" on the journey down South. Instead of dozing off when they can, Bayley has his laptop open focused on work, while Seaward, Drew MacFarlane and Edmund Irwin-Singer add songs to their pre-stage playlist. There's not a moment's pause, and the next 48 hours only adds further force to the whirlwind.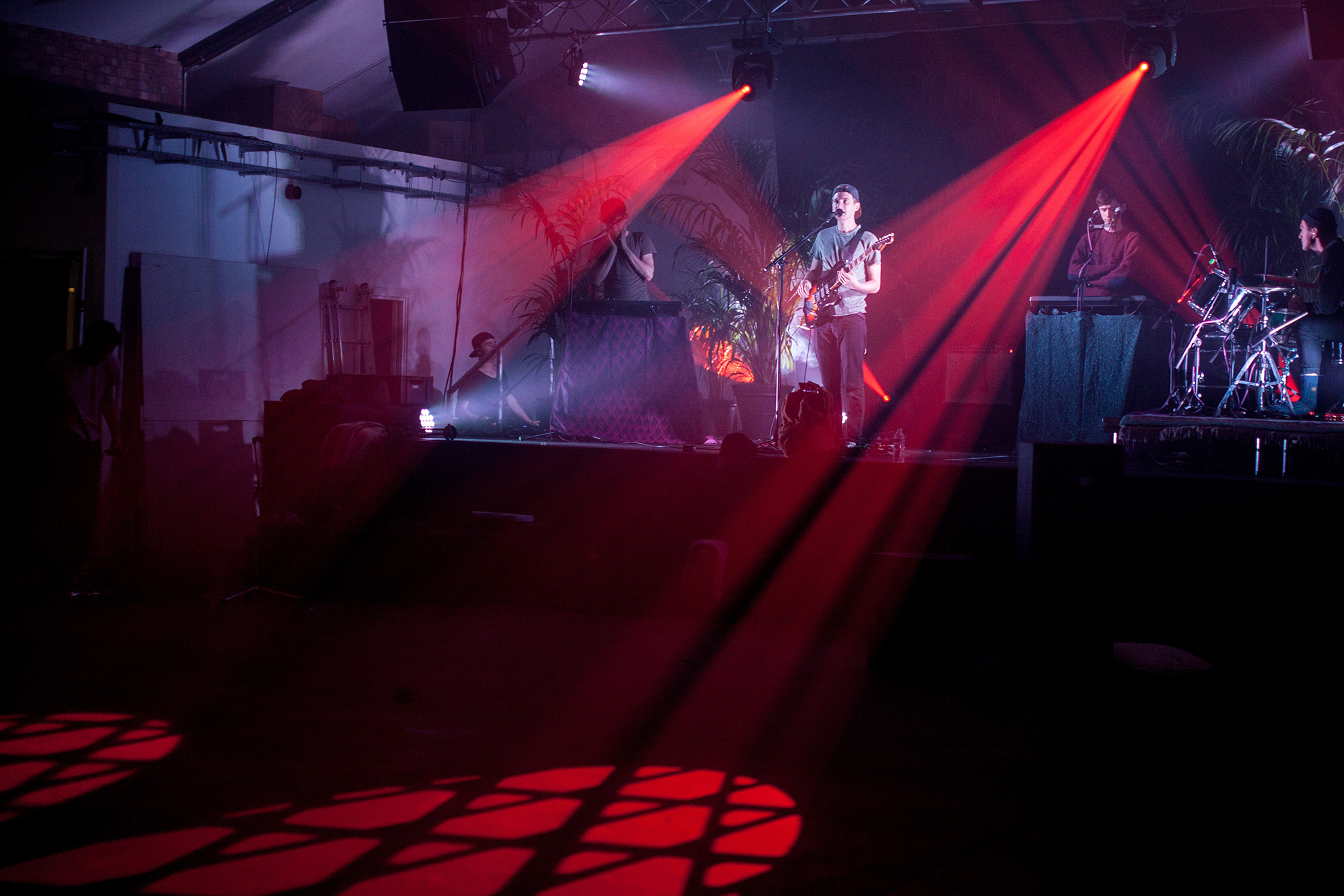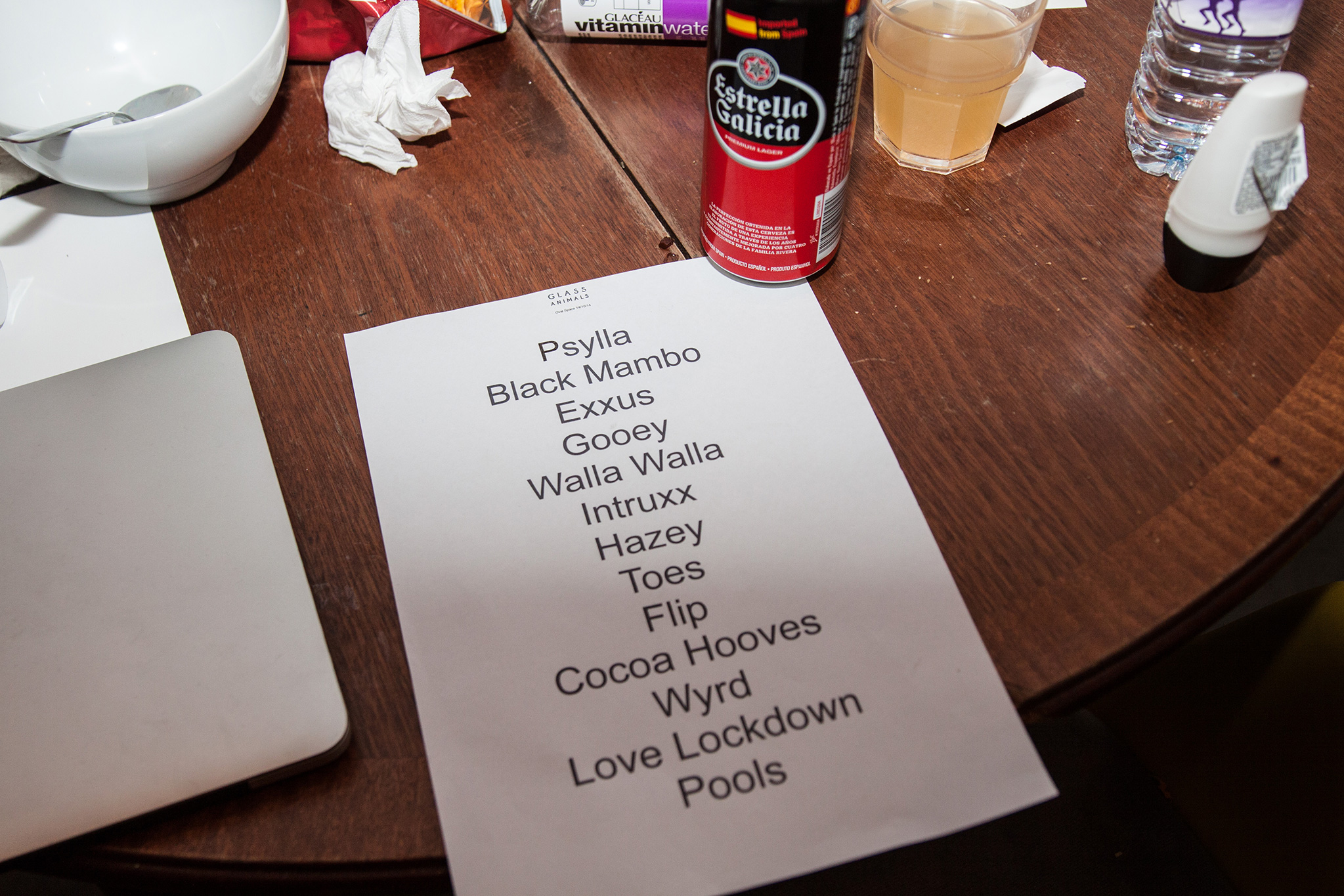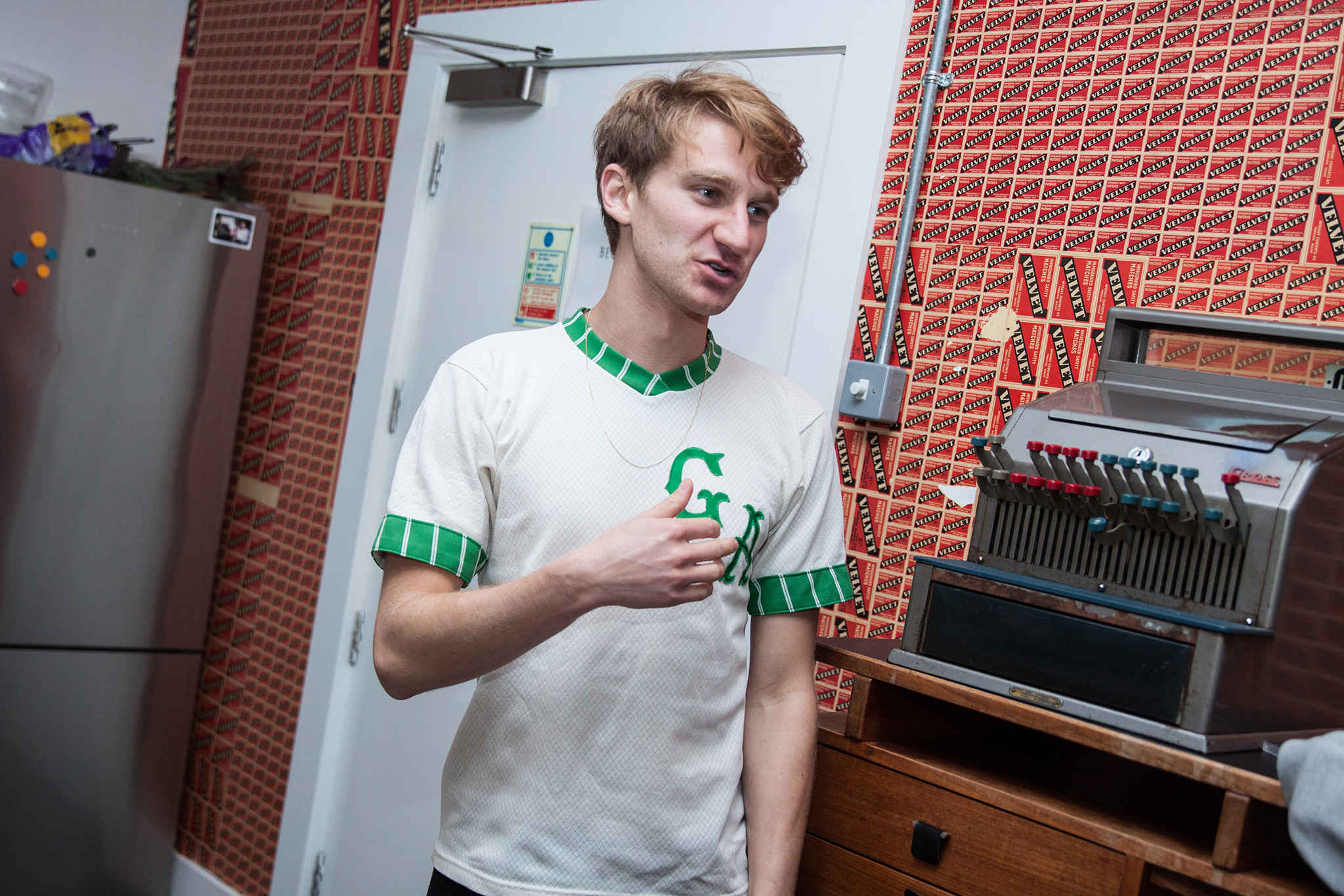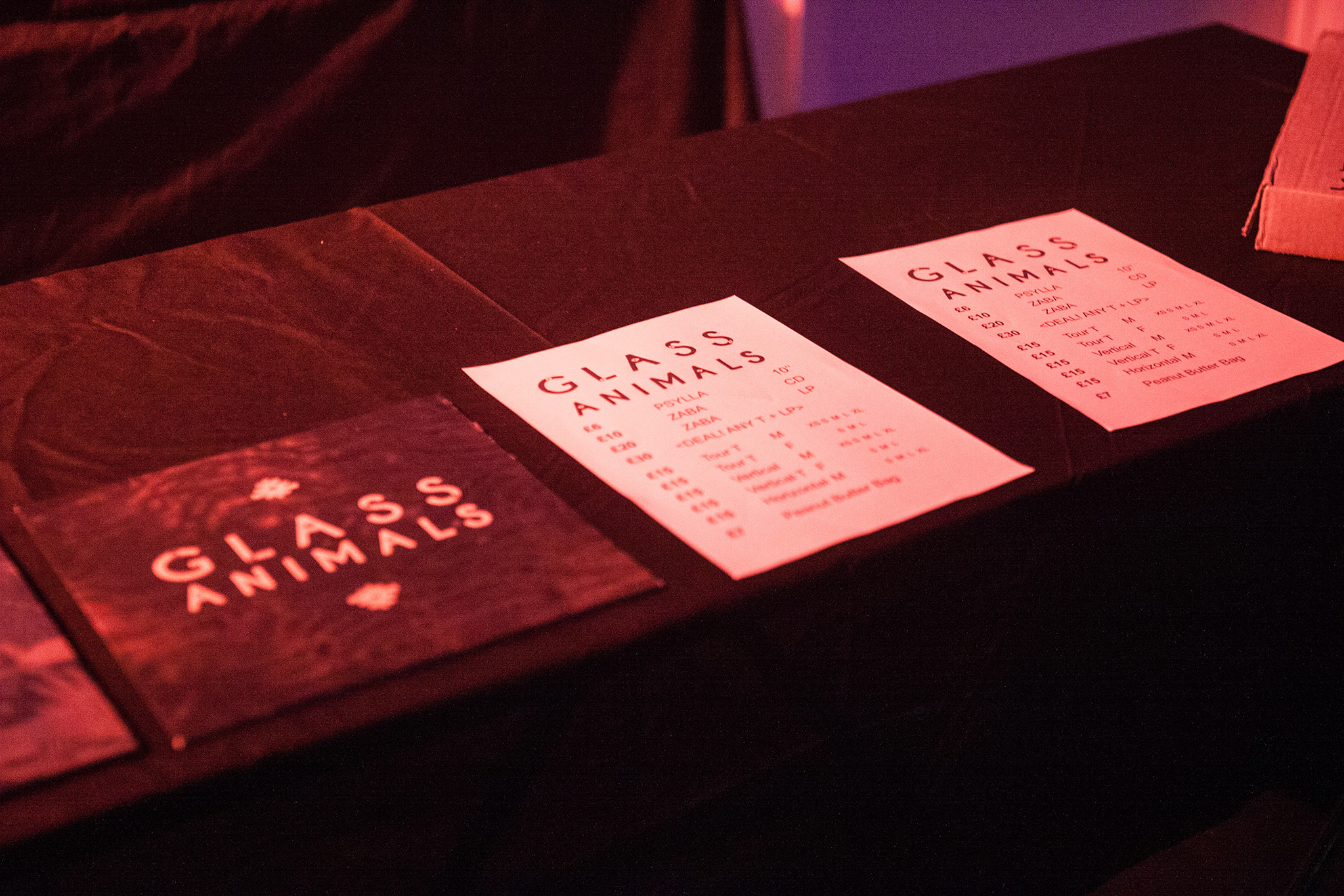 "We're always going to find things we need to change"
— Dave Bayley
During shows at The Haunt and London's Oval Space, together they constantly discuss tinkering and refining a process that's already clearly working wonders. "I think we'll always have somewhere to go," says Bayley. "We're all very sceptical and picky people. We're always going to find things we need to change." And so it proves. Soundchecks are meticulous affairs that span hours. It's all worth it - Oval Space in particular bursts into a sweaty swarm, exactly the kind 'Zaba' intended. The stage is decorated with real palm trees, bought specially for the occasion. Back in the US, the band recount "people climbing over the speakers, dancing on stage." When go-to anthem and set closer 'Pools' steers, venues threaten to morph into similar sights.
In between the gigs, there's a pit-stop in Central London for a BBC Radio 6Music session with Nemone. After another sleepless night, again they're being asked if they're exhausted, but there's a calm, excited enthusiasm shared between them. Before performing acoustic renditions of 'Hazey' and 'Black Mambo', Noel Fielding peers round to say hello. "That's a good name - The Glass Animals," he says without introduction. "I'll check you out, cool." he says, before wandering off in his fur coat. It's about the only time the band look at all shell-shocked or baffled at how surreal everything's getting, save for the nervous huddles and high fives that arrive just before they hit the stage.
Madness it might be, but it's all explainable. For one, Glass Animals successfully managed to steer past the potential perils of being a hype act. They took their time, from putting out curious debut tracks to working with Paul Epworth, right up to an eventual early summer release. "We made the record we wanted to make. That was our philosophy when we started the band," says Dave. "We put some music up quite a long time ago, up online. We weren't really ready to be a band. We were in different cities, we couldn't rehearse. We didn't have any time to be a band. We took everything offline for about a year, put it back on again when we knew more about the music industry... Some bands release two tracks and then they don't have any more. They have to write new shit. And the live show is rushed."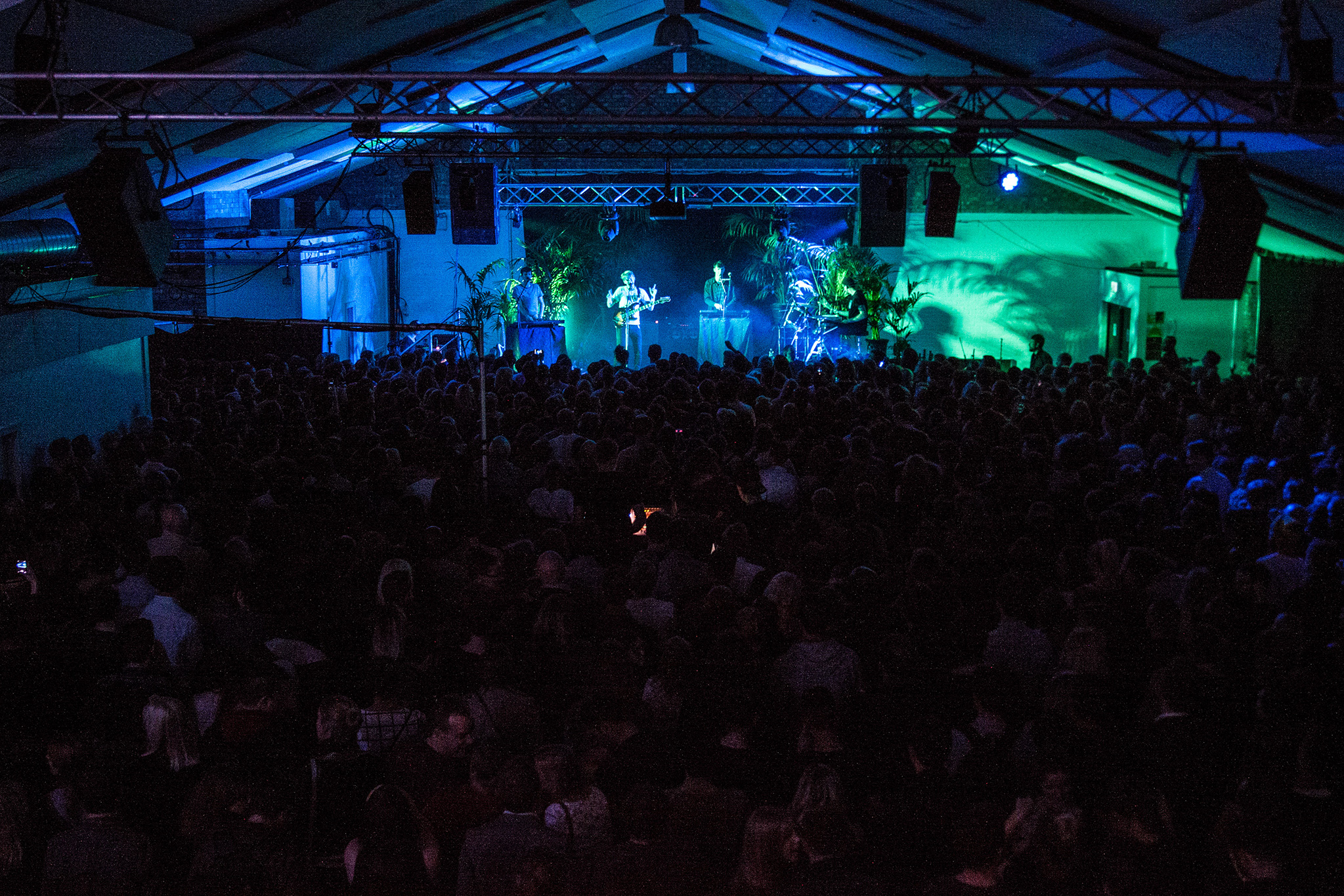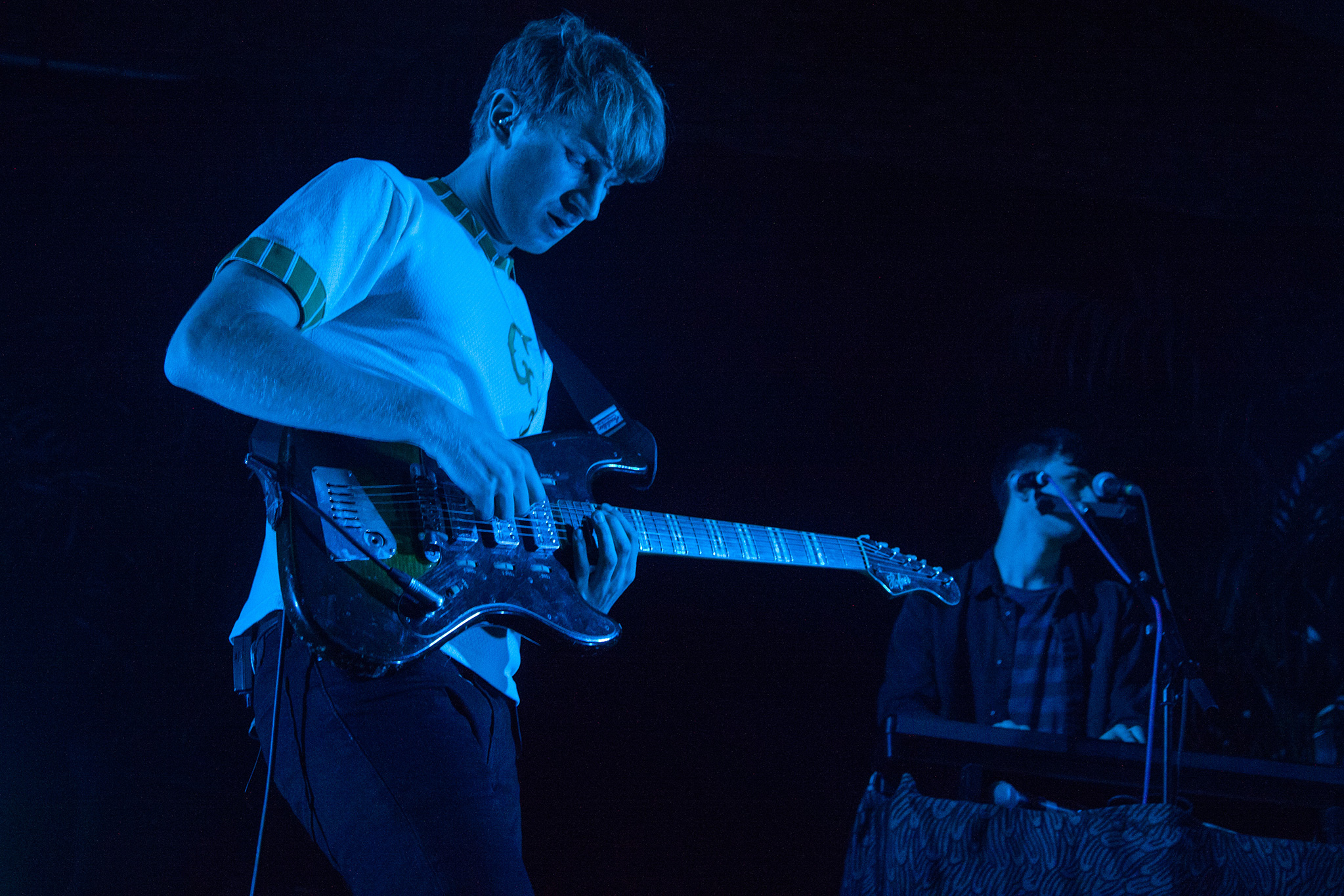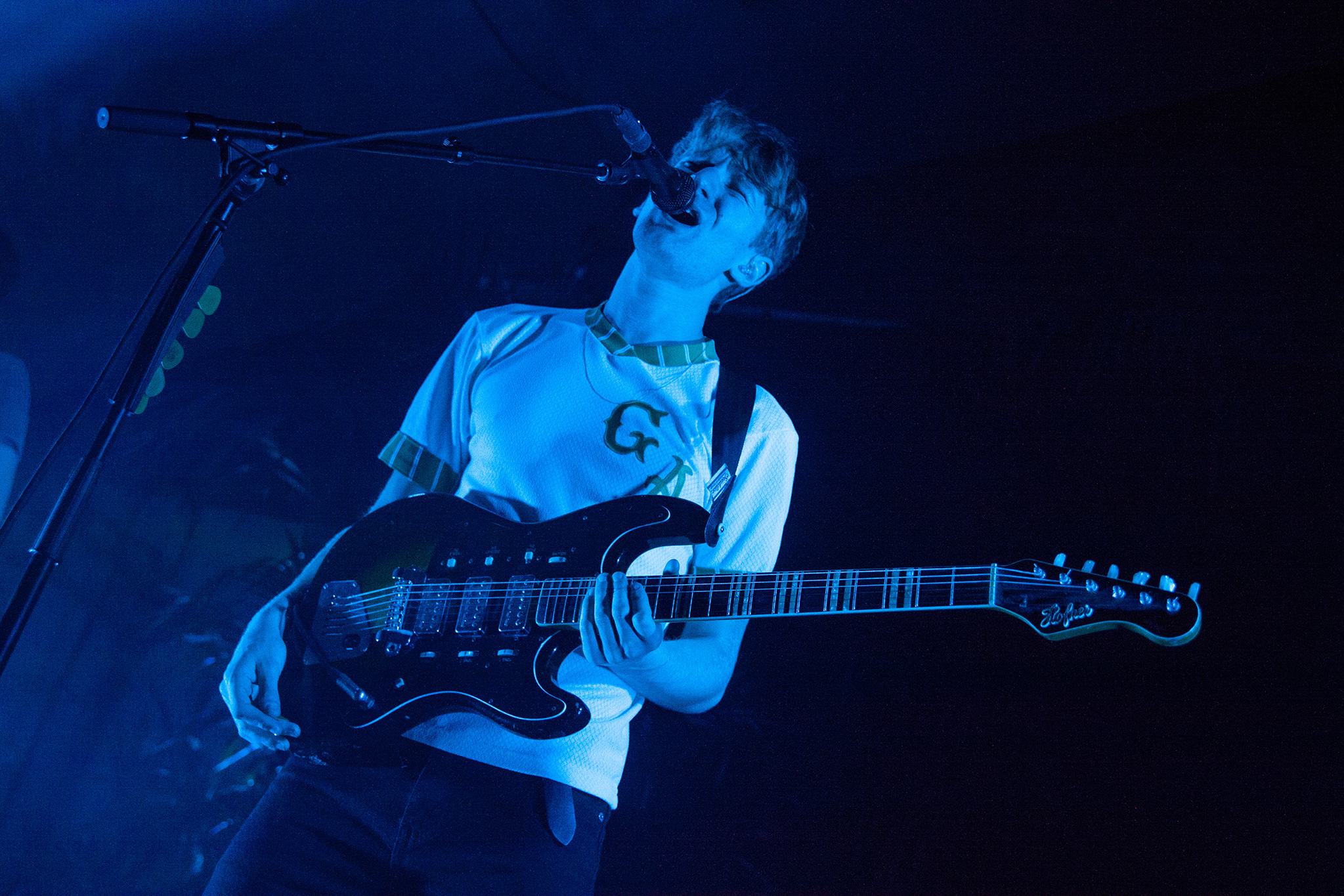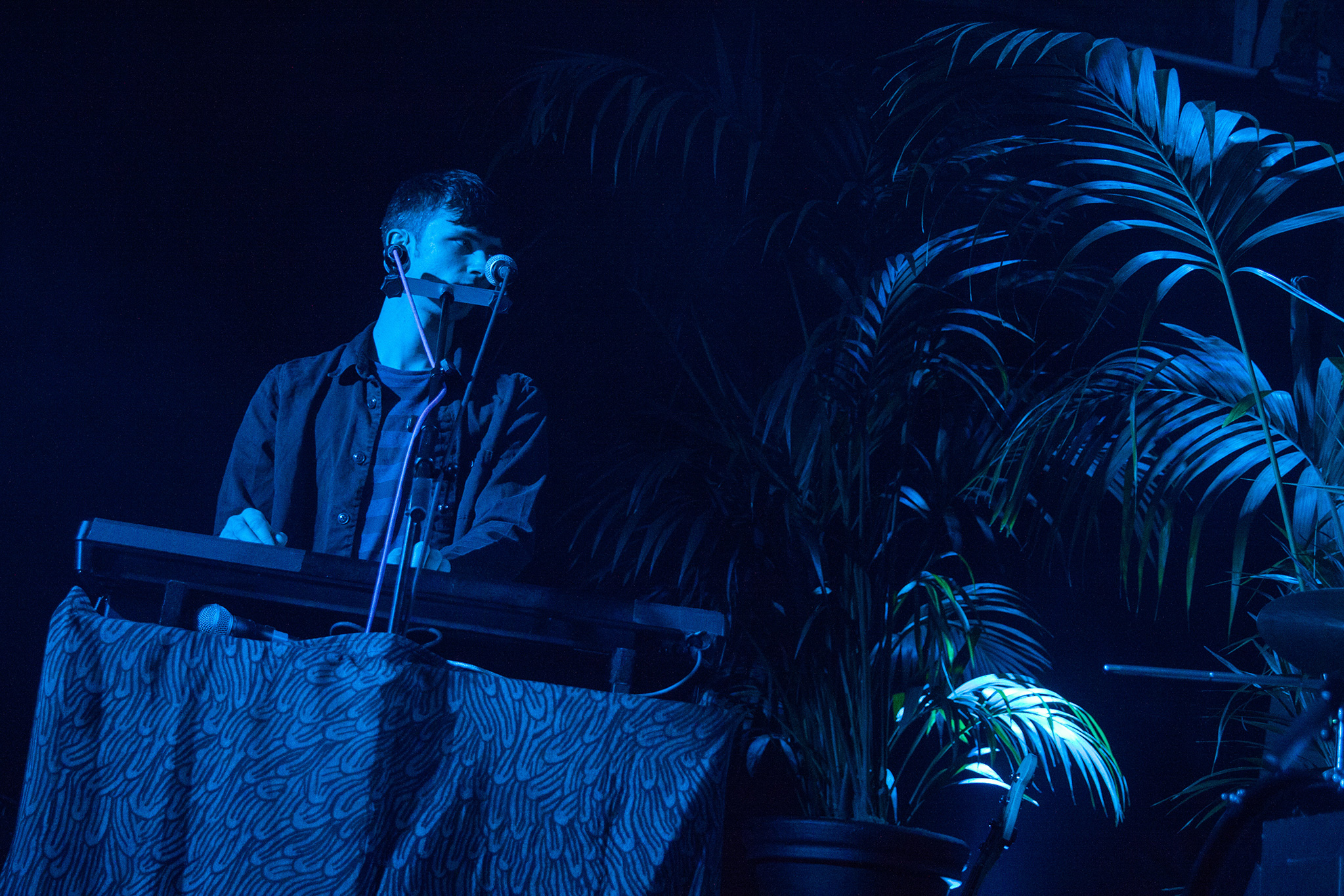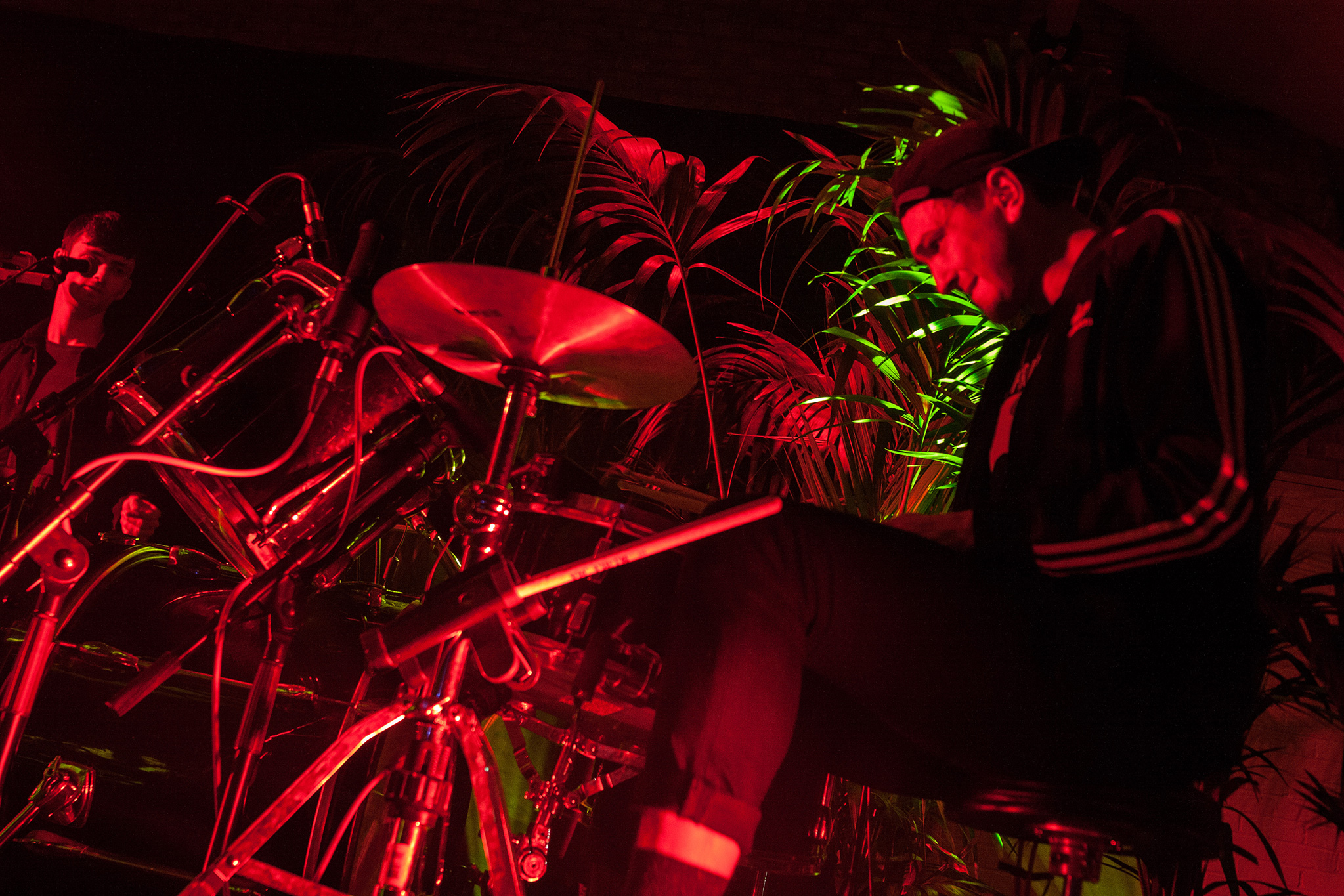 'Zaba' began to set in from Latitude onwards. Blame the exhaustive heat, or the slightly cuckoo sleepless festival crowds. As the summer neared its end, the hypnotic pull of this debut started to have its way. Bayley remembers a stoned monitor engineer at Bestival that might've taken 'Zaba''s woozy quality too far to heart. "We went on about forty-five minutes late. Some people were pissed in the crowd. It was like, 'Turn on something so we can hear', and he didn't know how. He probably saw eight knobs for each one. That's a fuckload of knobs. He got fired on the spot. I feel really bad for the guy."
Strange characters keep cropping up as life on the road continues. Drew MacFarlane is the band's resident "heart throb," as attested by Bayley. "I look at him and get palpitations - he's very handsome." Alongside good looks, MacFarlane also has poor sight, and when walking through San Francisco last month he managed to walk straight into someone sleeping on the street. Instead of getting a torrent of abuse, the band's keyboardist received quite the opposite. "This guy was like, 'Hey sexy! I love you, you wanna come back to mine!' And this guy wasn't wearing any pants. I think Drew might have touched his penis and he tried to run away. Poor Drew. He gets it a lot."
When shows wind down and fans spill out of venues - plenty swarm to the front when the music's up, just to get a quick encounter, plenty sporting the band's 'Gooey'-inspired "Peanut Butter Vibes" tote bags - the band reconvene in the van to discuss the days ahead. They talk venue upgrades, plans for 2015, means of improving. If their schedule is endless and everlasting, it's their own choice. It's been "ridiculous", they collectively agree. But 'Zaba''s wheels are only just beginning to turn. "As we play to more crowds, we learn what type of thing works in different situations. Like if you have an early show on a Monday night, you know… It's a science, but at the same time that science is totally imperfect and can fuck you over sometimes," Dave says, almost over-thinking the process. But that's how they got here - figuring out how things work before leaping headfirst into a world tour that doesn't look set to end.
Taken from the November issue of DIY, out now.