Beyond the stool: drummers in the spotlight
With Foo Fighters' eighth album out this week, David Zammitt profiles the drummers who have come from behind the kit to take the limelight.
Poor Philip Selway. There he was, pouring his heart out to DIY about the anxieties he experienced coming out from his drum stool, the ups and downs of learning to sing after you've reached your fortieth birthday and intricacies of juggling one of the world's most famous bands with taking your kids to the IMAX, and meanwhile his erstwhile school pal and trusted band mate of almost three decades, Mr Thomas Edward Yorke, was plotting the surprise release of his second solo album, Tomorrow's Modern Boxes. While our Philip went through the usual channels, dropping the gorgeous 'Weatherhouse' – a gargantuan leap from his debut, by the way - via Bella Union as a traditional Monday morning physical release, Yorke came out of nowhere, tweeting a characteristically mysterious BitTorrent link and stealing a march on his longtime timekeeper by a full ten days. It all felt a bit like Yorke and producer-cum-co-saboteur Nigel Godrich had gotten a bit devil-may-care after a couple of Friday evening glasses of red and, with nothing on the box – pun intended – decided to toss Yorke's sophomore LP out into the world. The rest is digital record distribution history, and while it doesn't rank with In Rainbows' ground-breaking honesty box approach, things didn't turn out too badly for the Radiohead singer. By Saturday night the record had been downloaded over 100,000 times and at $6 a pop, that's not a bad day's work. Yorke's been known to throw the odd tantrum and we get the feeling Selway has seen it all before. Characteristically unruffled, he's managed to dust himself off and line up a string of tour dates for early next year where he'll get the chance to angle the limelight back on to himself. And he isn't the first drummer to do so.
When the toys were hurled out of Paul McCartney's considerable pram and the baby-faced Beatle announced his departure from the Fab Four in April 1970, it was assumed that Ringo Starr would fare the worst. However, having sung solo on Cilla Black's imaginatively-named talk show Cilla two years previously, Starr had pedigree, and he was actually the only Beatle to have performed without the rest of the band up to that point. Add to that songwriting credits on 'Octopus's Garden' and the White Album classic 'Don't Pass Me By', as well as lead vocal takes on 'Good Night', 'Yellow Submarine', and 'With a Little Help From My Friends', and Starr's input extends beyond his contributions behind the kit. Within mere months of the split he had already begun to get by with a little help from a star-studded cast of friends, calling on the talents of Quincy Jones, Maurice Gibb, George Martin and McCartney himself and, by the end of the year, had released two LPs, 'Sentimental Journey' and 'Beaucoups of Blues'. In 1984 he also pulled on those sizeable shoes that would later be filled by Alec Baldwin and Pierce Brosnan as he took up the role of inaugural narrator of Thomas The Tank Engine for the likeable locomotive's small screen debut, Thomas and Friends. Even Selway's cameo as one of the Weird Sisters, the rock band in the Harry Potter series, surely cannot top that for an under-10s mainstream crossover.
But what list of polymath percussionists would be complete without Chiswick's third favourite (John Entwistle and Pete Townshend place 1 and 2 – sorry, Phil) musical son, Phil Collins? When, a couple of years after the Beatles shocked the world by announcing their split, Peter Gabriel sent minor shockwaves through British prog when he decided to pack up his flower costume and leave psychedelic behemoths Genesis, few thought that drummer Phil Collins would seize the microphone. As the remaining members auditioned potential replacements to provide vocals on 1976's 'A Trick of the Tail', however, Collins had a novel idea; as he already knew the songs, why shouldn't he have a go at singing on the album? The rest of the band went along with it, and the record stayed in the UK charts for a total of 39 weeks, helping Genesis recoup a large chunk of the $400,000 debt they had amassed by the time Gabriel left the band. Fast forward two decades to Collins's own departure, and Genesis had shifted over 130 million albums under their former drummer's stewardship, making him one of only three recording artists (along with Paul McCartney and Michael Jackson) who have sold over 100 million albums as both solo artists and members of a band. Throw in a lead role as a loveable train robber opposite Julie Walters in 1988's comedy-drama Buster and Collins is the full package, in a way. Announcing his retirement in 2011, he revealed, "I don't think anyone's going to miss me," but DIY have pined for his return ever since. Come back, Phil. We promise you're at least the second best folically-challenged drummer-turned-solo artist named Philip in this entire article.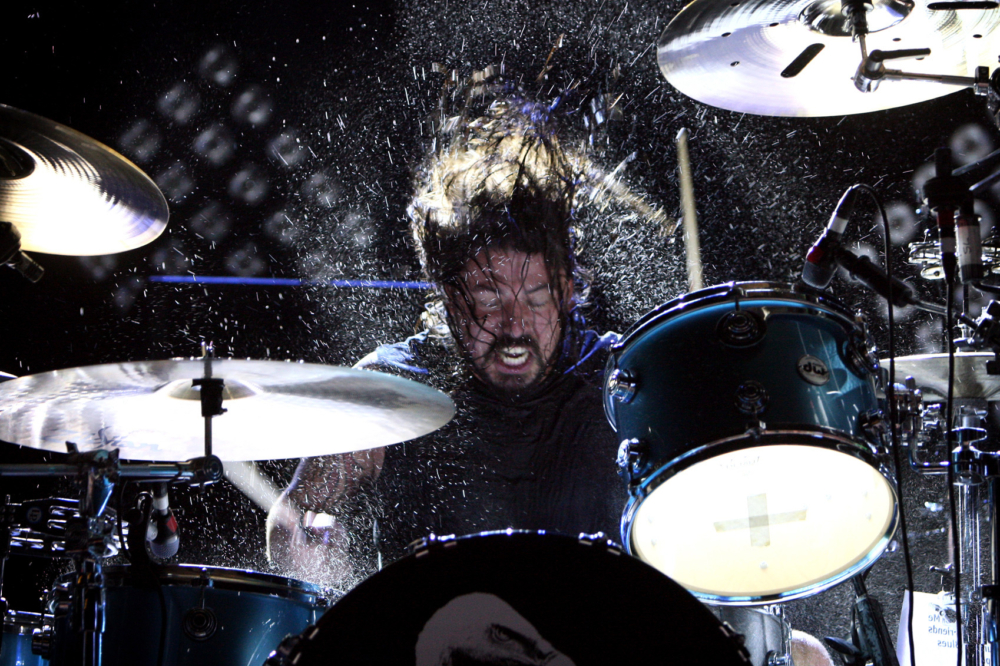 Dave Grohl is arguably now more famous as frontman of the Foos than Nirvana's stick-wielder.
Along with Philip Selway, another forty-something rhythmist who is currently in the news is Dave Grohl. After the death of Kurt Cobain and the immediate disbandment of Nirvana in April 1994, Grohl locked himself away from public view. Whilst he came to terms with his loss and began to ponder the next creative move, he made an appearance on Saturday Night Live as one of Tom Petty's Heartbreakers before later popping up on Pearl Jam's 1995 Australian tour. He quickly ruled out getting behind the kit on a full-time basis, however, saying in a 2005 interview with Classic Rock that, "Every time I sat down at a drum set, I would think of [Nirvana]." Within six months of Cobain's death he had produced a 15-track demo of songs written over the preceding five years recorded almost entirely by himself, and by the summer of the next year those sketches had been crafted into Foo Fighters' acclaimed eponymous debut LP. Within a year it was certified platinum. Grohl was still only 26. Since then, of course, he formed one half of Queens of the Stone Age's rhythm section on 2002's classic 'Songs For The Deaf', recording every single cymbal track separately and creating one of rock percussion's opuses - and air-drumming fans' favourite - 'No One Knows' before playing the devil himself as he battled Tenacious D in the video for their breakout single 'Tribute'. Arguably now more famous as frontman of the Foos than Nirvana's stick-wielder, album number 8 was released only this week garnering a much sought after four-star review from DIY. Another one of Grohl's life ambitions fulfilled, we're sure.
Honourable mentions go to Queen's Roger Taylor, the man who penned 'A Kind of Magic' and 'Radio Ga Ga' from beneath his cymbals and allowed Mr F Mercury to take the plaudits, and to Don Henley, a tour de force who has gone on to become an awful lot more than the Eagles drummer, producing 80s rock diamond The Boys of Summer, and picking up the 1986 Grammy for Best Male Rock Vocal Performance in the process. The wooden spoon, however, has to go to Steely Dan's Rick Marotta (drumroll, please). His post-Dan career highpoint has been the theme tune for Everybody Loves Raymond. Catchy as it is, it just isn't quite 'Reelin' In The Years'. We'd still happily cash the royalty cheques, though.

Get your copy of the latest issue