Live Review
The National make crybabies out of sold out O2 Arena
26th November 2014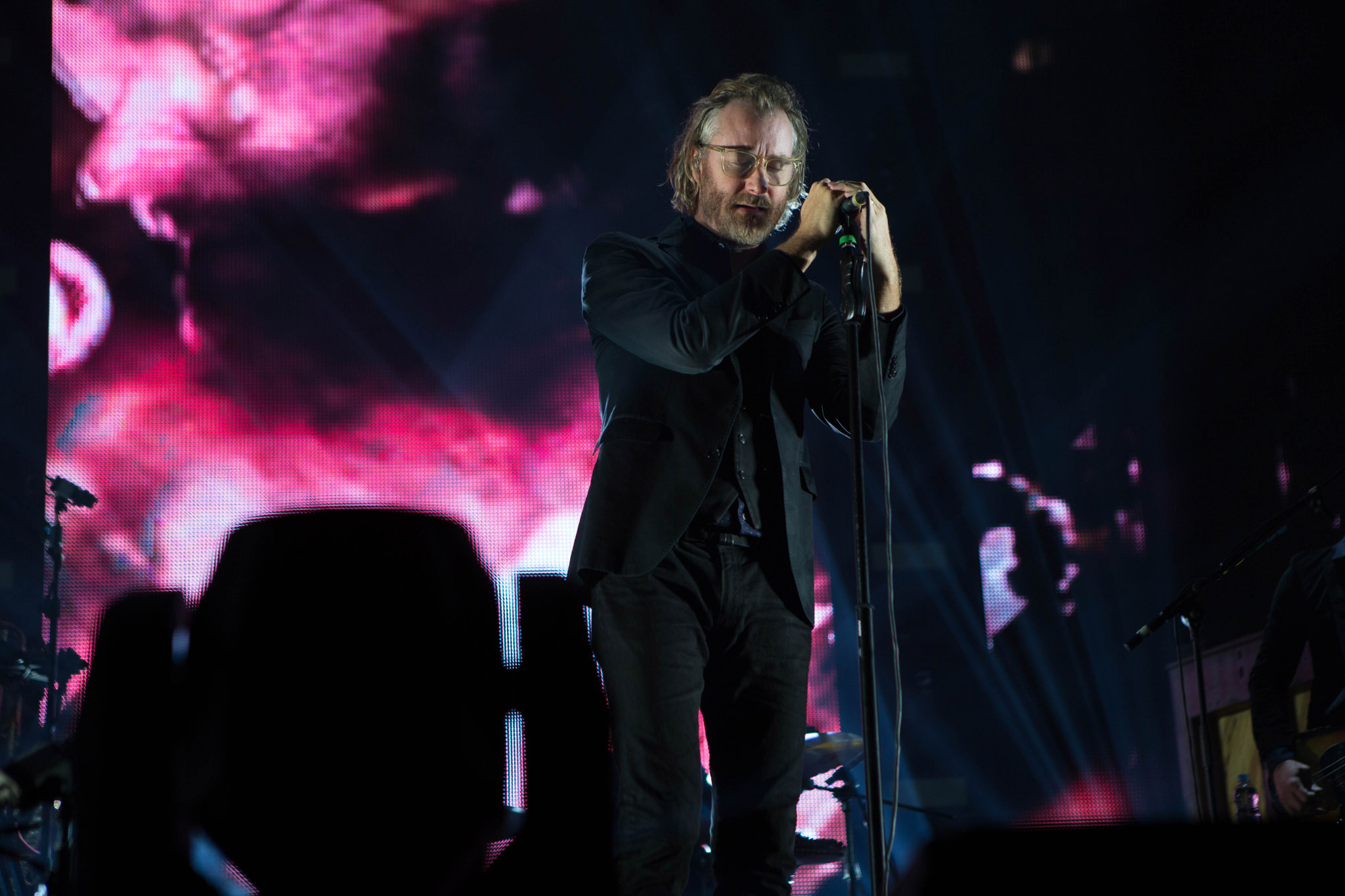 It's business as usual in front of a London crowd.
After a year and a half on the road, tonight marks the end of The National's 'Trouble Will Find Me' tour. The band don't make it a big deal, though there are a few more we-would-like-to-thanks than usual and lead singer Matt Berninger's hair is noticeably longer – presumably he's admirably loyal to his barber back home in the States. But otherwise it's business as usual in front of a sold out O2 Arena.
Last year's album cemented the Ohio five-piece as one of alternative's greats – it kept the band's tried and tested formula of earnest, sorrow-streaked, reflective melancholy, only pushing it forward in its utter, accomplished confidence. The band's live shows are testimony to the bewildering prowess with which they handle their music.
Tonight, they open with 'Don't Swallow the Cap' – the stage's backdrop and accompanying big screens displaying supporting and often mesmerising graphics and video throughout the show – before moving through much of their latest album and its predecessor 'High Violet'. The sound is paradoxical in its understated ability to overwhelm. Berninger seems constantly on the edge of a nervous breakdown, all the while holding a certain hypnotic composure, acting as a central outlet for the band's collective, beautiful misery.
Everything is simple, yet so full. Every instrument, every player, is part of a whole, barely noticeable as an individual. The Dessner brothers, on rhythm and lead guitar, often break from formation to scrape a guitar lick at the front of the stage, and Berninger occasionally finds it all a bit too much and barks or growls out a lyric. It's a lesson in perfect equilibrium and the chaotic joy that comes from its momentary lapse.
There are stand-out songs – the brutally menacing 'Afraid of Everyone', the idiosyncratic 'Squalor Victoria', the moving 'Sea of Love' and the unlikely anthem of 'Slow Show' – but it's the show as a whole that really affects.
They close with a frantic, angry 'Mr November', an operatic 'Terrible Love' and the now-usual unmic'd 'Vanderlyle Crybaby Geeks', which allows a moment of sing-along release for an audience that have spent two hours fraught with emotional tension. But it's not quite enough for them – as they channel out the arena, the crowd starts up a final verse of the track and, unsurprisingly, everyone joins in.