As a quick snoop through ex-frontman Jon King's LinkedIn profile proves, even the most luminary Marxists have their price. His former leader's prized scalp claimed by the ever-insidious world of digital marketing, guitarist Andy Gill is now the only link that the Gang of Four has to the piss-and-vinegar of its post-punk heyday. Not that King's departure has done much to mute the aggression or ambition of his once second-in-command. Having dealt with enough past personnel changes to cope with the loss of the group's consistent voice, the line-up that Gill has assembled for 'What Happens Next' - a coarse backbone of himself, new vocalist John Sterry and bass player Thomas McNeice plus a revolving door of similarly-enraged contributors - sees fresh venom added to his band's already stinging legacy.
Amorphous in only its most positive of connotations, 'What Happens Next' is typified by its ability to switch face as often as an electioneering politician. Using Gill's savage guitar at a premium below the wettened electro-basslines of 'Where The Nightingale Sings' before discarding it almost entirely for the hollow speak-sung minimalism of the disarmingly beautiful 'The Dying Rays', the record features enough of Gill's trademark distorted flourishes to keep the die-hards satisfied. Coating 'Broken Talk''s disillusionment with a glossy AC/DC-on-acid riff, the scatter-brained solo that calls 'Isle of Dogs' home jolts the song's character- a poor sod pilloried into consuming- out of his spoon-fed conformity with well-placed electro-fuzzed noodling. It may be almost 40 years since peak Gang of Four, but Gill's political conscience is clearly in no danger of waning.
In spite of this continued focus on such dense issues, the Gang, whatever the guise, have always kept one eye fixed on the pop charts. This time around, it's no different. Well-known for fusing punk's three-chords with liquid-like disco rhythms, Gill's re-shuffled 21st century iteration of the group repeats the trick again and again. With the bleeping Berlin-era Bowie gloop of 'Obey The Ghost' going toe-to-toe with 'England's In My Bones' in a contest for hip-swinging glory, 'What Happens Next' is very often the fuel on which dance floors thrive, a place where it seems that every thrown shape or subversive lyric could conceivably bring the government to its knees.
Far from snug or welcoming, the Gang's overpoweringly thick-sounding ninth album is as refreshingly abstract as anything they've done before; a collage of nails-down-a-chalkboard slogans and textures that has arrived at a watershed moment for the politically-disenfranchised and socially-isolated.
More like this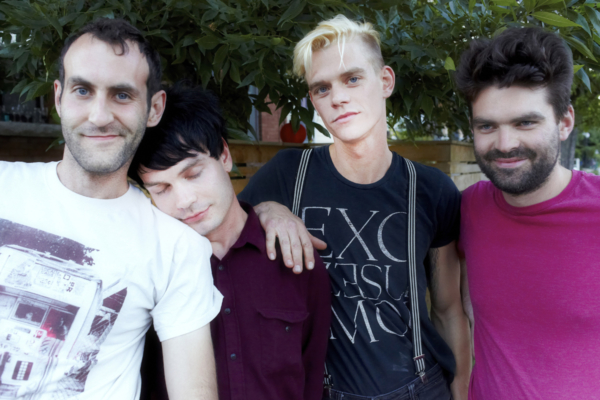 The Canadian group recently had a concert pulled because of the issue.