Interview:
East India Youth: "My job - first and foremost - is to get the song out there"
Staying on track with momentum, new LP 'Culture of Volume' sees East India Youth upping the stakes, avoiding Alan Partridge comparisons and agreeing that music is the real winner.
Several coffees in and dressed in his customary smart suit (although this one's a new outfit, apparently) William Doyle is trying to get his head around becoming a performer. Last night saw him showcasing his second album 'Culture of Volume' to a small crowd for the first time. The new record was initially intended to be purely instrumental, but as 2014 debut 'Total Strife Forever' grew and grew in momentum (eventually picking up a Mercury Prize nomination), Doyle changed perspective. Out stepped the songs - big, proudly bellowed, verse-chorus tickers - and with that, the Londoner had to work out how to front it properly. Up to now, he's been safely confined behind a wall of electronics, alien-looking controllers and pads that almost cage his frame on stage. The task this time round is in figuring out just how much of a frontman Doyle really is.
"It's not in the way I imagined it to be," he admits, citing stands, drum pads, a "more active" experience. "That feels quite good - you're able to look at the audience. I initially wanted everything to be spread out on stage, but the more I think about it, the more ridiculous that sounds. If I'm using a headset and dressed like this, it just looks like I'm about to do a TED talk. I'll look like Alan Partridge at his book launch in Norwich Train Station."
East India Youth's 2014 hosted the kind of twelve months that could feed any ego, but thankfully Doyle always has a Partridge-ometer in case he gets ahead of himself. He describes his debut as a "pretty weird record" but the praise it picked up "changed my idea of what East India Youth was going to be, entirely."
Before this project, the East Londoner fronted a semi-successful outfit, Doyle and the Fourfathers. Way more devoted to 'songwriting' with a capital S, rather than a production role, it's this brief spell - despite its ups and downs - that helped shape 'Culture of Volume''s new perspective. "My job - first and foremost - is to get the song out there," he says. "I just realised that I had the ability to write songs as much as I could create sounds. It was about melding those two worlds together. I wanted to redress the balance."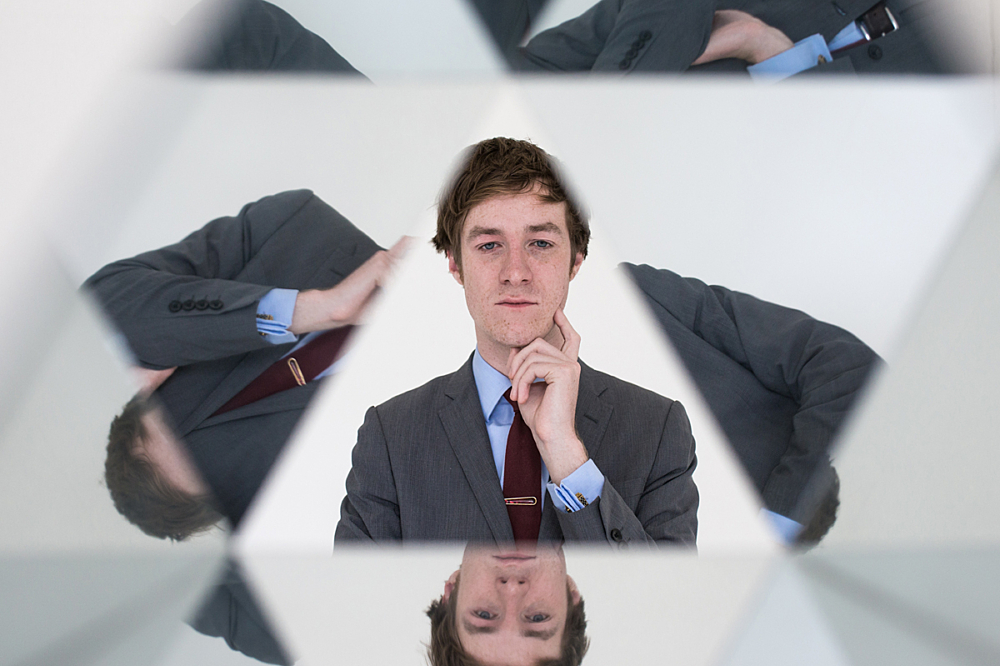 "If I'm using a headset and dressed like this, it just looks like I'm about to do a TED talk. I'll look like Alan Partridge at his book launch in Norwich Train Station."
— William Doyle
When the new LP's instrumental intentions gradually unravelled, in stepped the nagging thoughts and barely-conscious hooks that have followed Doyle since way back, before 'Total Strife Forever', even. "These songs - they've been hanging around for a while. They're like stalkers, they don't leave you alone," he jokes. "And they're always there looking through the window at you." He patched together scattered half-ideas over twelve months, and by the time the Mercury Prize came round - when success or failure could have shaped a follow-up - the new album was already finished. Pressure didn't come into the equation. A deal with XL was already in place (a "terribly kept secret", he admits), and 2015 was beginning to come into view, way before most of the nominees had time to think about their next step.
'Culture of Volume' is an "outgoing" expression, while Doyle dubs his debut as "my own space". Aspects of straight-up, '80s pop ('Beaming White') share the honours with grandiose, stately synth-led songwriting ('Turn Away'). There's also room for East India Youth's now signature #banger, a thrashing jolt of consciousness informed by techno nights in South London's Corsica Studios. On the debut it was 'Hinterland', enough of a shot of adrenaline to stand the test of time. Here, it's 'Entirety', a filthy, fucked up dive into the industrial. "Actually, in its earlier stages, it was a lot more banging," he claims, calling the song an "homage" to Perc Trax nights. "But looking at the other material, it wouldn't have worked as well as a gesture if it stood out too much. I had to dial it back, to make it fit in. You have to do that a lot."
A scatterbrained quality defines the new record, and that's about the only characteristic linking together the two LPs. They're varied, widescreened forms of expression, and it's a default mode Doyle hasn't been able to kick since day one. "I said that I'd pick one aspect from the first record and explore that as a thing, but… I haven't," he says, almost ashamed. "I felt some pressure to be more consistent, or hone in on something. And I don't know where I felt that from. I've been recording on the computer for ten years now. But even back then, every song sounded different to the last one. I didn't think much about it then and I shouldn't think too much about it now. That's just how I write." The trick, he says, is in realising that East India Youth's unique draw is that it doesn't stick to one individual movement. Straight-up songs wrestle with all-night juggernauts, and that's the best part.
There's still plenty of work to be done in bringing East India Youth to life, whether that's in making Doyle a full-on frontman or having his show backed by breathtaking visuals. He's also beginning to think about LP3, having reacquainted himself with a moleskine notebook from the past. "I realised I hadn't written in there for two years now, I've just been externalising," he says, citing Twitter's "weird, chemical dependency" as a reason. "I used it all the time for 'Total Strife… '. That was the thing I relied upon. Now I'm back to it, and I wonder if that will have some effect on the next record." Whether in fragmented form or full blossom, Doyle seems the type to always plan his next move, using briefly flirted-with ideas as a foundation. 'Total Strife Forever''s bonkers success was a shock for everyone involved. But if a similar spiralling effect strikes the new record, so long as he avoids Partridge-isms on stage, East India Youth has everything covered.
Photos: Emma Swann / DIY. Taken from the April 2015 issue of DIY, out now. East India Youth's 'Culture of Volume' is out now on XL Recordings.

Get your copy of the latest issue