Live Review
The Maccabees, The Coronet, London
14th May 2015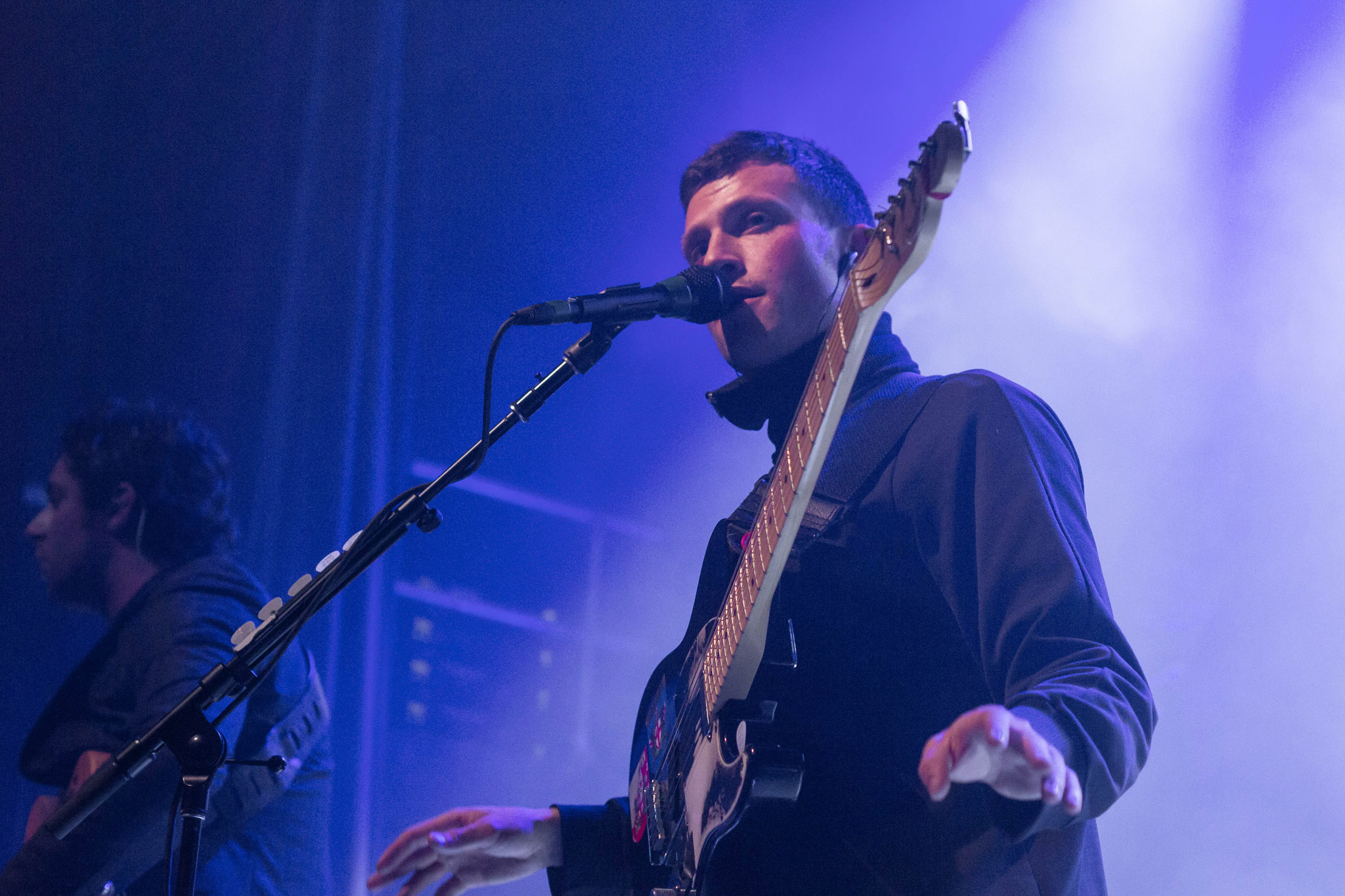 There's an incredible sense of occasion at The Coronet tonight.
As they make their grand return to the capital this evening, there's an incredible sense of occasion filling The Coronet theatre. Tonight's special for a number of reasons, not least the fact that May 14th marks the eighth anniversary of The Maccabees' debut album and tonight's show pays tribute to a journey that seems all the more glorious with that in mind. Their fourth record, out later this year, was recorded just five minutes walk from the venue at Elephant Studios, and there's an overriding spirit of unison with the surrounding area throughout the set. "In terms of homecomings, this is us playing where we live," says Orlando Weeks, before later dedicating 'Forever I've Known' to The Coronet itself, a theatre "under constant threat of being demolished".
Decorating the stage's backdrop hangs an artistic impression of the Michael Faraday Memorial, the monument just outside the venue dedicated to the Victorian scientist. "We walk past this everyday, but you don't always notice the beauty of things around you," explains the frontman, before linking that concept with the thoughts behind 'Colour It In' favourite 'Latchmere'.
Among the favourites, The Maccabees take the balancing act of old and new material and play it impeccably. Five new tracks from the forthcoming record get an airing tonight, all of which feel perfectly at home in the set list. It's difficult to gauge their stature when surrounded by such well-known hits, but 'Marks To Prove It' shows just how quickly fans have taken to the new material that's already out there. 'WW1 Portraits' and 'Spit It Out' are perhaps the most notable of the new additions, if only for the newfound bite in Weeks' vocal, a glimpse of maybe a hardier side to the new record compared with the characteristic coos to which we're so well accustomed.
Triumphant is a term that's readily thrown about in this sphere, but it couldn't be more befitting of The Maccabees' return this evening. For fans it has a sense of pilgrimage about it - from the snaking queues to get in to the burly men falling in to one another's arms at the close, there's no doubt that this is a special band that mean an incredible amount to each of those lucky enough to be housed by The Coronet. Undoubtedly one of the UK's most prize assets already, The Maccabees show that they have everything it takes to conquer new heights in 2015.