Interview:
Bring Me the Horizon: The future is now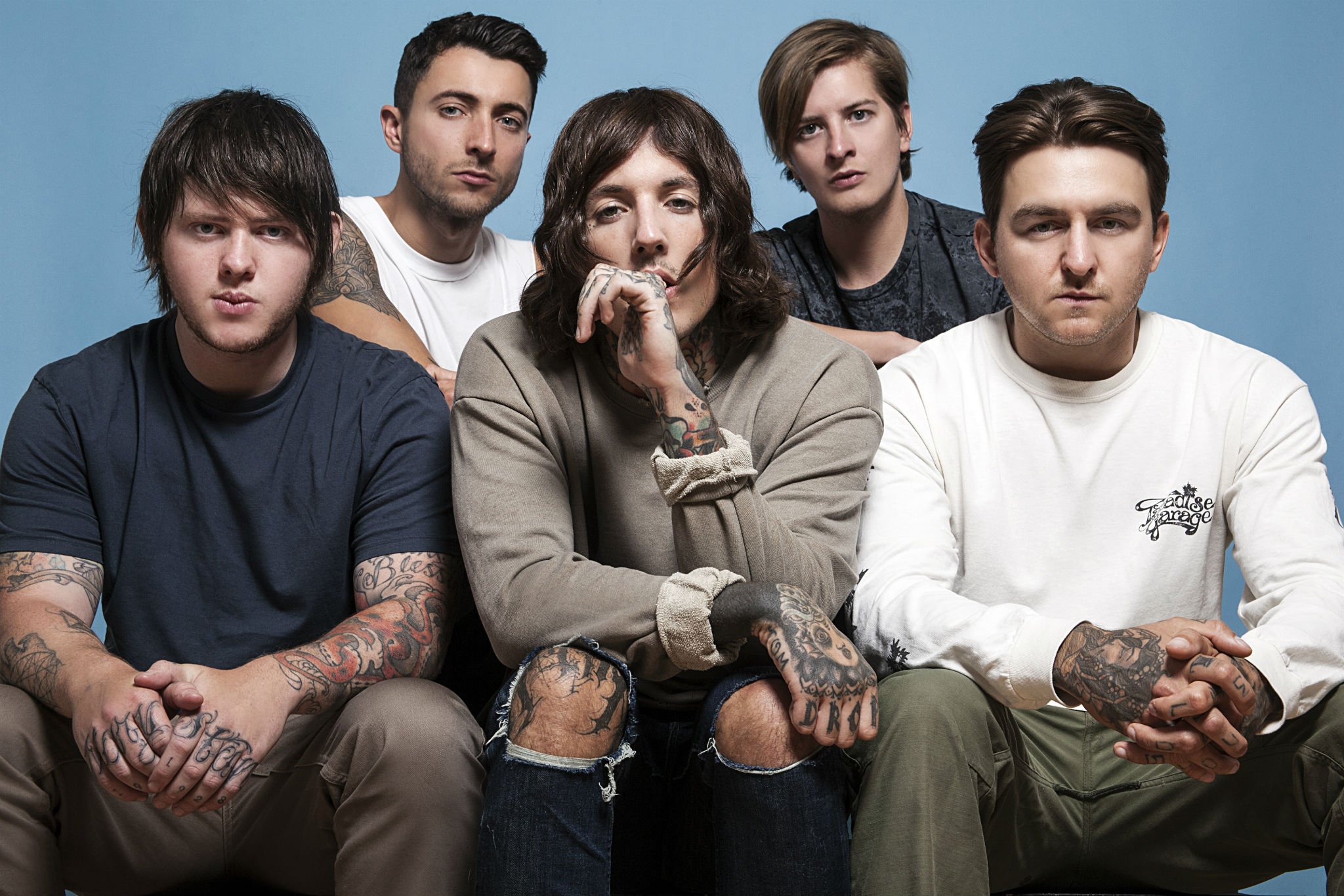 From scrappy metalcore to arena-ready anthems, Bring Me The Horizon have had quite the career. Now, it's time to step even further away from their former selves.
"To a lot of people, we were a new band," Bring Me The Horizon's frontman begins. Back in 2013, the Sheffield-bred five-piece were at something of a crossroads. Having lost their former guitarist Jona Weinhofen, keyboardist Jordan Fish soon entered the picture for sessions on their fourth album 'Sempiternal'. It was with that album that the band began to paint themselves in a new light. "It was as though our old albums didn't even exist," Oli Sykes continues, "but we were almost cool with that. It felt like the start of something new."
For the British metal band, it really was something new. By the time that their fourth effort landed on shelves, their image had shifted. No longer were they considered the underdogs of the screamo scene; they were changing perceptions. Jordan encouraged Oli to move away from his previous intense bouts of screaming and veer further towards singing. Electronics began to play a bigger role. They became one of the heaviest bands featured on the radio and the mainstream was finally beginning to accept them.
"I guess with 'Sempiternal' we really stepped it up a notch in general," Oli reflects. "It had been overwhelmingly positive; there are usually lots of ups and downs. It kinda pushed us out of our scene a bit more and into something new. I think we got a bit of a taste for it, to be honest. With Jordan coming into the band as well, we were able to develop so much during the time we were touring 'Sempiternal'. It just naturally progressed, and we had just gotten better and better so by the time that the label were asking for a fifth single, we felt like we could do something so much better than what's on 'Sempiternal'.
Ahead of their sold out show at Wembley Arena last December they released a standalone single, which would prove a more dramatic change than perhaps anticipated. "'Drown' was really received well, and then there was Wembley and stuff, so that left us with this taste to do something more. It was the first time everyone was paying attention to us; we're not having to fight to get on the radio, we're not having to fight to convince people that we can do something good. It's like everyone was waiting to hear what we do next and everyone was ready for it, so it felt like too good an opportunity to pass up and wait. We decided at the start of this year we were just gonna work non-stop; get in and get it out and work harder than we've ever done before."
With 'Drown', the band had proven that they could effortlessly straddle genres. With one foot firmly in the heavier world, they stood unafraid to dabble in any amount of musical elements. More than anything though, they had perfected the art of the pop song. "It was received better than anything else before," he explains, "and it just gave us that confidence to do what we did on 'That's The Spirit'. We didn't have that fear that we had before. With 'Sempiternal', we didn't keep it heavy against our own will because that was what we wanted to do, but it was compromised in the sense of, 'Drown' is the song we would've have always wanted to write but I don't think we dared to. Having that song and seeing how it went, it gave us the confidence to say, 'Right, with this album there's no compromise. We'll do it exactly how we want and we won't have one thing on there that we don't actually want on there.' It's the first time we've had that confidence just to go for it."
Their fifth record, then, is their biggest, boldest statement yet. Having garnered the confidence to start doing things their own way, it became the theme that ran through the record's story itself. Their latest offering marks their first foray into self-production ("With no disrespect intended to any of the producers that we've worked with in the past, it's always a compromise.") and saw them visit the Greek Island of Santorini to record, quite simply for the experience. It wasn't about playing by anyone else's rules but theirs.
"That was another challenge that we set ourselves," Oli says about the album's heaviness. "We felt like we had taken heavy music as far as we could've taken it. We had squeezed the best out of what we could do; we've hit you as hard as we can with a breakdown, with a riff, with a sub-drop and everything else. This time, we really wanted challenge ourselves to hit hard, but with an acoustic guitar. How can it be heavy without any speed, without any screaming?" If 'That's The Spirit' has anything to say, very. "How can we make it powerful and have a massive impact? That is so difficult to do. You can look at these songs as simply-structured songs but it is so much harder to write a simple song than a technical one. To write a song that could become a classic and is gonna hit you hard without any volume or distortion is really hard. That's what we wanted to do this time; to be heavy in completely different ways."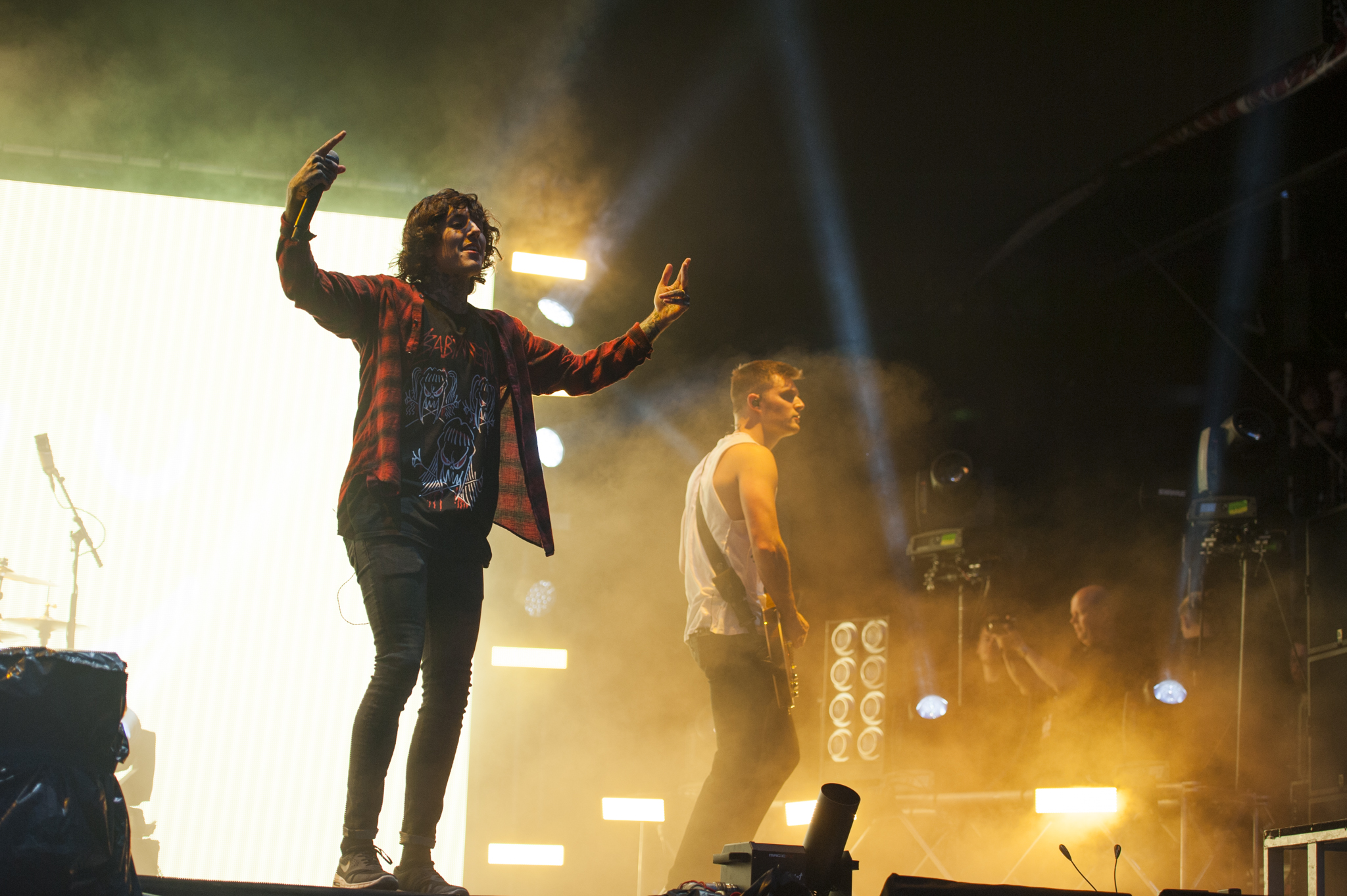 "In a way, we've broken through our scene and come through it."
— Oli Sykes
Alongside the more stripped-back musical structures, Oli also decided to use his lyrics to explore more simple, relatable themes. "It was a massive challenge that I set myself," he admits, "and I knew that I wanted every song to be very obvious when it came to what it was about. I wanted every song to have a simple theme that anyone could get. With 'Throne' it's all about turning your grief into gold and 'Happy Song' obviously has a clear, bold message. Again, it's very hard to get an obvious point across without it confusing people when it comes to the joke or the pay-off. It's hard to it get across without people just thinking it's stupid.
"With the lyrics for 'Happy Song', I didn't want to make them too poetic and that's the point," he emphasises. "It's almost a stupid answer to a stupid question." The emotion of the tracks also relates to his new vocal approaches. "I think, with 'Sempiternal' too, the reason I wanted to sing was not so we'd get big, but it was because I wanted to get more emotion across. There's only so much you can do with a single-pitched scream; you can have anger or desperation but you can't really have any other colour. When you sing, you can display so much more emotion."
Alongside the simplicity of the lyrics lies somewhat of a black humour. Having overcome an array of personal problems outside of the band, it's no real surprise that a hint of sarcastic darkness lingers in Sykes' lyrics. "That's the stuff that would've seemed so weird on the last album because it was so much more…" he ponders. "I dunno what the right word is... So much more straight. I think 'Sempiternal' took itself a lot more seriously whereas this one has a bit more fun with it.
"Confidence, time and the right moment," he confirms, on what exactly allowed them to get to this point today. "There wasn't really a lot to joke about on 'Sempiternal' whereas on this one, there is. It's all about making light out of dark situations and about how, if you don't laugh, you'll cry. It made sense to have that in areas of this, whereas it just wouldn't have in any part of our career before."
An album that bears just as much punch as their previous metal-doused records while using the less-is-more approach, it's undoubtedly their most accessible effort yet. While 'Sempiternal' boasts glimmers of hugeness, it's within their latest effort that their intentions are clear; they're setting their sights on becoming one of the biggest bands in the UK, and they won't be content until they're done.
"There are no excuses and nothing in the past to get in the way. In a way, we've broken through our scene and come through it," he says, of the genre they were born into, "but still, we haven't. We don't care about being a band for kids who only like heavy music. We want to have people who just like songs. We don't want to be a band for metalheads or scene kids or whatever you wanna call it, we want to be for everyone. Good music shouldn't be defined by genre."
Taken from the September 2015 issue of DIY, out now. Bring Me The Horizon's new album 'That's The Spirit' is out now via RCA.