Interview:
King Gizzard & The Lizard Wizard talk shedding skin: "People can think whatever they want"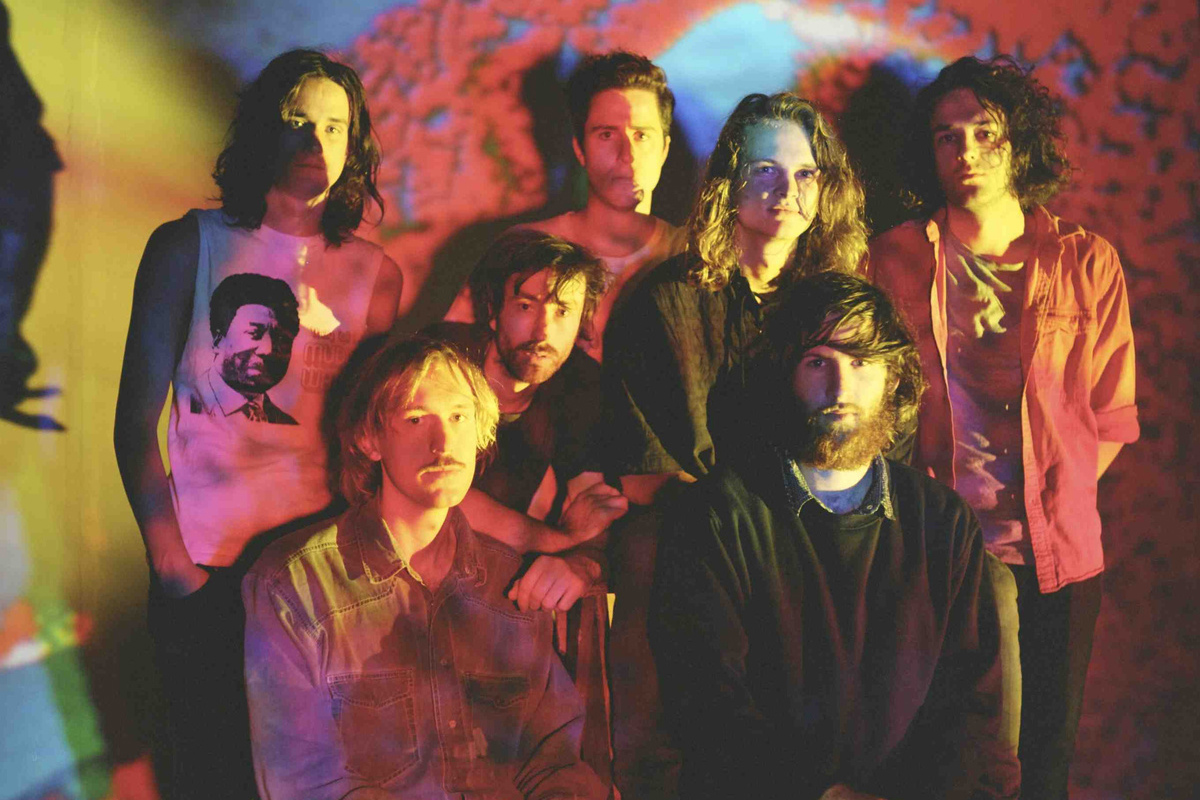 Morphing their sound with every release and churning out multiple, show-stopping new records every year, King Gizzard & The Lizard Wizard prove it's not just their name that's out of the ordinary.
"We've always been really careful to not be in a position to do anything we don't wanna do," explains Stu Mackenzie, frontman of Aussie warped psych-poppers King Gizzard & The Lizard Wizard. "If we wanna put something out, we can put it out," he states bluntly.
That much is clear. Currently averaging an album every six months, the scraggly-haired, bafflingly-named seven-piece are the antithesis of the Kanyes and Frank Oceans of the world. Where countless bands are stuck sitting on their work for an eternity, waiting for the opportune time to unleash it, King Gizzard are queue-jumpers, firing out impossibly accomplished works at an alarming rate. "That would really frustrate me," admits Stu. "I'd probably get angry and… be a bad person," he says before chuckling to himself, only slightly ominously, "So let's hope that doesn't happen!"
Thankfully, Stu's misdemeanours look set to remain wholly theoretical as the band round off their fifth year with the release of their eighth record, 'Paper Mâché Dream Balloon'. It's yet another departure in sound for a group who've yet to sit still for more than about five minutes, skipping from the sketchy garage-punk of debut '12 Bar Bruise' to 'Paper Mâché…''s whimsical folk-pop, taking in huge prog-rock epics and loopy psychedelic wig-outs along the way. Back in May, the group released 'Quarters', a record of four genre-eluding jams all exactly ten minutes and ten seconds each – just five months later, 'Paper Mâché…''s fluffy acoustic pop sounds the work of like an entirely different band, one that would never dare cross paths with the wide-eyed, snarling madness of King Gizzard's last incarnation.
"You can spend so much time thinking about music, and not actually doing it, and that's bad"
— Stu Mackenzie
It's a pick'n'mix attitude to writing that Stu relishes. "It was kinda liberating," he confides when asked about the band's latest change up. "We were kind of already following a linear theme with some stuff we were working on which was going to be the next record. It's heavier and kind of the most proggy stuff we've ever done. But after making a couple of pretty heavy, conceptual records in a row it started to feel a bit thought out – intellectualising music is a bit dumb, in a way. We started to feel like, 'let's just write some songs that are just songs and not these epic pieces'. That's where this record came about."
"I guess it would be weird if this was someone's first record," he admits, "they might think that the band is something that it isn't, but I guess that's kinda cool too – people can think whatever they want…"
It's that carefree attitude and non-stop spontaneity that's pure King Gizzard – a chaotic approach that, on paper, shouldn't work, and yet through sheer determination keeps things building. So much so, in fact, that the second things started to feel formulaic, they threw out the rulebook yet again. "'Quarters' was pretty spontaneous," says Stu of their approach to writing, "there's heaps of improvisation on that record. But [preceding record] 'I'm In Your Mind Fuzz' was pretty thought-out, I suppose, and even the longer, epic, kinda jammy parts, they were pretty structured on that record.
"Sometimes I just feel like you can spend so much time thinking about music, and not actually doing it, and that's bad. I was a bit bogged down in that world, and that's where this record came up – a bunch of songs that are just songs, and they're not meant to be related to some overall conceptual thing or anything – they're just a collection of tracks."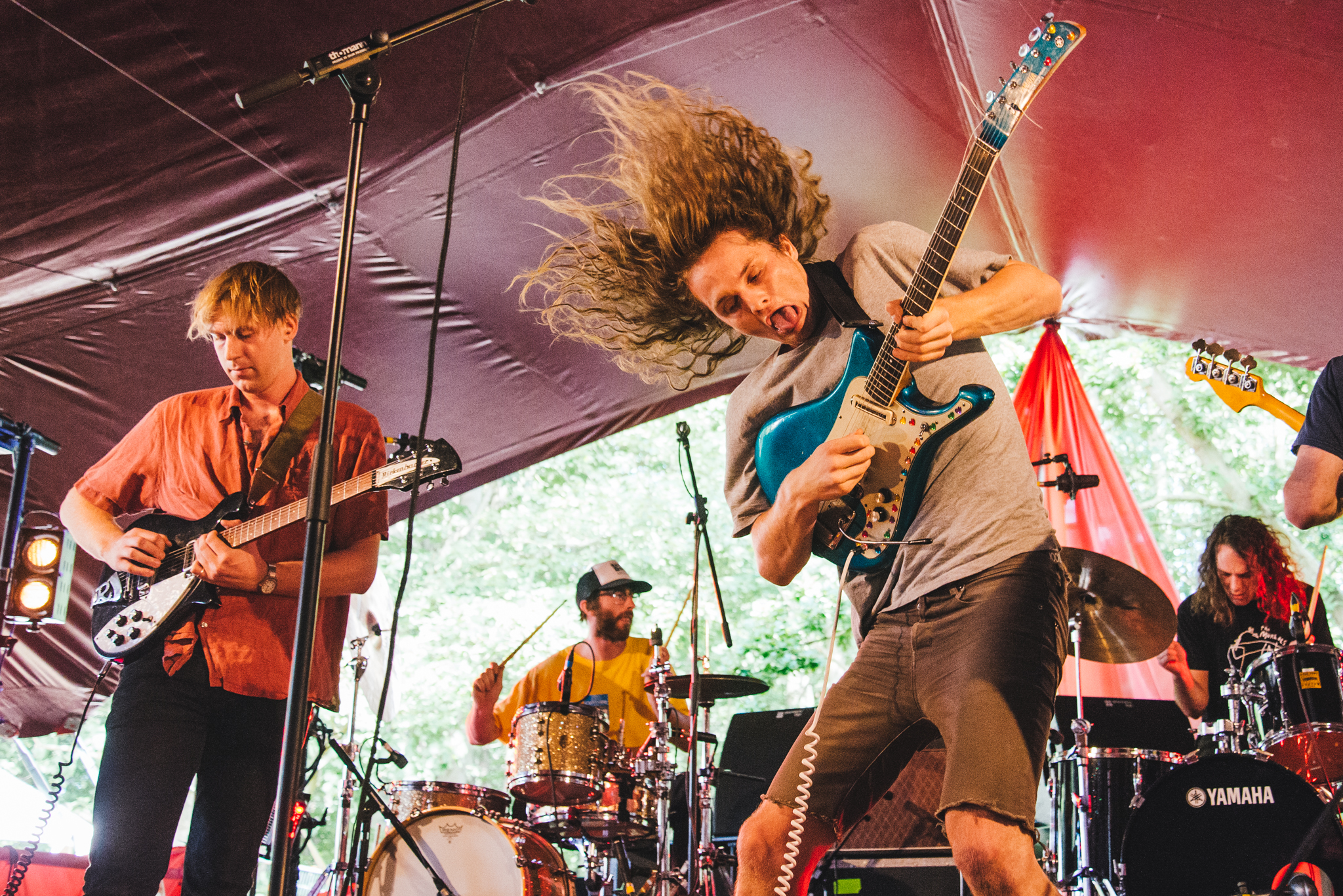 "Intellectualising music is a bit dumb, in a way"
— Stu Mackenzie
On stage, too, King Gizzard are an odd prospect. Two drummers, three guitarists and the occasional flute solo, it's all just about tied together by Stu's jellied spine as he flops about like an inflatable tube-man with a deathwish. Even after a globetrotting summer of festivals, though, they're still not after a lie down – instead, they're finishing up that half-done record that they left on the back burner in favour of 'Paper Mâché Dream Balloon'. "We've been building a studio in this little warehouse where we can make music and do our own thing," Stu enthuses. "So that's fun – I guess we'll just work on recording and stuff!"
It's fair to say that sitting outside the norm seems fairly important to this lot, then. "It's definitely important to my own sanity!" laughs Stu. "Feeling like I'm trying new things or having fun with it – that's the main thing for me. It's all just fun and games at the end of the day – it's not super serious shit!"
King Gizzard & The Lizard Wizard release 'Paper Mache Dream Balloon' via Heavenly Recordings on Friday 13th November.
(Live photo: Carolina Faruolo)