Interview:
PUP: Off the leash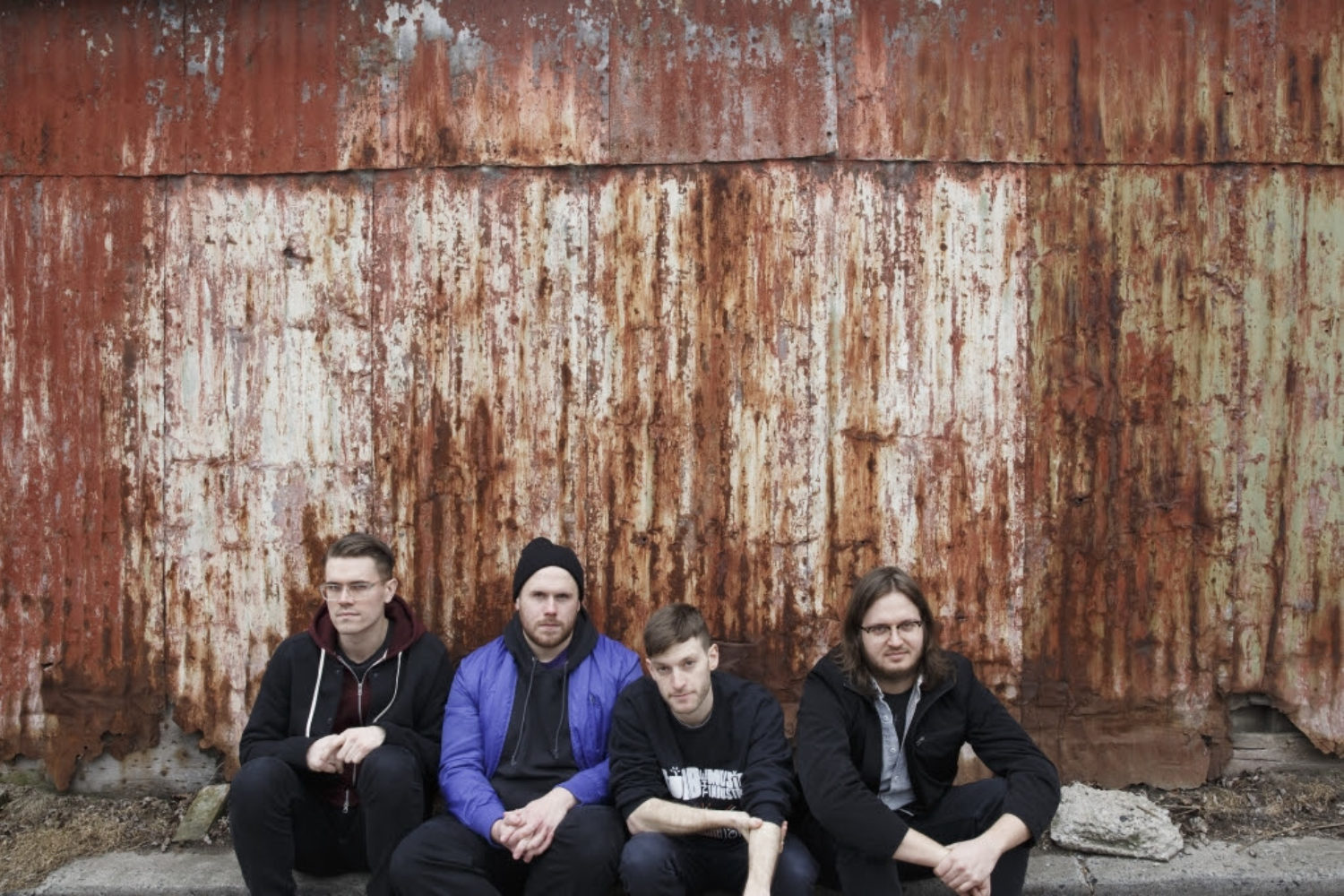 With new album 'The Dream Is Over', the Canadian punks are gobbing in the face of adversity.
The life of a touring punk band is fraught with peril. Chucking yourself about a stage night after night is bound to bring with it a certain risk factor. Add booze to the mix, and you're asking for trouble.
For Canadian foursome PUP, though, the rocky road to album two 'The Dream Is Over' was one borne out of professionalism, rather than prattery. Years of hard graft and relentless road-time took their toll on frontman Stefan Babcock in a way he could never have anticipated. Below, he opens up on the dark days that fed into to their punk-rock masterpiece.

You took a fair bit of time off the road to sort 'The Dream Is Over', was that weird? You were pretty non-stop before that…
Yeah, even before the first record, our M.O. was always to play as many shows as we could, pretty much from the first day that we started playing shows. We've been going pretty hard for maybe three years, now.
Talk me through the story behind the album title – you damaged your vocal cords, right?
There's one, pretty simple story, which is where the actual title came from. We started this seven-week tour with Modern Baseball in America, and on the first day I found out that I had a cyst on my vocal cords and my cords were in the process of haemorrhaging – which kind of means they're just bleeding into themselves.
I went to see a doctor and they diagnosed these problems, and she said to me, straight on, "the dream is over." I just thought it was such a fuckin' ridiculous thing to say to a patient. At first I was really confused, I was kinda laughing like, 'What do you mean? I don't understand. She was like, 'this dream of being a 'rock star', or whatever it is you're doing, it's over.'
I was like, 'So you're just telling me to go get a job at the bank or whatever?' She was like, 'Yeah, that's probably what's best for you right now.' Which is just so insane, it's crazy to tell somebody that! Especially when it's not really accurate.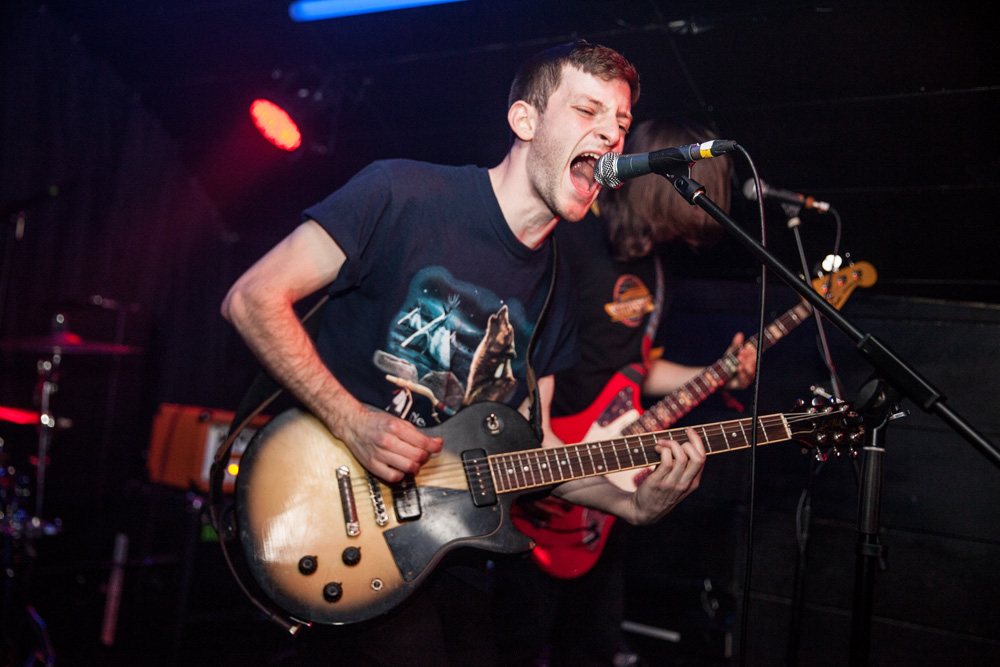 "For two weeks I wasn't allowed to make a sound – no whispering, no anything."
— Stefan Babcock
Yeah, well you're still doing it! No job at the bank!
She was just wrong! What she should've said was, 'You're in a lot of trouble. This is not a good situation – you're gonna have to go through a lot to get back to what you used to be able to do. That's what the doctor who I saw for a second opinion said, and three months later we were playing shows together. I feel great now, but it was a scary seven weeks on the road, there.
You carried on with the tour?!
Yeah – she was kinda like, 'You should go home, the dream is over.' This was the first day of a really big tour – a really long tour. I kinda just thought, 'Either she's wrong, or if she's right I might as well just run this ship into the ground.' What's the point in going home? If I can get on stage and kinda do it tonight, then I'm gonna kinda do it.
I did it for six weeks of the seven week tour, and then one night – at our hometown show – the cords just totally haemmoraged, which means they just filled up with blood. When that happens, you literally can't make a sound. It's not a willpower thing, it just doesn't work. We actually played two shows after that – what we did was PUP Karaoke! They were places where we had really good followings, and we pretty much just had fans come up and sing the songs for me, or friends of ours who play in bands were singing the songs. Jeff Rosenstock sang a few songs, the Modern Baseball guys sang a few songs – it was really good. Those were two of the most fun shows that I've ever played!
It takes the pressure off a little bit, as well.
Yeah, it was super fun! I didn't even sing a word those whole sets and it was great.
After those couple shows, it was a big health problem, me being on the road. Trying to communicate with people can cause serious damage to your vocal cords, so we had to cancel like four shows. The last four shows of a seven-week tour, we were so close to the finish line. That was a huge bummer for me, cause we've never cancelled a show for health reasons. That was a pretty big bummer, and that was a rough few months… but I'm feeling a lot better now!
What was the recovery like?
For two weeks I wasn't allowed to make a sound. I physically couldn't for about a week, and then for the other week I was on what they call vocal rest. I spent two weeks in total silence – no whispering, no anything.
It was a really weird, weird, weird experience for me. I do a lot of camping on my own, and when I do that I don't talk to anybody - which is also really weird - but when I do that I find that after a day or two I start talking to myself. That kind of sounds like you're crazy, but it's actually what's keeping you sane! Speaking! This experience was so wild. I got really into my own head. I get got really depressed for those two weeks.
I couldn't really communicate with my girlfriend – we were doing charades for the first week, which was fine, but by day four of doing charades it's just like, 'Fucking kill me.'
I had some weird experiences those two weeks. I was riding my bike and I got doored – someone opened their door and knocked me of my bike. I got up and I want to yell at them, so this middle-aged dude was getting out of his car, and I wanted to yell at him but I couldn't! So I just kinda whistled at him, but the whistle came out like one of those… uh, sexy whistles. I was kinda pissed off, cause I wanted to yell, but instead I just did this sexy whistle at him! And he was looking at me and kinda blushing, like, 'Oh, I just doored this guy and now he's hitting on me?' So frustrating!
I went to my girlfriend's staff Christmas party, which is already awkward to begin with if you're the significant other. I just couldn't speak, so she was like, telling people that I'd been raised by wolves, making up weird stories. I had a load of people asking me if I was hearing impaired.
A frustrating couple of weeks, but I survived it! Here I am!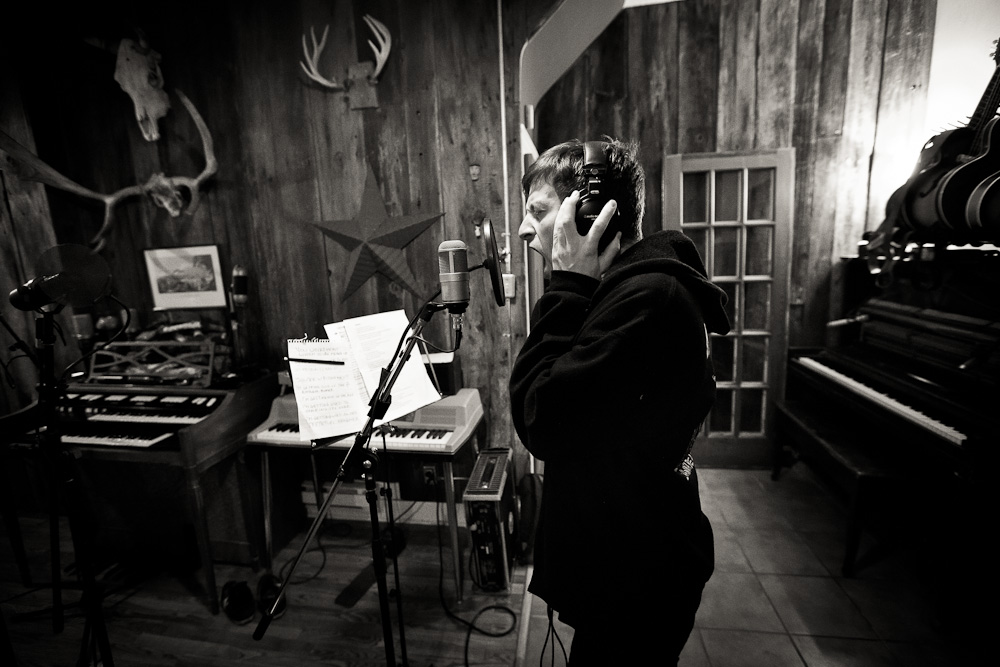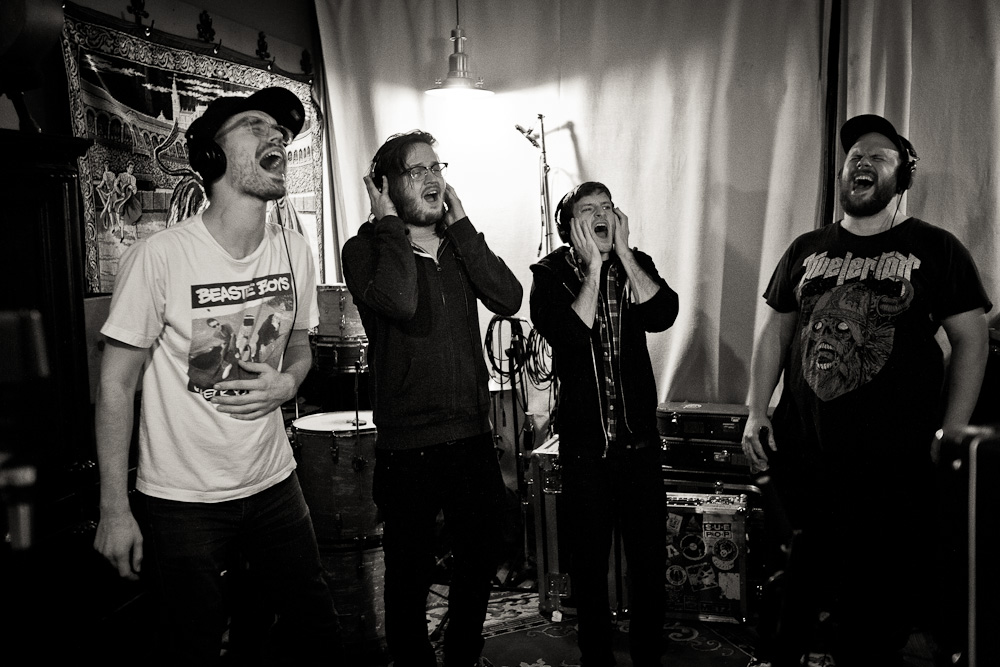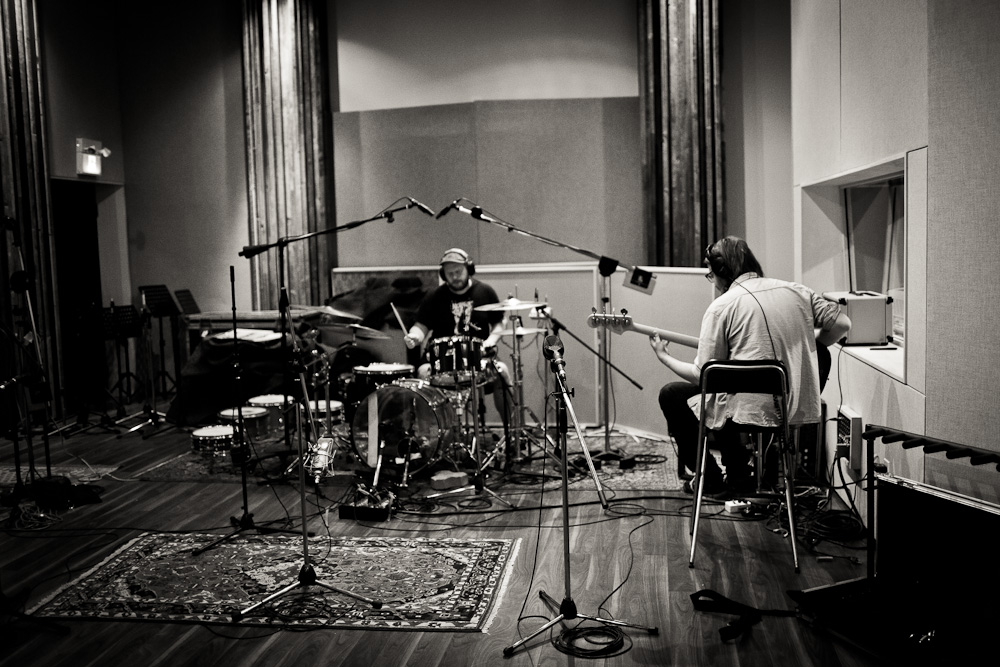 "If music is the thing that is the most fun for us, then we should try to make the music sound fun."
— Stefan Babcock
You must be gagging to get out there then, especially if you had to cancel dates.
Yeah, we really pride ourselves on not cancelling shows, y'know? We've played shows with terrible sicknesses and injuries and just fought through it, but those four… it was something that just couldn't be fought through. You just can't. It's impossible. So it was pretty upsetting for us.
We're really excited to get back at it – feeling really good and confident, y'know? We kinda needed a break anyway, so I guess it was a bit of a blessing in disguise. But now we feel well-rested, so it's time to get back at it!
It's quite a tense record at part – that opening track ['If This Tour Doesn't Kill You, I Will'] is very literal!
[laughs] The four of us spend a lot of time together, you know? It's kind of like a sibling situation that we have, where you love each other but you also know how to push each others' buttons, and sometimes you just fuckin' hate them! But really, at the end of the day, we're all best friends and we all love each other like brothers.
That song is very literal – I'd say most of the songs on the record are pretty literal, but that one in particular… it's not directed at anyone in the band in particular, it's kinda directed at all of them. And it was written with them! We all wrote it together. No-one was offended – I am pretty much articulating the feelings that all four of us have once in a while.
'If This Tour Doesn't Kill You, I Will'
So you didn't bring it into the practise spot and they all turned around like, 'Oh, fuck you then!'?
No! Well, I showed them the words and they were like, "Yeah, this is totally how I feel a lot of the time.' [laughs]
It's testament to our friendship that we can sit down and write a song like that together and be happy about it, and have fun writing it. It's so tongue-in-cheek, y'know? If we hated each other, or if any of us hated one person in the band, we wouldn't be able to write that song together, no way. So when we did, it was the most fun song to write on the record. We all had a really good time doing it.
To me, at the end of the day and despite the lyrics being what they are, it's kinda a celebration of our friendship. It's more of a, 'We survived this shit together, and now here we are, writing a song about it and singing about it together.' It has pretty positive gang-vocals, which was the big focus for me. I wanted the gang-vocals to be super positive. I wanted an affirmation that, even though we feel this way sometimes, in the end we have an awesome time together and we're really lucky to be together.
A lot of the goal of the record was that. I was writing a lot of dark lyrics and angry lyrics, because that's the place I was in, but we all wanted to make the music really fun. Despite those negative experiences that I write about lyrically, in the end we're all super stoked to be in this band together, and we have a lot of fun playing music. If music is the thing that is the most fun for us, then we should try to make the music sound fun, y'know?
It makes for a better live atmosphere when you've gotta play it night after night as well, right?
Yeah! That's the thing – I'm not that kinda person, I just happen to write lyrics when I'm pissed off. Being sad or angry motivated me to write lyrics. But at the end of the day playing in a band, for us, is about feeling good. It's not about being angry, it's about having a good time with your friends, enjoying yourself, and hopefully allowing other people to have fun with you at shows, and have fun while they're listening to your music. That's what it's all about.
PUP's new album 'The Dream Is Over' is out now via SideOneDummy.


Get your copy of the latest issue