Progress report:
Friendly Fires: what the hell are they up to?
After beginning work on a follow-up to 2011's 'Pala', the St Albans group seemed to vanish. We go on the hunt.
Don't worry - your favourite acts haven't gone properly AWOL.
In our does-what-it-says-on-the-tin 'What the hell are they up to' feature, we dig deep to find footprints of the world's biggest bands. They might not be giving away too much about their whereabouts, but that's not going to stop us from putting clues together.
After digging up the dirt on The Killers (turns out they were in Las Vegas the whole while), we're turning our attentions a little closer to home, with St Albans' golden sons Friendly Fires.
Below, we round-up what they've been doing (in secret and out in the open), and what's next for the group who found a jungle in the heart of Hertfordshire.
After 2011's pop-tinged 'Pala', Jack Savidge, Ed Macfarlane and Edd Gibson wasted no time in getting straight back on it. Speaking to NME a year later, frontman Ed Mac confirmed that new music was in progress, with none other than electronic wunderkind Andrew Weatherall at the helm. "The music - the way we're writing and the style of it - is very different to anything we've done before," he said, excitingly. "I think we're still learning to write music in a different way. We want to write something long and expansive and drawn-out and, I suppose, a bit more psychedelic."
Stating that there was one track complete and another four in the works, it certainly seemed like creative juices were flowing. "We're at a stage now where we've had two successful records and we can write something solely for ourselves," Ed continued. That doesn't mean you have to keep it entirely to yourselves, lads.
Drummer Jack Savidge also spoke less-than-decisively about the future with NME – in April 2012 he stated that they weren't in any rush to follow up 'Pala'. "We want to explore some other things," he explained. "We consider 'Pala' a continuation of the first record and I think this time we'll want to come back with something new to keep everybody else interested. We won't come back until we have something that's valid and distinct. You can't just knock out the same stuff over and over. We're trying to push ourselves forward."
An Andrew Weatherall collab did eventually emerge, in the form of 2014's AA-side 'Before Your Eyes'/'Velo' – that still leaves a handful of tracks and surely several handfuls of ideas unaccounted for, mind.
So far, so non-committal. Did they just vanish?
Not exactly. While Friendly Fires material proper was tricky to come by, the band name and the members themselves remained active – they still are to this day, to be honest.
'Friendly Fires DJ Sets' are relatively easy to come across, with Jack taking to the decks at all manner of festivals and fundraisers. His DJing link-up with Edwin Congreave of Foals – the excellently titled Deep Shit – has wound down a little of late, but Jack's no stranger to packing out a dancefloor.
He's fond of making beats too, not just playing them – he's remixed all manner of artists while the Friendly Fires day job's been on the backburner, from Childhood, to Foals for their 'Holy Fire' remix album (that one under the Friendly Fires name).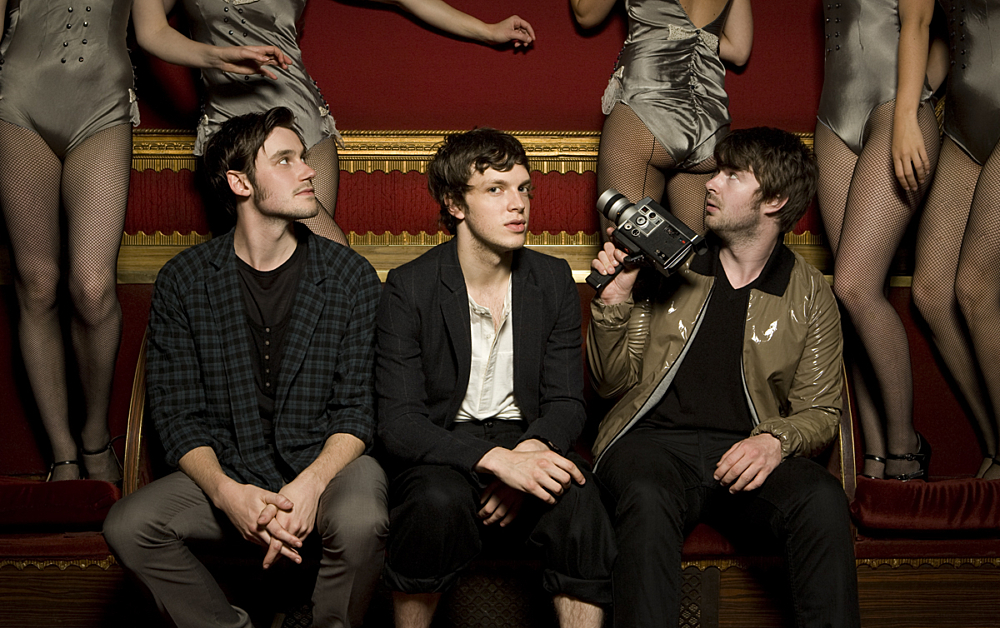 So they're all just beat-matchers these days then?
Friendly Fires are still 'the band' then?
Well, yes and no. There's never been an official 'split'; everything just sort of faded away, but Ed and Edd (confusing, right?) have a brand new band.
They're called The Pattern Forms, and there's a debut album incoming and everything. Called 'Peel Away The Ivy', it's released on October 21st, and to be honest would probably appeal to Friendly Fires fans, if the below clip of lead track 'A Simple Walk' is anything to go by.
Whether it's the final nail in the coffin for Friendly Fires is anyone's guess, but in an interview with This Greedy Pig, one of Ed's responses was far from spirited. "I haven't had the concerns or worries that I had with Friendly Fires," he said of the new project. "Had". Past tense. Eek.
All that being said, there's still hope. Friendly Fires never officially split, and their Facebook account remains active, in a loose sense of the word. Maybe that new material just needs a 'Kiss Of Life'.

Get your copy of the latest issue