Interview:
Thumpers on their slick, confident new album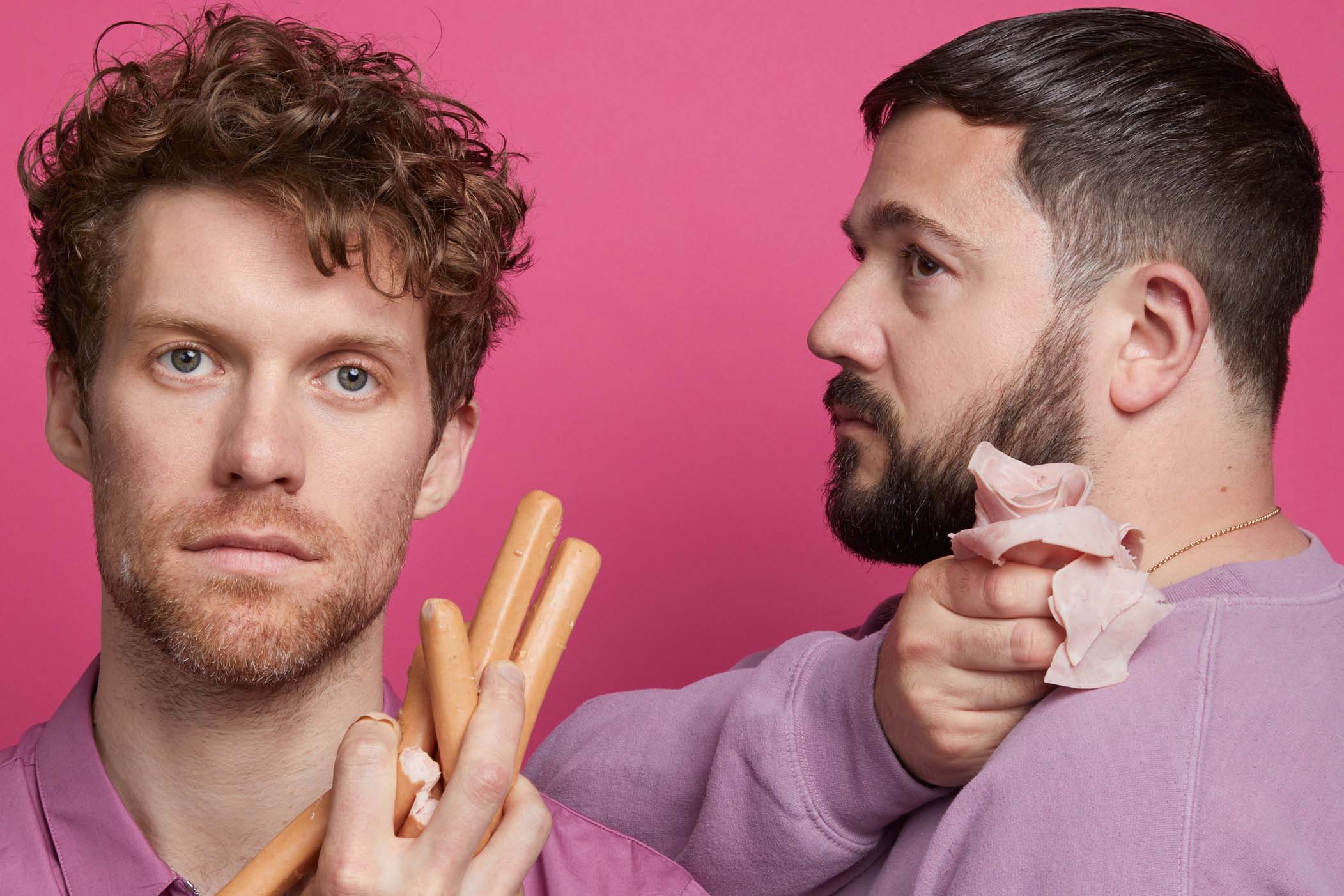 Rounding off edges with their second album 'Whipped & Glazed', the duo talk progression and pushing boundaries with Rhys Buchanan.
The second album is often seen as a daunting and tricky step. Sometimes though it can be a vital chance to clear things up. This couldn't be more true for London pop duo Thumpers, who return this month with slick and confident full-length 'Whipped & Glazed'.
Although the band definitely had an enthusiastic reception with their Sub Pop released debut album 'Galore', childhood friends Jack Hamson and Marcus Pepperall felt that the edges had been rounded somewhere in the process. Jack says excitedly, "This is definitely more of the sound we were shooting for on the first one. I feel way stronger this time". He continues, "We went harder when we wanted a hard bit and lighter when we wanted a light bit so there was always going to be this real contrast in the sound."
It becomes quickly apparent that this record couldn't have been made without learning from its predecessor. Jack casts his mind back before saying, "There was a lot to work through, not to make it sound too much like therapy but there was an element of coming off tour and being very self-critical. Marcus pitches in, "And reflecting on the whole way the last record had been received. How the audience were responding to it and how we had been perceived. A lot of what we thought we were putting across with that record then didn't make it into the dialogue". He squashes the serious tone with laughter before saying, "We did over-analyse because that's what you do when it's the middle of winter."
This reflective period may result in a sound which takes people familiar with the band by surprise. Jack would like to think this is the case. "That's part of what's exciting for us definitely. It's about balancing between wanting to make an impact on people who haven't heard us yet and treating the people who have been really good to us as well." They won't be forgetting older material either, Marcus continues, "We don't want to throw the baby out with the bathwater on the last album either because we're very proud of that. It's just when you want to take a step-on you have to kick-off as well. That's what I feel most pride in, staying true to our original sound but also putting our foot more on the throat of what we wanted to do."

"It does feel like a new band and a new thing."
— Jack Hamson
The album shifts things around in a conceptual sense as well. Jack says, "The turning point was when we took all of the inward-looking inclinations we had after 'Galore' and basically blew them up into grotesque versions. That's what ended up being the main driving theme for the new album." Marcus says that this record is also a lot more personal than their previous work. "We both wanted to have a centre to it. 'Galore' was supposed to be almost without identity by design. It was communal and escapist. With this it was important to put a human in the middle of it rather than a group of people." He continues, "We wanted it to be economic with instruments and to trust the songs, parts and production techniques. The lyrics come across more because the voice is way more central this time."
Thumpers also recently shed their live band which has played a part in defining the sound heard on 'Whipped & Glazed'. Jack says, "You can't share the blame when there's only two of you onstage. It's moved us on because we've deliberately left ourselves way more exposed. For me that feels exciting and more like what music is about. As much as I loved the last record we're just doing a different thing now." These thoughts are echoed by Marcus, "We're super happy it's coming out because we've worked so hard to make that happen. It brings us some more energy live. Also things like guitar solos, you can't fuck around with a guitar solo, there really is no hiding." He continues to neatly summarise, "It's about letting your record discover its own identity, letting it do its own thing is important. That's what we learnt most this time."
If one thing is definitely clear it's that there's a sense of renewed energy here. Jack confidently says, "It does feel like a new band and a new thing. We've been away for quite a while so I guess we're looking forward to reintroducing ourselves to the world. I usually come to most of the music I like on the second record at least so I hope we're afforded the same luxury from fans or real human beings." Marcus continues to place emphasis on how focusing on their own friendship has been a key factor in the coherence of this album.
"We wanted to make the most of my relationship with Jack and what we do best really. That is playing guitar and drums and layering things". He continues, "We've been playing together since we were teenagers. We learnt our instruments together. I think that's the core of what we do. It's thrilling and it's a far better representation of the band."
Thumpers' new album 'Whipped & Glazed' is out now via True Say.
WE'VE GOT A FAVOUR TO ASK
We're often asked about you, our readers. So we'd really appreciate it if you'd offer up a bit of information about you, and your music-loving habits by filling in our 2019 readers' survey.
Click here to reach the 2019 DIY readers' survey.
(Don't worry, none of what we're asking for is personally identifiable - and no questions are compulsory.)