Interview:
Pineapple Express: Glass Animals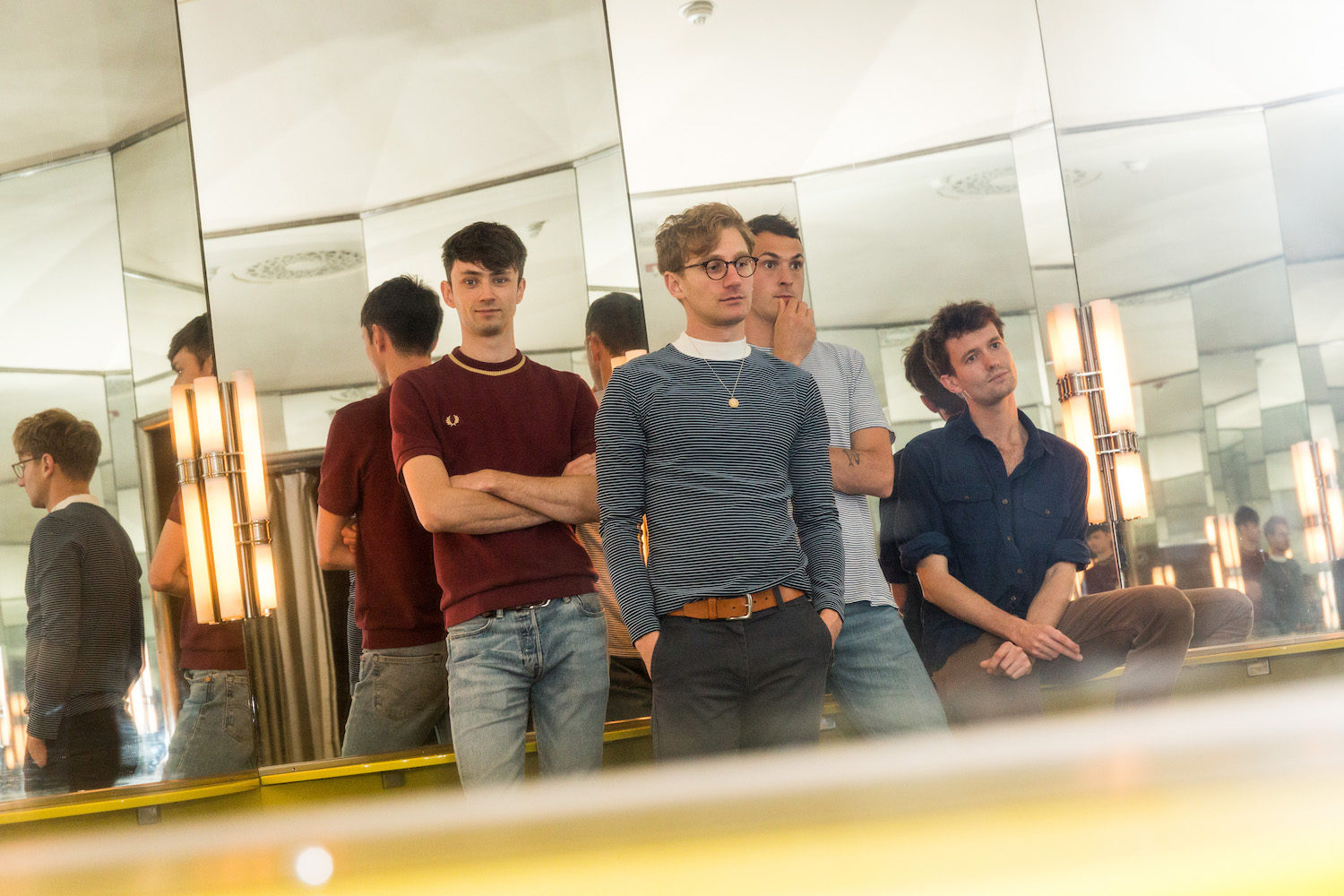 Bringing pineapple mania to the world in a year that's seen them become one of the most talked-about bands on the planet, Glass Animals frontman Dave Bayley reflects on the band's ridiculous 2017.
As if to epitomise their ridiculous 2017, Glass Animals had quite a journey to the US tour they currently find themselves half-way through. Performing at the Mercury Prize in London in early September - for which they were nominated for second album 'How To Be A Human Being' - the Oxford four-piece then made the most of the ceremony's afterparty, making it all the way through the night, hopping straight onto a morning flight across the Atlantic and into production rehearsals for their biggest tour to date.
Across a non-stop 18 months, the band have played some of the most iconic venues in the world, as well as some of the weirdest. From the Red Rocks Amphitheatre in Colorado and Radio City Music Hall, one of New York City's most illustrious venues, to shows in woodland, on beaches and beyond, this year has proved that nothing is too outrageous for Glass Animals.
Speaking on the phone from New Orleans, Dave Bayley and co are about to play a show at a Mardi Gras warehouse, with ridiculous, wildly colourful situations seeming to follow the band around wherever they tread at the moment. On a seemingly endless thrash around the planet since before the release of LP2, it's a rare chance for the frontman to reflect on what's been a whirlwind year (and beyond) for the band.
"I haven't even really thought about everything that's happened too much until now," he chuckles, "but now it's all hitting me!" It's impossible to pick out just one moment from a year jam-packed with 'moments', but there's certain nights that have defined their year, centred around a festival season that made them one of the most talked-about bands of the year.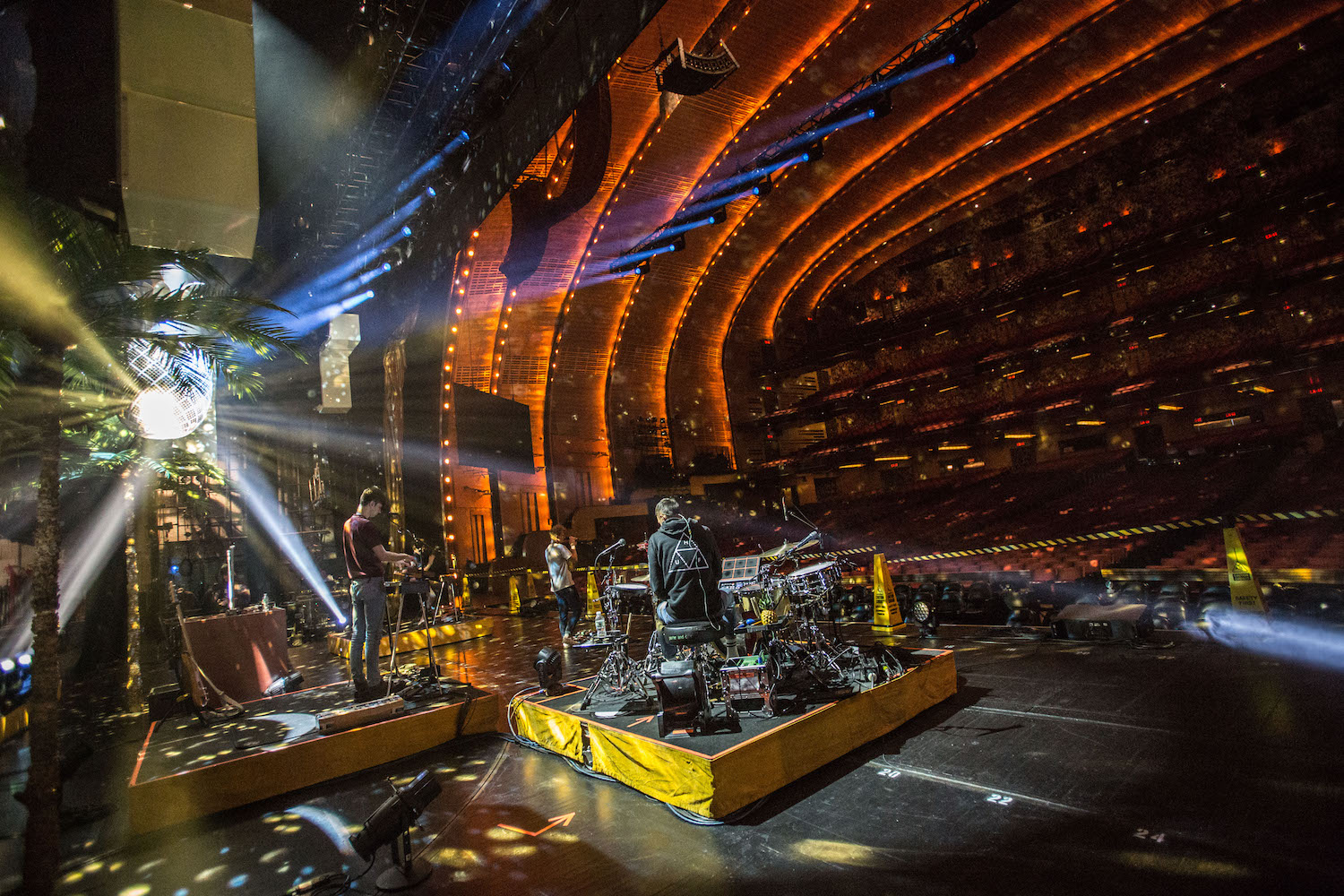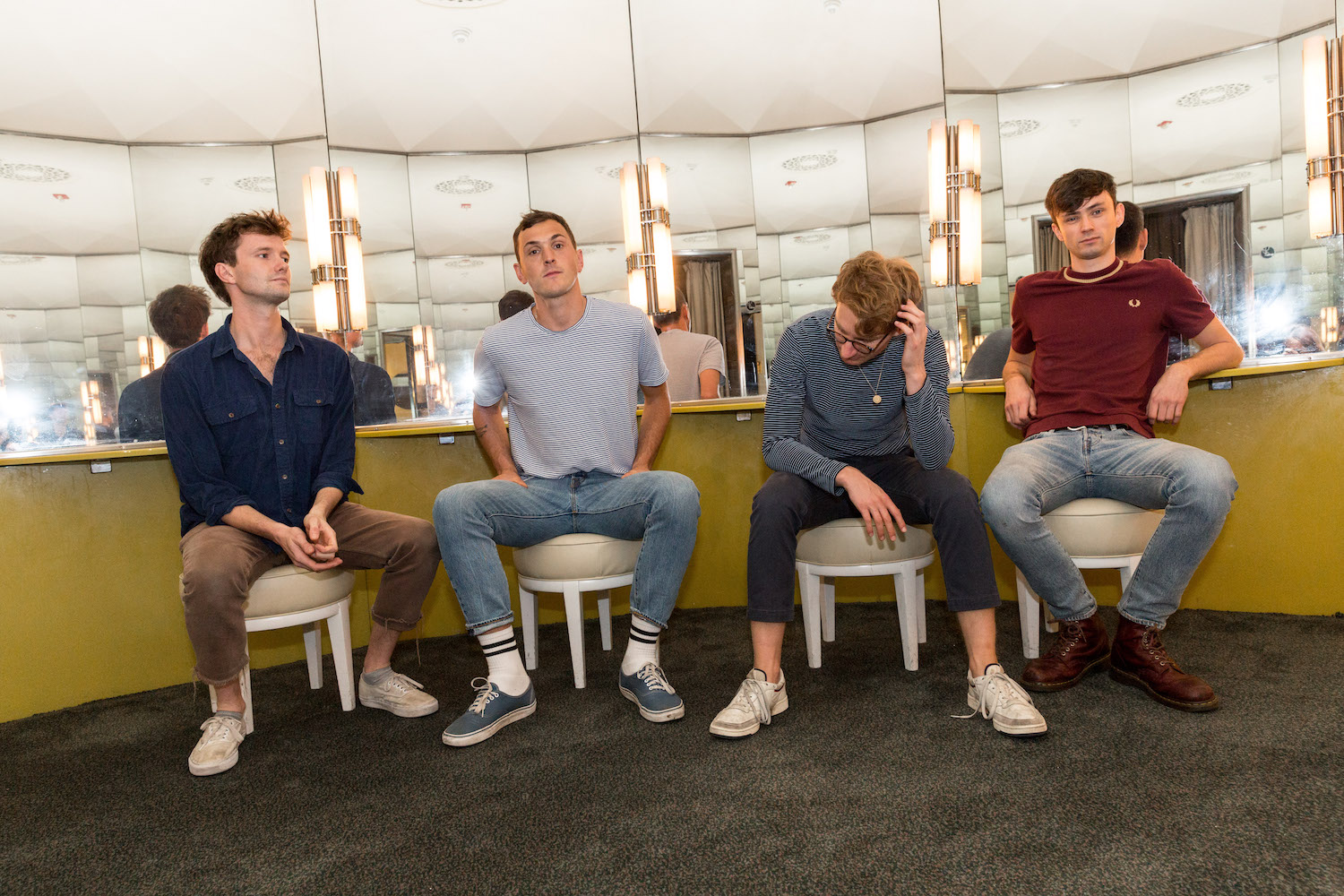 "At every gig, we have everyone eating pineapples and going crazy!"
— Dave Bayley
Their Reading Festival set made the headlines before the band even set foot on stage due to the event advertising a pineapple 'ban', and ended a stunning summer for the band. Pineapple paraphernalia littered the crowd.
"We've had naked people, people on stilts who are also mostly naked," Dave begins, as if folding out a huge, never-ending list straight out of a TV comedy. "People coming to us as the characters from the record a lot, people bringing lilos and floating through the crowd for the whole show." The frontman also pointed out a fan munching on a pineapple, skin on and everything, in the front rows of their Latitude set back in July. "It's some serious commitment. I think he's gonna get appendicitis but at every gig, we have everyone going pineapple crazy!"
"Reading was amazing," he continues, turning attention back to the festival season closer that saw the band up the ante, bringing their own pineapple confetti as if in competition with the crowd. "We used to break into that festival when we were kids. I've seen my favourite bands there. LCD Soundsystem played the exact slot that we played back in 2010, and that to this day is still my favourite show of all time, and to play that slot just made me feel amazing.
"At first I felt pretty sick, but then it started getting exciting, and when we finally got there it was totally unbelievable," the singer exclaims, digesting some of the biggest moments of a year that's been packed full of revelations, before pausing. "It's weird," he chuckles.
"The crowds are not only bigger, but more feral."
— Dave Bayley
Turn back the clock six months, and it was their Brixton Academy show that saw the wheels finally turning for them in the UK. The momentum had been with the four-piece for a while by that point, but it was the spray-painted pineapples on the pavement that led the way down from Brixton tube station to the world-famous venue, and the euphoric, sold-out show that followed, that really saw them arrive in the UK after getting their first big break Stateside. It also happened to be the venue that the band's frontman saw his first ever gig at.
"Brixton is my favourite venue in the world. When I lived on the Old Kent Road in South London, I saw Bloc Party there. That was my very first show," the frontman remembers. "To see that room sold out and with such an incredible atmosphere, I ended up having a little cry onstage at the end of 'Agnes'. I had to run off to the side!"
"Every time we go back to a place, the crowd seems to get twice as big, which is nice, and the crowds are not only bigger, but more feral, which is exciting," he lays out.
The current US tour they find themselves on is the most ambitious yet, complete with, predictably, all manner of pineapple-related stage props and outrageously huge G and A letters. It's also a tour that's seen the remoulded songs from both '...Human Being' and debut record 'ZABA' to, in some instances, be almost unrecognisable from their original recorded forms.
"When you see us at the beginning of an album campaign, everything will probably sound pretty similar to the record," Dave comments. "And by the end it'll almost sound like remixes." Indeed, 'ZABA' cut 'Gooey' has morphed from being understated to anthemic, while 'How To Be A Human Being' numbers are still being tinkered with, nearly 18 months on from its release. "Literally yesterday, we completely re-worked ['...Human Being' track] 'Mama's Gun' and added in some crazy stuff which means I can sample my vocal live and play it out over a keyboard and chop it up and stuff. We're always tweaking it and keeping ourselves on our toes, and we kind of leave things very malleable, so if the crowd looks like they're up for dancing, we'll play the dancey outro of 'Pork Soda' for an extra two minutes - we all look at each other and go with the flow."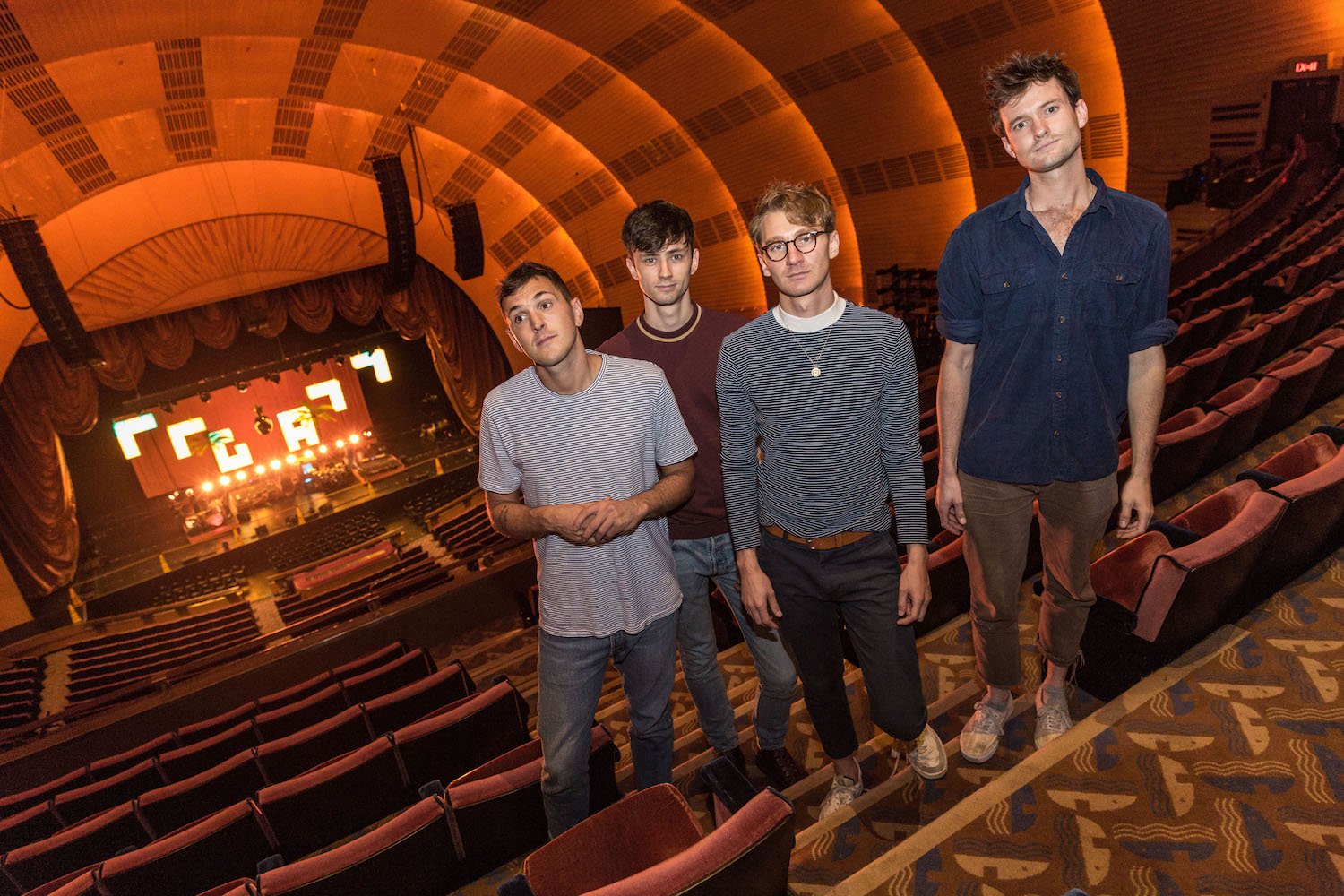 "We've had naked people, people on stilts who are also mostly naked."
— Dave Bayley
As well as the extra punch that 'Gooey' now packs instrumentally, it also sees Dave clamber his way through whatever venue he finds himself in, mingling with the front rows while becoming the most unlikely superstar. Commitment never an issue, he even got on the shoulders of two security guards and waded through the front rows at Coachella, complete with a moon boot after breaking his ankle the previous month. The frontman is the first to admit that he, guitarist Drew MacFarlane, bassist Edmund Irwin-Singer and drummer Joe Seaward aren't the most natural showmen or entertainers, but with the gigs getting bigger, their confidence has grown with it, with the quartet becoming an unstoppable live prospect over the past year.
"When there are that many people in a room, there's a lot more...this is gonna sound really cheesy, but there's a lot more energy to play with," Dave says, with his far-from-conventional dancing becoming a focal point of the band's live set. "5,000...10,000 people in a room being quiet sounds really, really quiet. 10,000 people in a room feeling tense feels reeeeally tense. But 10,000 people in a room going crazy, moshing around, feels freaking wild. If you can harness all of that, you can do some pretty awesome things."
"Pretty awesome" plays down the 2017 Glass Animals have had. A talking point of pretty much every festival they played, award nominees, and one of the most fun live bands of the year, the quartet have made a weird, wonky corner of pop their own, and brought their already vibrant, bustling second album to life even further. While new material may be a while away - concepts are at the heart of Glass Animals and Dave comments that such fully-formed, interweaving work can't be dreamt up while constantly on the road - and they may well move on to another fruity phenomenon and leave pineapples behind, there's no doubting they've been one of the bands of the year.
Taken from the November 2017 issue of DIY, out now. Read online or subscribe below.
Photos: Emma Swann

Get your copy of the latest issue