Interview
Lost in Orchestration: Bastille
On the eve of perhaps their most grandiose show ever, Bastille talk working on new music, and just what it's like to be playing the Royal Albert Hall with a fifteen-strong string section.
For most of us, Sunday mornings are reserved for lie-ins and late brunches. Down in a corner of South London, however, at a rehearsal studio tucked away in an industrial estate, there's no day of rest on the agenda for Bastille.
Arriving fresh from an overnight drive from Sheffield, after playing to a packed-out City Hall the evening before, Dan Smith and band are about to get to grips with their latest challenge: making the final show of their UK ReOrchestrated run even bigger. It's on the eve of the date at London's iconic Royal Albert Hall that the quartet – who've already played four shows on the tour so far – plan to expand further, recruiting a host of additional string players and gospel singers and inducting them in just 24 hours. No big deal.
"I still don't feel worthy of playing the Royal Albert Hall…" begins keyboardist Kyle Simmons, ahead of their final rehearsal, before Dan sums the feeling of the camp up quite succinctly. "I'm just gonna be a fucking weeping mess at the front!" Aside from the odd pre-show jitter, the band seem genuinely excited. "It's been great working with a group of musicians who are actual musicians, and not just, y'know, wannabes like us," Kyle continues, before Dan picks up: "We've been saying from the beginning that we want all the musicians on stage to have as many little moments as possible, and want it to be as much - if not more - about the other musicians on stage than about us.
Some of the singers are unbelievable and having to sing alongside them is very intimidating…" Born after the band teamed up with London homeless charity Streets of London for a one-off show at Union Chapel last summer, the ReOrchestrated tour sees the band transform tracks from across their discography. Originally arranged with the help of their part-time trumpet player – and full-time Public Service Broadcasting member – JF Abraham and "pulled together in a few days", that first show gave the band an opportunity to see just how different their songs could sound.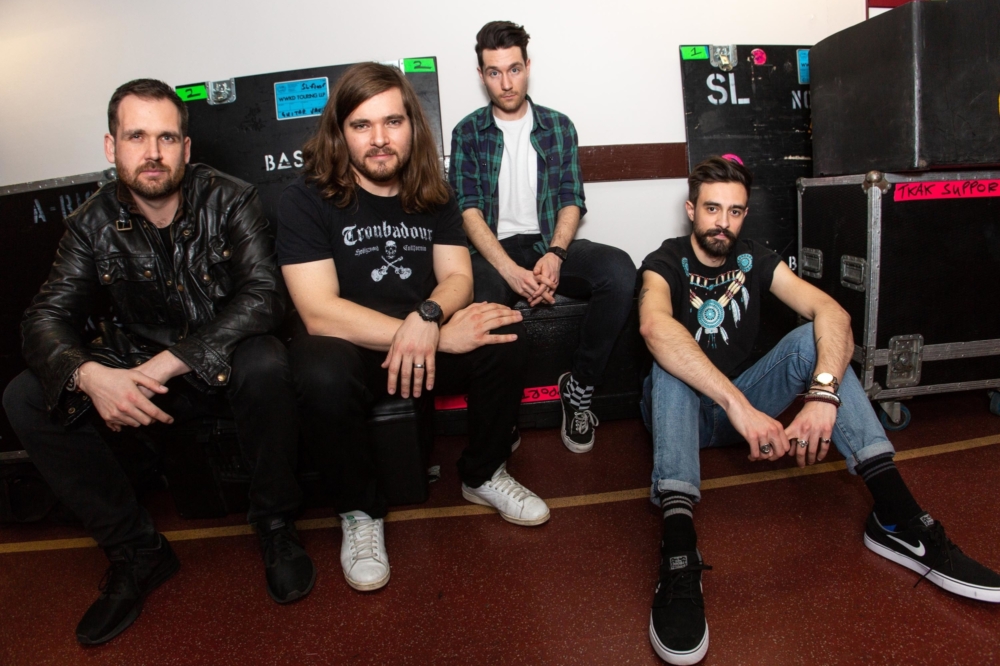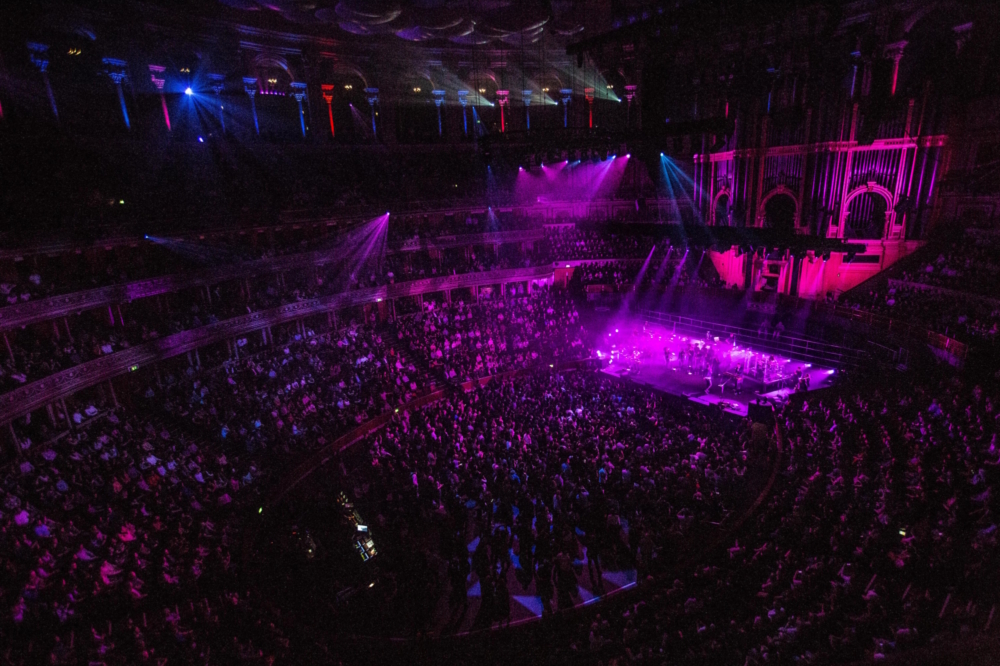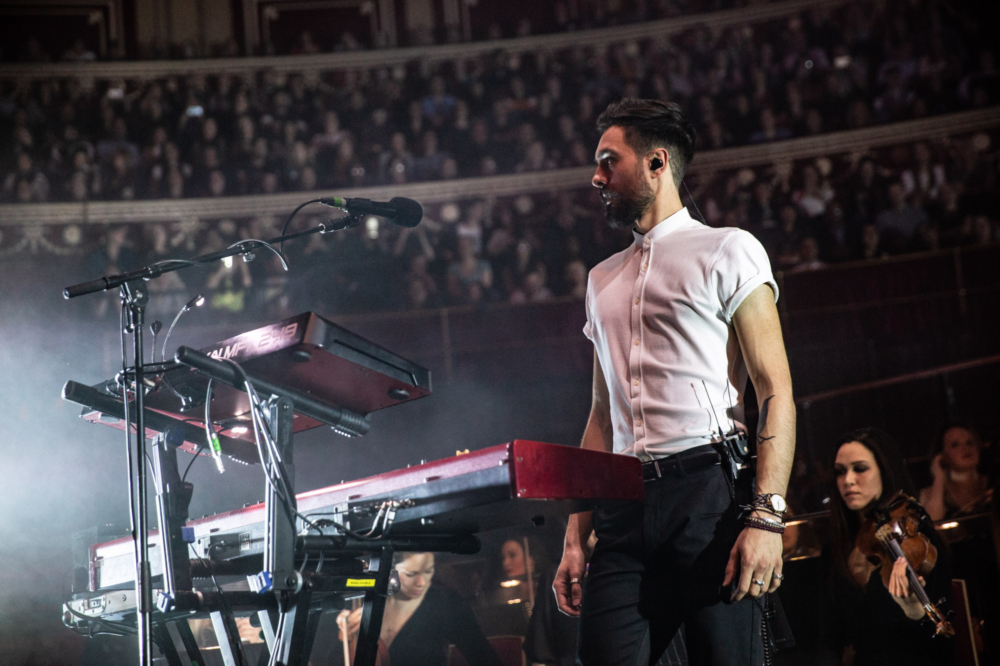 "It's almost like the apocalypse is happening outside but, for a minute, shutting the curtains to that and enjoying what you've got for a second."
— Dan Smith, on their new material
From the gorgeously harmonised a cappella 'Pompeii' that opens the current show, to the luscious, multi-layered renditions of 'Flaws' and 'Good Grief', their set treads a fine but breathtaking line. "The gig at Union Chapel was very intentionally restrained and intimate," Dan admits. "These rooms are obviously quite a bit bigger, so we've been experimenting with the line between keeping it really stripped and really changing the songs, while also being quite faithful to some."
While some of their more recent numbers are completely altered, it's in tracks from debut 'Bad Blood' - already packed "with loads of layered vocals and strings" - that the band can perform that bit closer to home. "In a way, getting to do this [tour] is [fully realising] that weirdly ambitious bedroom laptop record; a weird fulfilment of this thing that we started a few years ago." "After playing the same old songs in the same old way," explains Kyle, as the gospel choir begins warming up in the background, "it's nice to give everyone a completely different experience, and to hear the songs in a totally different light." "It's just been wicked," adds Dan, "it's been a really nice excuse to go back to stuff we've not played before, or songs we haven't played in years."
Revisiting old tracks isn't the only thing that Bastille have been working on over the past few months. There's the small matter of a new album on the horizon, too. "It's completely finished," the frontman confirms. "I think [with second album 'Wild World'] we were trying to acknowledge how complicated the world seems and do a record that was reacting to that. [That] was more trying to articulate how weird it's been for everybody to just switch the news on and see awful things happening in the world. I feel like when we released that, we were on the precipice of what is now becoming unfortunately even more normal.
"Getting into that headspace is something that everyone experiences – anyone who chooses remotely to read the news is gonna have an exposure to that feeling – but we perhaps went down that path a bit too much. The point of some of those songs was to try to capture that feeling" - that nagging feeling of hopelessness - "and look at the other moments in life that hopefully massively outweigh the bad stuff. On this new record, it's very much still set in that world, but we wanted to make something a bit more intimate and personal." Set to be more of a "night time record", LP3 will "chart the course of quite a small period of time."
"With this record we want to make something that was way more cohesive," he adds. "It's shorter and there's a slight throwback feel to some of the songs. It's almost like the apocalypse is happening outside but, for a minute, shutting the curtains to that and enjoying what you've got for a second, which I think is a completely valid and sane thing to do."
Bastille are appearing at Benicassim this year. Head to diymag.com for details.
Taken from the May issue of DIY. Read online or subscribe below.
Photos: Emma Swann / DIY

Get your copy of the latest issue