Interview
Full house: Sports Team
Craving a side of theatricality with your indie gig? Some pizazz? Maybe a few sharks?! Welcome Sports Team: the flamboyant, hilarious answer to all your prayers.
It's 7.30pm on a Tuesday night and we're sat in the middle of a bingo hall being snarled at by an angry pensioner. It's not just any bingo hall, mind. No, Cricklewood's Beacons Bingo holds the lofty title of the UK's largest venue for this sort of thing, and we're here upon the specific request of Sports Team – a band who seem naturally drawn to semi-suburban curios like these, much to the irritation of the nearby gamblers desperately hissing at singer Alex Rice to shut up. "There are two things you can do if you come from the suburbs," he's theorising. "You can send something down and say it's grim and boring, or you can, if not romanticise it, then talk about it and be interested and make it lyrical and beautiful. Maybe that's the difference with the sound we're making."
Since meeting at Cambridge University, the band (completed by guitarist and songwriter Rob Naggs, drummer Al Greenwood, guitarist Henry Young, bassist Oli Dewdney and Ben Mac on, er, shaker) have always taken the road less travelled. Among a near-non-existent music scene consisting primarily of choral groups and covers bands, the group started writing their own off-kilter tales of suburban romance and putting on their own night – the excellently-titled Poundband. "For us, it's always been about making the gig an event," explains Alex. "We did a tombola, we'd trick the local Labour candidate into coming down and introducing us, there were all these 'bits' that we had to make people come." Eventually, Sports Team became such an established anomaly around Cambridge that they were asked to play the uni's prestigious May Balls. "We'd be sharing dressing rooms with Nero, Shura, and Loyle Carner - that was one of the line ups," remembers the singer. "We played before Pendulum once…"
Moving to their shared house in Harlesden, the band upped their oddball live act to a series of ramshackle London shows – flamboyant and theatrical, with Alex in the centre of it all, prancing 'round the stage like a young Jarvis, and Ben standing perfectly still, shaking a packet of Tic Tacs. "It was definitely born out of the fact that if you don't have loads of songs then you've got to make a show," says the frontman. "I just think it's a higher art form than the actual songwriting, doing the performing bit. I think it's quite lowbrow, the songwriting bit."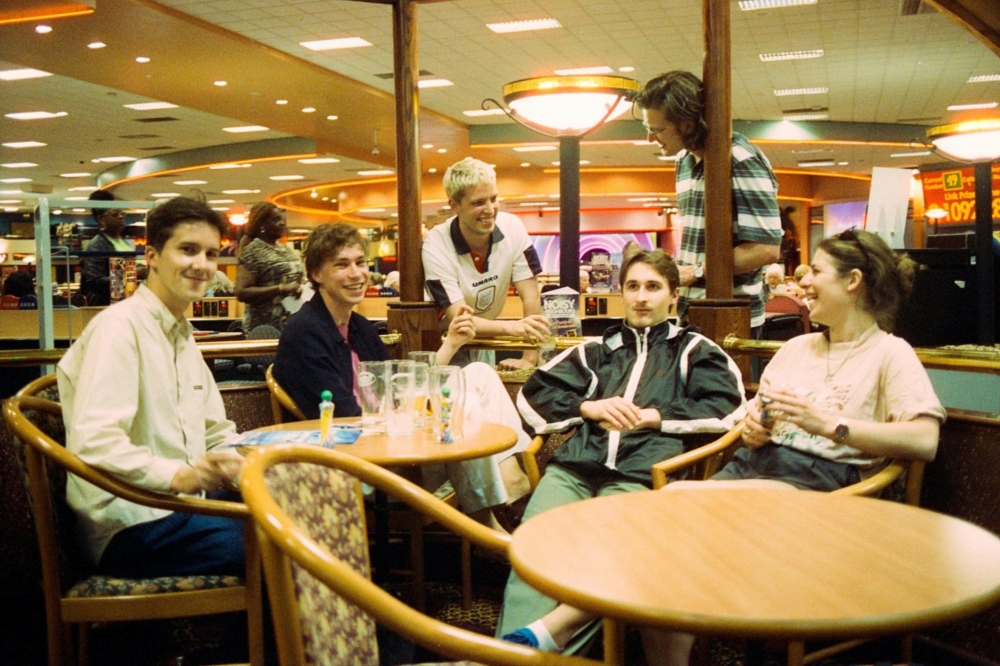 "I always try not to second guess what's cool or not cool."
— Rob Naggs
Alex, it turns out from the amused head shakes that respond to that particular quip, does not actually write the songs. The Liam to Rob's Noel, he's primarily the outspoken mouthpiece of the operation. Rob, meanwhile, is covertly tucking some zingers in behind the scenes too. On 'Camel Crew' they slyly dig "This avant garde is still the same / Go to Goldsmiths and they dye their fringes / You know they've made it only when they sign the rights to Sony" - supposedly aimed at HMLTD. "The outrage they had shows how self-congratulatory that whole scene is," snorts Alex. "Their A&R walked out of our set when he heard it, but if you hear the lyrics it couldn't be tamer." Shortly after our interview, the band get in another lol-worthy Twitter beef with Shame. Is it a joke? Who knows. And therein lies the brilliance of Sports Team.
Take single 'Kutcher'. A eulogy to the ultimate romance of the TV star and actress Demi Moore, it's a surreal and brilliant slice of absurdity. "As soon as you start to pretend to be a big band and sing about things outside of your experience, it becomes very embarrassing, very quickly," says Rob. "So I always try not to second guess what's cool or not cool." And by not giving a shit about being cool, Sports Team have ended up weirdly cool regardless. What world are Sports Team trying to inhabit, we ask? "It's Mock Tudor with a hint of lovable amateurism. A bit of [runner] Roger Bannister. [John] Betjeman's a good reference, and a Will Self wandering element. That's probably where we are," assesses Alex. Well, exactly.
"It was definitely born out of the fact that if you don't have loads of songs then you've got to make a show."
— Alex Rice
For their next trick, Sports Team have recently announced a reasonably ambitious date at London's Scala. Naturally, they've got some lofty plans for the night. "There are very grand themes we're floating the idea of," nods the singer. "The promoters want it to be something like 'Sports Team and Friends', but we want to do a shark theme. Get a beach upstairs, cages, boats, surfers. Thorpe Park, Splash Down vibe – log flumes, that sort of things. You know Robbie Williams at Knebworth where he gets lowered down on a harness and dangled in? We wanna do that. 100% getting a harness."
It sounds ridiculous, but honestly at this point, we wouldn't bet against it.
Sports Team's new single 'Kutcher' is out now.