Interview
First Aid Kit: "The next record might not be as sad"
Klara and Johanna Söderberg reflect on a jam-packed first half of 2018, and talk a new album set to feature a little less heartbreak.
First Aid Kit released their fourth album 'Ruins' back in January, and have been touring it non-stop around the world since. Stopping at this month's Bestival, we caught up with Klara and Johanna Söderberg to chat all about their whirlwind six months.
As well as reflecting on the heartbreak that inspired the record, the pair tell us that they've already started preliminary work on its follow-up, which is set to be a good deal more uplifting.
First Aid Kit head out on a huge UK tour with The Staves later this year, including two shows at London's Brixton Academy - listen to 'Ruins' and read our chat with the pair below.
You're mid-way through a huge 2018 - how has it been so far?
Johanna Söderberg: It's been amazing - one show that stands out is a show in the US with Ryan Adams at Red Rocks in Denver, Colorado. That's been a venue that we've wanted to play for ages. It's this gorgeous natural amphitheatre in the middle of the desert, and that says it all. And then Ryan Adams on top of that!
Klara Söderberg: We also played a really incredible show in Paris earlier this year. We didn't really know what to expect…we've played shows in France before and people haven't been ecstatic that we're there. And this time we walked out on stage and they were just going nuts! It was just that energy in the room, and you feel it the minute you walk out, knowing that this is a special one.
Johanna: But of course all the UK shows have been particularly amazing.
Klara: No, they really have! We fuckin' love playing the UK - it's so special to us. We were really embraced by the UK audience really early on, and toured here a lot.
Johanna: It feels like a second home.
It feels like quite a gradual success you've had, with slow but steady progression across every album - are you thankful for that in retrospect?
Klara: I think it's really lucky that we got to build it up gradually. It was a lot of work and a lot of time spent in vans, but we got to really see it happen. It wasn't just an overnight thing, and I think that could be really scary and stressful. We generally felt like people loved us for us.
Johanna: And we're an album band - people listen to the whole record. It's not just one song.
Klara: And we love albums. We're really nerdy about old records and stuff. We love that we can keep that tradition alive and people understand it.
Does it make you more committed to the album as a whole piece of work when we're living in somewhat of a playlist-led generation?
Klara: For us, it's something that we think about a lot when we're in the studio. We want to have this arc of songs that we can tell a story through.
'Ruins' has been out for six months now - do you feel fully settled in to the new era of First Aid Kit?
Klara: Are you ever?
Johanna: We've started thinking about the next one and writing a little bit for it. It's still very early. Some of these songs from 'Ruins' are already about four years old.
Klara: Some just take a long time. You'll have an idea and don't know what to do with it, or it doesn't make sense to you until way later. A song called 'Postcard' that is on ['Ruins'], I first came up with that verse and chorus in 2013 probably, and the lyrics didn't make sense to me at the time, and then a couple of years passed, and then they truly spoke to me after a couple of years and I realised 'Oh, this is what I was talking about back then!', I just didn't know it yet.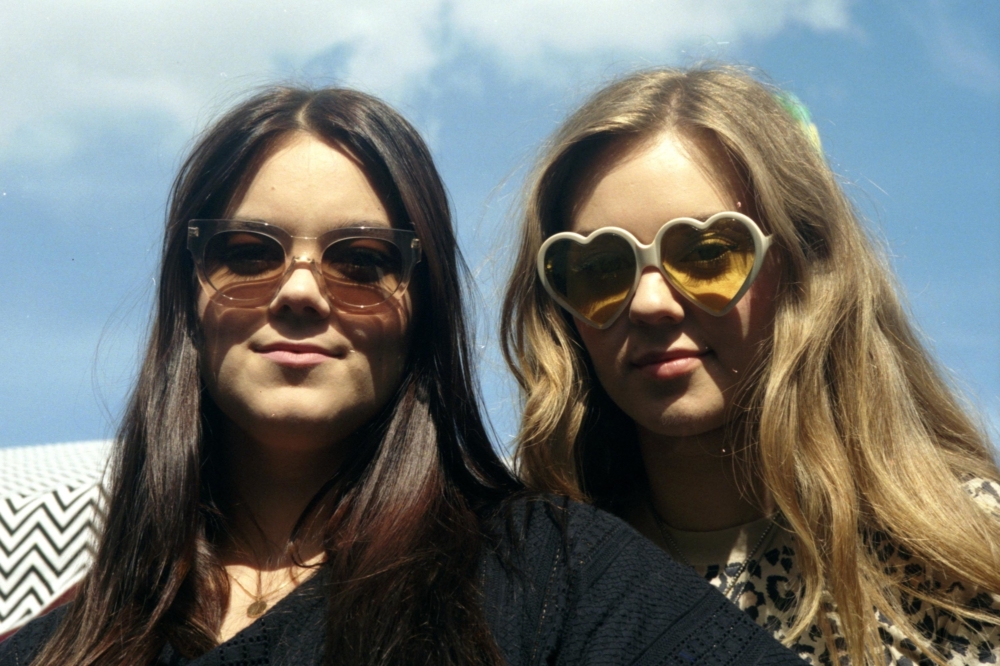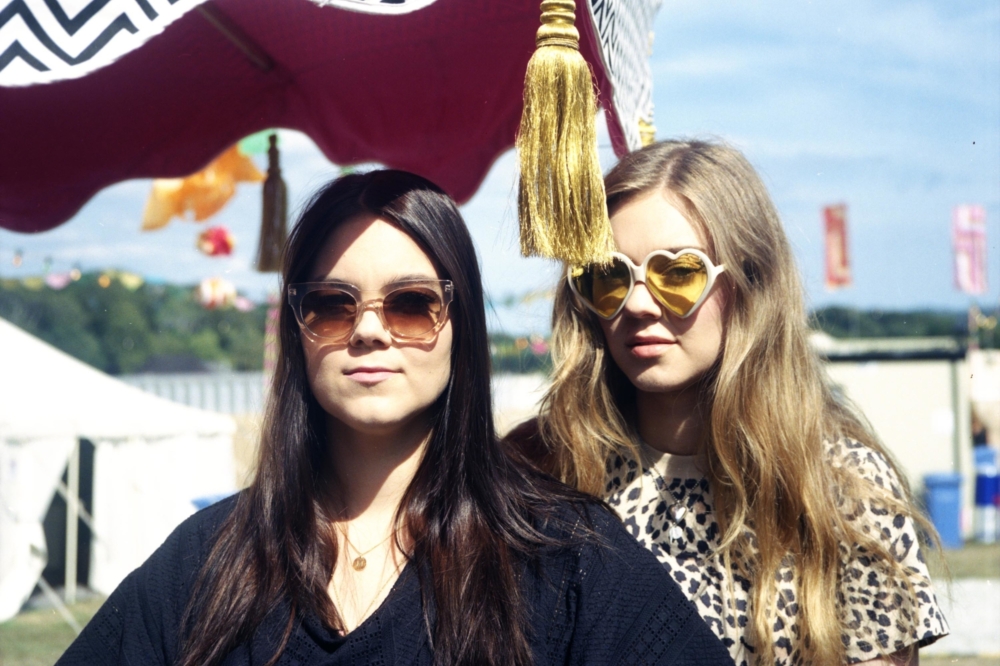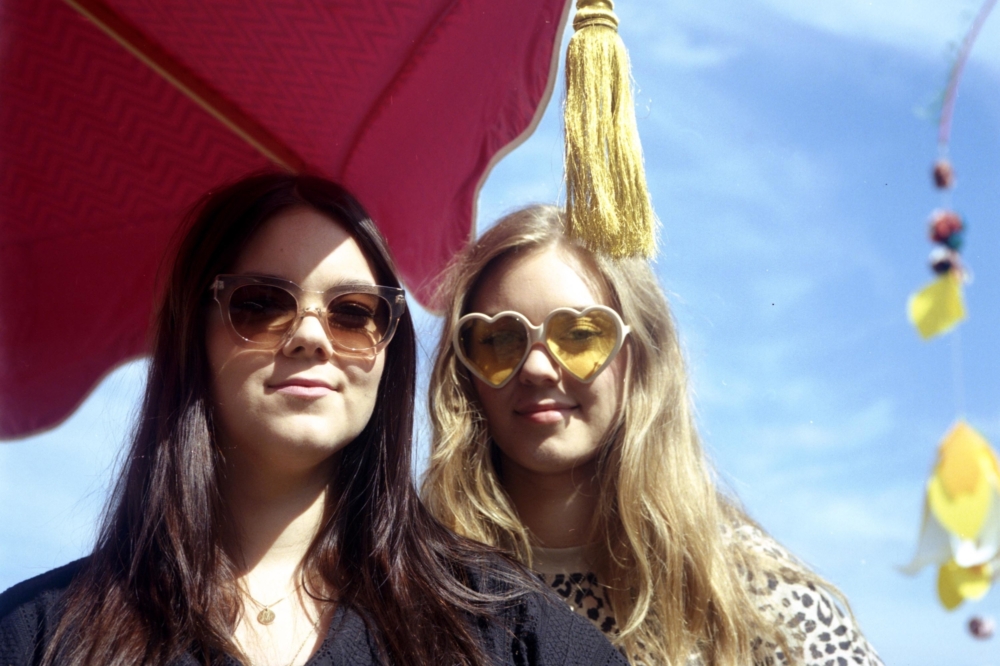 "Hopefully we'll be in a happier place next record!"
— Johanna Söderberg
Do you make sure every so often to go through the vaults of sketches of songs that were left behind?
Johanna: We lose a lot of stuff - voice memos and lyrics are all gone when you accidentally update your phone! It's quite sad.
Klara: I try to do it every now and then to see if there's anything that sticks out, and sometimes there are.
Johanna: But a lot more of 'What were we thinking?!'.
Klara: A lot of weird, humming shit, and me walking away from my friends and singing into my phone.
Regarding songs that were left for years before making the cut on 'Ruins', do you set a criteria for what kind of song fits the feel of the album as a whole?
Johanna: Absolutely, and on this record in particular. There were songs that just couldn't be on the record even though we felt they were great. They just didn't fit - either musically or lyrically - and really stood out. The song 'You Are The Problem Here', which is about rape and rape culture, didn't fit on 'Ruins' for us, even though we love it.
Klara: 'Ruins' is a breakup record, and then to throw 'You Are The Problem Here' on it would be weird. We wouldn't want anyone to be confused about who it's about, or that that had anything to do with the breakup, you know. It was completely separate things. So we released that as a single on its own and have 'Ruins' be this homogenous breakup. A sad heartbreaker of a record.
Johanna: What we're feeling right now is that the next record might not be as sad. It's been really tough to sing about heartbreak eeevery day! I've been going through heartbreak and singing about it and feeling it, it's been very hard for me. Hopefully we'll be in a happier place next record!
Klara: It's gonna be super positive.
Johanna: Super poppy, and happy!
Klara: You sing these things every night, and it becomes a mantra that you're telling yourself every night. There's some [songs] like 'My Silver Lining', which I think has a lot of hope, so it's nice to sing, but there's some that are just so sad! There's certain things that you're telling yourself every night by singing them, and it's a little strange.
Johanna: Maybe it's good though if you listen to the songs and can think 'Ah yeah, I was there, and I was this sad, but now I don't feel that way any more'.
Klara: I think it's really helpful - the music that has helped me the most is songs that are just absolutely dark and….aaaagh! There's just something about it, that when I'm in that place myself and I hear that, I just think 'Aaaah ok yes! Let's wallow in it together!'.
Johanna: It's toooo much!
Klara: No it's GOOOD! I looooove it!
There's always a divide between those who listen to sad songs when sad, or happy songs when sad…
Klara: I don't get [the other way round] - just, like, shut up about your happiness!
Johanna: Happy people are offensive.
Is it something you've learnt from touring these songs so much, that you need to not let their subject matter exhaust you over year-long tours?
Johanna: It's really tricky. There's songs like 'Emmylou' and 'My Silver Lining' that we're gonna have to sing for the rest of our lives! You just have to live with that. The crowd make it though. Rehearsals are trickiest because there's no crowd to bounce off and you're just really tired of the songs. Some bands will rehearse for weeks and weeks, but we just wanna get it over with!
Klara: For us it's all about the crowd. It's all about their response and that's why it's so amazing playing those songs - you see the smiles on people's faces, and them singing along, and that's just incredible. It always is to me.
'Ruins' is out now via Columbia.

Get your copy of the latest issue