Live Review
Whenyoung, Body Type, Penelope Isles and more lead the charge for DIY's takeover at New Colossus Festival
We touched down at The Delancey in New York last night with some of our faves.
Over the past couple of days, we've been bringing you the highlights from the first year of New York weekender, New Colossus – a six venue celebration of new music, featuring a bunch of exciting new artists hot-footing it across the Atlantic on the way to SXSW.
Yesterday, however, we went one better, presenting our very own DIY stage at the festival, bringing seven buzzy artists from around the globe together and setting them loose at Lower East Side venue The Delancey.
Brighton's Orchards kick off proceedings with a relentlessly energetic set that finds frontwoman Lucy Evers bounding around, into the crowd, on the floor and generally all up in people's grill. An insatiably high-octane presence, backed by a Fickle Friends-esque combination of shiny hooks and sprightly guitar lines, she's a lot to take in – great if you're a naturally glass-half-full sort; perhaps slightly jarring for those of a less overtly perky disposition – but you can't not watch her. The repeated declarations of "Merry Christmas" after each new track could do with ditching though; Orchards are good, but they're not as good as actual Santa.
Fellow Brightonians Penelope Isles might be from the same seaside town, but they're made of very different stuff. Freshly signed to Bella Union and with a debut LP on the way, their spine-tingling, harmony-led Real Estate vibes have grown new layers of late. Now, there are big, sprawling, swathes of noise thrown in the mix, vocalist Jack Wolter leading the band through a huge cathartic guitar purge one moment, his sister Lily taking the reigns on an idiosyncratic piano number the next. It's varied and interesting, with a tender beating heart always at its core. Strong stuff.
Fresh from headlining the iconic Mercury Lounge just two nights before, our special guests Whenyoung are already gaining momentum on this side of the world. And tonight, the Limerick trio, in their customary primary-coloured boiler suit uniform, sound like a band that could – and should – go the whole way. Bright and brilliant, their songs could all be singles; if a main struggle for many is distilling all your style and influence down into actual, memorable tracks, then Whenyoung have got hooks coming out of every pore. From the ringing clarion call of 'Pretty Pure' to the deceptive bounce of Grenfell commentary 'The Others', the trio are already masters of the three minute pop song, and an effortlessly endearing on stage presence to boot.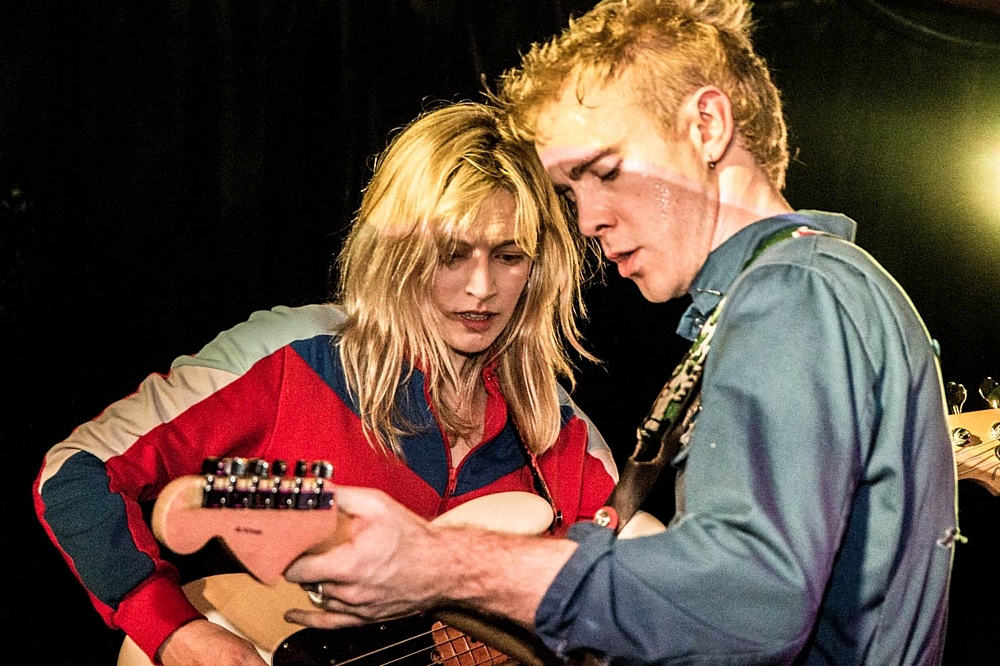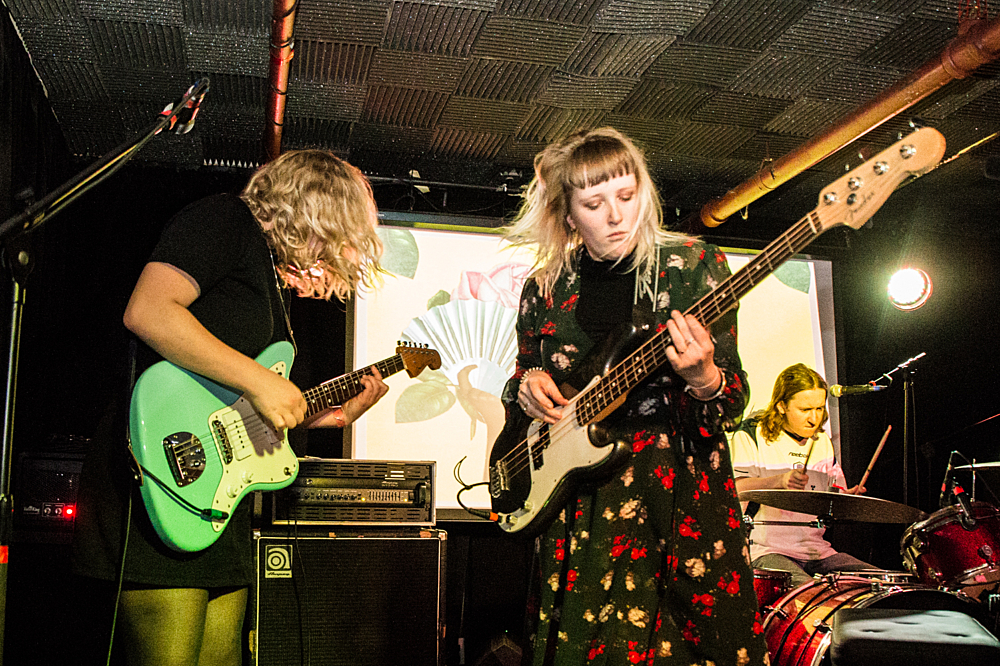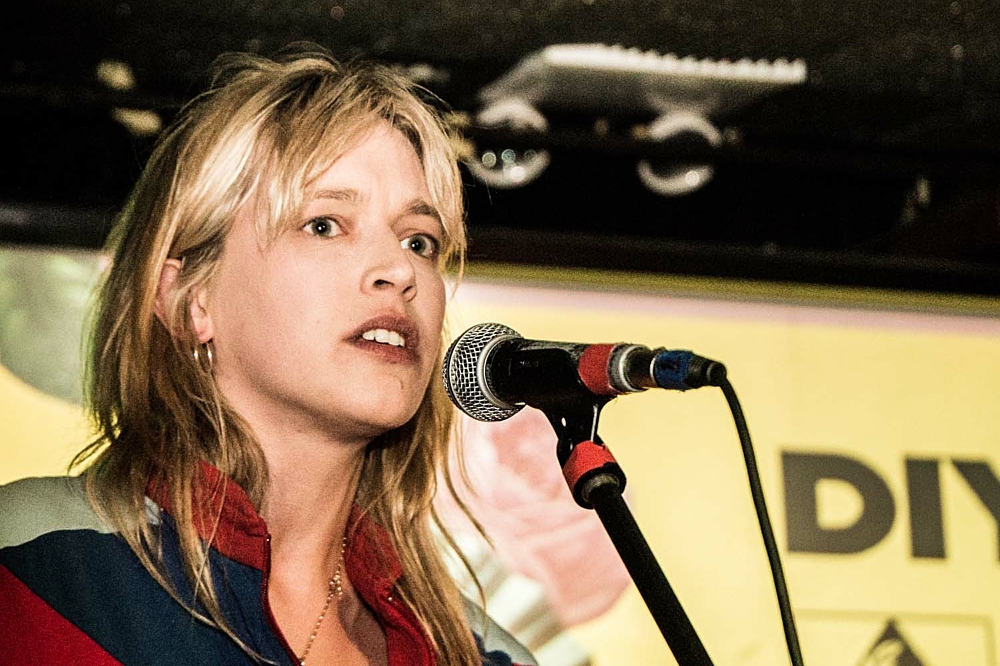 Austin's Jackie Venson might loosely be categorised within the Americana tradition that her hometown is famous for, but tonight she proves a far more modern proposition than that historically suggests. Recently crowned the city's best guitarist, the moments where she fully lets rip with some genuinely mind-boggling shredding are more Jack White than Dolly Parton, and the potential for the singer to cross over and dip into all kinds of genres feels exciting. New York's own Gnarcissists, meanwhile, are also fans of a meaty riff but in a far gnarlier fashion. Sweaty, messy and excellent, they career through a short but glorious set of anarchic garage rock before their singer decides he's done, starts chucking various objects (ice cubes, drum sticks) at his bandmates and saunters off.
With the release of last year's debut EP 'Mysterious Visions', Nancy announced itself as a thoroughly exciting, annoyingly elusive new project. No press shots, no live shows, it wasn't clear who or what Nancy was, but it made very good music. Now, there's finally a face to the name in the form of towering singer Jamie Hall (also frontman of Brighton grungers Tigercub) and his backing band and, though tonight marks only the third ever outing of the group, the warped theatricality that categorised that EP is already translating gloriously on the live stage. Sporting some twiddly facial hair and a bolo tie, his aesthetic is of a kind of cowboy Captain Beefheart, striding around the stage like a weird circus ringleader, while, sonically, they veer from a crunchy cover of 'These Boots Are Made For Walking' into the sweeping melodrama of 'French Cinnamon' to the space age Klaxons call of 'Teenage Fantasy'. Nancy had nothing to hide; this is glorious stuff.
Thankfully, Perth's Body Type have the perfect mix of warm, inclusive charm and fuzzy bangers to round off the night on just as much of a high. Like an Aussie Big Moon, the four-piece exude infectious likeability; clearly having a total hoot, they serve up the kind of lo-fi indie rock that's ramshackle but packed full of earworms and big, punchy Ex Hex-style riffs. It's a clever trick, and one that should see them float (or, more accurately, mosh) to the top of the pack when it comes time for them to take Texas over the next week. Job done.