Interview:
Slaves talk new EP 'The Velvet Ditch', the influence of grime and their continued fight against preconceptions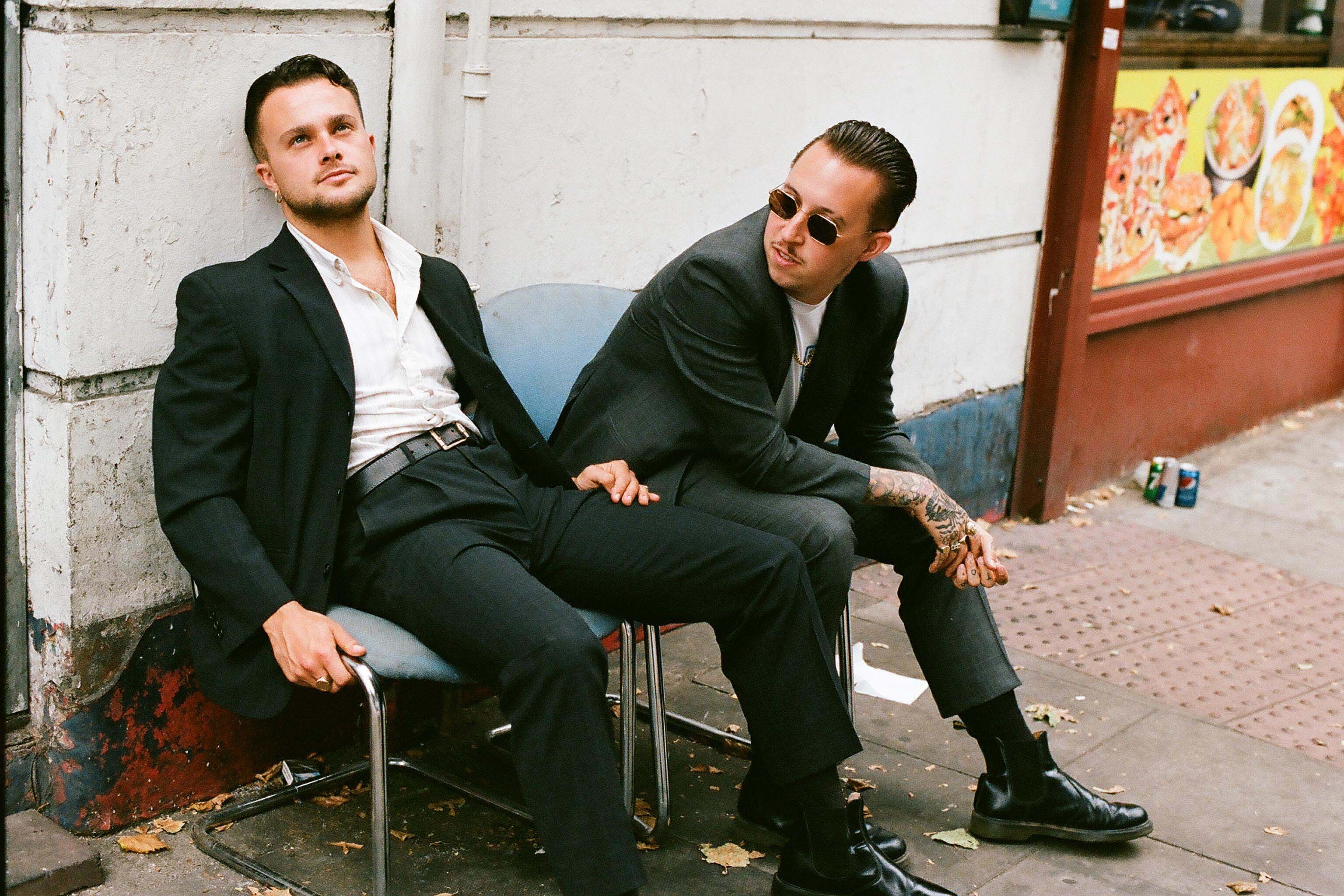 Photo: Pooneh Ghana
"You start to wonder, would we have been more successful if we weren't controversial?"
Announced earlier this week and released today, Slaves' surprise new EP 'The Velvet Ditch' is a tasty four-track nugget that finds the band in disparate form. From the heavy grime-punk of 'One More Day Won't Hurt' to the soft piano balladry of 'When Will I Learn?', it's a succinct reminder that Laurie and Isaac have always been more than just a couple of lads with a love of the moshpit. We phoned the guitarist up in the middle of an insane worldwide run of festivals to find out a bit more about Slaves' next steps.

Hi Laurie, where are you?
I'm in an airport in Kuala Lumpur. Our manager's got a posh card so I've been taken into the lounge, it's very fancy. We've been to Bilbao, Russia, Hong Kong and now we're on our way to Australia, then we go home to play Latitude. It's quite gruelling!
When have you found time to write an EP?!
It was actually pieced together at the end of the album sessions [for last year's 'Acts of Fear and Love']. We were making a really conscious effort to make a cohesive record, so we had these songs that we liked too much to be B-sides but they also didn't make sense on that album. Then the idea of an EP came around and, as we'd never really done one before, it made sense.

Why did releasing them as an EP appeal?
I think, with the way that people absorb music now, it felt quite obvious to do it. Music is digested so quickly and albums get quite a short shelf life, so it felt like a good thing to do. It's not like we're just releasing the cast offs; they're four songs we really loved. Some of my favourite Jamie T songs came from his EPs like 'St. Christopher' or 'Magnolia Melancholia', so it's really for the fans I think: the people who are really into it seek out EPs and want to know those tracks.

Do you feel like you can take more risks on a shorter release like this?
When you're writing these piano ballads, you're not sure if you're ever going to release them and put them on an album that holds a lot of importance, so putting these tracks on an EP allowed them to have an airing because we both really liked them. It allows you to experiment way more. 'One More Day Won't Hurt' is probably one of the strongest songs we've ever written, so the fact that we decided to leave it off the record was quite a bold decision. We were playing the album tracks to friends and family and we had a folder with everything we've done in the sessions, and I remember people close to me and Isaac almost being up in arms that we weren't putting it on the record, but it just didn't sit in the landscape of what we were trying to achieve.

People still seem surprised when Slaves release ballads; how important is that side of the band?
I think they're the most important songs for me. All the bands that I'm really into, I got into them because of the immediacy and the in your face-ness of them, whether that's The Cribs or Jamie T or Blur. But the more tender moments are the ones that actually end up being my favourites; you get into these bands because of their energy, and then they reveal their soft side which is what locks me in as a lifelong fan. I'm not someone who just blasts out hardcore punk everyday, so I never want to be in one of those bands that releases an album with 10 songs that sound the same. It just doesn't excite me.
A lot of the lyrics on the record address small town mentalities but you're currently sitting in a posh airport lounge on the other side of the world – how does that work?
Isaac's had a few spells living back in Tunbridge Wells and I think it's the honey pot, it's very comfortable and there's a lot of familiar faces. It's so easy to fall back into those routines and, especially with our jobs, [a certain] lifestyle can almost be encouraged and expected of you. It's about how you battle those demons and become what you need to be. So often I meet people and they'll joke with me like, 'oh rockstars, you're not much of a rockstar' when you're turning down drinks at someone's house. It's quite funny the perception of what we do, and you have to become comfortable with yourself; that's a recurring theme for us, because there's a lot of preconceptions about what we do because of the style of band we are. Everything's preloaded in people's minds, but we're just trying to work out how to make music and be ourselves.
Overcoming preconceptions has been a pretty constant thread throughout the band's career...
It's quite exhausting, on a weekly basis or when you're on tour, the amount of people that finally come and witness it and start to understand what it's about. You start to wonder, was that an important aspect of the band? Would we have been more successful if we weren't controversial? I think this EP is a little tender look inside that mindset.
Is there anything on the EP that's a signifier to what might come next?
'One More Day Won't Hurt', if you cast your minds back to the session we did at Radio One where we covered 'Shutdown',came off the back of the excitement of that. I was living in south east London and I decided in my spare time I'd try and make beats. This song came from a beat from that, and we ended up playing it in a session to Skepta – we only did one session with him - and he was really excited about it and that gave me this confidence. It had been in the background for ages and we thought, shall we try and get a rapper on this? Then we were in the studio and we decided to transpose it into our instruments and play it live; we were essentially doing what we did to 'Shutdown' but to one of our own beats.
There's definitely more of a grime influence because both of us listen to a lot of grime and hip hop, and people like slowthai are the most exciting things happening in music currently – they're pushing the envelope forward and exciting and antagonising people in a different way. When he came and supported us, it caused absolute terror in the faces of these old punks; it was uproar. So that influence and fresh perspective is something I'd definitely be excited to move forward in. We were in the studio with slowthai and produced a track for him so the avenues are opening up, and Isaac has a past as an MC so I just pushed him in the studio to do it and it's been a nice experience to see him doing that again and capture that energy.
'The Velvet Ditch' is out now via Virgin EMI.