Jäger Curtain Call
Lady Bird bring big energy and a piano sing-along to Moth Club for Jäger Curtain Call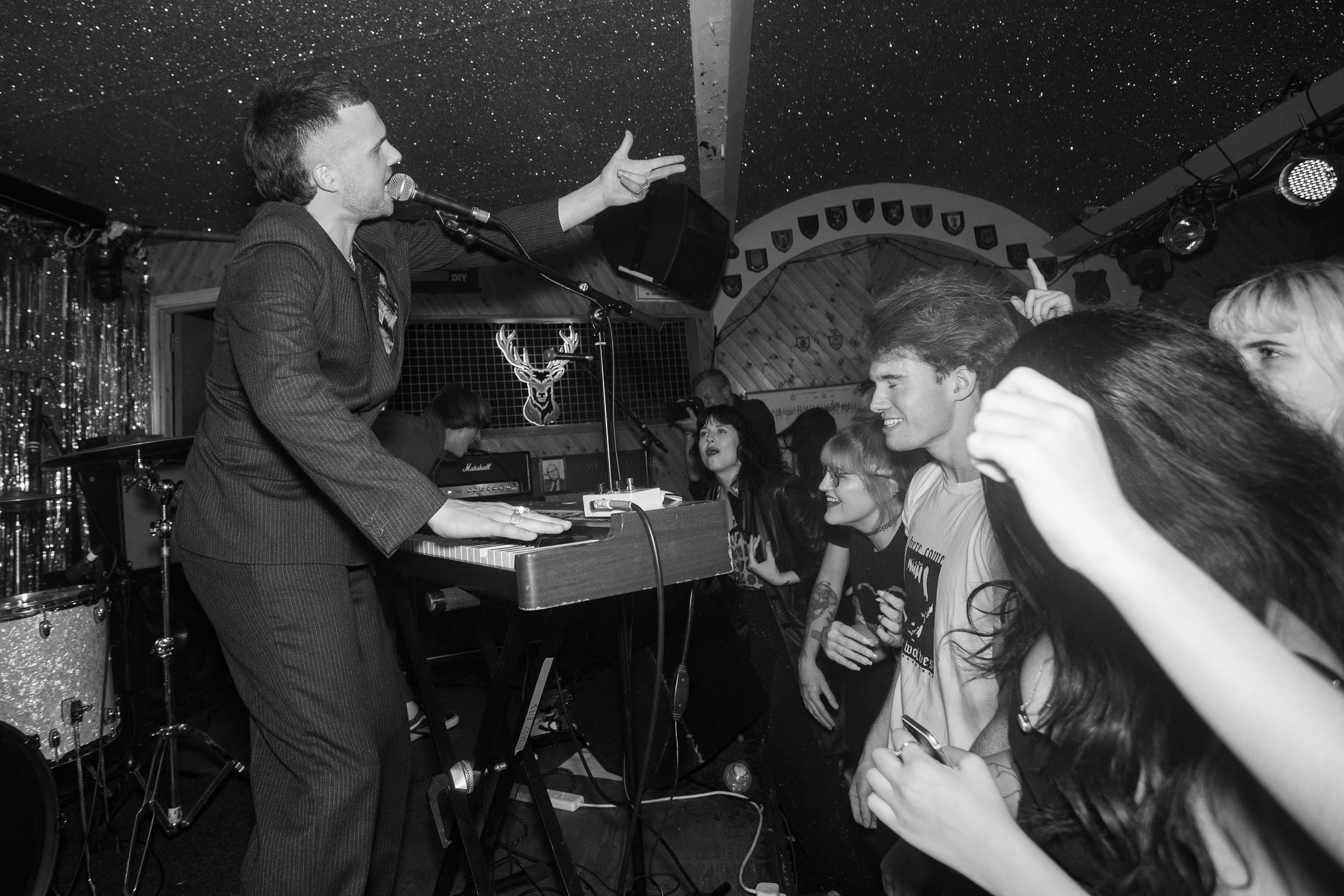 Plus they've got Yowl in tow – replete with some brand new bangers.
Since Lady Bird first crashed into view 18 months ago with an EP full of kind-spirited, high-octane punk nuggets, the momentum around the Kent trio has been tangible. Along with a slew of like-minded sorts, they've been in the middle of a wave of bands championing simultaneously sweaty pits and warm hearts, so it seems fitting that, playing London's sparkly Moth Club for their sold-out biggest headline show to date, tonight's set is as joyous a knees-up as you could hope.
First up, however, are Brighton's Guru, who might still be making their first steps outside of their hometown, but already come bearing the confidence of a band gagging to push things further. Channeling a fizzing strain of eyeball-popping, psych-flecked punk, the likes of recent single 'Fixation' come ringing with the same edge-of-seat energy as Talk Show and some of the capital's other most promising young upstarts. Singer Tom Cherill, meanwhile, is a magnetic frontman with a solid set of moves; if the main characteristic of 2018's angrier guitar exports was wry aggression, then maybe 2019's is a propensity for an onstage boogie.
Another case in point: Yowl. Though frontman Gabriel Byrde has always favoured a low-slung, shadow-boxing lurch, these days the singer has added a whole range of new shuffles to his arsenal. It's not the only way the quintet have broadened their horizons, either. Having spent much of the year writing, the new tracks showcased today dip into more melodic waters than ever; far from the brooding, ominous cuts they first emerged with, there are almost '80s indie tinges to be found here, with falsetto vocal moments in recent single 'Mammalian Fondness' and surreal imagery dotted throughout. With every new release, Yowl are proving themselves to be far more imaginative than just another moody London band; now, they just need to hurry up and not leave it another year between releases.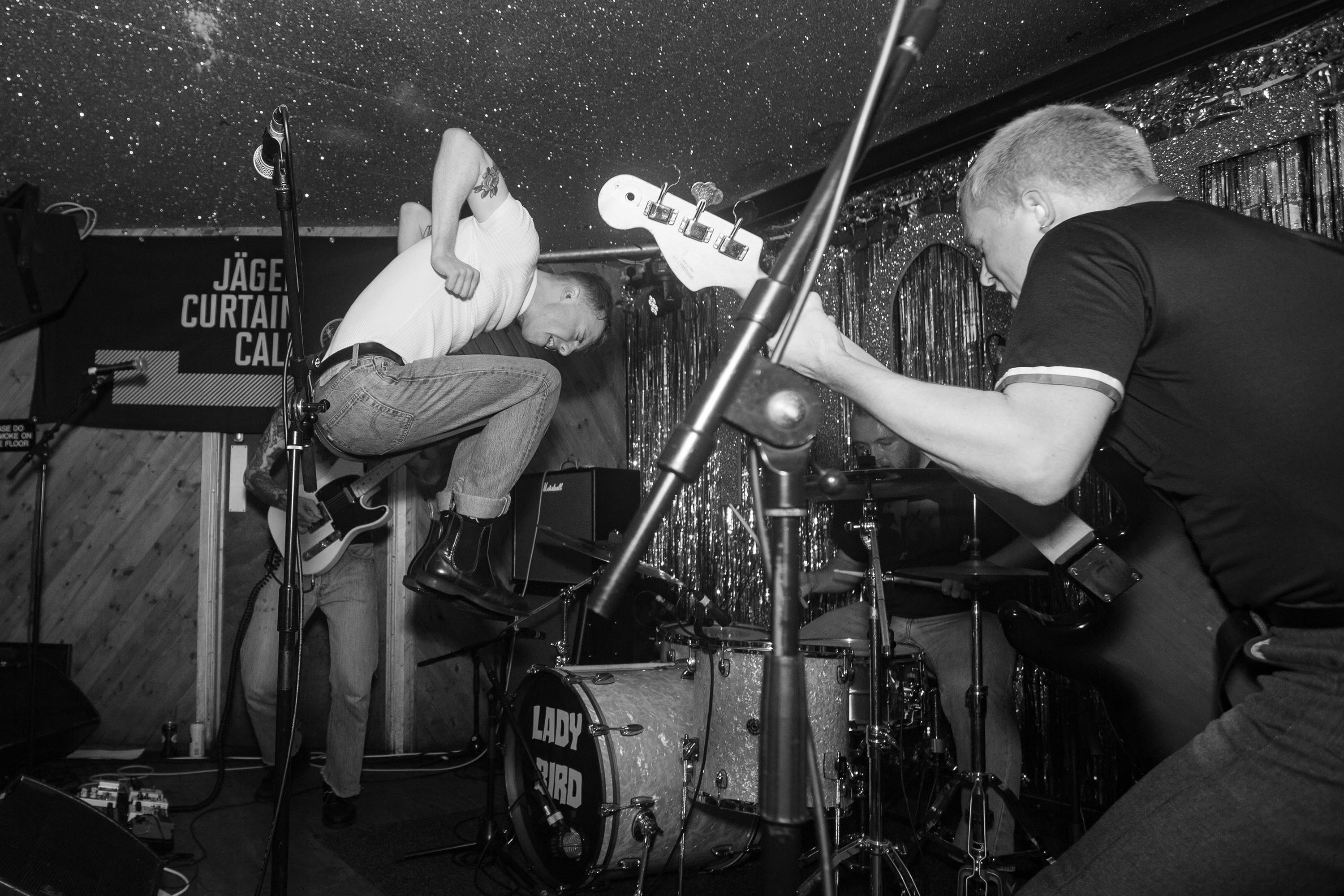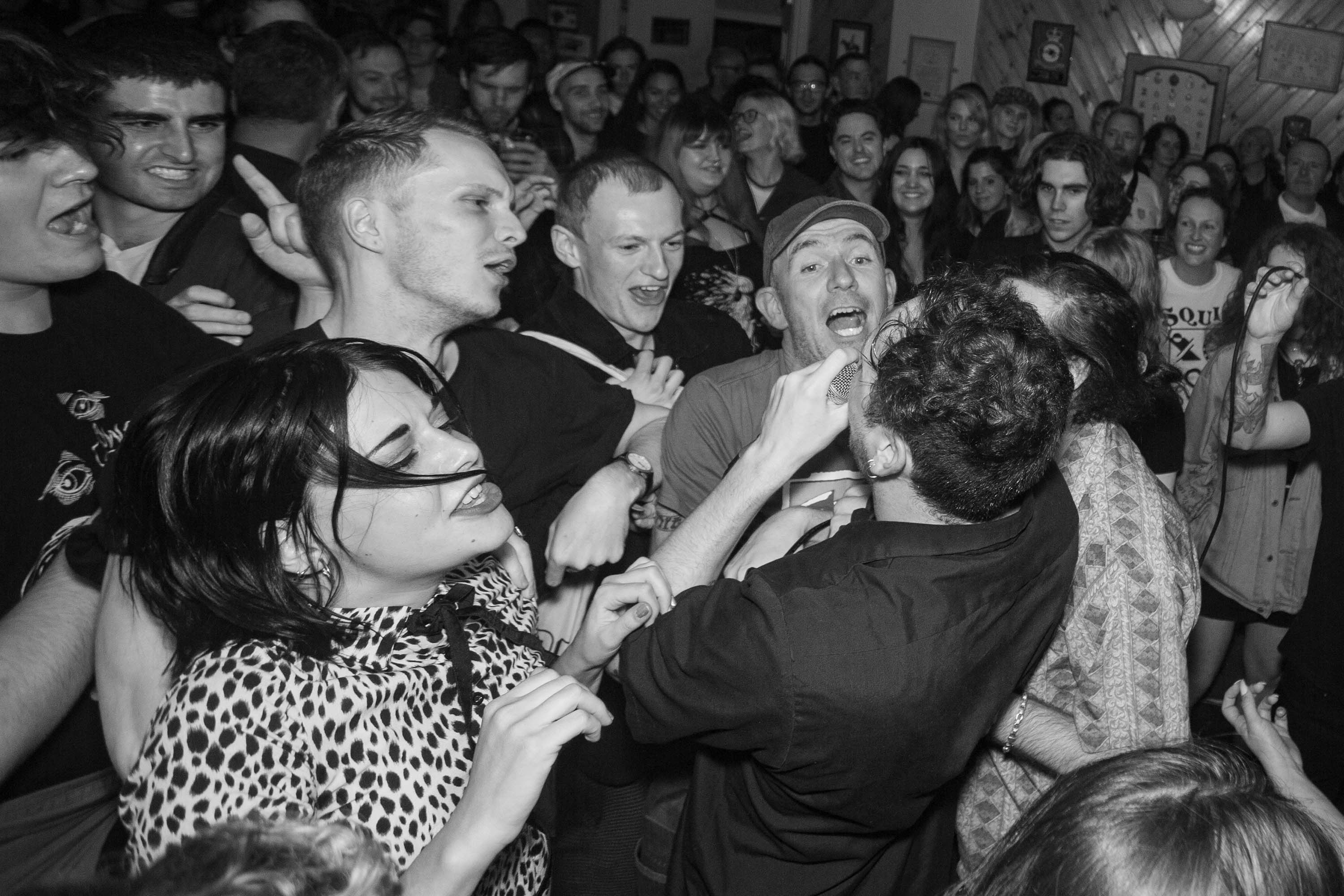 With a packed summer of festivals under their belts, a debut album currently in the works and headlining tonight's venue for Jäger Curtain Call, the momentum behind Tunbridge Wells trio Lady Bird feels like it's building by the day. Yet though the rooms are getting bigger, the band are still just as lovably idiosyncratic as ever. Tearing through the likes of early single 'Social Potions' and live favourite 'Shag Tally Tastic' – recently released as part of the Curtain Call programme – there are plenty of doses of careering punk to incite a good, old-fashioned thrash-along, but it's when they go off piste that the most special moments occur.
Midway through the set, singer Sam Cox leads a charge to the opposite end of the room so the band can play a track mic-less on the venue's piano, guitarist Alex Deadman helping out on vocals as drummer Joe Walker bashes out a makeshift beat; later, the vocalist attempts to hand out a trophy he's swiped from the dressing room. A new single comes preceded by a speech about how welcome the shift in public perceptions around mental health has become, while all three members spend the whole set sweating and visibly beaming. It's a celebratory evening, and one made all the more heartwarming because of the endearing people involved. Next stop: album time.