Neu
The Neu Bulletin (Balming Tiger, Tiña, Moaning and more!)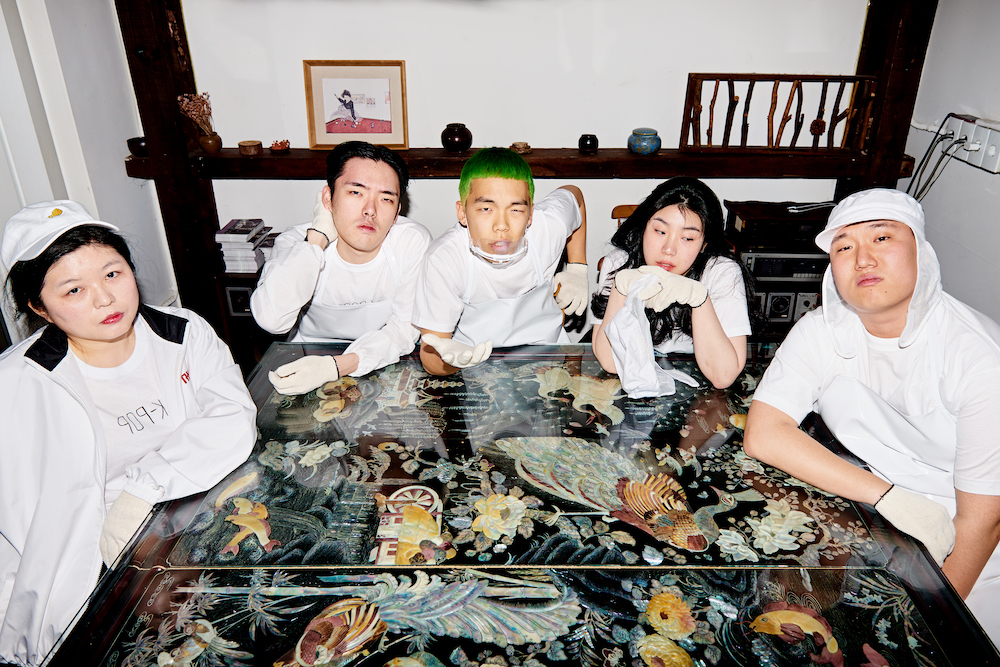 DIY's essential, weekly (kinda) guide to the best new music.
Neu Bulletins are DIY's guide to the best new music. They contain every new track by an exciting, emerging artist that's been played at full volume in the office over the past seven days, whether that's a small handful or a gazillion gems. Just depends how good the week's been. Or, you know, the month if your 2020 brain still hasn't quite settled in yet and you've managed to miss out several weeks (soz, we'll get better).

We've also got a handy Spotify playlist where you can find all the tracks featured in Neu, so you can listen to all our hot tips in one place: head this way!
Balming Tiger - Kolo Kolo
Self-described as an "Alternative K-Pop band", Balming Tiger are a multi-national hip-hop collective crafting undisputed fucking bangers. Pulling from fellow hip-hop collective Brockhampton's style of creation, the group contains not just artists, but producers, editors, and film-makers, who all band together to make Balming Tiger's unique world. And latest track 'Kolo Kolo', with its off-kilter beats and dynamic rap flows, is gonna make you want to head straight on over to Planet Balming Tiger too.
Surf Rock is Dead - Diabolik
It's very easy to find yourself in an extreme situation in New York City, and it's this idea that Brooklyn's Surf Rock is Dead explore in new track 'Diabolik'. A delightful dream-pop bop, channelling the jingly grooves of Gus Dapperton-esque artists with surf-pop edges, in the duo's own words: "'Diabolik' is a venting of those crazy roommate situations that suck in the moment, but given enough time, actually are pretty damn funny."
Power pop-punk four-piece Nectar share new self-love bop 'Blister', all about finding happiness in the small things in your life and not letting yourself get weighed down by the surrounding shit storm and being too hard on yourself. Full of upbeat guitar rips, and the kind of 90s-esque vocals that you sang along to in your favourite teen films, it's gonna be your new self-love anthem.
"'It Helped' was initially about trying to curb smoking cigarettes but with a lapse of time, it appears it could be about anything really. Could quite easily be about toe sucking. Maybe it is. It definitely is." Whatever it's about, the new one from Yakima is a haze-soaked dream bop, which (fun fact) features production and vocals of Benji Compston and Jon EE Allan of Happyness. The latest melodic taste of their forthcoming debut EP, Yakima are set for greatness. We're calling it already.
The latest gorgeous number from songwriter/producer Noah Kittinger under his Bedroom moniker, 'Gulf' is an absolute fucking delight. Crafted from those moments of honest introspection, it sounds like it's been plucked from movies like '(500) Days Of Summer' or 'Nick & Norah's Infinite Playlist', taken at that pivotal moment when a couple fall in love. Staring pensively out of a train window whilst it rains is also the vibe. AKA: Lovely.
Returning with the news that they've got a brand new album, 'Uneasy Laughter', up their sleeves, LA's Moaning have released melodic synth-strewn sizzler 'Ego'. "The lyrics are about letting go of your own bullshit to help other people. Wanting to love yourself to love others. The ego can make you feel like you're the greatest person in the world or the worst." says vocalist Sean Solomon. "It makes you think your problems are abnormally different which is isolating and rarely true. The song is a reminder that listening to other perspectives is important and beneficial to both parties involved."
Drawing influences from bands like Sonic Youth and Pixies, LA's Cuffed Up channel 90s stylings in new track 'French Exit'. Giving off a Wolf Alice 'Don't Delete The Kisses' vibe too, the song explores keeping one's identity. "A lot of us deal with anxiety in social functions but it's easy to get swept into the unhealthy act of labelling one's self worth" says singer Sapphire, "'French Exit' is kind of a love letter to all of the significant others who know the 'real' you and keep us all grounded".
The Pleasure Dome - Insane
Despite having a name which makes them quite a NSFW google, The Pleasure Dome aren't ones you should be missing out on. New track 'Insane' is a snarling post-punk number that proves this rowdy lot have got the goods. With drooling vocals and a raucous backing, that echoes those big Libertines pre-chorus chants at some points, it's an exciting glimpse into what the group will do.
Hailing from Madrid and now based in London, Naif Lips' minimalist slacker-rock debut 'Satellite' is one and a half minutes of straight Vibes. Influenced by the likes of Thee Oh-Sees, the feedback-heavy and reverb-soaked track is a sizzling introduction to the duo who you're deffo gonna start hearing a lot of soon.
Sharing their euphoric newbie, '21' is the newest glimpse into the forthcoming self-titled debut album from The Lottery Winners. An upbeat anthem about all that it means to be 21, the jangly indie bop is an absolute winner.
Perfecting their angular synth-pop, Sex Cells' latest, 'Deranged', is weird and wonderful. Lifted from their forthcoming LP 'That's Life', it's the perfect anthem to play at any odd house party you might be attending this weekend. Make sure you're wearing your dancing shoes, because this'll have you bopping in no time.
"The song 'Haunt me' is about always waiting for something to happen. The self-destructive, romantic idea of having love haunt you, rather than standing up to it." The newest lo-fi sizzler from Chrysalism - aka Michal Vojtech - 'Haunt Me' is an R&B-infused romantic ballad, which is equal parts melancholic and mesmerising.
Continuing to prove why they're one of our 2020 faves, Tiña's newest bop 'Dip' is a gorge lo-fi indie number, driven by Joshua Loftin's haunting falsetto and a jangly-pop melody. The latest release from Speedy Wunderground (so you know it's fucking good stuff), we're tipping Tiña for world domination this year.
Jaunt - Nostalgia For The Present Moment
Toronto six-piece Jaunt are diving into the New Year with the first taste of their forthcoming debut album. An endearing melodic pop bop, vocalist Tom Helliwell explains. "The title of the song, 'Nostalgia For The Present Moment', came well before any of the actual lyrics were written. However, the idea of being aware and in the moment helped to guide the overall theme of the song. It is about being open to change and how such an openness can foster new and better habits. The lyrics are a kind of post-mortem of past negative thought and behaviour patterns. It is about looking back with a sense of gratitude and calm that one no longer thinks or feels that way. It is a celebration of how we learn and change and forgive ourselves and others".