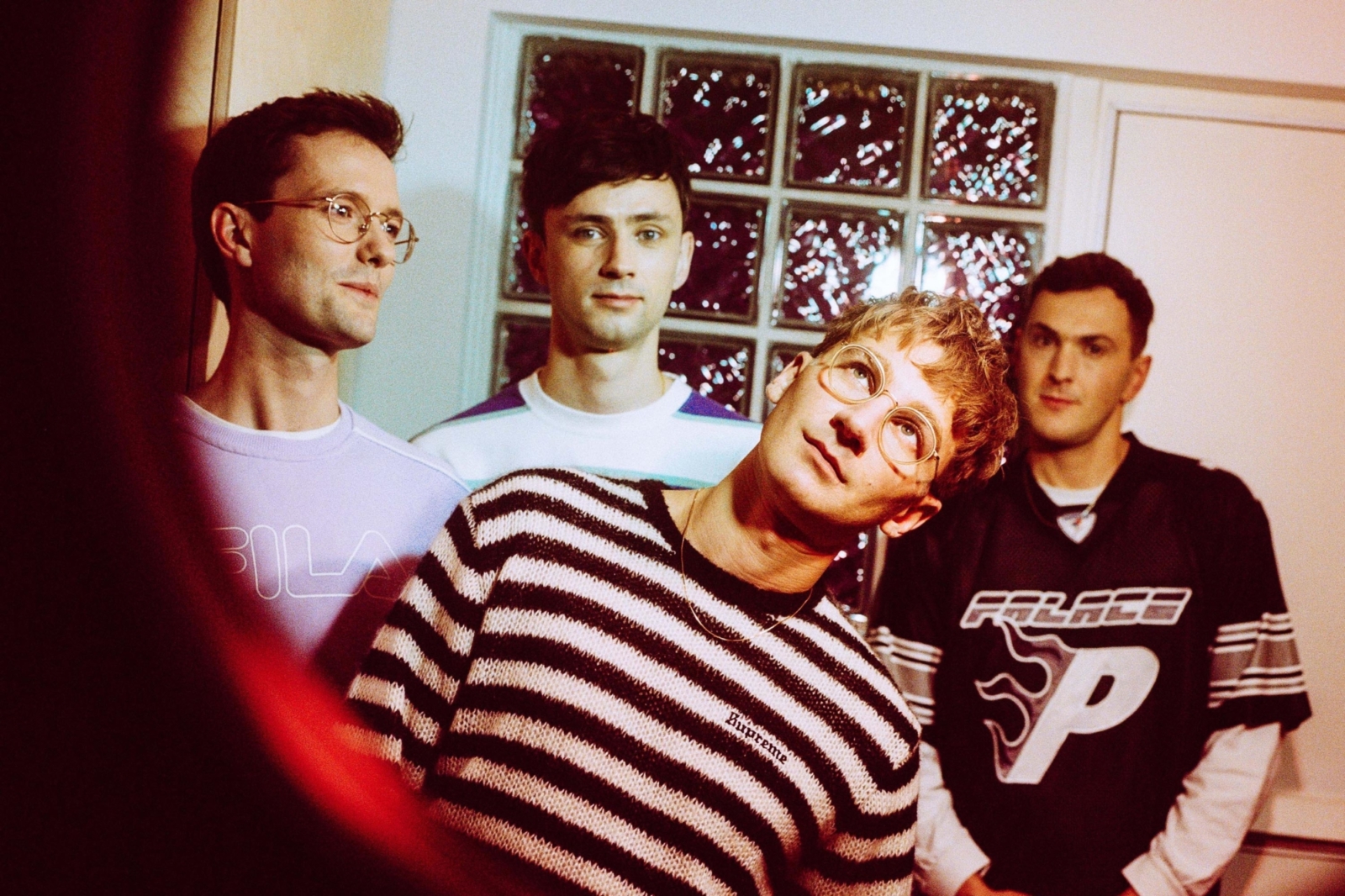 Photo: Pooneh Ghana
Interview
Animal Magnetism: Glass Animals
When drummer Joe was involved in a traumatic accident in 2018, the future seemed uncertain. But, less than two years later, the band are back with a new outlook and a renewed sense of optimism.
Dave Bayley has a lot to feel grateful for. Back in his native America, his band are about to play another night on their comeback tour, the same venues they visited on their first US trip. He's stocked up on his favourite canned cheese, and his bandmates are doing well. Life at the helm of Glass Animals is back on track, and if the hordes of fans camping outside overnight are anything to go by, they've been thoroughly missed.
"It's fucking crazy," he laughs. "We've been away for a minute, and you put tickets on sale never knowing if people will buy them. But it sells out in a couple of seconds, and you still have tons of extra people showing up on the night to try and get tickets on the door. People are so nice; we've been trying to get out there and hang out with people and thank them for camping out and waiting. It's been amazing, and really heart-warming especially for Joe's confidence. It just gets you excited for the rest of what's to come."
The successful return of a beloved band is always a special moment, but its occurrence is not always a certainty, and until fairly recently, a new Glass Animals record was looking highly unlikely. While out riding his bike before a show in the summer of 2018, drummer Joe Seaward was hit by a truck, fracturing his skull and rendering him incapable of speech or movement. The rest of the tour was cancelled, and the band were brought to a standstill at the height of their success, beginning the slow but steady process of teaching Joe to walk, talk and drum again. Against all odds, however, he's back behind the kit a mere 18 months later, learning to adjust to a new way of touring.
"He's doing a lot better, but it's still hard emotionally," Dave explains. "You just want to do absolutely everything again - wake up, go for a big run, do interviews, meet fans, do the show. It's a really long day, and he's maybe not able to do as much of that in the same way as before. You definitely realise it after the first couple of shows, and you have to re-evaluate a few things."
"Part of this new music is about realising how lucky we are, and running with that."
— Dave Bayley
This process of complete life re-evaluation has also changed the outlook of their musical direction. As the band's lead songwriter and producer, the singer was already working on new ideas for another character-driven record when the accident occurred, sharply altering his lyrical perspective.
"I've always liked quite conceptual projects, and I did have a theme in my head for this new record; it was all about happiness and how that manifests," he explains. "But then suddenly, Joe was in the hospital. I obviously spent a lot of time there, and you're worried and exhausted and surrounded by a lot of dark things, and it makes you feel very reflective. You think about all the mistakes you've made, all the shitty things you've done… I think that's when the more personal approach started. I just started asking the questions that I asked of people on the last record about myself a bit, and this new record has evolved to become more introspective."
Looking inwards hasn't compromised any of the band's trademark upbeat sonic energy. Latest single 'Your Love (Déjà Vu)' is a slinky, slippery number that sits comfortably among their best work, summoning early '00s R&B to craft something that feels effortlessly Glass Animals. Once again finding himself drawn towards the personal, its origins began from his work outside of the band - producing songs for a range of pop and hip hop artists including Joey Bada$$, Flume, 6lack and Suzi Wu.
"I had it as a beat first. I was working with Suzi and it was an idea I had with her in the back of my head," he explains. "With writing for other people, you're able to write quite powerful stuff but be removed by one degree. As a Glass Animals song, it's pretty dark; it's about being in a relationship with somebody who you know is just going to rip your heart out over and over again, but you're kind of addicted to the pain of it. It doesn't necessarily need to be a romantic relationship - it can be a mate, or a family member. I think a lot of people have those relationships with family members, or grew up in a chaotic household and find a weird comfort from trying to repeat that environment in later life…" He pauses. "Maybe I'm looking too far into it!"
"This new record has evolved to become more introspective."
— Dave Bayley
To combat his tendency for overthinking, Dave has built a brand new character for himself. Introduced to the world on 'Tokyo Drifting', the band's 2019 single featuring US rapper Denzel Curry, Wavey Davey has become his new alter-ego: the alpha-male he can rely on in a crisis.
"My regular body is that of a skinny, scrawny, blond Jewish child, but Wavey Davey has grotesque fitness levels," he says. "It's just a confidence thing - I'm a pretty shy person, and I do find being on stage a bit awkward sometimes. The only way to really shake that is to pretend to be somebody else; it kind of doesn't matter what you do when you're in that persona, because you can blame it on that person. There's also the thing of handling more production work outside of the band. There's a lot of meeting new people and working with them quite quickly, so you have to try and be a baller."
No such baller bravado was needed in the studio with Denzel, who Dave hit it off with immediately. "We just connected on all the late '90s / early 2000s culture: we grew up in America at the same time, we've seen all the same movies and cartoons, we've eaten all the same food," he enthuses. "I find that when you have a bit of a shared background in some way with somebody, that's when the best things happen.
"I don't think we'd ever let anyone else be on a Glass Animals album, but that track will probably make it - although I'm not really supposed to be talking about the album yet…" he notes. "We're doing a couple of shows together, and we were going to do a couple of festivals together too, but with this coronavirus I don't really know what's happening with festivals now. I love being alone though, it's a good excuse to sit in the studio and make some noise. I might get six albums out of this…"
But whether the result is six albums or one, Glass Animals are just grateful to be back in the saddle once more. "I do feel incredibly lucky to be able to keep doing this," Dave agrees. "Joe's accident… we thought it was done. But part of this new music is about realising how lucky we are, and running with that.
"We'll see what comes," he continues, "it could still be an album of weeping! I really try to write sad songs, but I always get distracted by a funky beat. But then that's kind of what all great songs do. If you listen to Motown or Northern Soul, it's all really fucking sad, but then it'll have this heavy-ass beat. I've always liked that juxtaposition. It'll be a record that is definitely introspective, maybe even sad in places. But overall, it's something very optimistic."