Interview
The Renewed Fellas: The Cribs
After nearly three years of hell, the Jarmans are back with new album 'Night Network' – and you've got Dave Grohl to thank.
"Me and Gary were stranded in Wakefield, and there was a commercial park that had a coffee shop on it where we'd go every day to discuss what we were gonna do. There were so many times where we'd be sitting there and one person would be like, 'I'm not doing this anymore. I'm out of the band. I'm out of the industry'," recalls Ryan Jarman. "And I was like, is this how it's all gonna end? I can't believe all this work we've done and this is what it comes down to: the fact that someone left in a coffee shop on an industrial estate."
Last seen landing straight into the Top 10 with their Steve Albini-produced 2017 LP '24-7 Rock Star Shit', before playing a smattering of festivals the following year and then disappearing for the longest time in their nearly-20 year lifespan, there's a jarring disconnect between the band that came out all-gun- blazing in pursuit of their DIY-spirited ideals on that record and the band that lay somewhat broken a couple of years later. By all accounts that album – which was only announced a fortnight before its release and purposefully promoted in a low-key, fan-orientated way – surpassed all expectations. "When it first came out, it was at Number One in the midweeks which was just insane," continues brother and bassist Gary. "It felt like a real moral victory and a cool thing to have done." But by the end of the week, as the corks should have been being popped on a job well done, the band were unexpectedly dropped by their longterm management, and thus began a period of endless hurdles, potential financial hammer-blows and the kind of rollercoaster industry experience that only really tends to happen in cautionary tales.
"It did come to the point where the odds were insurmountable, and there were various times during that whole period where not only was it incredibly stressful but it was so disillusioning that it would have been easier for us to cut and run basically," Ryan says. "We started self-managing and took a proactive approach," explains Gary, "but when we got in touch with our lawyers and started looking at the contracts, that's when it all kicked off…"
"When people know you're a principled band and you're not all about the money, that's when you get taken advantage of."
— Ryan Jarman
To cut a long story short, The Cribs soon found out they'd been royally fucked by some shady goings on from the early part of their career. Slowly uncovering various "sub-deals and licenses, different parent companies", the upshot was that, unbeknownst to them, the band no longer owned the rights to a lot of their music.
"It's all 2000s stuff from when we were kids, from the first few records of the band when we were so busy on tour that we got taken advantage of a little bit because they knew we weren't in any way interested in the business side of stuff," Ryan says. "When people know you're a principled band and you're about the music and you're not one of those rock stars who are all about making money, that's when you get taken advantage of – they see you as wide-eyed and enthusiastic and that's how and why it ended up happening to us I think."
Now based in Portland, with Ryan out in New York and drummer Ross still in Wakefield, Gary remembers the time difference meaning that he'd be up taking 3am legal calls, attempting to right the wrongs. And, as well as proving an enormous drain on time, energy and resolve, the case also meant they couldn't really do anything else. "We couldn't sign a new deal because we were contesting the ownership; we couldn't release any music, and you don't wanna tour because if you're touring you're essentially promoting a record that's owned by someone you're at odds with. So we couldn't work," he recalls. "It's such a cliché and that was also a frustrating thing – are we really one of those bands where we've had this element to our story?"
Then came a period of hope. "We got the rights back, and then we had a deal on the table with a major label which was really exciting," continues Gary, "and then the rug got pulled out from under us again because we found out there were other people claiming rights to our catalogue." "We'd never even heard of these people; we had no idea they had anything to do with us in the past," Ryan notes. "So we had to build another case. Then from September [2019] to February, we did it again, and by that point it was just soul-crushing."
"Dave Grohl was a hero to me and my brothers, so to have the offer to go and record out there was the light at the end of the tunnel."
— Gary Jarman
If theirs is a terrible tale to happen to any band, then it seems particularly galling that it happened to The Cribs: a group who, from the beginning, have railed against the fakes and phonies of the industry and attempted to carve out a new, more grounded way of being a big band – one where, as they gleefully told us around the last record, you could be "the first band to headline Leeds Arena and still show up in a van".
Yet, though all their formative suspicions may have been proven horribly right in one capacity, there's an unlikely hero to this story that comes from an equally ingrained place.
When the Jarmans were teenagers, back in 1997, their deep-seated love of Nirvana had led them to go see the Foo Fighters at Leeds Town & Country Club (now the O2 Academy). Gary animatedly recalls listening over and over to that year's 'The Colour and the Shape' LP beforehand, hyped for their first proper, big rock show. Cut to just over 20 years later and 45 miles further south west, and it would be the same band and another rather large rock show that would go on to save them.
"We played Manchester Stadium with Foo Fighters and, because we'd never done a stadium show, we had kind of earmarked that as potentially the last show [for us]," remembers Ryan. "So we did that and we were hanging out with those guys, telling them about some of the stuff we were going through, and Dave was like, 'Oh fuck all that stuff'." "'The business will grind you down, forget about all that. If you can get out to LA, you're invited to come and use our studio, make a record and get back to what it is you're supposed to do'," Gary continues. "And that sounds like a really simplistic thing, but it did give us clarity – Dave was a hero to me and my brothers, so to have the offer to go out and do that was the light at the end of the tunnel." "When we went in to do that show we were in a frame of mind that was so disillusioned with the industry, and we came away from that show thinking there are a lot of good people involved," Ryan nods. "We'd just seen Foo Fighters play to 100,000 people in a stadium and it made it look like the good guys were winning."
And so, while in the background the legal battles raged on, the trio began to knuckle down to the real work again, using their increasingly frequent time spent together working things out in the UK to create what would become seventh album 'Night Network'. And, rather than being beaten down and embittered by their struggles, The Cribs realised that finally being allowed to be musicians rather than amateur businessmen again was the most liberating gift of all. "For me personally, I'd spent so much time with my head in the books that when I was working on the record it was such a pleasure," enthuses Gary. "I think that's why I'm so proud of this record, because it's totally unaffected by it. We wanted it to be a positive record, and really exciting and free-sounding. There was a freedom that we're privileged to do this so we should just embrace it as much as possible."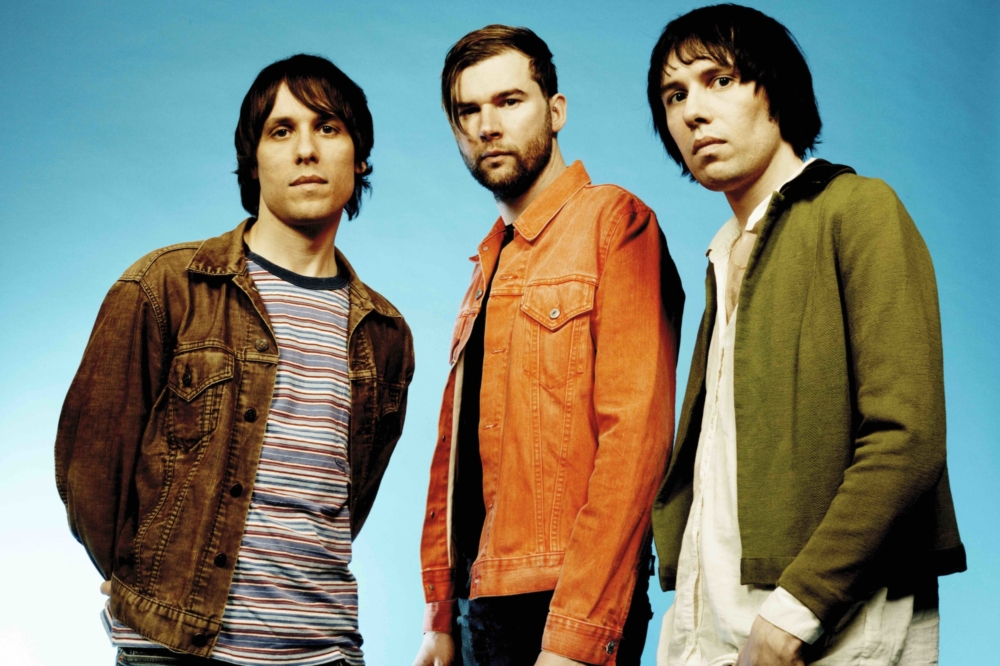 "There were times when it was so disillusioning that it would have been easier for us to cut and run."
— Ryan Jarman
The first audible taster of that freedom came last month with the soaring air-punch of 'Running Into You' – about as classic a slice of victoriously pure Cribs as they come. "'Running Into You' was the first song that we finished for the record and it was one of those songs that writes itself; it was written within half an hour," Ryan remembers. "'Men's Needs', 'Another Number', 'Mirror Kissers', 'Come On Be A No-One' – they came out of nowhere so you don't remember the work process, all of a sudden they're just there," Gary says. "You listen to them almost like a fan, and 'Running Into You' was one of those kinds of songs. It was written in the time it takes to play it, essentially."
Releasing the album this November through their own subsidiary label Sonic Blew and [PIAS], with all their music rightfully returned to them and feeling "really in control of things", the band might have had the worst run of bad luck out there ("We'd just got it all sorted out in February and then the pandemic occurred; it was like climbing the mountain and then getting kicked off the peak," sighs Gary with the kind of wry laugh that only comes from having gone through the wringer more than your fair share of times), but now everything is finally aligned to allow the Jarmans some truly hard-earned redemption.
"Ever since we started, we've been constantly in the cycle of writing and touring, and all these problems we faced meant we were basically put on an enforced hiatus that we couldn't do anything about. But as frustrating as it was, it did us a lot of good in terms of really wanting to do it with passion again," Ryan grins. "We've been so present ever since we started, but we realised that people did notice we weren't there and wanted us to come back," Gary nods. "It was nice to be missed."
'Night Network' is released 13th November via Sonic Blew/ [PIAS].