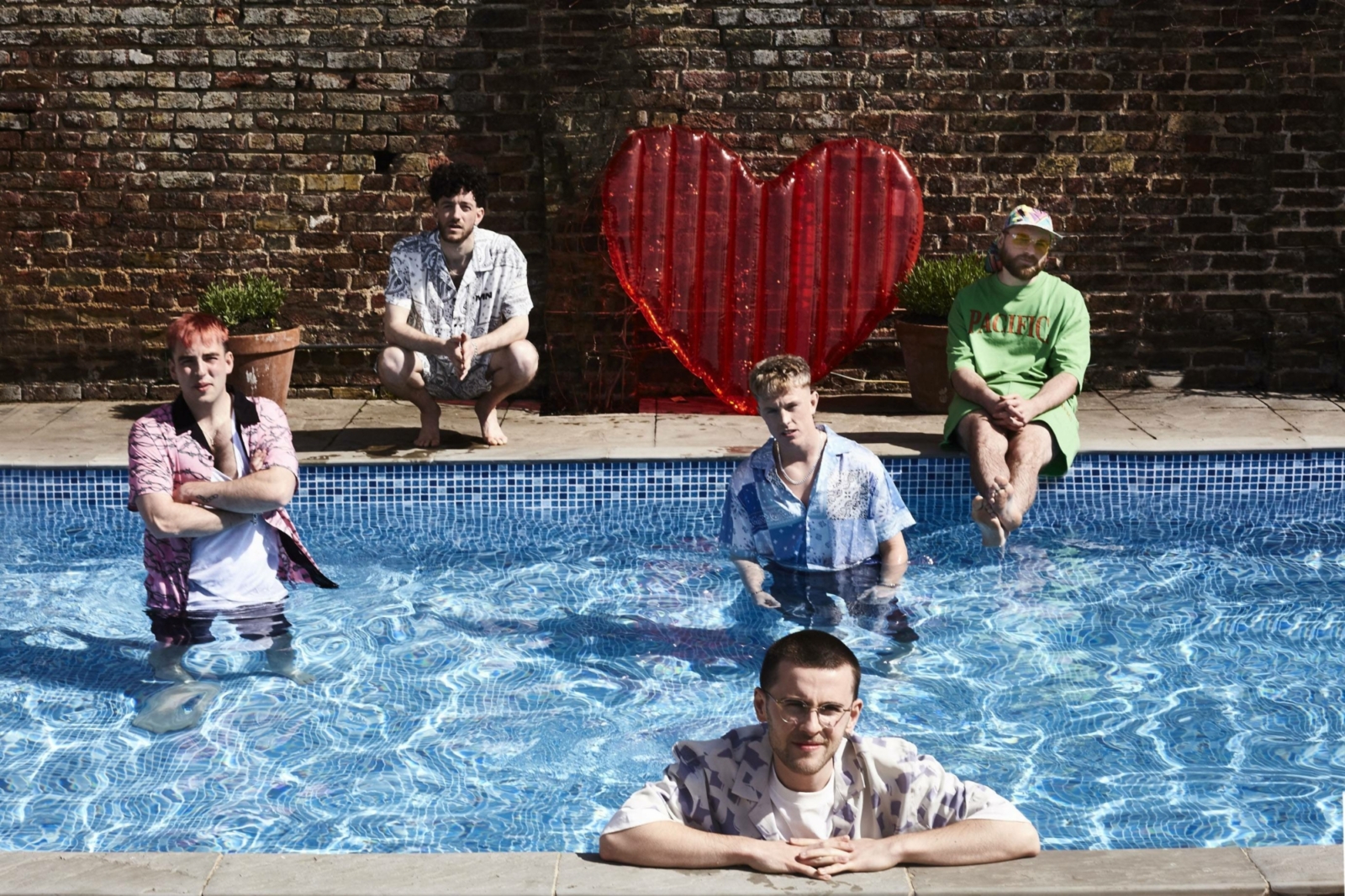 Don't Fight It, Feel It: Easy Life
From selling jacket potatoes to fronting the UK's biggest cult band, Easy Life's Murray Matravers has taken an unusual route to the top. Debut 'life's a beach' proves it was worth the wait.
Murray Matravers has a mantra for the success of his band Easy Life: don't try too hard. As he explains with equal parts glee and flickers of shame, most of the band's formative moments have come in the form of happy accidents, trusting gut instinct and spur-of-the-moment decisions over meticulous planning and torturous self-examination. As for a potential band motto, 'Go with the flow' wouldn't be too far off.
"Try less hard, that's the only way I can write good music," the frontman reflects ahead of the release of their widely-anticipated debut album 'life's a beach' this month. "Unless the song came instantly, it never made the album."
Growing up on a cattle and sheep farm on the outskirts of Loughborough in Leicestershire, it was Murray's older brother who first nudged him towards a life in music. Looking up to his sibling - six years Murray's senior and his best friend to this day - Murray tentatively started playing the piano at a young age, before getting his first drum kit.
With no prospect of angry neighbours, he was given ample space to thrash about. "I'd just stick it out in a garage somewhere on the farm and I was content," he recalls. "That was a big part of my musical upbringing - the ability to actually have a drum kit. A very shit drum kit, but it was great at the time."
Murray describes his parents as "salt of the earth" and strongly environmentally-focused; their family farm is entirely organic. Growing up, he had no access to television or video games, and still doesn't touch social media ("I don't believe that that's important to me"). He only bought his first smartphone recently, meanwhile, when the need to access emails for band-related activities necessitated it.
"That was the way I grew up, and because of that environment, I had a lot of time on my hands compared to my mates who would play Call of Duty all the time," he says. "So I'd just be bored. That's why I wanted to play the drums or bash on the piano. I still kind of only write music when I'm bored."
As well as their philosophical impact, his parents also had a deep effect on him musically, and their respective tastes can easily be put together to resemble something close to the sound of Easy Life. While his mum blasted the huge choruses and sugary pop melodies of ABBA and the Bee Gees around the house, his dad's influence - classical music and jazz - represents the leftfield-leaning elements of the band Murray would later go on to form.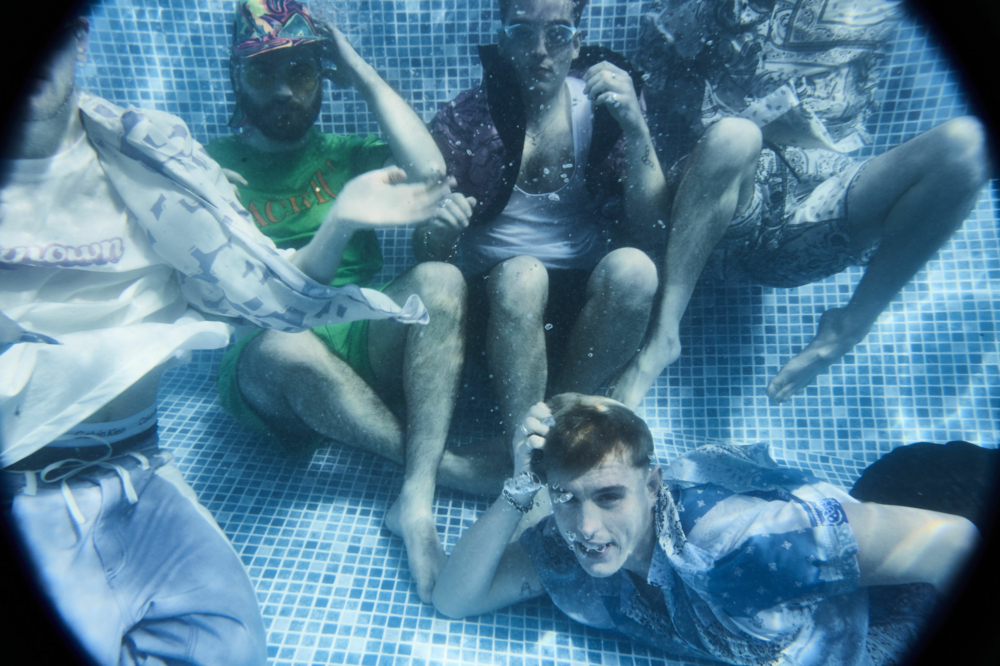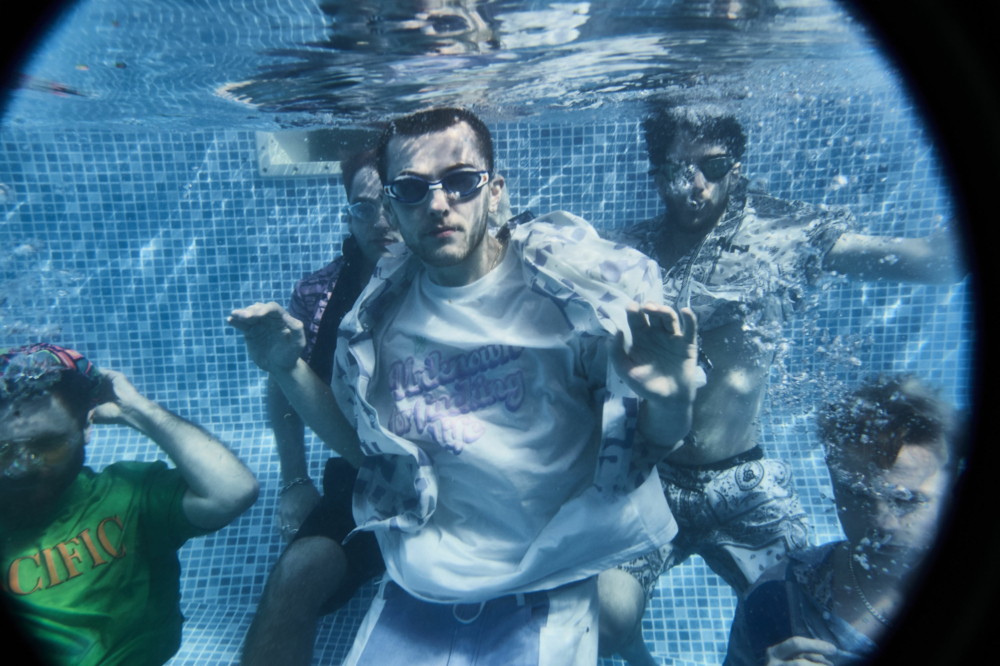 "
I'm totally insecure about everything we do, and that's the greatest gift ever.
— Murray Matravers
Welcome to LES-TAAAAH!
It's only fitting that Easy Life wrote 'Life's A Beach' from the UK city that's geographically furthest from any coastline. After slagging off his hometown in a number of previous interviews, an older, wiser Murray wants to say sorry to the jewel of the Midlands.
"I think I gave it a bad sell. I often say in interviews that Leicester's so shit, and that's why it's great, but as I'm getting a bit older and wiser to throwing dirt on the place, I want to say that I think it's a good place. A good part of the world. Anything goes in Leicester!"
After leaving school at 18, Murray was faced with a decision similar to many British teenagers his age - choosing whether to take a punt on a university course or make his own way down a different path. "That whole time, for the next three years, I really just didn't have a fucking clue what I was doing," he reflects, having waved many of his friends off while deciding against enrolling himself. "And I see that in everyone that leaves school. Whether or not they go to uni, no one has a fucking clue and it's a really difficult time in people's lives. Damned if you do, damned if you don't."

In the intervening years, with his friends spread out across the country, Murray worked as the manager of a milkshake shop ("The whole place closed down because I was the worst manager ever…") and sold jacket potatoes at Leicester Market. The latter job, which he held for three years, was "a world I understood," he says, after a childhood of traipsing after his parents to farmers' markets across the region.

"That whole time I lived in Leicester, I had no fucking money," Murray remembers. "Don't get the violins out - it's not a sad story at all - but it's just what happens when you leave school in the UK. I was still doing music and still trying to make it work, but because I was so hard up, I used to get fucked up all the time.

"I was trying to write a big song, because I thought that if I wrote a massive pop song, then people would give a shit [about me]. I wasted two years trying to write a song for someone else. Trying to write a song has never been good for me, but at the time I hadn't lived long enough to understand that. Those years will never come back; I was wasting my time and going nowhere."

Aged 21, it was when his friends returned home to find him still working at the market that acted as an unwelcome but necessary jolt for Murray. "I started to get fed up, and started hating music and not wanting that anymore," he remembers. Discouraged, he began to apply for jobs in the military, seeing the opportunity as "a way to get away from England".

And then just when he was about to give up on his musical dreams, the frontman wrote 'Pockets': Easy Life's breakthrough hit. Working with childhood friend Rob Milton - the frontman of Nottingham indie band Dog is Dead, who had just been dropped from a major label deal - the pair bonded over a frustration at falling short of their dreams and penned the song with a "fuck it" attitude. Once again, it comes back to Murray's recipe for success: after busting a gut to try and write a hit for years, it was only when he essentially stopped trying so hard that he hit gold. "Easy Life came out of the despair of going nowhere," he notes.

With the momentum of a first song behind him, Easy Life then officially formed while, as Murray delicately puts it, "absolutely steaming" at a Horse Meat Disco night in Leicester. At the night, the band - Murray, drummer Oliver Cassidy (aka Cass), bassist Sam Hewitt and guitarist Lewis Berry - asked "local legend" Jordan Birtles, who was notorious in the city's music scene as a member of local reggae band By The Rivers, to join Easy Life as percussionist and multi-instrumentalist, and the band we see today was born.


"
Easy Life came out of the despair of going nowhere.
— Murray Matravers
Since 'Pockets' landed at the end of 2017, Easy Life have slowly and organically become one of the UK's biggest cult bands. Based out of their Leicester studio HQ, and defined by hugely fun, uninhibited live shows and music that traverses R&B, pop, house and jazz, the five-piece are a product of their generation's genreless attitude, with no idea off the table.

Across three mixtapes (2018 debut 'Creature Habits', 2019 follow-up 'Spaceships' and last year's Top 10-charting 'Junk Food'), the band have slowly honed their sound, bringing together the cheekiness of Jamie T with sunny sprinkles of jazz instrumentation and languid, beach-bound pop songs.

Via huge crossover hit 'Nightmares', which soundtracked a pivotal moment in Michaela Coel's stunning BBC show I May Destroy You, Arlo Parks collaboration 'Sangria' and more, Easy Life have gathered a set of songs more than capable of creeping them up festival line-ups towards the top of the bill - something that will surely await them upon the release of debut album 'life's a beach'.

A defining part of the band's sound is Murray's distinctive voice, a velvety speak-sing that's as much a rap as it is a pop vocal. As he explains, it came about as another example of working within his limitations. "I could never be a singer like Aretha Franklin or Bill Withers or something," he says. "My music teacher in primary school would always say that anyone can sing, and I've carried on the company line! Anyone can sing!

"I just sang because I liked to write lyrics and singing was the only way of getting those lyrics out," he adds, his love of rap and poetry leading him to "just speak" the lyrics he was writing. "It's another happy accident I guess," he grins. "Once again, not trying so hard seems to be the only thing that works for us."

Another key to the band's dramatic rise has been their fervent and ever-swelling fanbase, who follow Easy Life around the country on tour and sprinkle their shows with flags, inflatables and every kind of colourful ephemera.

"We are a live band, that's our forte," Murray confirms. "That's a thing we can do better than other people. We sell more tickets than we should really, I think. Bigger recording artists don't do as big shows as us, and that's because our fans are hardcore. They just wanna party with us, and we wanna do that same shit with them. They make it so sweet."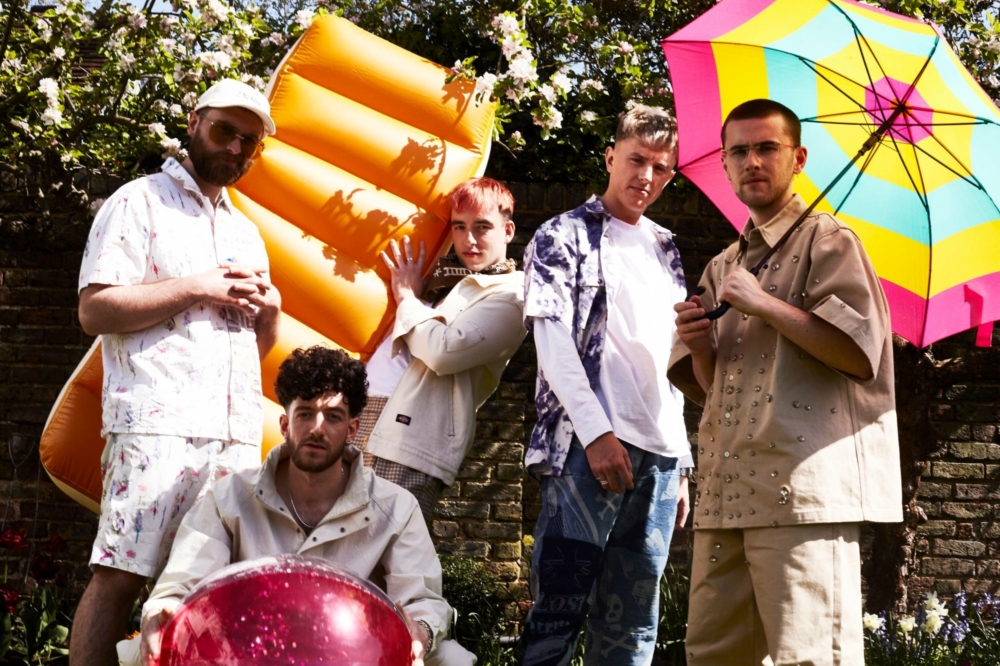 "
[My lyrics are] like hearing your mate talk to you.
— Murray Matravers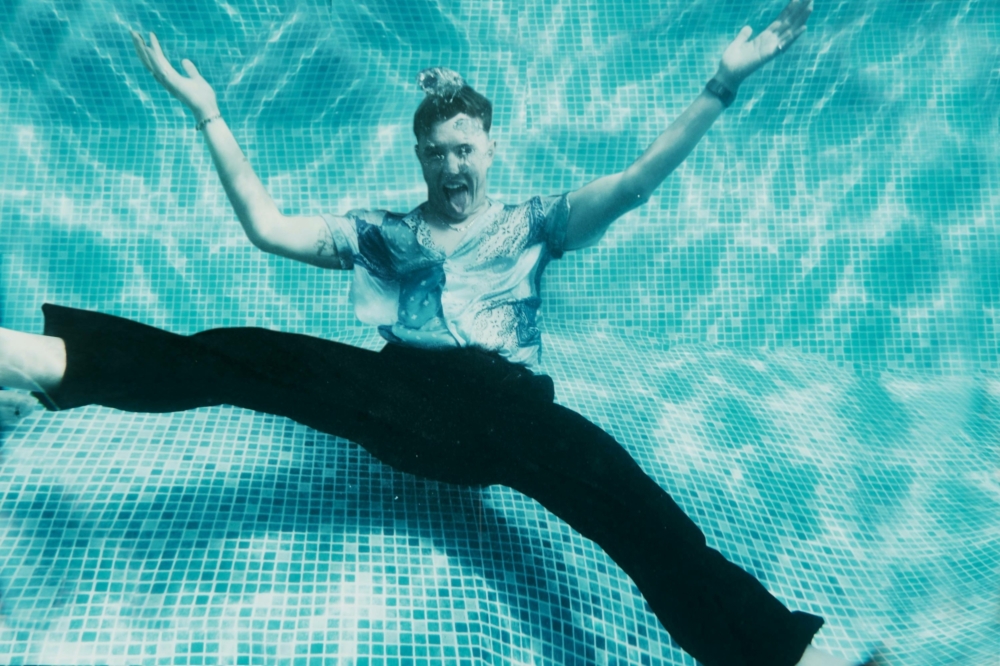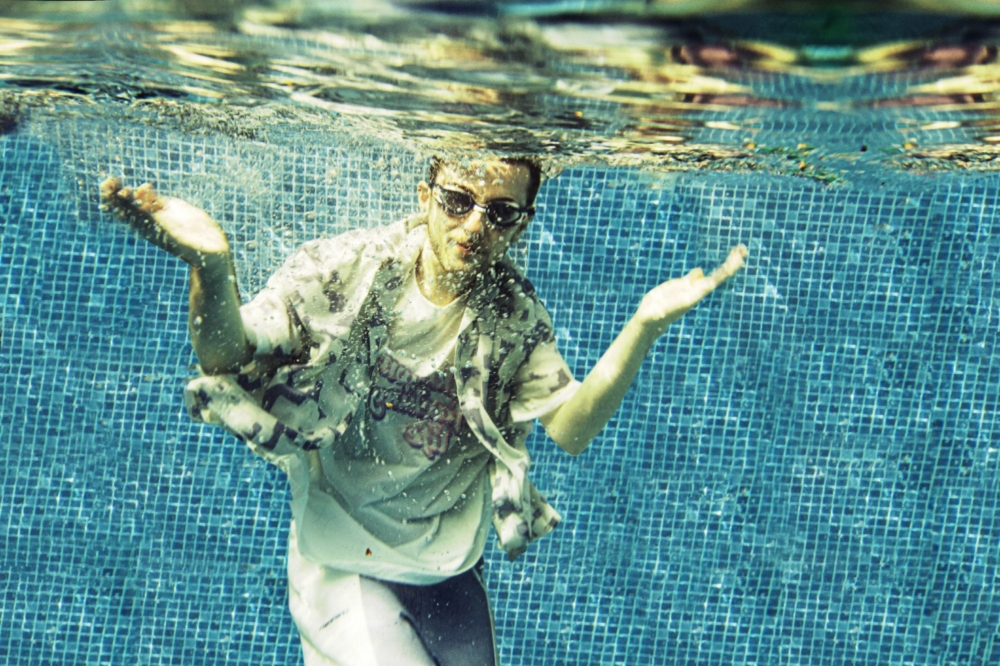 If Easy Life's first three years marked them out as a superbly fun prospect, then debut album 'life's a beach' is set to confirm that they're also a very important one. Though Murray consistently plays down the gravitas of his band - "I'm just a glorified entertainer that's been put on a pedestal by some people" - there are moments on the record that will undoubtedly resonate with their fans and beyond, chiefly opening track 'A Message To Myself'.

Written as a pep talk to himself to forget his detractors and keep moving forwards, the self-help mantra opens 'life's a beach' with a defiant message on mental health as Murray tells himself to "stay focused, stay hopeful". Though written as a selfish exercise, the openness and frankness with which the frontman tackles his problems and puts them to tape makes sure its ripples will travel far further than that.

"'A Message To Myself' is a really important song for me," he says. "It was just for me, and I wrote that in about half an hour and never thought anyone would like it. It's a message saying, 'You can fucking do this. Celebrate your flaws'.

"I'm glad it helps other people, but I did do it for myself," he continues. "I read a lot of autobiographies for that reason, because if I read about someone else's life, I can draw parallels with mine and then it'll help me. It's the same with the music: if you listen to me do my thing and struggle with my shit, it might help you through yours."

Alongside raising visibility for vital issues, Easy Life's debut also vibrates with a refusal to take itself too seriously - an idea that's at the very core of the band and Murray's whole life. "I'm totally insecure about everything we do, and that's the greatest gift ever," he says. "I'd hate to take it too seriously, and I don't think we could. From the start, we were just blagging it. When we got signed, we thought it was actually nuts, and it still is now. It's completely ridiculous. Obviously we take the piss out of ourselves, because what the fuck! It's a joke!"

Across 'life's a beach', the band take the joke to deliciously vibrant sonic plains. 'Ocean View' places Murray's voice next to spine-tingling, pitched-up backing vocals while he sings of "working on my tan lines," while 'Lifeboat' circles around an aching, autotuned vocal and the restrained 'Compliments' feels cut from the same cloth as Frank Ocean's melancholy masterpiece 'Blonde'.

Then there's lead single 'Skeletons' - an electric, party-starting house track that will define festival season when it finally arrives. Despite being convinced that their status as the UK's next crossover success is all a big wind-up, the band do a perfect job of ensuring that they'll make it to the next level regardless.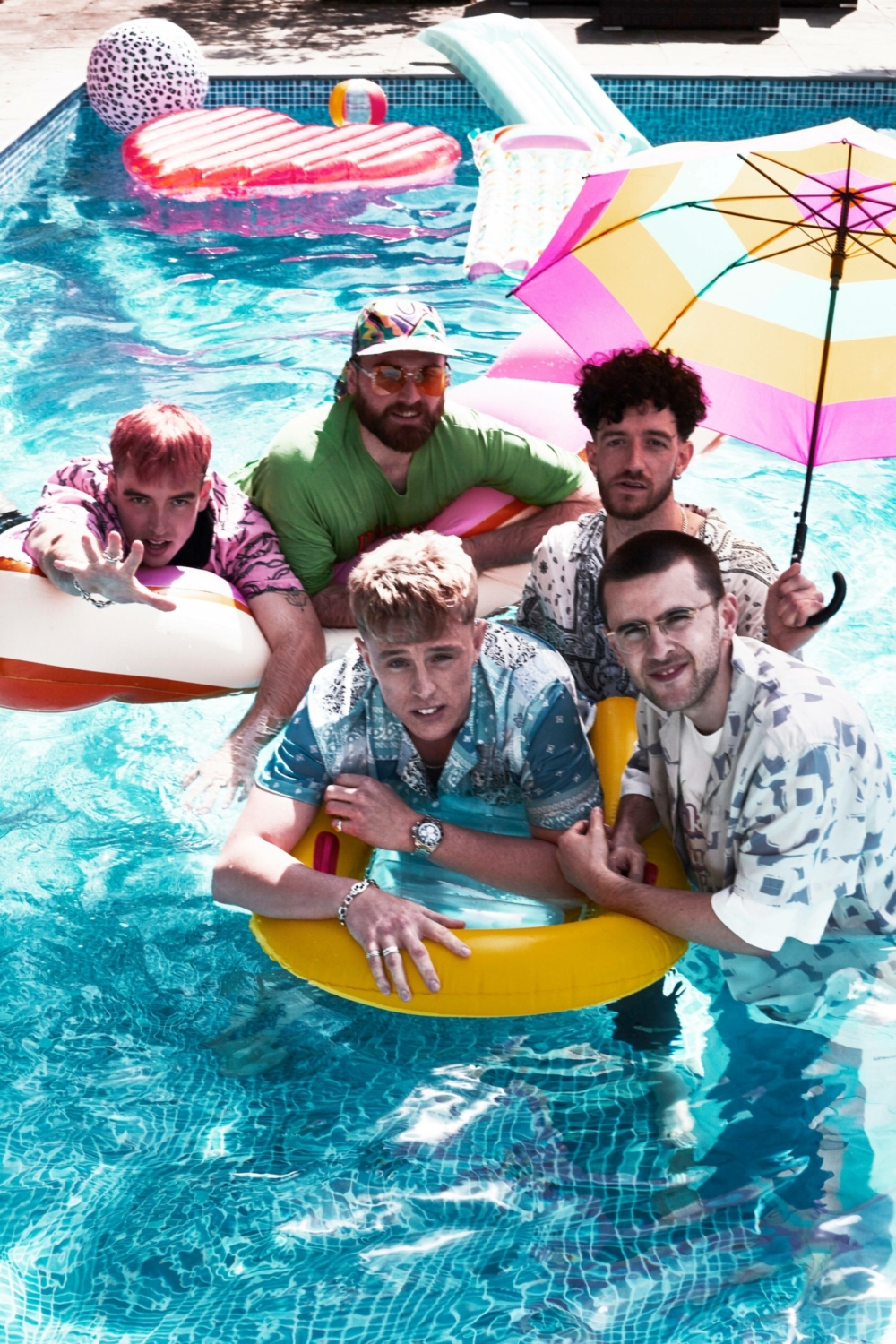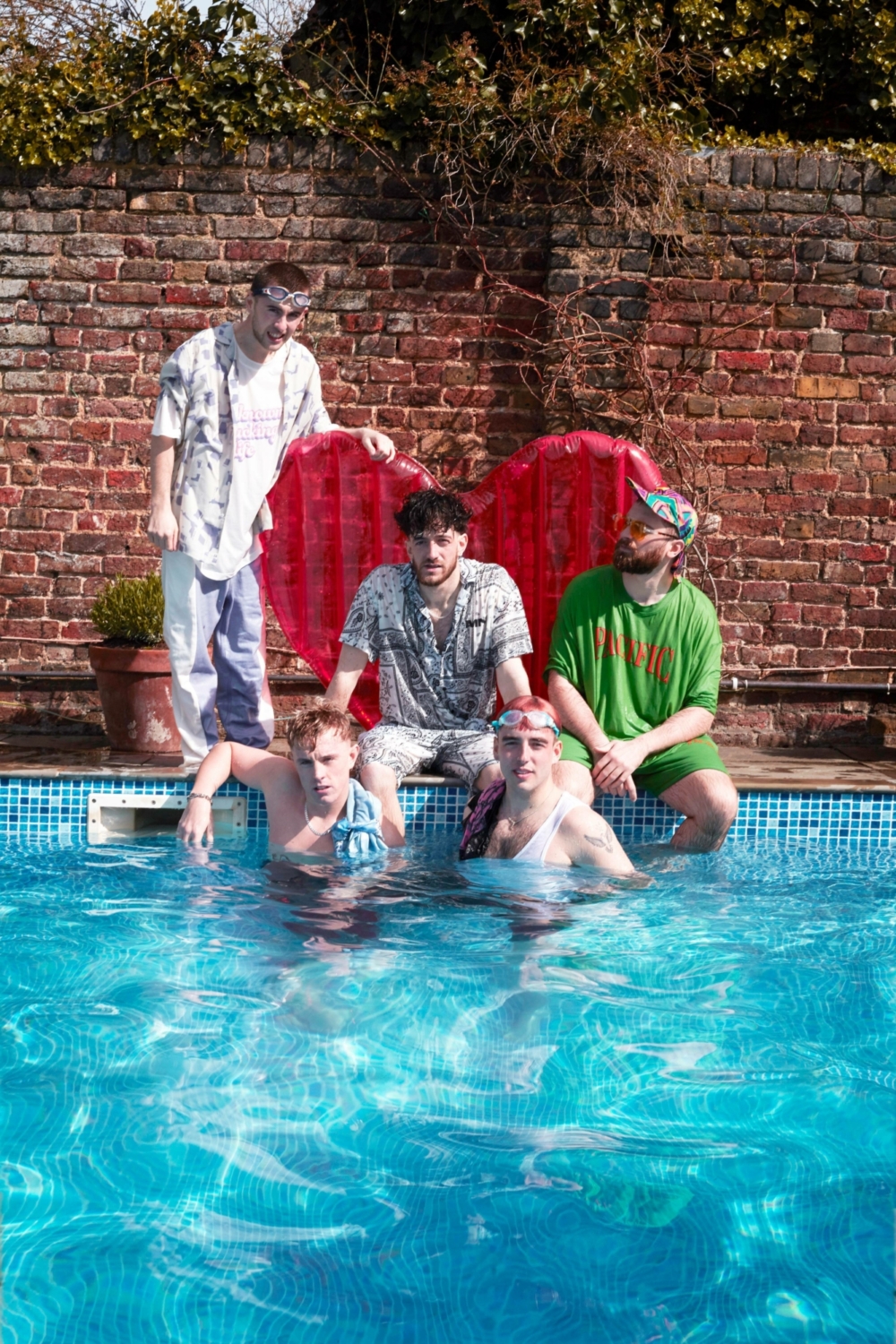 "
I love just going on stage and getting my kit off and going mad.
— Murray Matravers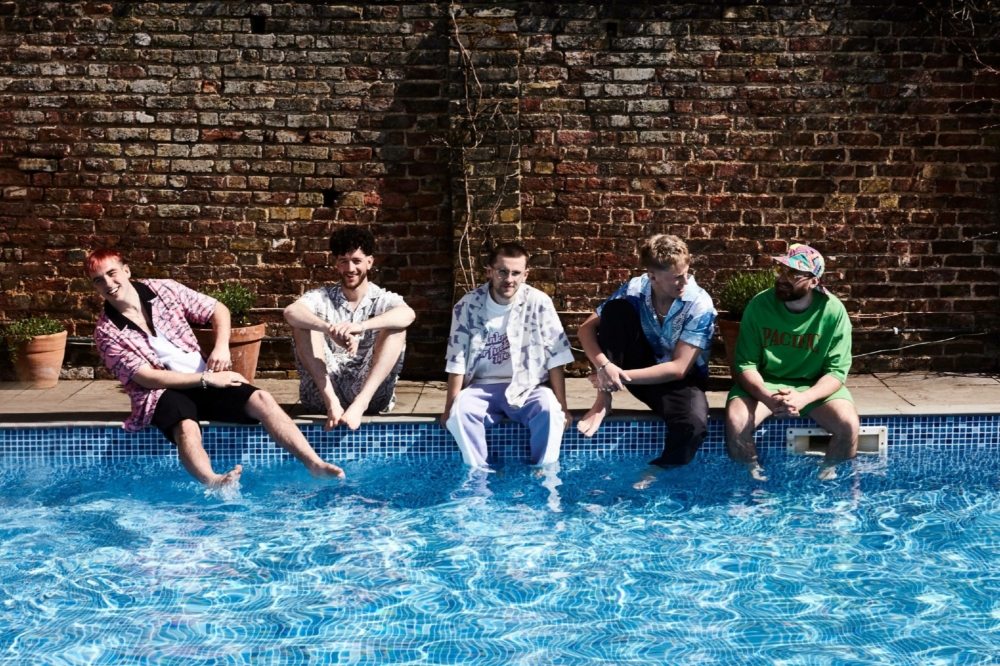 "We're the most unlikely pop stars ever," the frontman grins. "It's all a very elaborate joke that's got out of hand. I'm definitely not the best songwriter ever. Definitely not the best singer. Definitely just here for a good time. I love just going on stage and getting my kit off and going mad. I love that shit, it's so much fun.
"I know for a fact that I will never take myself too seriously, because that's just who I am. I don't think most people do to be fair," he adds, distilling the appeal of Easy Life down to its core. They're five mates who are still blagging it, carrying on with an open heart and self-deprecating humour, and rolling with the punches of what life can throw at you. As an audience member who's also flawed, messy and prone to mistakes, seeing that reflected on stage is more powerful than it's given credit for. As Murray says, "[My lyrics are] like hearing your mate talk to you".
At the end of the album sits 'Music To Walk Home To', a spoken word track that sees Murray monologuing about the walk home from a messy night out of "cocktails and disco biscuits" over a slowly shifting mix of tropical house and disco. Something close to a Midlands version of Arab Strap's 'The First Big Weekend', it's an effortlessly charming epilogue to the album that sees Murray fantasising about the slice of toast that awaits him at home as his drunken legs get tired and he tells himself: "Come on Murray, not far now - keep on going".
If it sounds like a loose, drunken ramble, that's because it's exactly what it was. After a debauched night out with co-writer and producer Fraser T Smith, who's worked with Adele, Stormzy and more, Murray found himself in the studio at 3am, desperate to get some kip but determined to record something first. Stepping into the vocal booth with only a few disparate notes on his phone and a spinning head, he proceeded to nail the sprawling and largely improvised track in one take.
"Obviously we never thought it'd make the album, but why the fuck not?" he says. "Again, don't take yourself too seriously. We all get drunk sometimes don't we!"
As is now abundantly clear, the message remains the same: when the urge strikes, don't wait. Life might not always be easy, but it's there for the taking. Go out and grab it.
'life's a beach' is out 28th May via Island.