Interview
Testing Positive: The Vaccines
The Vaccines may have spent 2020 watching their Google ranking drop in favour of their more topical namesake, but heading into LP5, they're back to give 2021 a shot in the arm.
It's a funny old time to be Justin Young. "News in 2020 and music magazines in 2011," went one viral tweet doing the rounds last year: "Very excited about The Vaccines". "You know what? It's not as bad as you'd expect," the singer reflects of the second time he's found his band's name dominating internet discourse. "But it's quite difficult to post anything on social media without some kind of warning of misinformation - and it might well be misinformation, but it's not about a public health concern…"
But if the vaccines (no capital letters) are objectively coming to save 2021, then The Vaccines are gearing up to have a decent stab at it too. A decade into their tenure at the top end of the indie sphere, the quintet - completed by guitarist Freddie Cowan, bassist Árni Árnason, drummer Yoann Intonti and keyboardist Timothy Lanham - are readying their incoming fifth album: a concept-heavy, excitable new opus crafted out in the Texan desert.
And where 2018's 'Combat Sports' was born - and titled - as a reflection of "quite a heavy feeling going on around the band at the time", their latest, says Justin, "is the complete antithesis of that." "We're 10 years in and we still love being in the band. I love it personally more than I ever have, and I think that's because we're still finding ways to shake ourselves up," he continues. "You have to have a reason to keep doing it, and I think creative fulfilment is a pretty good one."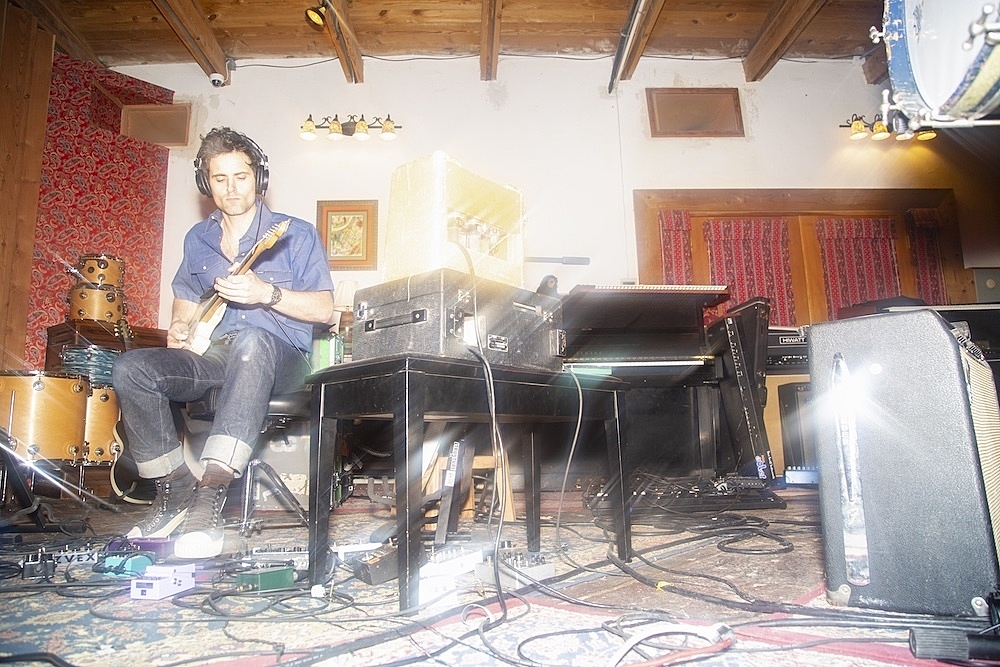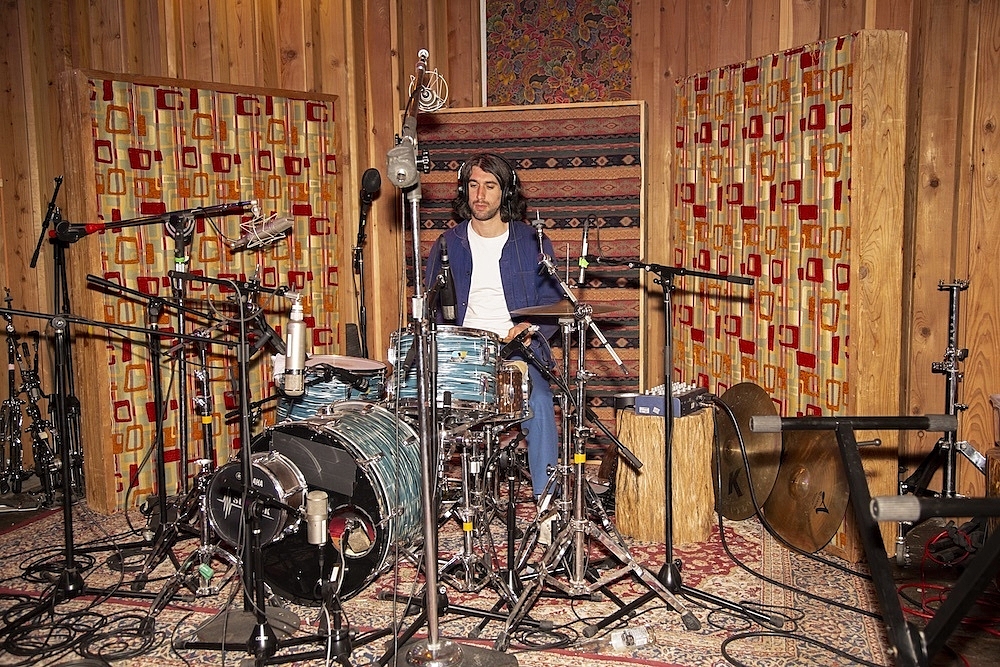 "Great Vaccines songs have this kinetic energy and euphoria, and these songs have all of those things."
— Justin Young
The album - whose title the band are keeping schtum about for now - has actually been ready to go for over a year. Recorded at the legendary Sonic Ranch studios in El Paso back in December 2019 with producer Daniel Ledinsky (the man behind the decks for stand-alone single 'All My Friends Are Falling in Love'), Justin explains that the plan was always to take their time and refine the details in ways that they perhaps hadn't on previous releases. "In the past, it's felt like we'd finish a record and then a week later we'd have to hand in artwork and then make a video, so we wanted to put the brakes on and work out exactly how we wanted to present it to the world," he explains. "Then when Covid hit, it ended up being 18 months."
The time frame, however, is a lucky one. Bedding down at the residential studio for a full month, the singer's memories of "log fires and beers every night, coyotes howling" are a world away from the isolated experiences of the year that would follow. "I don't normally get excited about studios, but it was the most fun we've ever had making a record," he audibly grins down the phone. All currently residing in different countries and continents, the recording of LP5 was an evidently integral one to rejuvenate inter-band dynamics. "Nobody could say at 8pm that they had to meet a friend for dinner or turn up late - there were no excuses. It was kind of like being a band for the first time again, being with each other 24/7," Justin says. "It was amazing for our friendship; everybody was on such good form, and I think you can hear that in the record."
Despite being written before their American sojourn, the singer highlights the "indie rock Morricone, desert sound" that had already emerged as a notable sonic trait throughout the record. But more than a surfy sidenote, there's a bigger idea at play on The Vaccines' newest. He may be still tussling with the idea ("It's not 'Dark Side of the Moon'…"), but Album Five it seems is, by all intents and purposes, a concept album. "It's the first time [the idea came before the songs] and I think as soon as we'd created this place in our heads and worked out what existed there and what went on there, it became so easy to write about," Justin begins.
"I started thinking about these dystopias or sin cities - Los Angeles in Bladerunner, or Fear City, or Vegas, or Tijuana, or even the love hotels in Tokyo. I read a series of articles on climate emotions [emotional responses to climate change] and I started thinking, what if we got to a place where people thought of emotion as a finite property that could run out?" he continues. "Where you forget to feel naturally and you have to go to places to plug in to feel something? So that was a skeletal idea and it grew out from there."
"It was kind of like being a band for the first time again, being with each other 24/7."
— Justin Young
Due later this year with a first single soon to drop, a cinematic album based around a future dystopia sounds a million miles away from where The Vaccines began a decade ago but, says Justin, the dots are there to be joined.
"It's a balance between thinking, if The Vaccines started today we probably wouldn't make a record that sounds like 'What Did You Expect…', but equally there are things that are core to our DNA," he posits. "When I think about great Vaccines songs, I think there's this kinetic energy and euphoria, and I think [these songs] have all of those things. So what is a Vaccines song in 2021? That's what's always at the back of my mind."
What's been at the front of their minds in recent months, meanwhile, has been the 10-year anniversary of that game-changing debut. Reissued last month in celebration, even a decade on it feels like the product of an entirely different time. "It felt like every door opened that we needed it to, and I can't think of many people that's happened to since," Justin reflects. "I know the dinosaurs of rock like to peddle the line that it's because artists aren't good enough [now] but that's bullshit - it's just a cyclical thing of what's in vogue and what's not.
"It was an incredibly overwhelming time - extremely exciting, but also incredibly scary," he continues. "All four of us [including original drummer Pete Robertson] were put under the microscope in a way that we hadn't expected to be and, when you're 23 or 24, the ego and the heart and the mind are quite fragile things - especially when you have no proper sleep for three years. There were definitely times where I'd be like, I don't think I signed up for this? But looking back I wouldn't change a thing. Even when the gatekeepers are opening the gates for you it's 'cos they're hearing something they love or connect with, so I feel proud."
As then as now, whether crashing into the mainstream with their first record or shaking things up with their fifth, there's always the sense that Justin Young loves nothing better than being in The Vaccines. "It's fucking fun! It's so fun! It really still is," he grins, as he and his band rev up to go in for another round. "There was a little dip, but I think we're having more fun than ever and I really believe we're still getting better and we still have things to say, so that drives me. If you can continue to feel fulfilled and you're having fun doing it, I can't imagine why you'd ever want to do anything else?"