Interview
Because She Wants To: ENNY
Over the past 12 months, off the back of 'Peng Black Girls', ENNY has become the UK's indisputable one to watch. With a debut EP on its way, "there's more sides to who I am," she explains.
Hailing from a small corner of South East London's Thamesmead, ENNY - possibly the biggest UK breakout star of 2021 so far - is ready to make her mark. She's opted out of playing the game and decided to just be herself. Quiet and unbothered, she's here to "do what she came to do". There's no artificial TikToks; no larger than life glam team; no red tape. It's all about her one woman band. "I just rap. I rap over anything," she shrugs of her style.
ENNY's love of music began in church, and continued when she and her friends created their own band, Room AA. Later, she would spend most of her school years diving headfirst into J Cole tumblr-adjacent fandom. Much like her musical influences, she's not one for the fakery; "I'm gassed off real instrumentation," she confirms. Inspired by everything from the Golden Age of early 2000s hip hop to the later 2010 Golf Wang streetwear brand of troll-god Tyler, The Creator, she's always been stylin' on em in her own way. Now, looking forward, she's clearly quietly confident about where these early steps are leading: "It's the same ENNY, there's just way more support".
In October 2020, what began as a passing daydream became 'Peng Black Girls': a love letter to all the Black British women who grew up like her, between the culture of their parents and the new shores they made home. Humble and understated, ENNY's jazzy style of rap started off making gentle waves, but soon the penny dropped as the song's commentary began to do its work. Her scathing dissection of beauty standards (not wanting a fat booty like the Kardashians, but wanting one like her aunties instead) resonated deeply in the midst of a series of lockdowns in which people were forced to confront their true selves in the mirror. ENNY had already clocked the game of the superficial world she was going to dip her toes into, and she called bullshit from the beginning.
The track was taken to the next level a few months later when Jorja Smith joined for a remix, delivering yet another scathing takedown of the double standards Black artists endure. On it, ENNY cheekily leads with, "I was Black when it wasn't even in style", before passing the mantle to Jorja, who calls out the hypocrisy of a media that responds to calls for greater representation with silence: "These Black girls need to be in the shows, on the runways, not just on the moodboards/ On top of that we gotta see them on your teams."
ENNY looks back on the experience with fond eyes. "Having her involved in the track was really sick because of how it came about - it was really organic, it wasn't forced," she recalls. "It was sick to see the words 'Peng Black Girls' in so many places, even places you wouldn't expect to see it. The message really connected with people." Easy as she makes it seem, the combination of their voices has clearly struck a chord. The track now stands at over 14 million Spotify plays and counting.
"It was sick to see the words 'Peng Black Girls' in so many places, even places you wouldn't expect."
In some ways, riding the wave of 'Peng Black Girls'' success made ENNY feel just as empowered as her listeners, but in others, she explains, it hemmed her in. She confesses, "I think it gave me more than a sense of direction; I gathered what people wanted from me after that. They wanted more political songs, but I know that I'm more than that. People will always have the assumption that if you've made a song about [a certain topic], it's the one thing you're about."
Ironically, connecting with people that looked just like her placed her in a tight spot; as the track itself says, existing outside of the box the wider world assigns to you is near impossible. But she's also self-assured enough to know that she'll be able to surpass it. "There's more sides to who I am," she affirms. "The multidimensionalism is something the song actually celebrates." It makes sense then that she's willing to stand outside of expectation, even if it's from the very people she made the track for.
No one could've predicted the snowball effect that 'Peng Black Girls' would create - besides ENNY herself. In her own words: "Everything always happens prior, and then the world catches on." Millions of streams, a debut on Later… with Jools Holland, and a collaboration with British luxe fashion house Mulberry later, and the world is clearly catching on thick and fast. With things going up and up, it's no surprise that ENNY is on a different wave even from 2020 to now. 2021 has seen a series of firsts for her, including a 'PBG' performance alongside Jorja and Amia Brave on Glastonbury's May stream. "That was really sick," she reminisces. "It was really cool, a beautiful moment between the three of us girls."
Ironically, ENNY herself isn't a fan of the limelight, but it seems to love her. "Anyone that knows me knows I hate the cameras, I'm proper awkward," she concedes. When asked how an awkward person does it all, she bursts out laughing before concluding, "Fam! I'm still figuring it out. I play it off well but on the inside I'm having a 'mare." However, she's still ready to dream even bigger. "If you had asked me these questions two months ago I would just be like, 'Yeah, sure, whatever'," she says, "but now that I'm getting into this music thing properly, I'm realising that you have to set milestones and targets for yourself, or what's the point?"
Crushing Glastonbury on her second single is setting some serious pace, so it's no surprise her next stops are way beyond the Channel. She quickly reels off the US and Europe as some post-pandemic touring targets, before mentioning her home country, Nigeria. Following last year's widespread #EndSARS anti-government protests, she believes "Nigeria's entertainment industry is it's saviour at this point". "Hopefully it can effect some change in the government and get things popping that way," she continues. Alongside some of the most vocal artists on the planet, including Wizkid, Tiwa Savage, Burna Boy and Mr Eazi, ENNY is standing tall amongst a legion of artists ready to defend their people.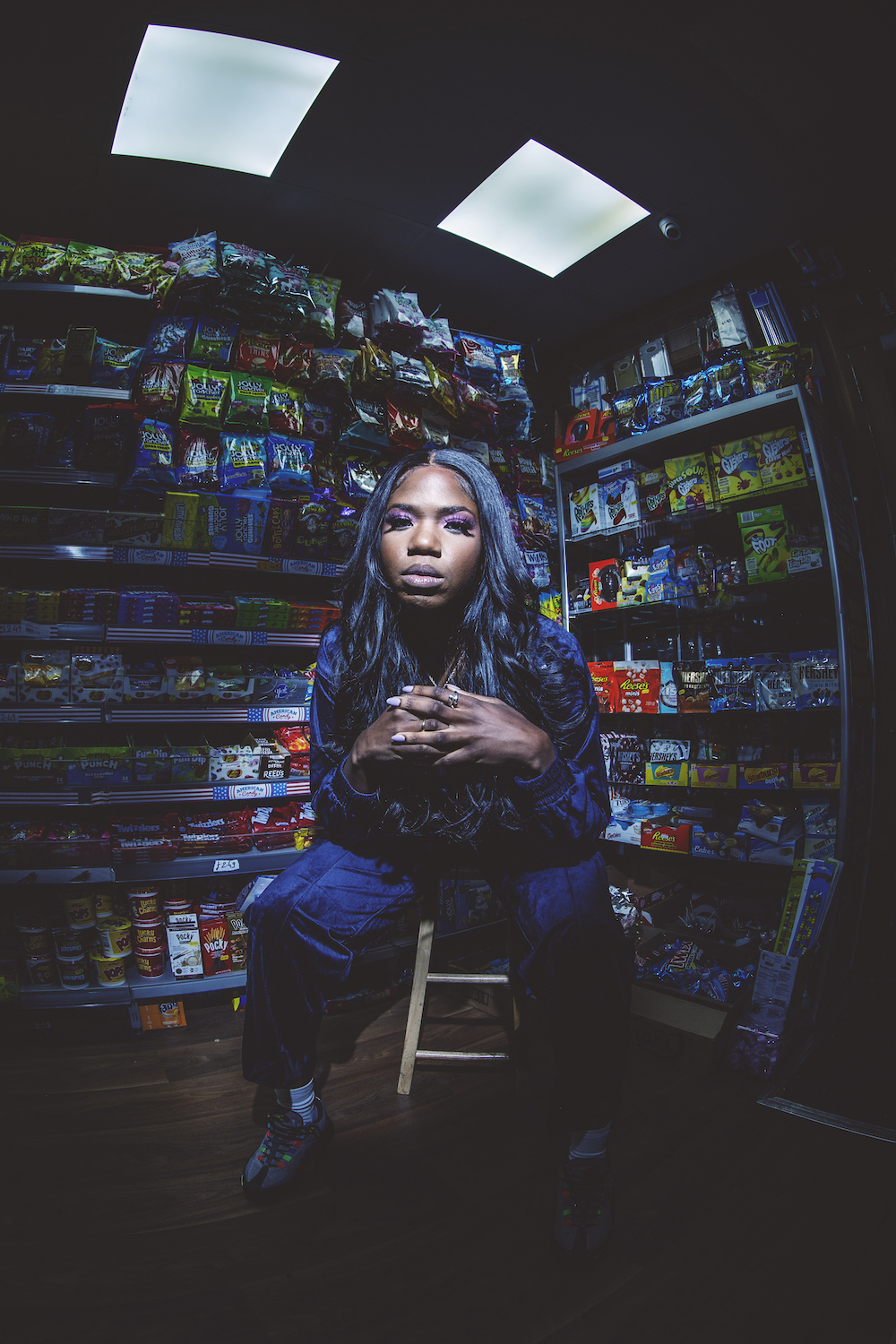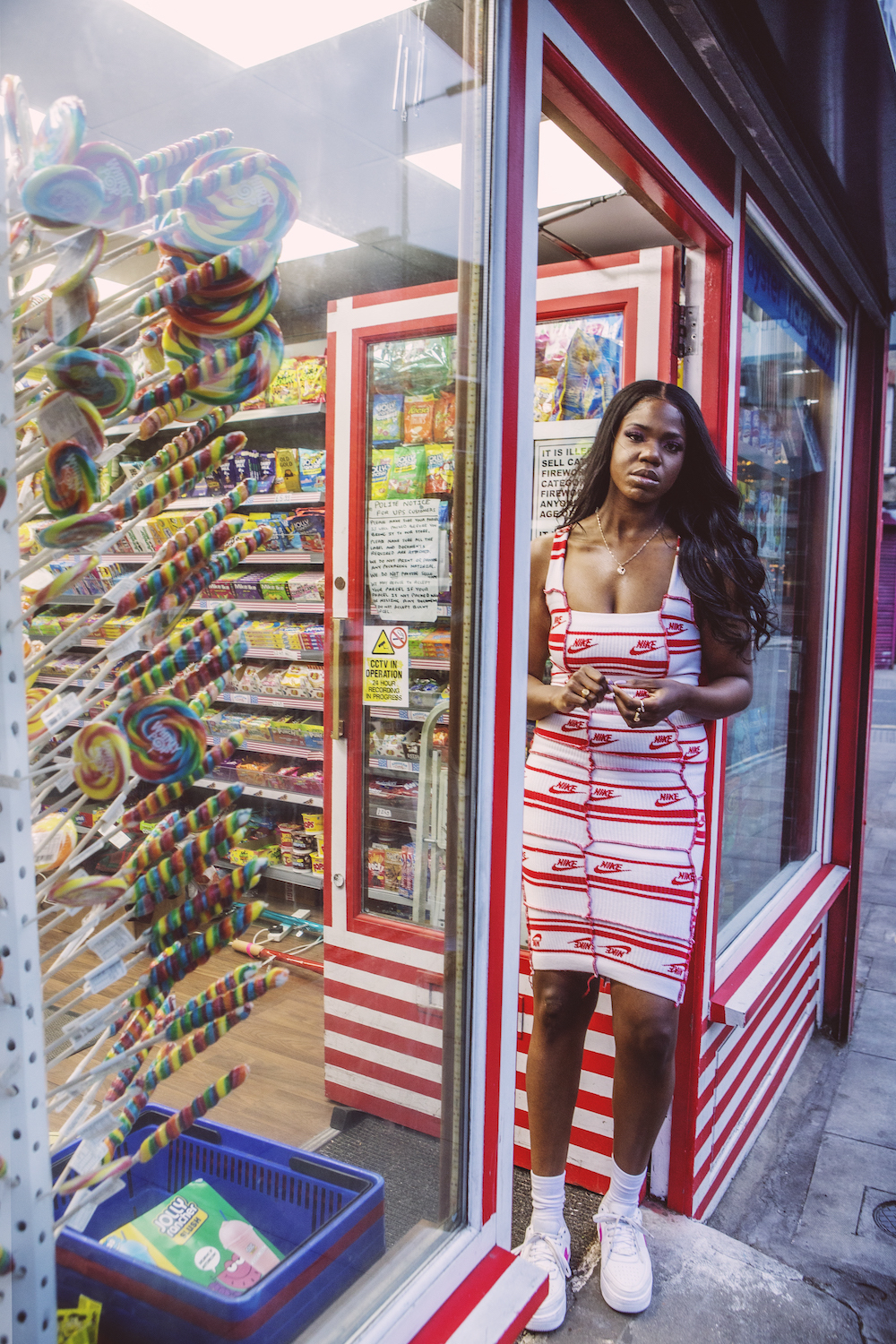 "I'm realising that you have to set milestones and targets for yourself, or what's the point?"
There's also a hugely-anticipated EP on the way. Named 'Under 25', it's the product of yet more daydreaming. Turning 25, she explains, was a watershed moment: "Life was getting into my head as I approached 25." Faced with choosing between the music career she truly wanted, and one in the professional world that she'd accidentally fallen into, she was at a crossroads.
In the video for 'I Want', she's the same girl. Giving us fed-up Cinderella with her head in the clouds, she plays a waitress in your typical English cafe with dreams of pursuing a life she truly wants. The track itself was written in similarly undesirable circumstances. "I was working in a bank, and I had no business being there. I studied Film, but nepotism got me through the door," she concedes. Once she decided to make the leap from the world of finance, however, 'I Want' meant that she'd already written her story out. "It was manifestation, before manifestation became a thing," she nods.
The videos for both 'Same Old' and 'I Want' are quintessentially Black British. There's West African red stew being stored in ice cream containers, girls breaking up fights between boys, and people grabbing slushies at the corner shop - memories woven deeply into the collective consciousness. Getting down to the true nitty gritty of the community, she confesses she's a fan of the controversial beverage that makes an appearance in the latter of the videos: Supermalt. Between laughs about how there's a lot of "hateration in the dancery" directed at the drink, she admits she does prefer a Magnum from time to time.
With touring in the UK still somewhat up in the air, it might still be a little while until ENNY is able to play on home turf, but she's excited to finally match the virtual support to real life faces when it happens. "For artists, I feel that the most important moments are when you create the music, and when you get to perform it," she says. "You get to live in the songs you've made, and watch it connect with people. You can have everything else, but if people aren't connecting to the music when you go to your shows, who are you going to perform to?"
Connection, clearly, is something that she's not struggling with. After a milestone year, and with so much still yet to come, there's a lot of hope in the air for the rest of us, but for ENNY, there's certainty.
'Under 25' is out 16th July via FAMM.
ENNY has been nominated for the AIM Independent Music Awards 2021, which takes place as a global livestream on 25th August. For more information on the event, and to check out the other nominees, head to their website.