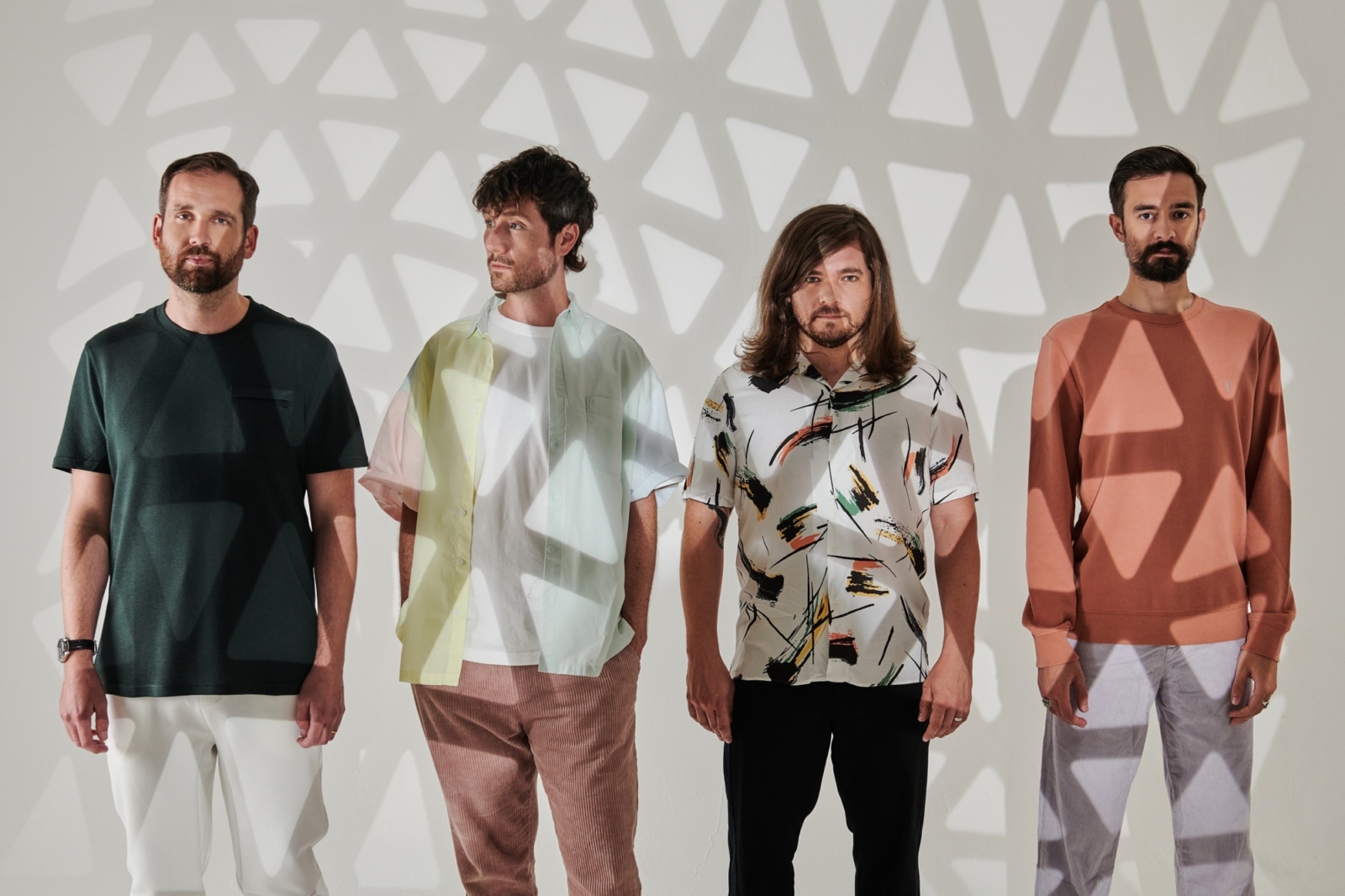 Photo: Sarah Louise Bennett
Future Nostalgia: Bastille
Intent on exploring society's rapidly-changing relationship with technology via escapism and dreaming, the latest album from chart-toppers Bastille is ambitious in more ways than you might expect.
"In our music there's a real preoccupation with escapism," begins Bastille frontman Dan Smith, dropping what's arguably a rather large understatement. Just take a quick glance at their discography to date for proof; from the Lynchian ode of debut EP 'Laura Palmer' through to the mythology that wove its way through 'Bad Blood' via the hedonistic distraction that permeated 2019 third album 'Doom Days', the sentiment is pretty clear for all to see.
And yet, with their latest 'Give Me The Future', the quartet have found a new rabbit hole to dive down. Following on from that "loosely conceptual" last album - which followed the events of a house party, unfolding with the curtains closed while the apocalypse kicked off outside - their newest sees them attempt to turn the focus away from present-day politics and doomy current issues that permeate our thoughts. Instead, they looked to their fascination with technology for a new kind of freedom.
"After 'Doom Days' I felt like it got so bleak…" Dan admits, a couple of weeks into the new year and a week into promo for their fourth record. Despite the album being designed to shut out the horrors of the outside world in favour of one brilliant euphoric night out, the modern anxieties that the record was so focused on avoiding still managed to creep in. "We tried to end that album on a moment of positivity but…" he trails off. "This time around, we were like, 'Right, Album Four, let's chuck aside loads of the rules we've weirdly set ourselves'. There was a real sense within the band and our team that this would be a nice point to try new things and go in a slightly different direction. Maybe try to make a positive record…"
Quickly, Dan began to immerse himself in his love of science fiction, instead looking to explore "escapism, via memory, dreaming, technology - all of these different things". Inspired by a show he saw at the Edinburgh Festival based around a comedian's experience of maladaptive daydreaming ("For him, it was a subconscious way of dealing with trauma; it's a real testament to his skill in what he does that he managed to make an absolutely hilarious hour-long show out of that topic"), 'Give Me The Future''s premise began to take shape.
"As someone who's really interested in escapism and distraction, the show really affected me and I couldn't stop thinking about that idea," Dan reflects. "'Doom Days' was really quite an introspective record in that it was about all of this change in the world happening outside, all of these apocalyptic things happening, but shutting the curtains to them and focusing on what's happening within the room. This album was very much about going inside your head and using technology to go absolutely anywhere else; the arc of wanting to get away from something, and being able to do whatever you want, then over that period of time the realisation that maybe there is something to be said in being more present in the real world."
"This album, I love it and it's kinda bonkers…"
— Dan Smith
In preparation for Bastille's latest, Dan began to revisit some of science fiction's more iconic moments for inspiration, but he didn't need to cast his mind back to the past for too long. It's perhaps ironic that, during the making of an album aiming to explore our relationships with technological advancements, our lives would, almost overnight, become so much more dependent on them. Despite beginning work on 'Give Me The Future' pre-pandemic, the album's themes became all the more prescient as our lives were forced to halt, our social interactions becoming more dependent on Zoom and social media than any other medium.
"All of our relationships with technology and isolation and apps became massively amplified, and were so much more entrenched in every single corner of every single thing we do," Dan says. Even he couldn't have predicted how poignant the album's themes would feel after the past two years. "Our generation - and those after us - are living through the internet spilling out into the real world in so many ways; we see it in politics, in people's relationship with the truth, so many things.
"You hear stories all the time of people using a dating app and they'll have edited their photo so much that they then don't feel that they can meet up with the person they've matched with as they know it'll expose how different they look," he continues. "[Technology has] completely fucked our relationship with ourselves and other people - [but] sometimes in amazing, positive ways. That's a point within the album; there's so much that's amazing and community-building, unifying and empowering in loads of these advances, but equally they are corruptible, and can be corrupting and divisive. Not to sound like someone who's awake all night worrying about the state of things, but these are just the realities of the world we live in, and if you step back from it, it does feel like a fucking insane science fiction movie."
"This album was very much about going inside your head and using technology to go absolutely anywhere else."
— Dan Smith
Give Me The Sci-Fi
As you may have guessed, Dan Smith is quite into his science fiction… So naturally we asked him to elaborate on some of the sci-fi he was most inspired by when making 'Give Me The Future'.
Malorie Blackman's Noughts and Crosses
[This looks] at the atrocities of the past and imagines what the future could've been like had things been different. So much in science fiction is about imagining how things could be - positively or negatively - and either trying to avoid or manifest them.
Margaret Atwood
I love Margaret Atwood's relationship with science fiction. Her books are insanely readable, as well as the ideas they have. I remember reading the Blind Assassin when I was a kid, and it's huge but jumps forward and back in time a lot."
George Orwell's 1984
We were going back almost as far as Orwell or Metropolis. 1984 spoke to what the future could look like under levels of authoritarianism because it's criticising what they saw at the time.
Janelle Monáe's 'The ArchAndroid'
In terms of creating a world and a concept and talking about different versions of the future, this album is a really amazing example.
Minority Report
On the basic tech level, the film Minority Report - which is probably 20 years old now? - at the time had driverless cars, targeted advertising, and touch screens floating. We're beyond all of those things. Reality is weirder in so many more ways.
Yet while some familiar worries and anxieties may have inevitably crept into the band's fourth record, 'Give Me The Future' still marks a change in attitude for the quartet themselves. Though their previous three full-lengths have followed some of Bastille's own self-imposed rules ("What the title should be, what the artwork looks like, the fact that I need to write everything…"), this time around they decided to open up the process.
"I fucking love writing with other people, but it's just a really different process for me," the frontman admits, referencing his recent collaborations with the likes of BRIT winner Griff that have been external to the world of Bastille. "Part of the process of the album was saying, if we're gonna change it up, why don't I just bring in parts of that world into Bastille's and see what happens?"
It's this more open door policy that led to the band working with songwriting royalty Rami Yacoub (who penned 'Hit Me Baby One More Time', no biggie) and Ryan Tedder. "The idea was to have loads of different brains on it. With Ryan, I guess the thinking there was, here's a guy who's written with everyone from Adele to Beyoncé, he clearly knows what he's doing: he was a fresh pair of ears for us."
Even actor and performer Riz Ahmed appears on the record, his mid-album spoken word track 'Promises' tugging the glitchy, soaring 'Plug In…' gently back to earth. "It's one of my favourite bits on the album; the track takes you from the heightened frenzy of 'Plug In…' and he grounds it back down," notes Dan.
It's arguably this fresh sense of ambition that makes 'Give Me The Future' all the stronger. While it would've been easy for a band like Bastille to continue following their solid recipe for pop music (it's done them well so far, after all), it's the album's more unexpected moments - Riz's poem, the quiet intimacy of 'No Bad Days', the Daft Punk-echoing album opener - that offer up a more distinct version of what Bastille look like ten years on from their debut.
"This album, I love it and it's kinda bonkers," Dan concludes, on what he'd like the album to stand for in the long run. "It starts with you plugging in, and you fly off into all these other different places, but at the end, it grounds you and brings you back into the room. I think the point is that all of our relationships with technology and the future are nuanced and complicated. But you also need switch the fuck off, and try to enjoy whatever situation you're in as much as you can."
'Give Me The Future' is out now via EMI.