Album Review
Wet Leg - Wet Leg
5 Stars
Packed with righteous middle fingers and playful bon mots.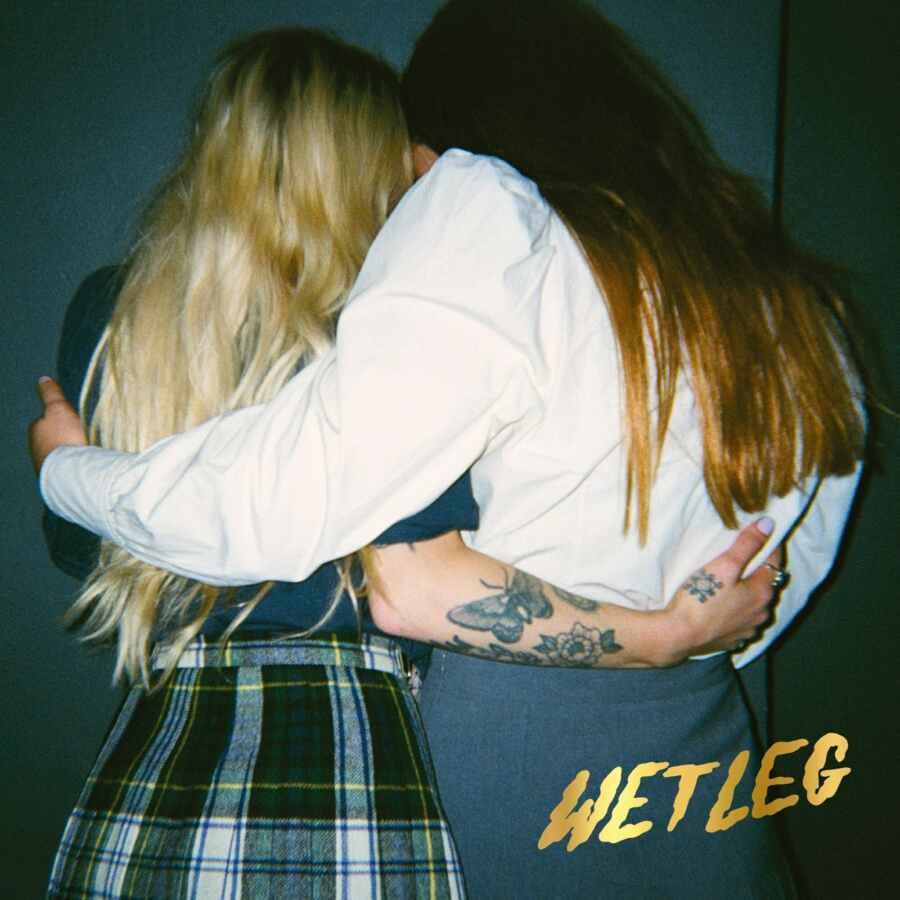 For those old enough to remember the immediate, seismic crater in the indie landscape that the arrival of Arctic Monkeys' debut single proper for Domino, 'I Bet You Look Good On The Dancefloor', made back in 2005, there will have been familiar wafts of excitement ringing upon the arrival of Wet Leg's irrepressible 'Chaise Longue' last year.
It's not just that the two bands share a record label, a penchant for a ridiculous two-word nom-de-plume, and an ability to write a seemingly-throwaway sentiment into the musical history books; it's hard to think of an incident since Alex Turner and co. first sowed the seeds of what viral fame would mean in a burgeoning internet age that one song has so wholly declared the dominant arrival of a band. An omnipresent fixture across the airwaves of late 2021, by the time the duo - Rhian Teasdale and Hester Chambers - released its follow up, the equally cheeky 'Wet Dream', they were already selling out 1000-capacity venues; in the time since, they've been on a sold out US tour, appeared on TV both sides of the pond and emerged from SXSW as easily the buzziest band of the festival. At the time of almost all of these occurrences, Wet Leg had released less tracks than the fingers of one hand.
Maybe it's timing, that after two years of incessant global trauma, what the world collectively needed was a reminder that life can be fun ("Good times, all the time" goes the mantra of 'Angelica'). But more than just a lucky combination of time and place, there's an indefinable sparkle to everything Wet Leg do - the sort of effortless magic that can allow those few indie bands with the golden touch (not THAT band…) to turn an age old formula, guitar bass drums, into something life-affirming. Take opener 'Being In Love'. A steadily pulsing drum beat gives into a giddy Camera Obscura-esque exhalation in the chorus, but there's something just that little bit odd about Rhian's tumble into the feels ("I feel like someone has punched me in the guts / But I kinda like it cos, it feels like being in love") that sets 'Wet Leg''s stead up from the off.
Throughout the album, there are shades of indie past to be found, from the 2min30 fuzzy 'Fever To Tell'-era Yeah Yeah Yeahs spikes of 'Oh No' to the off-kilter, rickety Moldy Peaches charm that skips through 'Supermarket'. The riff that peppers 'I Don't Wanna Go Out' is an unashamed nod to Bowie / Nirvana's [delete according to preference] 'The Man Who Sold The World' while the infectious bounce of former beau-dissing 'Ur Mum' has shades of Le Tigre to its dancefloor potential. All these references you'll note, however, are the sides of the genre that have aged well - and so while you'll more often than not hear 'indie' bookended by either 'landfill' or 'sleaze' these days, 'Wet Leg' is a product of neither.
However, influences aside, it's the slightly wonky worldview of the band themselves that really elevates 'Wet Leg' into the realms of the truly special. Don't be fooled by the prairie dresses and sweetly innocent vocal delivery, Rhian has bite and gleefully revels in a rude one liner. Whether she's shrugging off a suitor who insists on sending text updates of his nighttime fantasies ("What makes you think you're good enough to think about me when you're touching yourself?") or wearily eviscerating an ex on the deceptively laid-back 'Piece of Shit' ("Well if you were better to me then maybe I'd consider fucking you goodbye"), 'Wet Leg' is packed with righteous middle fingers and playful bon mots.
The album ends with 'Too Late Now', a slowly crescendoing climax packed with lyrical uncertainty: about growing up and giving up, the anxiety of the modern world and the meta fears that the song she's singing isn't even a real song. It's in keeping with the cheeky winks of the duo to end their debut in such a contrary fashion, doubting their own futures and abilities, when the reality is so very far from that. Whatever Wet Leg say they are, that's what they're not, eh?
More like this