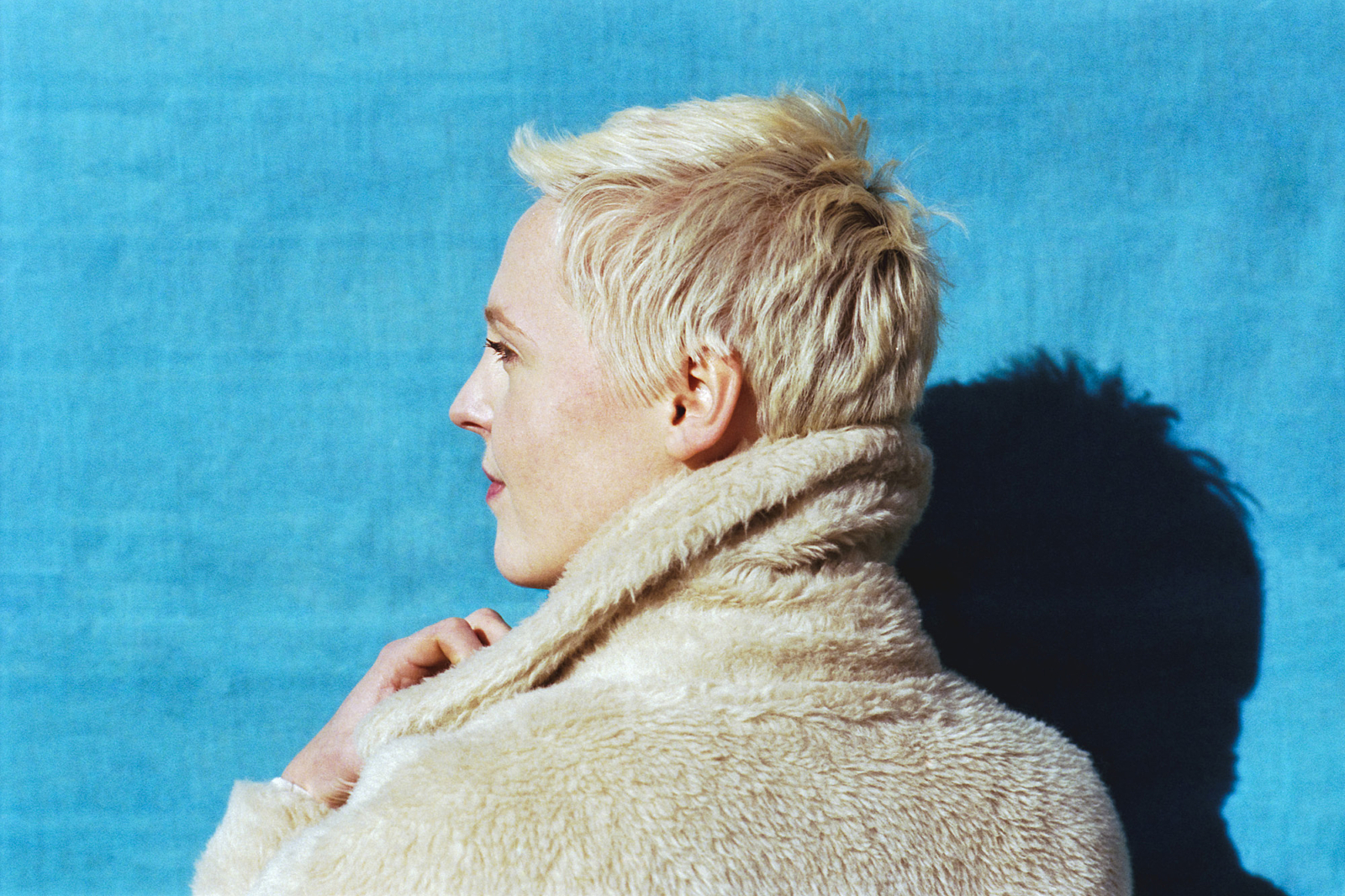 At home with Laura Marling: "I was like, what the fuck am I doing with my life?"
Laura Marling has had a hell of a couple of years. Now she's back and comfortably settled in London, about to release her fifth album, 'Short Movie'.  El Hunt popped round her house to find out more…
"For a while, I thought I wasn't going to come back to music," states Laura Marling, taking a drag of a cigarette, before tossing her lighter off to one side to provide dramatic emphasis. "I really thought that."
Aged just 16, Laura put pen to paper, signing a five-album contract with major label Virgin Records. Music quite literally became her life. Over the next eight years she travelled and played huge iconic venues across the world in several drawn-out stints of touring, and released four albums; three of which were nominated for the prestigious Mercury Prize. A staple artist on the folk scene by the time she turned 20, she seemed to have everything. Everything, that is, except roots.
"I was so exhausted and out of touch with the pace of normal life," Laura says, sitting crossed-legged, surveying her Bethnal Green living room. She's watched back by a quizzical-looking stuffed owl on a table across the room. "I was dealing with a lot of shit, and feeling like I wasn't part of the planet in any way. I was like, what the fuck am I doing with my life? I had to think, am I interesting? If I took the music away, and the travel away, and I had to sit down and actually chat to somebody, would I be able to do it? The conclusion that I came to is that I would. But I don't need to. It makes me really grateful that I do what I do. It fits me pretty perfectly."
She might be gladly back in London now, but Laura's vague wandering search for belonging took her to a peculiar destination; the thronging, neon-lit dreamland of Los Angeles. While she was there she took up "a fairly odd, specific kind of transcendental yoga," and she adopts a theatrical faux-whisper for a second, "marijuana. Psychedelics and stuff. But that was only very occasional," she hastens to add. "I was pretty close to joining a cult," she says casually, as an aside. "If you aren't attached to anything, you can dangerously teeter on the edge of becoming a professional vagrant. It feels a huge relief to be back. I found LA liberating, and actually too much, in the end."
"And," laughs Laura, continuing, "I quit smoking for eight months. A lot of stuff comes up when you don't have a cigarette in your hand." She pauses to blow a puff of smoke out of the window as if on cue. Evidently she's over being straight-edge these days.
Throwing herself into LA life and occult extra-curricular pursuits, in the middle of what she dubs her quarter-life crisis, Laura didn't end up over-doing the wacky-baccy and wandering round barefoot in white robes - though she points out that, in LA, that would probably be acceptable. She didn't end up finding spiritual enlightenment, either. "Psychedelics, transcendental yoga, silent retreats - whatever takes you to see the face of God - that's cool. But you have to be able to take it into modern life. I started to feel that this isn't the way, or the answer. Nature isn't good or kind. People have darkness in them. The message in that, and all of the occult stuff, is just be human."
"It's given me such a fresh love of people," she concludes. "I value human connection now, above all other things. My criteria for judgement of other people, and myself, has changed."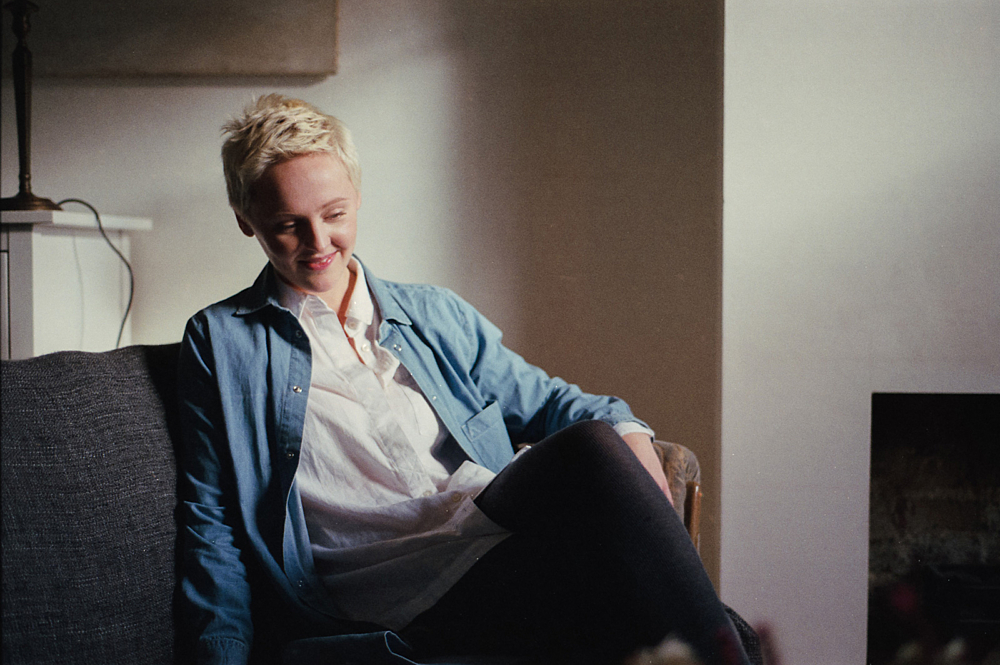 "
Nature isn't good or kind. People have darkness in them.
— Laura Marling
Connection, context and rewriting your own narrative is the crux of Laura Marling's fifth album, 'Short Movie'. While travelling around the East Coast of America and touring fairly anonymously "on my tod", she befriended an old hippy in Mount Shasta, where "a lot of hippies moved in the 60s, because they believed that an alien spacecraft lived at the top of a mountain. It's on Wikipedia." Her new acquaintance apparently bookended almost every far-fetched tale with "it's a short fucking movie, man." It became, explains Laura, "the over-riding sentiment of what was driving me to do what I was doing," and it tellingly became the bookend of her own record, too.

"I just got really into the idea that the life we live, as contemporary humans, is constructed," she expands. "We build our reality, and give ourselves a story. We tell ourselves who we are in context to where we're born, or what we do. I took myself out of that, and gave myself a new context. Human life is so short, and silly, and insignificant, in an enormous and incomprehensibly expansive universe. I still feel really strongly that I can get really dark, and at that time," she says, referring to the last two years, "I was really dark. But I need to believe that there is fantasy; a surrealness to life beyond our control… a creative force in the universe."

Since returning to England, Laura's been reading lots of occultist literature, she says, brandishing an arm to wave roughly in the direction of Gurdjieff's Collected Works; a ridiculously proportioned book the size of a very square-looking cat. It's currently acting as a doorstop. 'Gurdjieff's Daughter' - a song where she recites mantras like "don't be impressed by strong personalities" and "never give orders just to be obeyed" - is inspired by the writing of Chilean spiritual guru and avant-garde film-maker, Alejandro Jodorowsky. She tosses this into conversation lightly, as if referring to her personal recipe for guacamole. "He was tracked down by [the mystic,] Gurdjieff's daughter. She shoved him into a taxi after the premiere of one of his films, took him off to a hotel room, and…" she hesitates, attempting to form the right words, "did some… acts, upon him," she coughs. "It's really weird stuff that they were doing, and she was proving her capacity for sexual - and therefore, creative - power," she goes on. "She said, I've tracked you down because you have to learn these moral values and put it into your art form, get it into the world."


Flitting between tiny American towns, in a car stacked up with old records from 1969 ("I just noticed I was buying a lot of records from that year," she shrugs) and textbooks by mystics, Laura had a sort of existential revelation, and eventually she returned to writing with a new outlook. She allowed herself to "fall in love" with a 1959 Gibson 335 electric guitar, and in doing so, had to adapt to a totally new way of playing. "Shaking it up a bit, and rolling the dice again," opened her eyes to music again; she stopped feeling weary and contractually obliged to write. "I've got the joy back," she smiles.

"I think my reality bounds got taken down to an extent where I felt like I wasn't constricted to anything," she adds. "I don't think I took a particularly wide step out of what I was doing before, but I made the beginnings of a step. I hope to expand on that."

"Complete insignificance is really liberating," she nods emphatically. Laura says she takes herself less seriously these days, and she openly admits that in the past being a musician felt a little too ego-driven. "[The last two years] took away my own self-importance, and lightened me up a bit, made me a bit more playful," she says, "'Short Movie' is less Romantic. The pursuit of Romanticism didn't appeal to me anymore, and I mean in a poetic sense. I wasn't trying to make gods of men anymore, or poetry of situations. I was just observing." She pauses. "It's allowed me to take myself less seriously. But," she adds as a disclaimer, "not to the extent that I'm a complete goof."

It's safe to say that Laura Marling is in no danger of being a goof. Between albums she applied for a poetry course in upstate New York, under a pseudonym, and was flat-out refused admission. "I thought it'd be the perfect thing to distract me from actually having to sit still. I worked really hard for it, but I didn't get in." She shrugs, and throws her lighter up in a somersault. "It was a challenge to myself, to see if I could be vulnerable in a different way. And I was vulnerable," she concludes.

For the first time Laura took up a seat in the production chair for 'Short Movie,' a transition which she openly admits was daunting, too, "because I didn't want to waste people's time, I didn't want to dither." 'Safe As Milk' by Captain Beefheart, she says, is a huge influence on this record. "They went mental with panning - they have a kick drum up here, and snare drum down there," she enthuses, picking random points in the air. "When you listen it's like he's in the middle of your brain. It's really disorientating and brilliant. We were playing with panning a lot on this."

"[Producing] really took away the mystery, in a good way," she adds. "Who's the guy with the beard?" she asks, moving towards the window for yet another smoke. "Rick Rubin. He's the ultimate mystery." It helped her to get right underneath the song's skin, then? "Yeaaah," she says slowly, turning the question over. "Under the song's skin. I was like, 'oh, you don't know anything', Again, proving to myself that I don't know anything."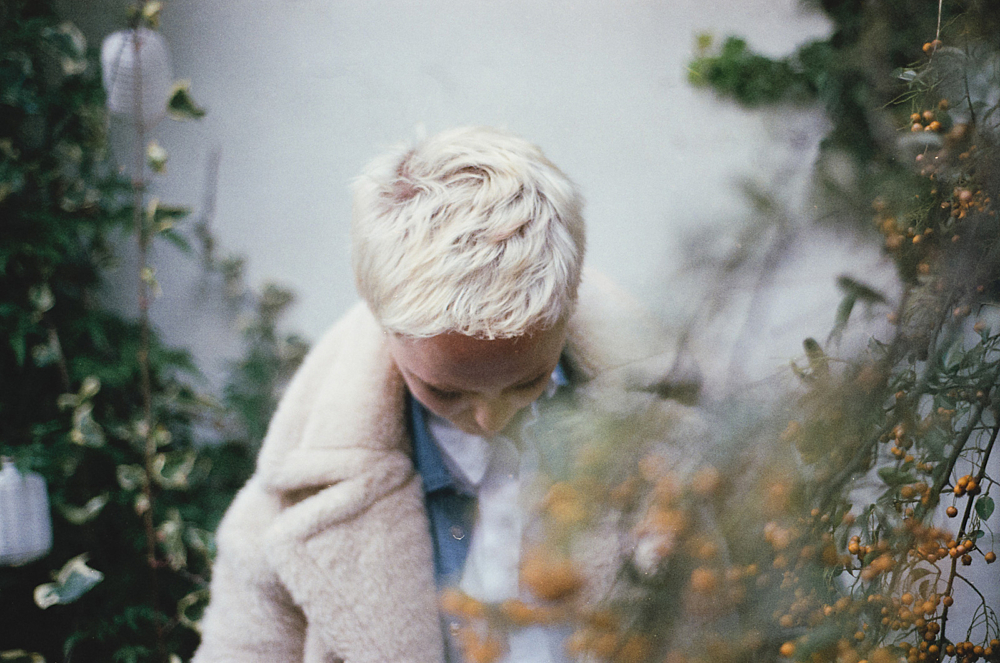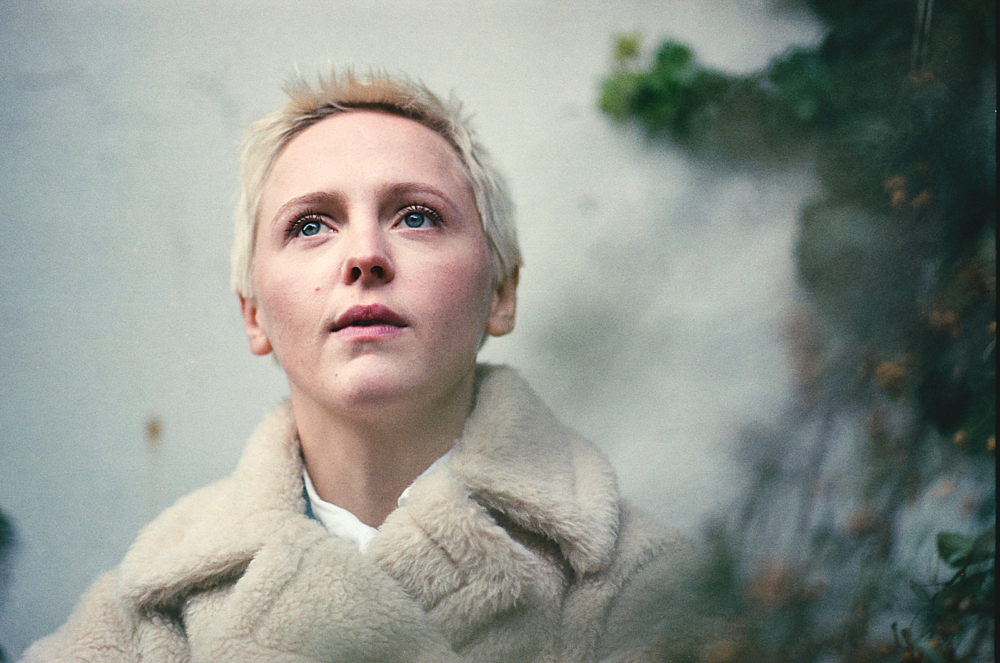 "
I need to believe that there is fantasy; a surrealness to life beyond our control.
— Laura Marling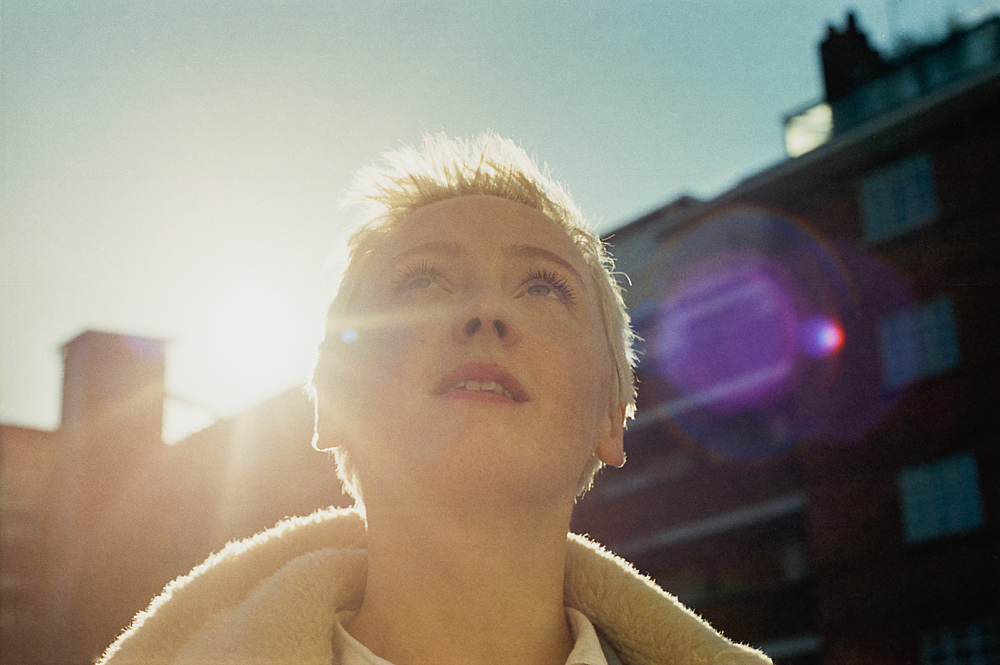 Laura has a reputation for being fiercely guarded about her personal life, both in interviews, and as a songwriter. Today, though, not so much. On her last album, 'Once I Was An Eagle' she transformed herself into a bird of prey, a master hunter, and the water spirit Undine. 'I Speak Because I Can' - a song she released aged 18 - was delivered through the voice box of an aging, "poor and lonely wife." It would be wildly exaggerating to call 'Short Movie' - or indeed Laura Marling - a totally open book, but the arm with which she holds back her audience has grown shorter. "Definitely," she laughs, "yeah."

'False Hope' she explains, is her most patently autobiographical song, a panning camera following three days that she spent trapped in a New York Air BnB during Hurricane Sandy. "Is it still ok, that I don't know how to be alone?" she asks, and it soon transforms into "is it still ok that I don't know how to be, at all?" She's fearful, upfront, and unmuddied by complex imagery. On 'Short Movie' Laura Marling doesn't speak because she can, she speaks because she needs to know that she's not alone.

"I was with a boyfriend who I'd only just met, and we were stuck in this tight, dark apartment," she says. "At the end of the street there was a Trader Joe's [grocery store], and there was a queue round the block to get in, and there were only candles. There was this woman," she says, "who was downstairs, and not with it at all, and she came and knocked on our door. She was just terrified. We checked on her a lot. I didn't like the idea of someone living in this horr.." she stops herself suddenly. "Harsh, not horrible. Not being looked after. It had such an effect on me, those three days. They did what they did in the movies, they fucking cut off the bridges!" she exclaims. "We had to get on this dodgy mini-van that was leaving to the airport. I think we went to Canada, because… oh, he's Canadian! Escape to Canada." She laughs to herself. If her old friend from Mount Shasta was here, he'd undoubtedly be shaking his head, and adding "it's a short fucking movie, man."

"I think I could get away with saying only half what I say, no?" asks Laura on the title track, over grating strings, gathering motion, eventually deciding "I don't mind". Her convoluted journey to this record took her from Hollywood and the Flintstones landscape of Joshua Tree, to mountain carparks for UFOs and finally, back to London. Along the way "I lost my shame about being afraid, or being lonely, or being weird," she says. "It's probably the most important thing that I've learnt so far." For the first time, Laura Marling seems to have written an album that she hopes liberates other people as well as herself. "I hope that, should anyone have experienced anything similar to what I've experienced, that they feel comforted by it, or liberated by it, and unashamed of anything to do with the darker sides of being human."

"Right," says Laura, rising from the sofa and making for the kitchen. "I'm hungry. Crisps and hummus?"