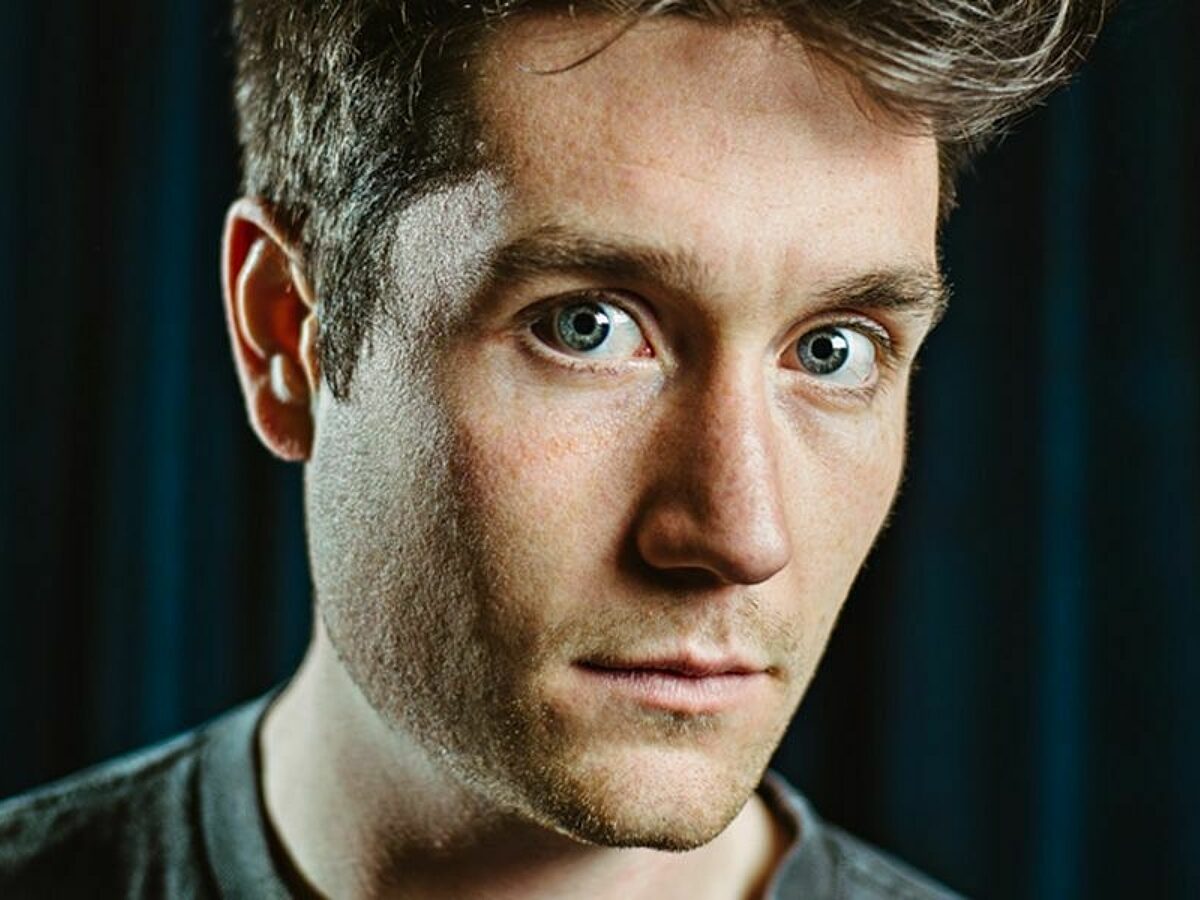 Bastille: No Hype Required
Dan Smith is a man breaking all the rules.
"I never wanted to be a musician," Dan Smith, the creative force behind Bastille, confides. The band are preparing for a show at a lavishly-furnished London cinema museum. As we speak, ushers with Day Of The Dead style face paint wander round a large room, its walls plastered with retro posters. "I really wanted to be a journalist, to write about films."


Until very recently, Bastille was only a name Dan Smith used to stop himself being seen as just another singer-songwriter. Fair enough; he isn't. His debut album 'Bad Blood' is packed with songs far bigger and bolder than that, pulsing with more confidence and smarts than your average pale indie kid would consider sufficient for 'pop hit' status. They're also smart - full of textures and ideas that delve into more than just the obvious.


It's a story straight out of Hollywood. Rather than confidently declaring the world needed to hear his art, Smith was shoved into the limelight by a friend - forced to enter a local competition. His first time on stage, he won.


"Music was always a hobby," he admits. "Something I did for fun. Then, I was made to do it publicly. Most of my friends didn't even know I could play an instrument or sing. I definitely wouldn't have done it if it wasn't for that push. The first few times I played gigs, I had to be pretty drunk to even get on stage. It must have been terrible. I had written these songs and felt like, live, this won't work if I'm sat behind a piano. It'd be rubbish. So I played less and less and began wandering around more, to stave off the awkwardness."

'I definitely feel the weight of it. I work really hard.'

That's not a problem anymore. If the Dan Smith we see performing later is plagued by a lack of confidence, he's hiding it well. Bastille feel like a band now, rather than one man; and more than that, a band that thrive when given an audience. Tonight's, though relatively small - 100 competition winners - was picked from literally thousands of hopeful entrants. If you're going to have support from a fan base, this lot certainly do the job.


"The way people have responded to our gigs has totally shaped how we go about them now," Dan explains. "I definitely wouldn't be as active as I am on stage if it wasn't for people jumping around like maniacs or singing the words back at me. Having that re-enforcement made me appear a more confident performer than I am. Because, on stage, I'm bricking it. It's those awkward thirty seconds where, all of a sudden, it's up to me not to make it an awkward silence between 1,000 people. I've got to say something. That's terrifying."


Band or no band, there's still one man at the heart of it all. Bastille is Dan's baby. To call him a control freak wouldn't be an insult, he admits as much. In truth it's a compliment. "I'm involved in everything," he explains. "I definitely feel the weight of it. I work really hard - not in a self pitying way, though. I love having that involvement - it's amazing - but it definitely can become consuming. There's not a minute of the day when my phone's not going off and I have to make a decision on something.


"We've been so lucky that I've just been left to get on with stuff. As a live band, we've been left to build things as we want. In the studio, I've written all the songs myself, I co-produced them with the same guy that I was working with way before any label was involved. Sometimes I think it would be nice to write a few songs, play a few gigs, sit back and not have to think about it, but I don't think I'd get the same satisfaction from it."


Photo: Emma Swann

If you find your music by trawling certain blogs, you might not come across Bastille that often. You won't routinely hear the name whispered in a Shoreditch boozer, or scrawled across a tote bag carried by someone sporting a bobble hat in mid-June. They're beyond the layers of bedroom fuzz and distortion committed to Garageband. They don't exclusively play in Dalston.


A few years ago, this wouldn't have been worthy of comment. Not really. In 2013 the social web allows every niche to eat itself just as effectively as pop once did. Living in a self-curated world of Twitter accounts and carefully selected RSS feeds, the music and media we consume is, essentially, preaching to the converted. It'll have some believe a band who sell a few hundred records are huge, while they're entirely oblivious to the one who'd do that in an afternoon.


At the time of writing, Bastille have just clocked up the two millionth (yes, that's a two and six zeros) view of their latest video on YouTube. For them, the edges of the mainstream have become the best place to develop. It's somewhere the deadly curse of hipster hype will often fail to look. The pressures of an audience always looking for something to criticise won't trouble them, nor do they have to fear 'selling out'. After all, to most concerned with the fleeting spotlight of cooler-than-thou buzz, they probably already have.




"I feel like we've had an interesting time of it, to be honest," Dan muses. "We've worked really fucking hard and had a lot of fun. The last two years there's been a satisfying, steady progression, but we've never received loads of attention and we've always been lucky to have people find our music. I think, when people find it themselves and actually like it, that means a lot more than being told something's cool."


"We've got to a point where we can sell out two nights at Shepherd's Bush Empire three months before our album comes out," he enthuses excitedly. "It's completely crazy. We can't believe it; and to have a song that charts off the back of a tiny bit of airplay... we're all baffled by it. We didn't receive much hype at all. We never expected to receive any. We wouldn't want it. It's nice if things spread in a word of mouth way. It's never been forced down anyone's throat."


Of course, if we're to believe the industry movers and shakers, 2013 is the year of the guitar band. Apparently, anyone hoping for a breakthrough needs to be packing at least one six string and a desire to be the last gang in town. Yet Bastille are a band lacking in guitar. Awkward.

'We didn't receive much hype at all. We wouldn't want it.'

"I could never play guitar," Dan states. "A lot of it originates from my bedroom and me layering up my own voice, trying to find sounds that are interesting. It became something me and Mark [Crew, the co-producer on 'Bad Blood'] thought, 'Let's see how far we can take this, let's intentionally not use guitars'.


"It's not that I don't love guitar music - I fucking love guitar music - it comes back to me being a control freak and not being able to play. It was a challenge that we set ourselves; can we make a record that, in parts, feels like a big, upbeat guitar record with no guitars."


And if you're setting yourself that kind of challenge, there's nothing more satisfying than fooling those pesky journalists. "I remember reading one thing about a guitar solo, which obviously isn't. Rather than using guitars or distortion, we used interesting key noises, layering up choirs of myself, big string arrangements and being as creative as possible with beats. It's made it really fun and really challenging, and hopefully helps push us to use different sounds."


That in itself is part of the beauty of Bastille. By removing the obvious routes the band are pushed to more inventive solutions - yet unlike so many others, that doesn't make them wilfully odd or inaccessible. These are massive songs - the kind that wouldn't wimp out in an arena setting. But, crucially, that doesn't mean they belong in one of those one-size-fits-all genre boxes.


"I really don't give a shit."


Blimey.


"I don't care about genre. There are things I don't particularly like; I don't like when people call us electro. The thing is, what's frustrating about labels is that they always feel a bit lazy, and there's always connotations.


"If I was to be like 'Oh, we're a pop band', there are loads of pop bands out there who I fucking hate, and wouldn't want to be associated with. But we do make pop music - so do most people. Generally, and I'm not grouping us in this, those that break through are the ones with really good pop songs that are framed within whatever genre they're in."


He may not say that about Bastille, but that's just modesty talking. The aforementioned chart success of 'Flaws' proves better than anything that Smith's music can resonate on that level. An earworm of mythical proportions, it's no wonder that it's heralded a new level of interest in the band.


"It's quite odd now that we're getting a bit of exposure," Dan reveals. "It's bringing another wave of people to the songs and to us, as a band, who don't know anything about us. They might just see it and think 'Oh, that's a nice song,' and not care about the rest of it. That's totally cool."


Photo: Emma Swann / View a gallery of behind the scenes photos from the gig.


Dan doesn't have long to wait. It's only a couple of days before Bastille take to the road again, this time alongside (almost) chart-topping Celtic giants Two Door Cinema Club. That means really big venues, and really big crowds; crowds who, in the most part, have come to see another band.


"Since we've been a band," he begins to list, "we've done a gig with Fenech-Soler, a gig with Foster The People. The iTunes gig with Emeli Sandé - but we weren't technically supporting her - and we did one gig with Keane in France which was... you know. Those are the only supports."


There's an art to being a support act. With half an hour to win over an audience that may not have even heard of your band before, there's little room for extravagance or muso noodling. They're not going to go wild for that six minute instrumental section you've inserted into your most chart friendly single. They aren't here for you.


"It's going to be really interesting to play to a crowd who, for all intents and purposes, aren't necessarily gonna give a shit," Dan ponders. "Trying to win them over. They're not our shows so the pressure's kinda off a little bit, but we want to make a good impression. Hopefully we'll meet the guys and get to know them a bit. It'll be really interesting to see what their crowds are like."


When we drop Smith a line a few days into the tour he's clearly excited. "They've been amazing," he raves. "The crowds have been absolutely incredible; every time we play, the venues have been pretty much full. I could totally imagine rocking up on stage and playing to a quarter of a room. I've certainly been to plenty of gigs with barely anyone there for the support, where everyone is just waiting for the main band, but it definitely hasn't felt like that.


"We played two nights in Manchester to four thousand people! It's ridiculous. I mean, for me, growing up in London, I went to so many gigs in Brixton Academy. It felt very similar to that. We thought about our tour in March, all of the venues that we're playing were like, 'Fuck!'. So, this has been very humbling. It is quite weird playing to someone else's crowd but seeing that there are people going mental for us."

'The goalposts always seems to expand...'

If he thinks that's something, just wait until he gets to the actual Brixton Academy. Five thousand people going absolutely crazy for a band yet to release their debut album, with a frontman who was previously terrified playing to fifty; the final date of Bastille's jaunt with Two Door seems to be a bit of a moment.


We're not talking polite applause and a struggle to get over the chatter here. It'd be no slight on their tour buddies to suggest that Bastille are making a decent stab at headlining from the middle of the bill. There are screams, cheers, sing-a-longs and actual movement from a capital crowd that usually waits with folded arms to be impressed. "How was it for you?" Dan asks as he leaves the stage. He doesn't need our answer - there's no denying they just smashed it.


While their own headline shows beckon, you'd be a fool to bet against Bastille being back in South London's premier enormo-theatre before the end of the year, this time with their name in lights. Dan may not have an arrogant bone in his body, but it's clear he's dreaming of the same.


"We're finding ourselves, as our album is coming out, trying to put together the kind of tour that you do six months after that," he tells us, more than aware that he's delivering a massive humble brag. "We feel the pressure of satisfying the people who've bought tickets to our shows; do a big proper, one and a half hour production, whilst also trying to remember it's still really early days. It's a bit of an odd place to be in, but I feel like, if we want to do that with our tour, why shouldn't we? The goalposts always seems to expand, so if we're lucky enough to do another tour in October, we'll just have to think of something bigger and better."


To a loyal legion of self-motivated fans, Bastille are already a huge deal. They've got the supportive, fanatical followers, radio airplay and sold out shows your favourite new bands would flog their dear old granny for, and they've done it all their own way. Very soon the rest of the world is going to catch up. For once, the arch-tastemakers are out of touch.

Bastille's debut album 'Bad Blood' will be released on 4th March via Virgin.

Taken from the March 2013 issue of DIY, available now. For more details click here.