From his days at the helm of The White Stripes, throughout a career that's seen him build his own distinct world, we meet Jack White on home turf with his creative fires burning bright blue.
Jack White gives a shit. Running intrinsically alongside the 16 albums that he's released under various guises to date (a 17th - 'Entering Heaven Alive' - will join them next month); nestled at the core of the Third Man empire that he's built, encompassing a record label, three brick-and-mortar outlets, a photography studio, upholstery shop and more; and undoubtedly trumping the ubiquitous "dun dun dun dun dun dun dun" that lives as modern rock's most well-known riff, the thread that has run through the life of Detroit-born John Anthony Gillis is one of putting the hours in. Never resting on your laurels. Always striving for more.
"I met a teacher of mine from when I was younger just recently and he said, "Oh I felt like I couldn't give you enough. You wanted to do so much and I didn't have enough to give you to do,' and that was really great to hear that - for someone talking about me from when I was a little kid," he muses, bourbon in one hand, cigar in the other, a slick shock of blue hair just visible from beneath a business-casual Panama hat. "I don't remember anyone saying that to me when I was little - 'Oh you have a lot going on!'. I guess people kind of just went, 'Hmm OK' And now when I look back I think, 'Wow, what a weirdo'."
If Jack White is indeed one of life's outliers, then he has also made an art of embracing every aspect of his weirdness and pushing it to its creative nth degree. Today, we are sitting, as the song goes, on the front porch of his home: a sprawling piece of land tucked in a fairly nondescript area of Nashville, the city that the musician has resided in for the past 17 years. Even from the outside, it is unmistakably the house that Jack built. The wooden chairs we're seated upon are painted that specific shade of White Stripes red; the pair that sit overlooking a large, glimmering pond, a 'Blunderbuss' shade of blue. Across the way, meanwhile, the Pantone 109c yellow of the Third Man sign introduces White's in-house upholstery building.
Behind the scenes at Third Man's Nashville HQ downtown, meanwhile, the same gleeful level of detail is splashed across a whole other space that 99.9% of the world will likely never see. In an age of Instagram self-projection and demonstration, everything here is the exact opposite: special things done purely for the love of them; joy and care taken with no end goal of external validation in sight.
The walls in the building are painted so that, should you turn one way, you'll be greeted with only red, another direction yellow, and another blue. A museum's worth of White-affiliated ephemera lines every shelf and surface, from rare Third Man collectibles, to the taxidermy head of The Dead Weather's 'I Cut Like A Buffalo' to an encased vinyl of Elvis' first ever pressing that, an employee tells us, White handcuffed in a black briefcase to a baffled journalist tasked with delivering him perhaps the most sought-after record of all time. Even the label's warehouse has an elaborate aesthetic theme, with burnt-out faux motel doors and gunshot wounds, illuminated by a No Vacancy sign that flashes with every delivery.
"A lot of it is just inherent, I can't help myself, I just end up doing it. You see it sometimes, on the negative side, where someone might have an OCD problem where they're washing their hands 20 times an hour, [whereas] I have a compulsion to create all day long. And I don't say it like a self-righteous thing where I'm better than other people, I just think that's where a lot of it generates from. If I walk in a room and there's a piano there, it's hard to walk by and not touch it. It's just hard to do that," he theorises. "So there's that, and then when you create these things around you - you go into Third Man, how can you help yourself? It's this giant creative playground and it's impossible to not jump in and get involved in so many things. Someone over there is making a poster; someone over there is developing film; another person is designing a 45 for a punk band. It's just incredible to be a part of that, and I'm really proud that if the world burns around me, I have my own little bubble of that world where I can still exist and do what my brain feels is necessary every day."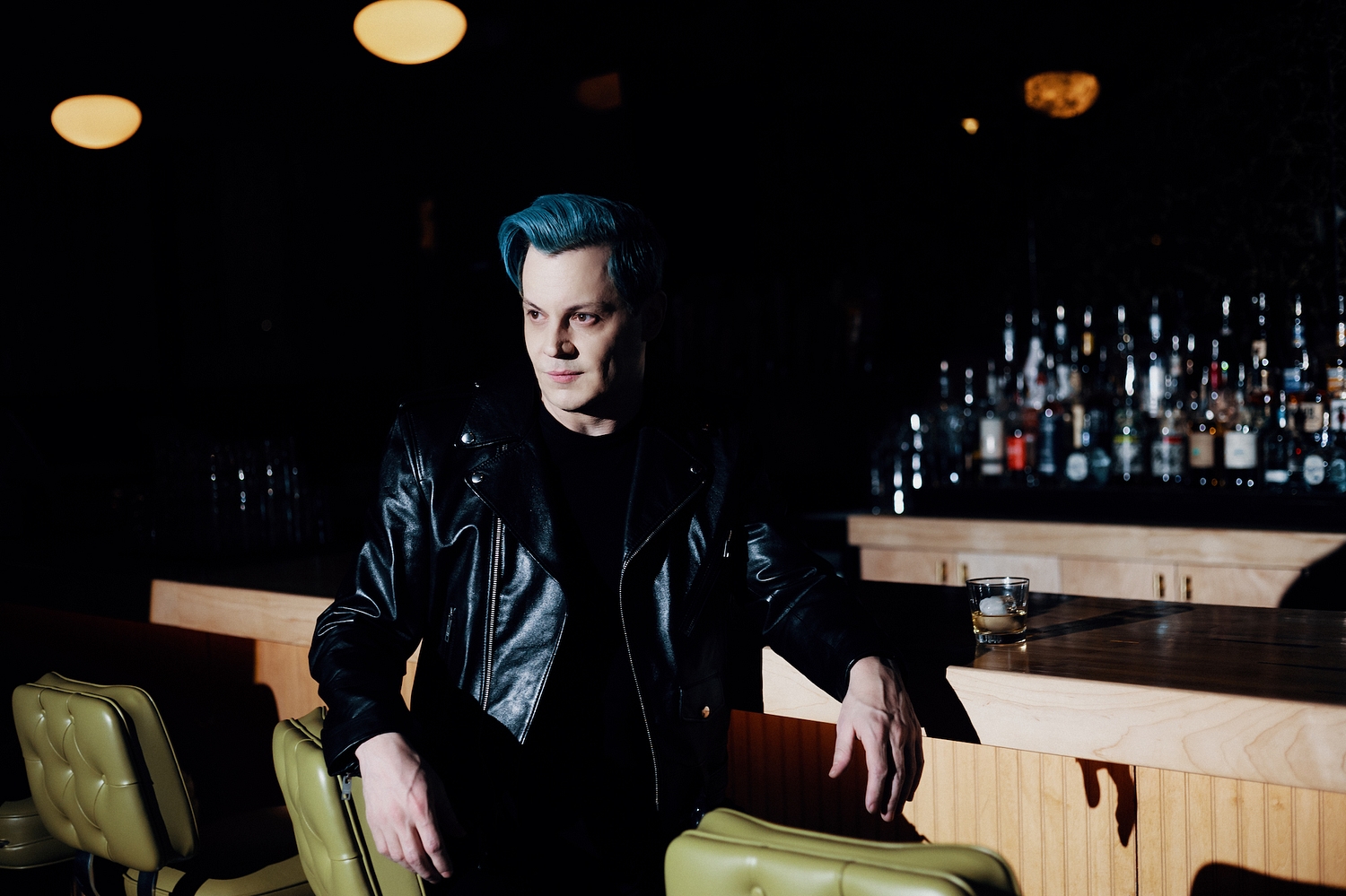 "
"I want to avoid anything that makes it too easy. I'm not excited or inspired by taking the easy way out."
From the earliest days of The White Stripes at the turn of the century, White's steadfast commitment to a vision has been arguably both his most celebrated and criticised trait. He recalls a New York Times review of 2000's second album 'De Stijl', in which he and Meg were panned for coming off like "first year art school students" for leaning so heavily into their limited aesthetic: "No one would name their record 'De Stijl' and do all this if it wasn't an art project, and they're pulling the wool over people's eyes. Thumbs down to this band," Jack narrates.
"And when I read that I thought, it's funny 'cause it's almost like we should be getting that all the time! People should be saying that all the time to us and they don't! Was she right or was she wrong, I don't know?" he questions. "I mean, we never went to college, me and Meg, so that part's not literal, but the idea of an aesthetic and the idea of caring about your presentation and how you're doing it and boxing yourself in was pretty rare. But I'm just happy when I see someone using a method of any kind. Give me something! I just wanna hear something other than just whatever anybody else is doing."
With the benefit of hindsight - of knowing the punchline that The White Stripes would go on to outlive and outperform almost everyone - it's easy to perhaps forget that Jack and Meg's version of garage rock was not just singular but conceptually strange at the time. "When you have any kind of rules or rigidity to yourself, you're immediately taking the risk of people saying you're not laid back or you're not cool; you care too much," he continues. "And obviously when I was in the garage rock scene, I had to be very careful of opening my mouth about that. It was very, of course, un-hip under the hipster guidelines of Hipster Rule, Chapter Four, Verse 17, where thou shalt not care too much."
It's maybe this that formed the beginnings of a now thankfully-dwindling view of the musician as some kind of sonic dictator: a phone-less, technology-shunning purist, incapable of going with the flow and moving with the times. With the peak of the CD boom hitting just as The White Stripes were reaching their commercial high point circa 2003's 'Elephant', the alignment of the two turned White into something of an unwitting poster boy for the vinyl cause; today, having objectively played a major part in the medium's celebrated revival, the more notable thing seems not that the musician DID shout so loudly, but that others didn't.
"The point was not that I ever wanted to be the poster boy for that, but that every musician and artist you talked to was afraid to say that stuff for fear of being called un-hip. And that's a stupid, stupid thing to keep your mouth shut for; I think that's almost a vain thing and an un-brave thing to do," he posits. "I was either too dumb or too brave to care, so for years I said all that because it was everything everyone I know said all day long! Not one person I know as an artist or musician says the opposite - 'Oh, I HATE records', who's saying that?! It's just because I had people's attention at a certain time period and you can do a lot of things with that. You can play the thumbs up, everything's great, nothing to say here, move along please, or you can use that moment to turn people on to something."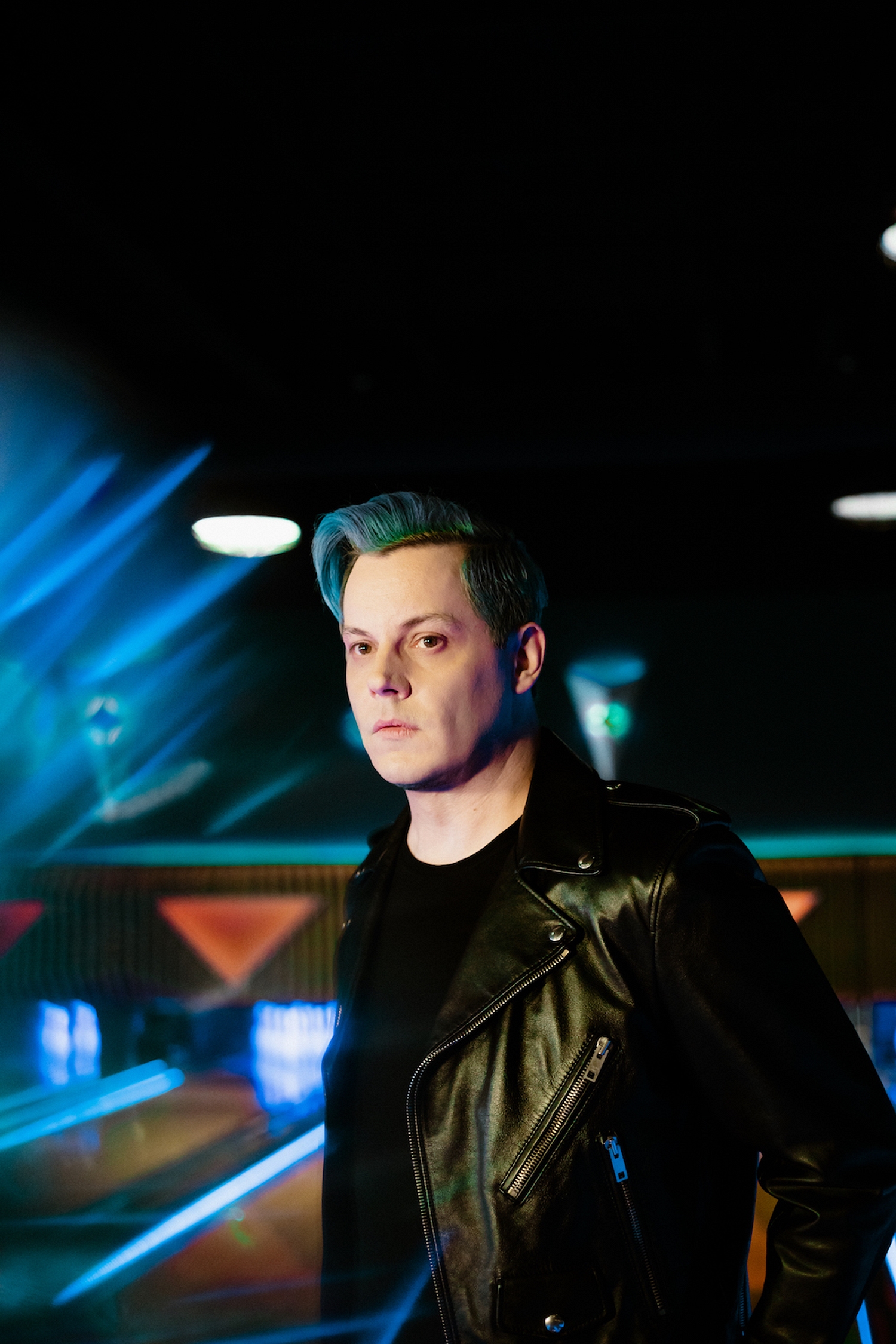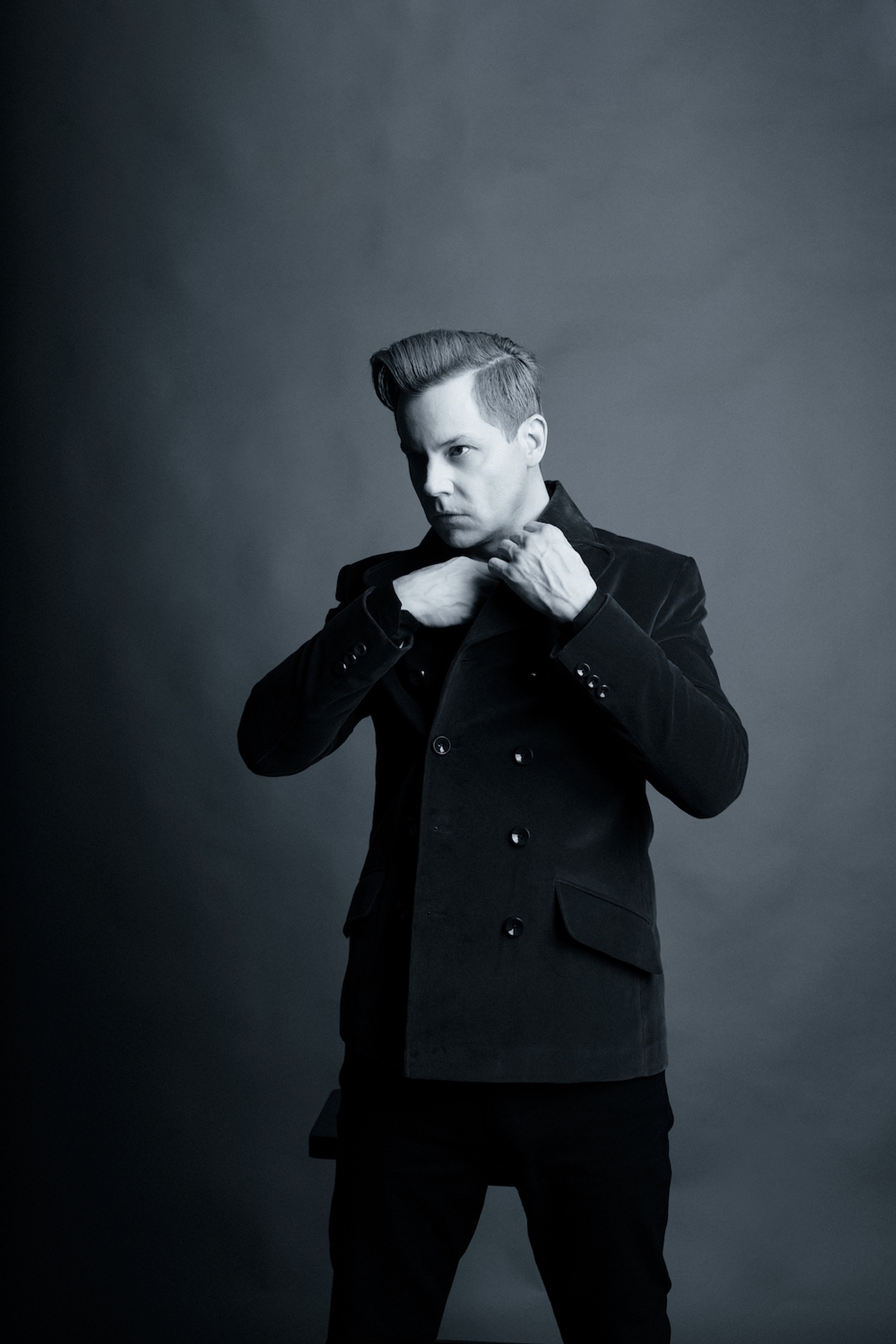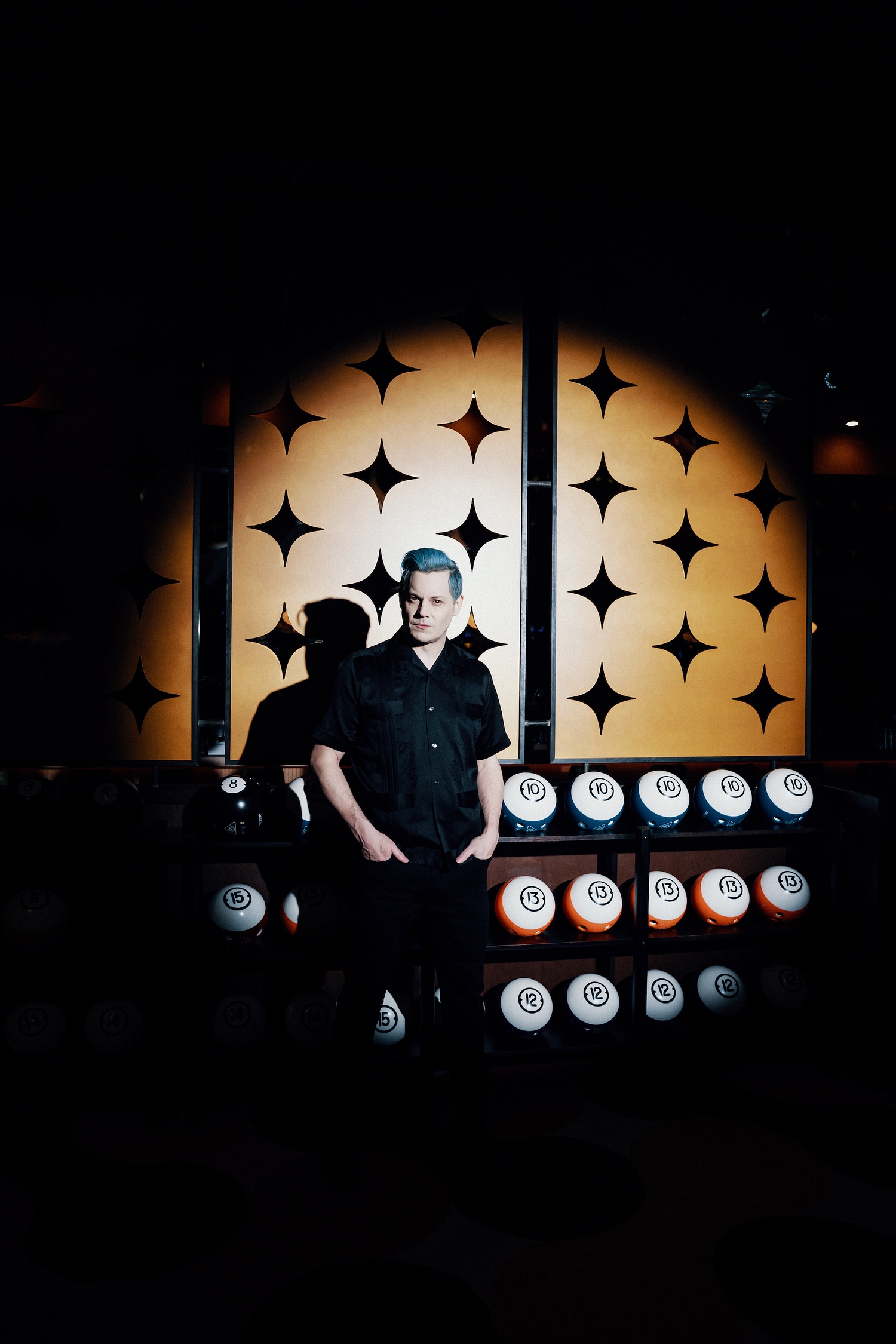 "
"I'm really proud that if the world burns around me, I have my own little bubble where I can still exist and [create] every day."
For one of the world's greatest rock stars, Jack White is not like what you would assume one of the world's greatest rock stars to be. Of course, when he steps up to Nashville's Ascend Amphitheater later that night for the first of two hometown shows, the following 90 minutes is a masterclass in thrilling, edge-of-seat live performance. Tracks from 'Fear of the Dawn' - his first of two albums this year and the yelping, wild-eyed yin to 'Entering Heaven Alive''s more bluesy, romantic yang - segue seamlessly into classic hits and deep cuts from across his two decades-plus career. Where many artists at his stage can teeter towards self-indulgence, refusing the hits and ignoring entire sections of their back catalogue, there is arguably no one on the circuit right now who plays to his fandom quite as much as Jack.
In conversation, however, White is gregarious, easily excited and prone to bouts of a manic cackle that contextualises some of the more wild, unhinged vocal moments he's put to tape. At one point, midway through a theory about the ever-changing face of rock'n'roll (Wet Leg, H.E.R and IDLES are all shouted out as the modern version of it), his face suddenly lights up as a small bird flies past. "Oh, an oriole! Holy moly, HOLY MOLY, I've never seen an oriole in my yard in my life!" he declares, audibly taken aback. Is that a good omen, we ask? "That's a GREAT omen!" he grins, eyes wide. "Oh my GOD! Incredible!"
If it is a fairly surreal thing to be sat with Jack White as he indulges in a spot of bird-watching, then it's not the only surprise that he's pulled from his sleeve of late. Back in April, during the Detroit stop of his current Supply Chain Issues tour, Jack proposed and then married musician Olivia Jean live on stage. "It's not like me!" he laughs, "but I can give you a list of many things in the last two years that I've done that are not like me." Within said list have been a series of professional switch-ups including parting ways with long-term colleagues and finally starting a design website; back at home, he's cut out sugar and carbs. "I changed almost everything about my whole life; it's just been a humongous rebirth," he nods. "And that's another reason why I wanted these records to come out right now, because they were made in this period, so when I think of records as time capsules, that's a time capsule for me."
Starting life as all Jack White's records do, 'Fear of the Dawn' and 'Entering Heaven Alive' were not conceptualised as companion pieces. "I always just get in a room and see what starts coming out. And what's good about that normally is that you end up with an eclectic record, which is a good thing; with The Beatles, I'm a 'White Album' guy, I like it when you end up with a left turn on a record," he notes. Letting his ideas flow freely, however, the two distinct pockets of material that had begun to form began to feel irreconcilable on one release.
Deciding to "let the songs tell [him] what to do", the result became the musician's first double album of sorts - originally intended for release on the same day, but then forced into a three month gap due to a lack of pressing plant availability. Spurred on by the experience, in March of this year, White sent out an open message to major labels Sony, Warner and Universal to build their own plants again to help deal with the constant and increasing backlog in vinyl that hit him, and is hitting smaller artists much, much harder.
"I've heard a couple of phone calls have come in here and there to our plant and questions are being asked, but as we know with corporations, most of the time they won't spend money on things unless it's going to instantaneously make them money that second so we'll see," he shrugs pointedly. "But the good news is even if they don't, supply and demand are as old as time, and it always works out in the favour of demand, and demand is high."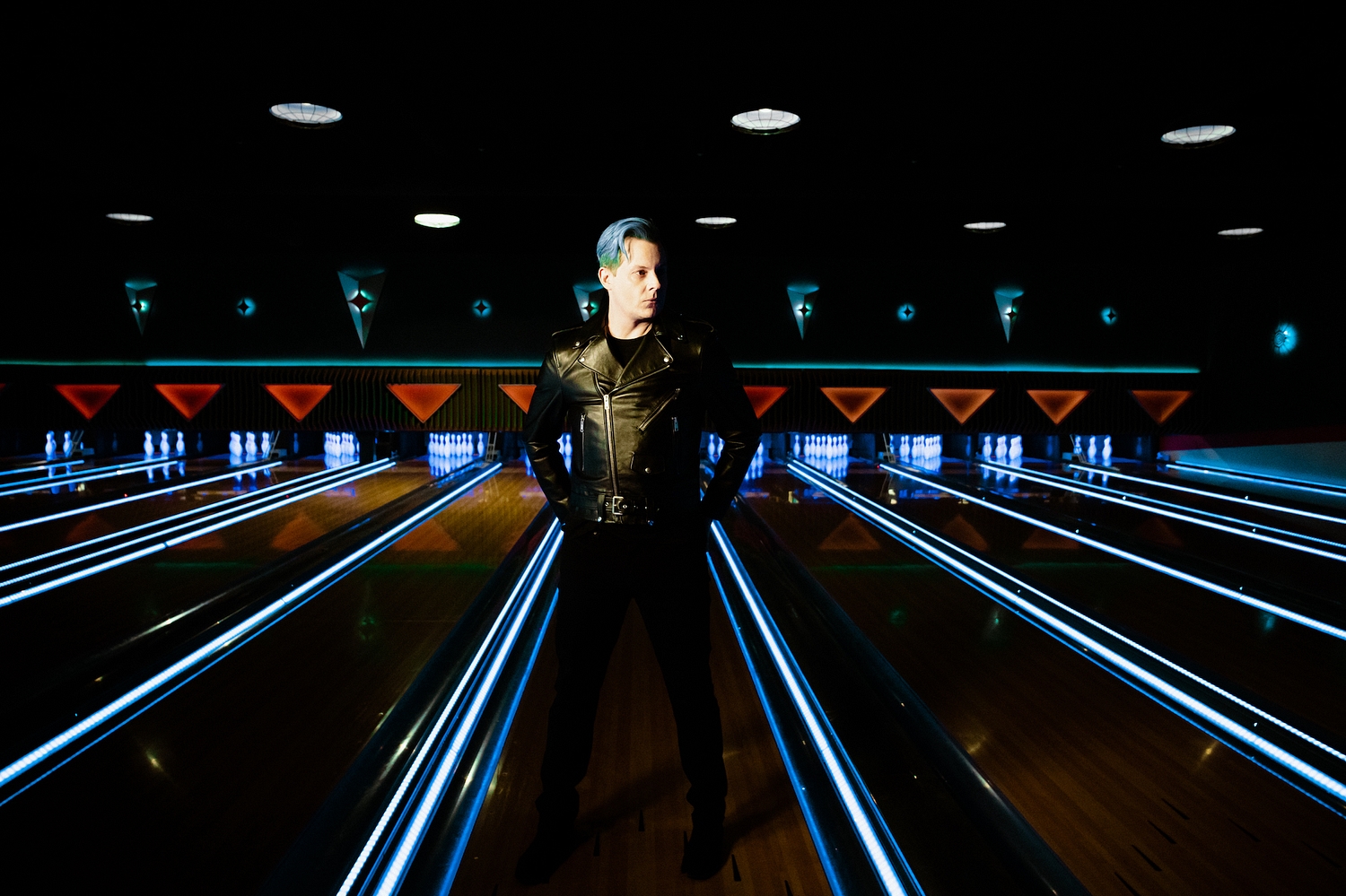 "
"When you have any kind of rules or rigidity to yourself, you're immediately taking the risk of people saying you're not laid back or you're not cool."
That Jack White is still, after all these years, taking it upon himself to be the one to fight the good fight feels emblematic of where the creative polymath's head and heart still undoubtedly lies. Only a few years away from turning 50, he is invested in more projects than ever before, having spent the pandemic conceptualising Third Man's new London outpost, as well as helping birth new co-venture Warstic (a bespoke sporting goods brand with a Jack-designed Dallas HQ). Though he's been committed to touring less since having his children in the late "00s, he's evidently rejuvenated by being on the road, and treats his live shows with the same stubborn refusal to concession as ever.
"In the early days of The White Stripes, when I saw other bands standing perfectly still [on stage], I'd think, 'Thank god I don't do that'. And then I saw these videotapes and realised I DID do that - I just imagined in my brain I was moving so much, but I wasn't," he recalls. "So then I thought, well that's not gonna happen anymore, I'm not gonna be in front of that microphone unless I have something to say through that microphone. And if you catch me standing there when I'm not singing, then I'm doing something wrong. It was a way of motivating myself to get out of that little comfort zone.
"You can have a teleprompter for example, and now it's considered pretty normal for most people to have them - I mean, god damn if I couldn't use one on this tour, how many songs, how many albums we've rehearsed," he continues. "But for me personally, I want to refrain from that for as long as possible because it makes me really have to work, and I want to avoid anything that makes it too easy. You have choices every single time of how easy you want to take it, but I don't get excited looking at myself in the mirror and saying I'm taking it easy, or telling my children I'm taking the easy way out; I'm not excited and inspired by that. I'd rather say we went to all this trouble and made it twice as hard for ourselves and the results were horrible and it was a travesty, but we at least tried to pressure ourselves into getting somewhere new."
And there really lies the rub. Because you can call Jack White a purist. You can see his obsessions and his indulgences as irksome because he makes you put your mobile phone in a little bag so you can't post things on Instagram during his show. Or, you can see him as an artist who has consistently, steadfastly fought the corner of creativity and tangible real world connection for the last 20-plus years and isn't about to stop any time soon.
"Right before The White Stripes broke, we thought there were only a few hundred of us left who cared about any of these things - vinyl records or that kind of production. Anything about doing it yourself, it seemed like that was all dead and gone and about to be buried and spit on in the grave. So how cool in 2022 that that's not the case," he muses happily, content in the knowledge that he's played as much of a part in that trajectory as he humanly could have done.
Like we said all along, Jack White just gives a shit.
'Fear of the Dawn' is out now, and 'Entering Heaven Alive' is out 22nd July via Third Man.
As featured in the June 2022 issue of DIY, out now. Scroll down to get your copy.

Read More