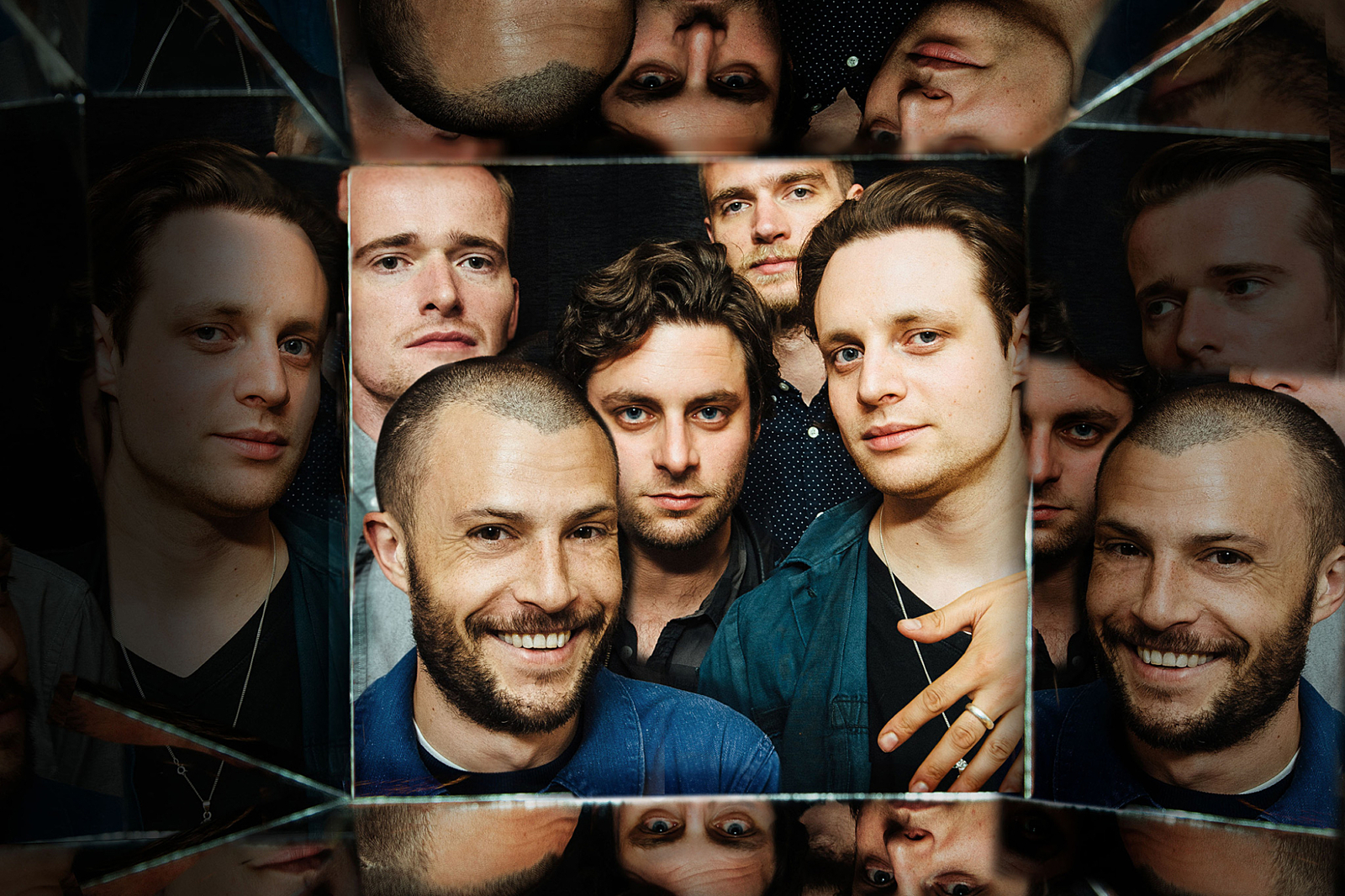 The Maccabees: "Elephant and Castle is not glamorous, but it knows what it is"
Elephant and Castle is undergoing a massive transformation; but beyond the ridiculously priced luxury one-bed flats, there's still a charm that's helped shape The Maccabees' new record.
Following 'Given To The Wild' The Maccabees found themselves stranded in something of a creative swamp. Returning back from tour to their permanent base in Elephant and Castle, South London, they excitedly sat down to pick up where they left off, and ended up with musical butter fingers. The luscious, magical layers that made their third record so gorgeously hyperreal suddenly became, summates frontman Orlando Weeks, "cheap tricks". The early stages of writing the follow-up didn't sound like anything tangible; the music wasn't saying anything. "For so long we were so lost with what the record was about," says Orlando. "We didn't want to churn out another record and not be sure why," agrees guitarist Felix White. Ironically, the lack of restrictions The Maccabees had placed on themselves became their most limiting factor. By accident, they'd got themselves stuck in a Faraday Cage.
In the end, though, the band found 'Marks To Prove It' right outside their studio. Lairy, fruit-filled East Street market, and the roundabout's hulking, tattered beast of a shopping centre - complete with a gaudy statue of an elephant and castle - pushed The Maccabees towards the concrete aesthetic of 'Marks To Prove It'. It was - in a neat flick of coincidence - the Faraday memorial at the middle of The Elephant, that freed them from from the stalemate. Now it's on the album cover.
"Felix said to me it was everything we were looking for," says Orlando referring back to the roundabout's studded memorial. "It's been overlooked, and it is fantastic and wonderful, and right there on our doorstep. It was everything we would've tried to build, but for free. It made a good point that if you shine a light - excuse the pun - on something differently, you take it differently."
"The myth is that it's Aphex Twin's studio," grins Felix. "It's not," flatly interjects his brother Hugo.
"
We've captured something that's not going to be here or the same. It feels special.
— Orlando Weeks
A tiddlywink flick away from Maccabees' HQ, Orlando, Felix, and Hugo have holed up in a favourite cafe, leaving their other two bandmates, Sam Doyle and Rupert Jarvis, back at the studio to watch the cricket. Apparently well-acquainted with everyone in said establishment, Felix updates the owner, and least two other regular customers, on the progress of 'Marks To Prove It' before drawing up a seat. "It's slightly secret," says Orlando, attacking a gigantic slab of Victoria sponge with a fork. "Elephant and Castle has got an identity, it's not like other bits of London. It's not glamorous. None of it is eye-catching, tourist destination kind of stuff, but it knows what it is. It's comfortable in its own skin." "There's a sense of transience to it," adds Felix, referring to the swathes of city slickers and drunken home-goers that rush over the roundabout every day and night. "Once you're half-accidentally embedded in the area you start seeing the layers within it," he says. "And that it's untouched."

The face of Elephant and Castle is already changing: the disappearance of the Heygate Estate is only the tip of a gentrification iceberg. Snazzy, ostentatious complexes with roof-gardens and whimsical names like 'Elephant Park' are popping up all over the place, while yet more long-established housing estates remain on the firing line for demolition. "In this time period, it's starting to change," says Hugo. "Huge buildings are being knocked down, and there's regeneration kicking in. It's weird to be right in the middle of something that's happening to." "It's sort of emblematic for the rest of what's going on in London," chips in Orlando. He also is careful to highlight, though, that it's "dangerous to feel like the record is a document of the area."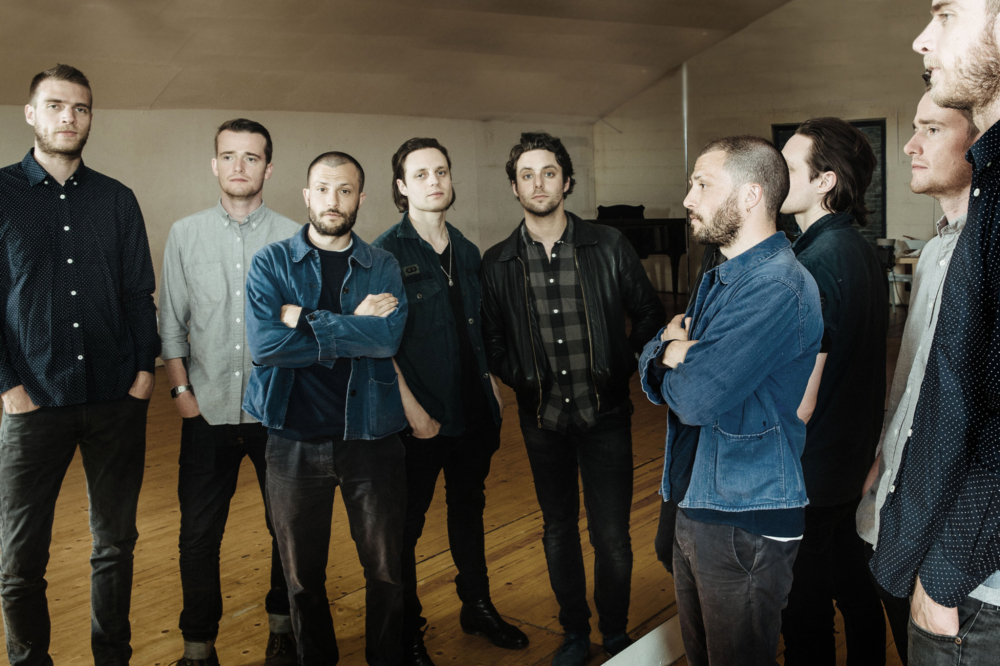 'Marks To Prove It' might not be a concept album about South London roundabouts, but still, it frequently finds quiet patches of beauty in unlikely places. The band don't name-check shops on the nearby Walworth road, or pen songs for now-demolished skyline fixtures, and the influence of Elephant and Castle is less specific than that. Really, this is an album about drawing from your immediate, local surroundings - wherever they may be - and laying down real marks. Sparse, reflective songs like 'Slow Sun' peal out while Orlando Weeks sings of ordinary glory, and the chorus of 'Something Like Happiness' revolves around simple, circular shouts of 'you just know when you know'. "I wanted to call the album 'Table Salt' at one point," Orlando laughs, "because I thought it was the most plain thing. If you call a record that, it sounds grand."

"I was definitely trying to write kitchen sink lyrics," Orlando continues. "So that the beautiful music, or the ugly music, came from a different place. Felix had this really lush, slow, hopeful sounding thing, and I wanted to do the opposite and talk about the uglier side, tell that story. You can hear it all through the record. Some of it is angry, and violent. Some is incredibly sweet and thoughtful."

Similarly, 'Marks To Prove It' was written and recorded in an incredibly no-frills way compared to its techie predecessor 'Given To The Wild'. "We went back to using the studio how we used it when we first started the band; drums, guitar, bass and playing music like that," explains Hugo. "We put the restriction on ourselves to do it that way. It meant the continuity came together, and it became the record that we wanted to make. We wanted a record focused on the band, that translated live as we played it; that had a bit more of a human element."

"I think that's one of the nice things about ['Marks To Prove It']," chimes in Felix, excitably fiddling with a cricket ball he's pulled out his pocket with gusto. "It's tangible. You can feel the locality of the place, and this area. The music we can recreate exactly when you come to see us live. We streamlined it in that way, it feels like a success."


"
Perhaps it's fortunate that we've never been a huge band, we've always found a way to have our own identity.
— Felix White
It's the chief reason behind why The Maccabees can't wait to take 'Marks To Prove It' onto the stage. It was written and recorded together live and plugged in, after all. They're also particularly looking forward to sharing the bill with Mumford & Sons at Reading & Leeds Festival, where an old score needs settling.

"There's a lot of sport involved with Mumford & Sons," Felix explains. "But I beat Marcus twice at FIFA! They'd just got off stage and he was like, right, you, we're playing FIFA. I beat him twice, and he wouldn't let it go. I saw all the energy from the gig drain out of his face, the state of him. I don't know if Marcus can live with that."

"We're playing with them again in August," says Orlando, ominously. "So we'll see if he's over it."

Yet more streamlining arrived in the way that The Maccabees structured the album. The idea of conceiving 'Marks To Prove It' as a complete, cohesive entity, Orlando says, "was an element we took from 'Given To The Wild'. I think it's important not to look a gift horse in the mouth with the thing that we did right there - we made a record. It had a heart." The follow-up, he explains, is also meant as a direct reaction.

"I think one of the things I thought was successful about 'Given To The Wild' was the continuity," Orlando reflects. "It created a bit of a world, and it felt consistent and broad, with landscapey, lush, grand-looking scenery. It was in the day time. Part of this was flipping that entirely on its head" Instead, 'Marks To Prove It' traces through one single night, snatching fragments of arguments, fuzzed tannoys, and dark, lingering piano melodies. "All the songs we were writing seemed to sound better at night, or we recorded them at night," nods Orlando. "The Elephant is a very different place at night as well."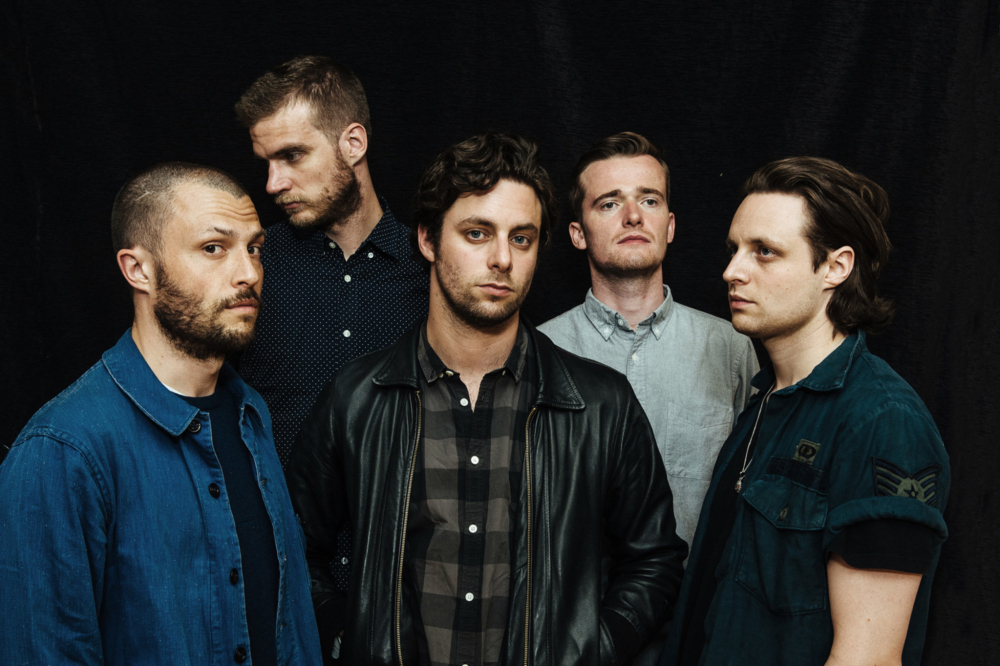 The moonlit quality of 'Marks To Prove It' shines through most strongly in its surprisingly paired-back moments, and reflective, romantic peeks across the bulb-lit city appear in the quietest moments of 'Pioneering Systems' or 'Slow Sun'.

"That's another example of making the limitations work for you," starts Orlando. "When we found that studio," he says, pointing out the window across the road, "it was totally dilapidated and unhappy. There was nothing in there except rubbish, and a piano. That piano is now a character on the record." "They're some of my favourites, those down-tracks," nods Hugo. "It's something new for the band."

"To me, those things - and I don't mean we're in the same league at all, but - they remind me of Van Morrison," Felix says. "We never thought we'd do it, but in hindsight looking back, that was the first music we ever listened to. I think there's something honest about those songs."

"Having listened back, it sounds so evolved compared to our first record 'Colour It In'," continues Felix, who's been been mulling this over for some time. "Bizarrely so, I think. Perhaps it's fortunate that we've never been a huge band at any time, and we've always found a way to keep it going and have our own identity, slowly, and not be cornered. It just sounds like The Maccabees. Hand on heart, I don't think we've ever had that before. I think we have more ownership over what it is we sound like," he tails off. "Does that make sense?"


It makes perfect sense. As an entire record, 'Marks To Prove It' is The Maccabees' most cohesive yet. It's magical, and alive, but in a completely different way to 'Given To The Wild'. Since their formation in 2004, The Maccabees have quietly grown larger, and stronger, and now, with headliner potential bursting from every soaring melody, their moment has arrived.

The band are the first to point out previous comparisons to the likes of Arcade Fire and The Futureheads today; they're also the first to acknowledge those band's massive and direct influences on The Maccabees. 'Marks To Prove It,' though, seems to tie together their three previous records into something solid. Drawing a now-traceable line between the wonderful simplicity of 'Toothpaste Kisses', and the looming, anthemic 'Pelican', The Maccabees have become a point of comparison themselves.

"The singer in Gengahr, [Felix Bushe] came up to us and said he first saw us when he was 15," recalls The Maccabees' own Felix White with a slight shudder. "Meeting Wolf Alice, too, they were saying how young they were. 14!" "They're the next generation," points out Hugo.

"But we're not their dads!" protests Orlando from the end of the table. "The indie dads? No we're bloody not!"


'Marks To Prove It' is out now via Fiction.