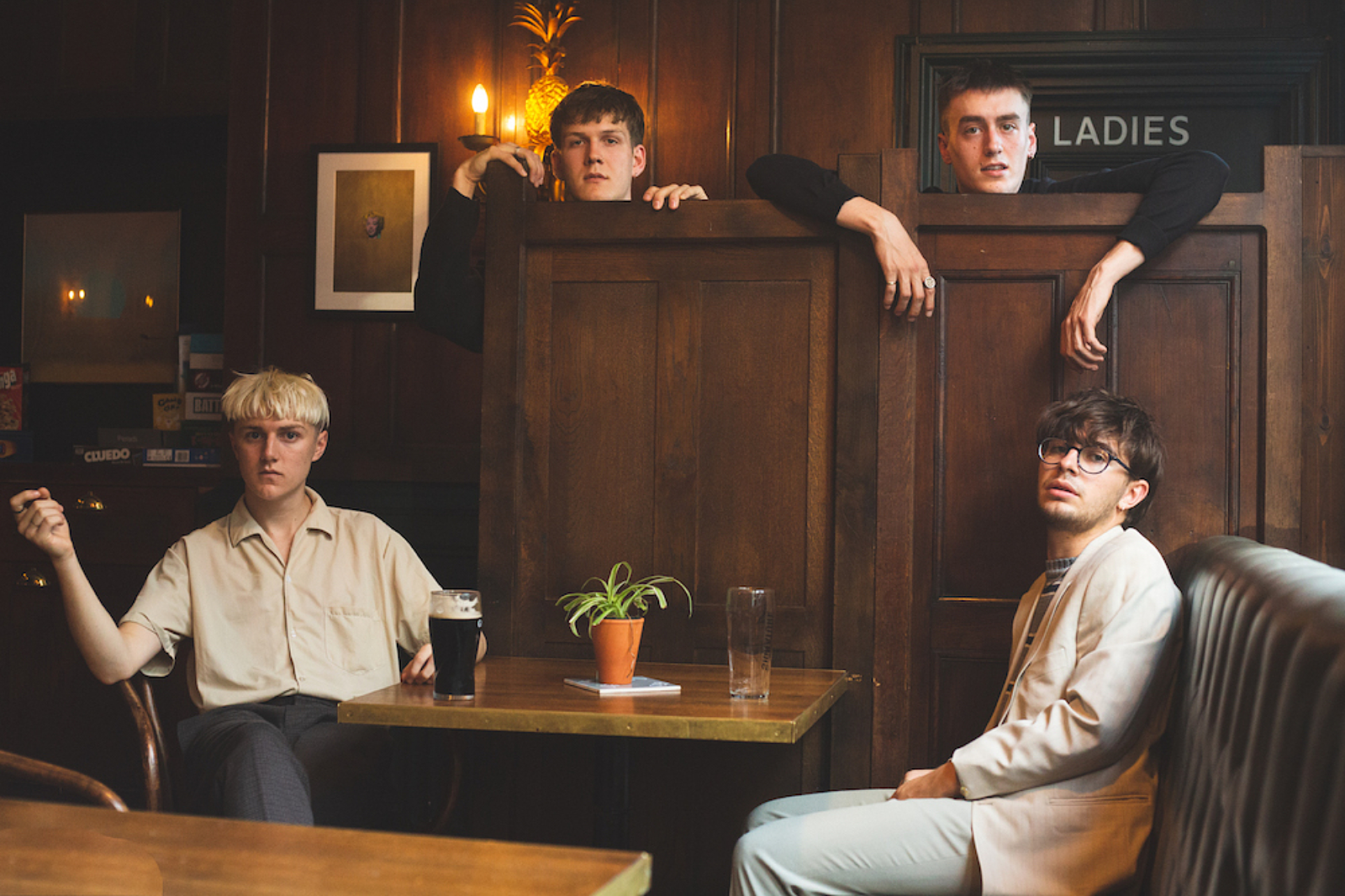 Photo: Jamie MacMillan
Neu Lacuna Common take us through 'It's All Talk'
Their debut EP is out today!
Sharing their debut EP 'It's All Talk' today, Oxford's Lacuna Common have given us a special track by track run through!
"A lot of the songs are about our encounters and observations we've made growing up in and around Abingdon and Oxford," lead singer Alfie Franks explains. "Throughout the whole EP there's a combination of all the stuff we've come across: the funny memories or the sad ones, and a few portraits of people we've met along the way."
Take it away, Alfie…
Aperol Spritz
'Aperol Spritz' is a song I wrote about the feeling of being chuffed to bits when you fall in love. I don't normally write love songs, but felt the urge to try and bring that into our set. I always think it's such a beautiful thing to watch or be involved in those first few months of falling in love where you're finding out about someone and it just makes you feel like you've hit the jack pot, hence "got the 180, hit the aunt sally to the ground". Be nice to see some lighters in the air soon, when we can play this one live again.
Learn to Feel
'Learn To Feel' is, at its core, a song about toxic masculinity. It's a song about seeing the men around our hometown feel like they need to compete with each other to be this 'alpha male' character. It's a pack mentality and a poison and it frustrates me. I don't really like to write quote-unquote 'political' songs, but I felt like I needed to put this sentiment across. We're not 'the political band or 'the band that doesn't want to be the political band' - there's enough of both knocking around at the moment. We just write about what's in front of us, good or bad.
'English Weather' came from the idea of not caring what other people think of you. It's kind of about making your own mistakes and doing better without other people getting in the way. We wanted to write a song about moving forward, doing things for yourself and taking joy in the small things in life -something for people to be able sing with their mates in a field. It's also where the title of the EP came from.
Sensibility
'Sensibility' does what it says on the tin really. It's a straight to the point number about feeling confused in your late teens and trying to figure out who you are. It's also kind of about trying to act cool in front of the wrong kind of people; the types you actually might not want to hang around with. It captures that feeling of acting like someone you aren't, in the hope to get something you probably don't actually want out of a situation. Kinda like trying to get with someone just cos you think they are cool and then drowning your sorrows when it all goes downhill.
Last Time We're Alone
This is a song I wrote in lockdown about an imaginary scenario of meeting a person who you end up going out with. It's kind of about the tension when you see someone in passing all the time and you feel lucky every time you do –real classic movie stuff. It's also about the fact that the reality is sometimes different. Like, you meet an absolute dreamboat by chance, get to take them out it feels amazing, but you can't quite work out if you're right for each other

Get your copy of the latest issue