Someone Like You: What makes Adele, Adele
Flip phones, devilish cackles, and inventively named dachshunds all help make Adele a global superstar.
'"Hello, it's me," said Adele during an X-Factor ad-break on a regular Sunday night, startling a nation. Mugs of tea were upturned with surprise, jaws were dropped as her huge, belting voice returned after three years, and fans worldwide started to run aimlessly around their living rooms trying to process the news. Days later, the new album, '25,' was official as can be. Instead of throwing wads of cash into fancy gold lorries, and sending people on riddle-solving goose chases, Adele instead gave 'Hello' its first worldwide play on Nick Grimshaw's Breakfast Show, while the good people of Britain were in their kitchens making a morning cuppa, and gobbling cereal. It's the most Adele release style imaginable.
Just as Grimmy was about to press play on her soaring, emotive come-back single, Adele declared "I'm going to belch." When Radio 1 broke from the interview for the news bulletin, she cried "thank god, I'm definitely going to the toilet now!" She told Grimmy she'd contemplated disappearing off on a yacht somewhere at points during her fame, but "I'm scared of the sea. I'm just not interested." All the while, she cackled.
Nick Grimshaw then asked Adele the million dollar question - why do people like her? "I dunno," she said bluntly, "I think I just remind them of someone they know. I dunno. I've got no idea."
Well, we've got a few ideas. Here are the things that make Adele Adele.

Anybody could be forgiven for thinking Adele might be quite a serious person. She's written two incredibly painful albums about two taxing break-ups, and she sings with a pure, flawless vocal, full with honesty that belies her talent for sarcasm. It also deflects attention from an absolutely devilish cackle. From chortling away on morning chat shows and speaking dismissively about her ex boyfriend - "he's just jealous he's not with me!" - to failing to take any kind of promotional engagement seriously, Adele's the polar opposite to what you'd expect. That's why she's so brilliant.
Her dog is a gifted vocalist, with a mighty name to match
In the dog name stakes, Adele has it down. Not content with naming her pet 'fluffles' or anything woefully patronising like that, she instead bestowed her dachshund with the noble title of Louis Armstrong after hearing him howling tunefully along to the raspy jazz legend. A hungover Adele, recovering from watching Britney Spears at London's O2, contemplated calling him Britney at first. She thought better of it after having a Berocca.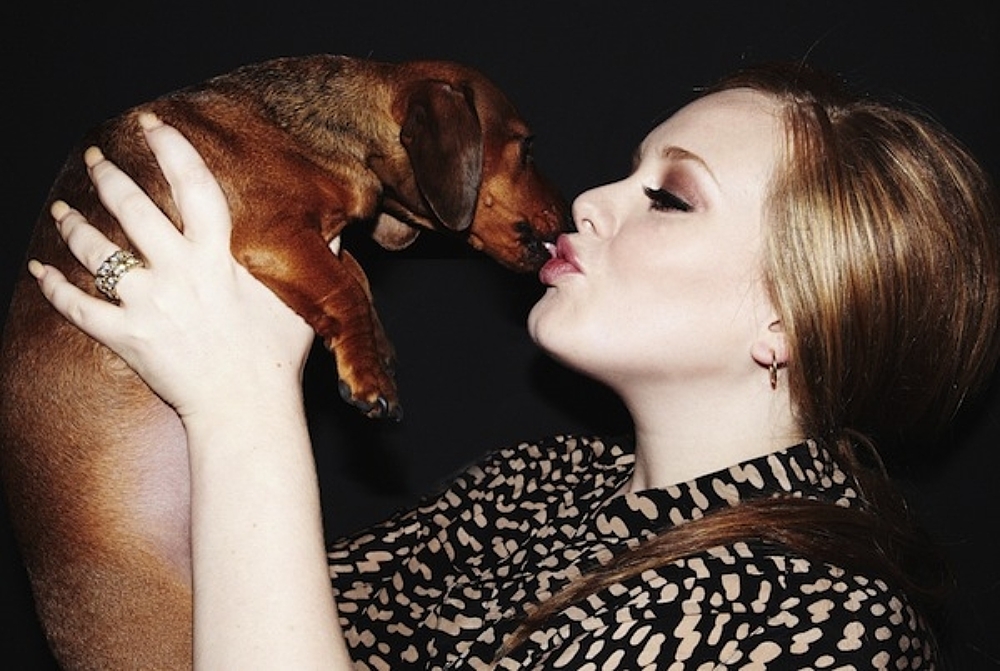 You used to call me on my cellphone
The video for 'Hello' has only been out since 8am, and already people are losing their minds. One aspect in particular has stolen the show. While most pop stars choose to parade about wielding various branded gadgets, Adele has a bloody flip phone. She sassily flicks it shut to hang up on people, and she certainly doesn't use it to update her twitter. In one deft moment, Adele made noughties gadgetry cool again.
She rocked up at the Royal Albert Hall and did an accidental stand-up comedy routine
Nobody except Adele could roll up at a venue as prestigious and looming as The Royal Albert Hall, and immediately conjure up the easy atmosphere of an off-the-cuff bar speech, or a stand-up comedy routine. Right before performing 'Someone Like You' - a song Adele casually knocked out while she was running a bath, as only she could - she tells the whole venue she's now forgiven the bloke she wrote it about. "We had pure jokes together," she said, adding, "I do give as good as I get. I know I play the victim on the album, but pfft, that poor boy! He's a villain these days, int he?" she cackles, all of that being behind her now.
"We don't hang out proper together," she clarifies for the audience. "I think that's a bit weird cos you just wanna get back together. Pfft!"
Then, just like that, she launches straight into 'Someone Like You,' for him. What a legend.

She doesn't tolerate shit from anyone
The 2012 Brit Awards marked a lifetime moment and a career milestone for Adele. Picking up 'Album of the Year' for '21' - the record which took her onto a global platform of recognition - she had wanted to thank the British public for supporting her from the beginning, and take her time over savoring a special moment . Instead, she ended up being cut off by an incredibly meek James Corden, so that Blur could perform on time.
She wasn't having any of it. Without even pausing to gather herself, an unruffled Adele deployed a carefully directed middle finger firmly in the direction of the industry executives sitting in the front row, giving absolutely no shits in the process. She refused to back down, too, and come the following day, she was on the receiving end of all the grovelling. "I flung the middle finger," she chortled gleefully, afterwards, speaking on the red carpet. "That finger was to the suits of The Brit awards, not to my fans. I was about to thank the British public for all of their support, and they cut me off. I'm sorry if I offended anyone," she starts, not sounding especially sorry at all, "but the suits offended me, so… "
When she doesn't get cut off by idiots, she does acceptance speeches properly
There Adele was, weeping her heart out on stage at the 2012 Grammys, clutching one of her six trophies she won for '21,' that year, and giving her emotional thanks to everyone in the room who helped to make it happen. Suddenly, as happiness took hold, disaster inadvertently struck. Adele's tears start to manifest themselves in a different fashion. They become bogies on the loose.
Most celebs would have chosen that moment to quietly summon their dedicated handkerchief aide. Not Adele. "Ooo, I've got a bit of snot," she exclaimed proudly to the entire room, without a care in the world. After swiftly dealing with it, she carried on like nothing ever happened.

She dressed up as George bloody Michael for her birthday
If there's one sure-fire way of separating the chancers for the real-deals it's this - how seriously do they take fancy dress. To mark her 27th Birthday this year, Adele decided to dress up as George Michael, and she really did go for it with infallible commitment to the worthy cause. "I was my hero" she declared afterwards, having managed to detach her goatee to resume usual service.
So, there you have it, Adele - dachshund owner, cackle-deploy expert, and fancy dress enthusiast - is back with a 'Hello,' which could've easily been an accidental belch. It sounds absolutely huge, and '25' is set to be bigger still. "Here she is. No fanfares, no pomp, just a brief greeting," we reckon in our initial review, which you can read right here. "Hello, Adele. It's good to have you back."
Adele's third album '25' is out on November 20th.

Get your copy of the latest issue